YETI PUBES GRRR ARGH!
News
September 26, 2018 02:43 PM
Well! The affidavit from Michael Avenatti's client Julie Swetnick, which comes this close to outright accusing Brett Kavanaugh of gang raping her personally, and even closer to saying he participated in drugging and gang raping girls in high school -- and by "even closer," we mean her affidavit straight up says it -- is starting to ricochet around Washington, and apparently also in New York, where Donald Trump is fucking himself on the world stage for all the United Nations' amusement.
Trump's reaction? Let's just say his Yeti Pubes are BURNING IN RAGE and his weird little Nintendo mushroom weenus is ... well it's probably just flopping around his granny panties like it always is, but we bet if he were a younger man, it would be mad too.
---
Uh oh, Michael Avenatti, Donald Trump said your name, we bet you are very SKEERED!
Of course, as we all know, Avenatti ain't give a shit, but Trump must be SO MAD right now, if he's calling Avenatti's name, which is something Trump never does. Either that, or he's so mad he put his Twitter phone all the way up his butt so his handlers couldn't take it from him to prevent him from saying something stupid. Keep talking, Trump! Tell us more about the "false acquisitions" Michael Avenatti is always making against you! Trust that very large gut of yours!
Avenatti has, of course, already responded:
@realDonaldTrump "False accusations?" Like those crimes your fixer Cohen pled to? You are an habitual liar and comp… https://t.co/LhmvCqiCAf

— Michael Avenatti (@Michael Avenatti)1537981363.0
God, he is sassy. And he has the benefit of being correct, so there's that.
Trump spoke to reporters today while meeting with Japanese Prime Minister Shinzo Abe, and whined about Avenatti being a "Democrat lawyer," and said Democrat senators are willing to do these "false acquisitions" to anybody, except maybe Shinzo Abe, because Shinzo Abe was sitting right there, and why would Democrat senators make up false acquisitions about Shinzo Abe, he's just such a nice guy, and we dunno the rest, because MSNBC's Katy Tur cut away from Trump because who the fuck cares what that bastard says.
Meanwhile, over on Capitol Hill, the president's very best boy Lindsey Graham, whose conscience is in heaven right now telling God about FIVE AND HALF YEARS ALAN, has released a statement indicating he is just HET THE FUCK UP over this new strumpet lady who thinks she can say naughty allegations about the Virgin Saint Brett Of Kavanaugh, upon whose arms flocks of birds land, and over whom quite frankly Lindsey Graham is a little bit swoon-y, in the least gay way possible. He just doesn't think Kavanaugh should have his LIFE RUINED (by not getting to be on SCOTUS, which is apparently his birthright) by some lady who probably was asking for it anyway.
No really, Graham's statement is that gross.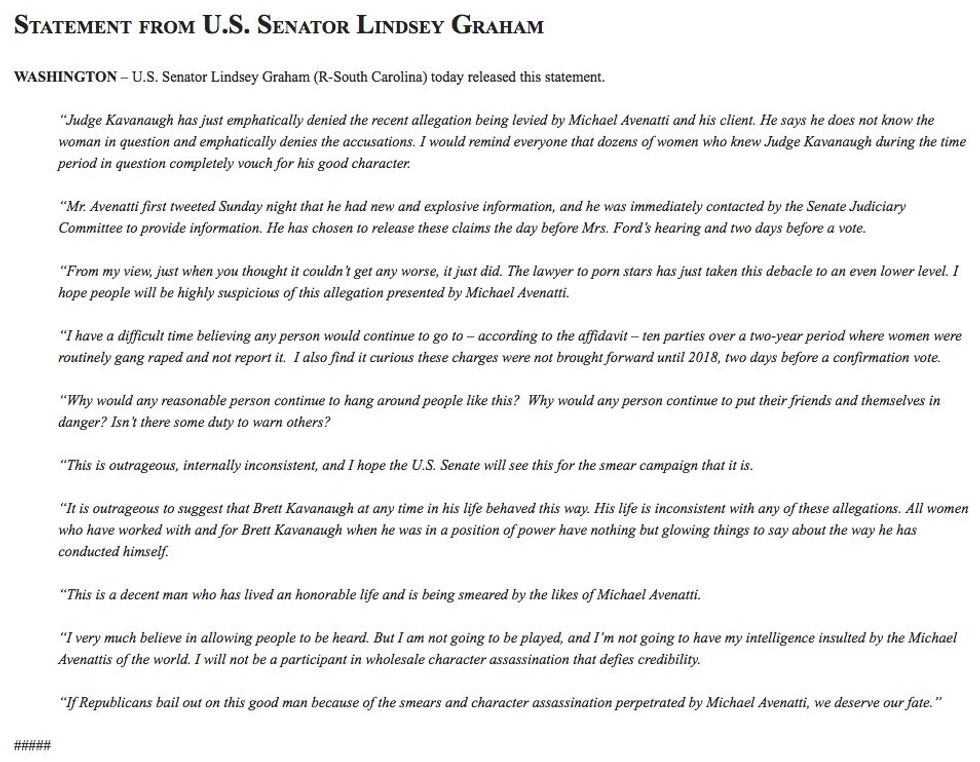 "Well I never," Lindsey Graham seems to be saying. "How dare you besmirch the name of a good Christian man like Brett Kavanaugh! Why, that hussy was probably displaying her bosoms like a common Suzanne Sugarbaker!"
Graham is obviously very in a tizzy about Michael Avenatti, who is threatening Graham's real dad Trump and his new crush Brett with these accusations. Moreover, he doesn't understand why Swetnick would have kept hanging around such scalawags if they were being so terrible, but you know, instead of doing some research on why women and teenage girls often don't report, or on prep school rape culture in general, Lindsey Graham is just gonna go with calling her a lying whore, because Lindsey's gonna Lindsey.
A few minutes ago, Senator Jeff Flake hit the Senate floor to give one of his famous "Give me liberty or give me ... THE OPPOSITE OF THAT!" speeches, where he acts like he's going to say something but then he doesn't say something, and the world is exactly the same as it was before he stopped talking. Meh.
To be entirely fair though:
Flake says he gave his Senate speech about Kavanaugh without having looked at the new sexual assault allegations fr… https://t.co/yKST5Agl3F

— Daniel Dale (@Daniel Dale)1537983354.0
As for Brett Kavanaugh, he says he doesn't even know Julie Swetnick and that these allegations are "ridiculous and from the Twilight Zone." Guess we'll have to check his high school calendar for "GOIN' TO JUDGE'S HOUSE FOR TWILIGHT ZONE MARATHON," which we probably would have overlooked otherwise.
We'd believe him, except for how he's a fucking liar and doesn't deserve our deference.
Probably not the first time he's heard this and almost certainly won't be the last, but PULL THE FUCK OUT, BRETT.
Follow Evan Hurst on Twitter RIGHT NOW, DO IT RIGHT NOW!

Wonkette is the ONLY NEWS ON THE INTERNET. Click if you want us to live FOREVER.
Evan Hurst
Evan Hurst is the managing editor of Wonkette, which means he is the boss of you, unless you are Rebecca, who is boss of him. His dog Lula is judging you right now.
Follow him on Twitter RIGHT HERE.