Your Pastafarian Porn Lady Of The Day
News
November 17, 2014 02:53 PM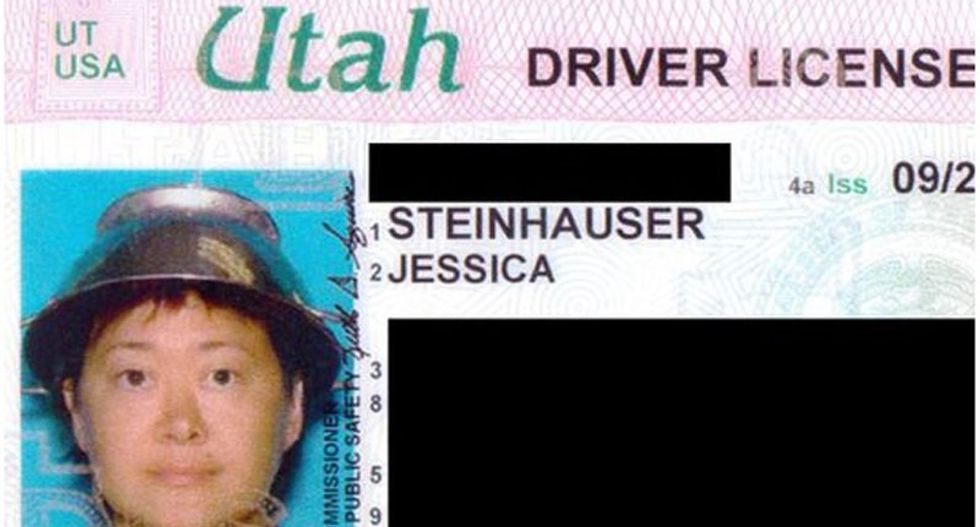 Jessica Steinhauser aka Asia Lemmon aka Asia Carrera
---
In a story that is no doubt Relevant To Wonkers' Interests, former adult film actress Asia Lemmon, who also goes by Jessica Steinhauser and used to perform as "Asia Carrera" (apparently nothing's hotter than thinking of Porsches while watching porn), got her Utah driver's license photo taken while wearing a colander on her head. This is a thing that has become fashionable among some self-professed members of the satirical -- or IS IT? -- Church of the Flying Spaghetti Monster, who also call themselves Pastafarians:
Lemmon, who says she is an atheist, said claiming membership in the Church of the Flying Spaghetti Monster was a decision she's proud of.

"I'm a really proud, outspoken atheist," Lemmon said. "I am proud of Utah for allowing freedom of all religions in what is considered by many to be a one-religion state. I wanted to see if I could (wear the colander) in Utah. I wasn't sure if they would let me."

According to the St. George resident, she met with early resistance at the Department of Motor Vehicles in Hurricane but, presented with printed documents backing up her religious freedom, DMV employees took the photo without question.

"It was surprisingly really, really easy," she said.
The whole wearing colanders for ID photos is part of the Pastafarian project to be silly about religion, and we suppose it's OK as such things go. Even though Yr Dok Zoom certainly enjoys mocking god-botherers, we have to say that sometimes the Flying Spaghetti Monster thing ... well, it was fun at first, especially when it was mostly focused on twitting creationists, but dare we say that now it just seems a bit too much like the Red Hat Ladies and we find it entirely too twee? There, we said it. Happily, we don't need to go to confession or worry about being prosecuted for blasphemy or anything. Let a thousand noodles bloom or something.
Then again, Ms. Lemmon is also a member of Mensa, so we consider that a priori evidence that she's simply insufferable at parties.
We also have our own religious news to announce (way to bury the lede, Dok!), and here is that news: Yr. Doktor Zoom is now an ordained minister of the Universal Life Church, which required clicking on a website and getting an email so the Rev. Doktor Zoom will be officiating at the upcoming nuptials of Yr. Editrix and Her Pixel. That part requires spending nine bucks on a certificate of ordination and filing a copy with a county clerk in Montana. Oh, and showing up. It was such a moving event that Shypixel got himself ordained, too, although we're pretty sure he cannot perform the wedding.
So now, if anyone needs to get married at a Wonkette Drinky Thing, we can accommodate your needs, we suppose. We have not noticed any particular theological leanings since this momentous life change took place, possibly because the handy ministerial ID card ($12.95) and lapel pin ($4.95) haven't arrived yet. Even so, we have found ourselves wanting to call everyone "My son," and of course now we're worried that Kid Zoom is going to turn into a hellion and druggie like every Preacher's Kid ever. So we do have to acknowledge that maybe our disdain for this whole colander thing is just one more example of sectarian animosity that's just waiting to flare into violence.
[The Spectrum via RawStory]