Your Weekly Top Ten Is Praying To The Risen Jesus That Trump Will Shut His Fucking Mouth This Weekend
News
March 31, 2018 10:30 AM
---
Hi, everyone! It is the weekend, and if you are a member of the Judeo-Christian tradition, it is a HOLY WEEKEND, but that doesn't mean your top ten isn't here to yap at you about the week's top stories. It DOES mean that we are praying our gods that President Golfy McManBoobs will SHUT UP FOR A WHOLE WEEKEND, COULD HE DO THAT PLEASE? Probably not. Anyway, shall we count down the week's top stories? We shall! In a minute!
First, let's pay the bills, because those are important. You see, we have no ads, therefore all our operating expenses and all our modest but livable salaries are paid by YOU! Yes, you right there, and you really are looking nice today. Wonkette is taking on new writers and trying to give raises to the ones who work eleventy-three hours a week already to tell you amazing stories, and we want to be able to do this MORE AND MORE, especially now that it's 2018 and we have a chance to TAKE THIS COUNTRY BACK! Or at least Congress!
So please please please sign up to do monthly donations, so we can grow and grow, and also go to that march! Will you do that? They can be small monthly donations, medium monthly donations, or YOOGE monthly donations. It takes all kinds! We even take thousand dollar and million dollar donations, OR MONTHLY MILLION THOUSAND DOLLAR SUBSCRIPTIONS, like if you are a secret famous celebrity fan of Wonkette! Seriously, if you are able -- DO NOT MONEY US IF YOU CAN'T AFFORD IT -- then pull out your wallet and sign up to throw money on our face every month! You can also pull out an envelope and stamp and send money to Wonkette, PO Box 361, Polson MT 59860 (new P.O box address! Update your address book!). Whatever, just please support us any way you can.
Another way you can do that is to BUY WONKETTE SWAG! There MANY products in Ye Olde Wonkette Generale Store! You are interested in purchasing them all!
Look, it's the traditional Wonkette Baby Donation Pressure Lion Of Cuteness, encouraging you to throw your wallets at us OW OW OW YOUR WALLET IS HEAVY LIKE A BRICK: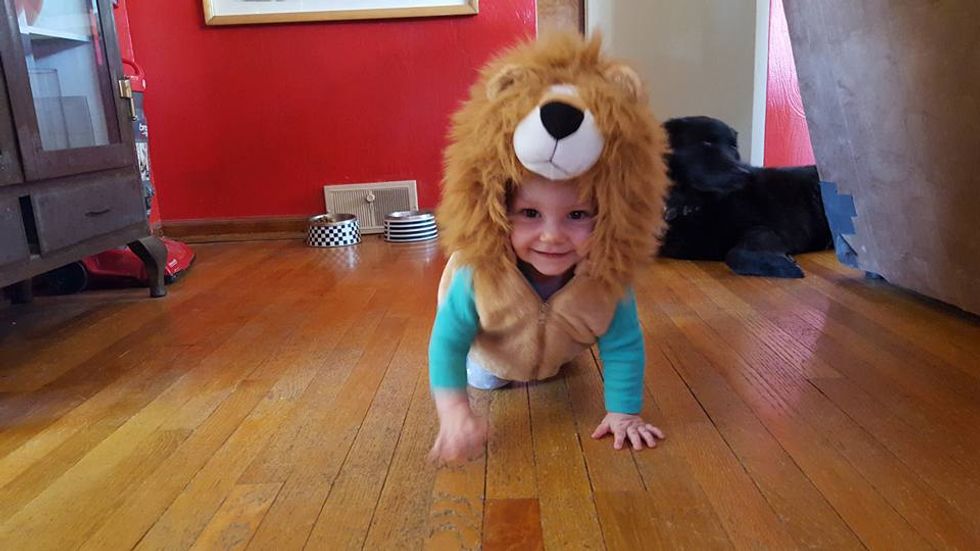 YOU CANNOT EVEN RIGHT NOW
Did we mention we love you?
We shall now count down the top 10 stories of the week, chosen as usual by Beyoncé:
1. That Is Not What 'Lovesick' Is. A very important post by Robyn about mass shooters, and you need to read it.
2. The Children Are Here, And They're FUCKING MAGNIFICENT. Rebecca's on location report from the March For GRAB YR GUNS!
3. WHAT THE FUCK WAS TRUMP'S IDIOT RUSSIA LAWYER JOHN DOWD THINKING? We still don't know.
4. The Two Best Times Stormy Daniels's Lawyer Was SO FUCKIN' HOT The Past 24 Hours, Because We Only Saw Him On TV Twice. We are absolutely certain he was hot a lot of other times this week, also too.
5. TripAdvisor Advises Laura Ingraham To Take A Long Trip To GO FUCK YOURSELF. One of our favorite headlines we have EVER written.
6. We Are In DC, Gon' TAKE YOUR FUCKING GUNS :D. Rebecca's post announcing their arrival at the March for GRAB YR GUNS!
7. Uh Oh, Has Robert Mueller Been A NAUGHTY, NAUGHTY BOY? WELL HAS HE? (No.)
8. In The Spirit Of Holy Week, Everybody Hates Laura Ingraham And Her Dumb Shitmouth. We hate her all the non-holy weeks too.
9. We Regret To Inform You There Is More News About Donald Trump Jr.'s Rambunctious Penis. ANOTHER one of our favorite headlines we ever wroted!
10. Everybody Hitting 'OH SHIT!' Button To Protect Robert Mueller Right Now, But WHY THOUGH? We are still not sure! But it's happening!
So there you go. Those are your top ten most clicked upon stories, according to Beyoncé. They are very good stories!
Oh, hey, sign up for our newsletter RIGHT NOW DO IT DO IT DO IT:
Evan Hurst
Evan Hurst is the managing editor of Wonkette, which means he is the boss of you, unless you are Rebecca, who is boss of him. His dog Lula is judging you right now.
Follow him on Twitter RIGHT HERE.