Your Weekly Top Ten Is Through With This Fucking Week, I Mean Good God!
Weekly Top Ten
October 07, 2017 09:30 AM
---
Oh hey, everyone! It is your weekly top ten post! And oh Christ, what a week it was, with the horrific Las Vegas shooting, on top of Puerto Rico and Trump embarrassing America a lot and Rex Tillerson calling Trump a "moron." We'd like to take this moment to remind you all to practice self-care, OK? Be nice to yourselves, rest when you need to, TURN IT OFF when you need to, and stick with us right here at Wonkette, so we can yell and laugh and cry together about the heinous fuckery that is Trump's America.
But before you start self-caring yourself too hard, we need to ask you to practice WONKETTE CARE, by giving us money. You see, we have no ads, therefore all our operating expenses and all our salaries are paid by YOU! Yes, you right there, and you really are looking nice today. Wonkette is taking on new writers and trying to give raises to the ones who work eleventy-three hours a week already to tell you amazing stories, and we want to be able to do this MORE AND MORE! So please please please sign up to do monthly donations, so we can grow and grow! Will you do that? They can be small monthly donations, medium monthly donations, or YOOGE monthly donations. It takes all kinds! We even take thousand dollar and million dollar donations, OR MONTHLY MILLION THOUSAND DOLLAR SUBSCRIPTIONS, like if you are a secret famous celebrity fan of Wonkette! Seriously, if you are able -- DO NOT MONEY US IF YOU CAN'T AFFORD IT -- then pull out your wallet and sign up to throw money on our face every month! You can also pull out an envelope and stamp and send money to Wonkette, PO Box 8765, Missoula MT 59807. Whatever, just please support us any way you can.
For instance, you could also purchase our sexxxy blue baseball caps. One of them says "Hell. No." and the other says "Literally Anyone Else 2020." See?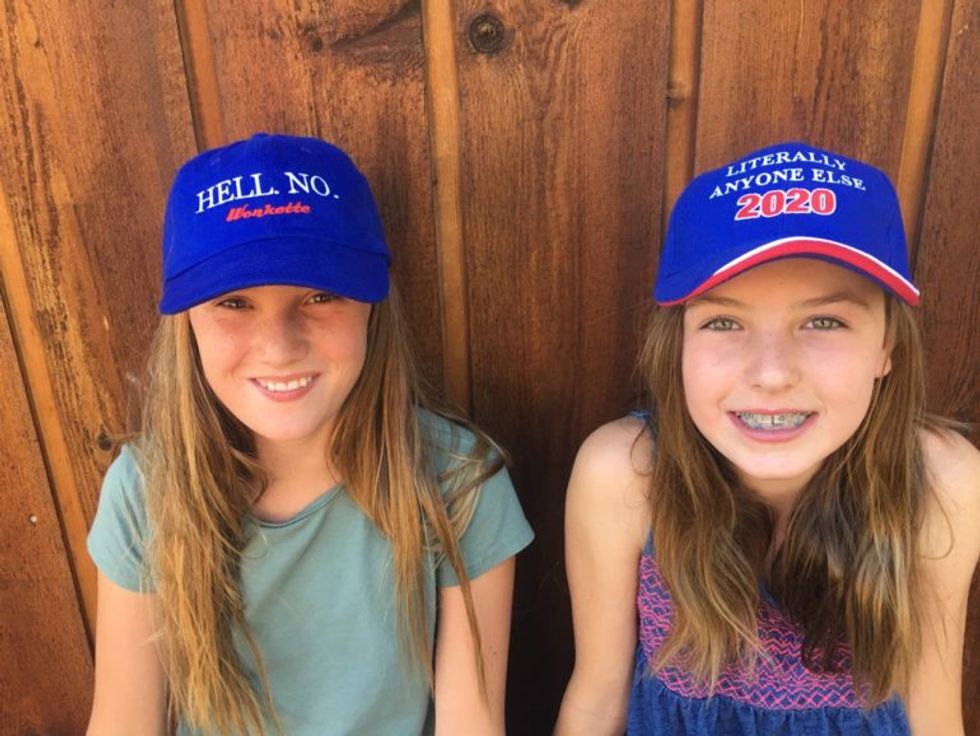 There are many other products in Ye Olde Wonkette Generale Store!
Look, it's the traditional Wonkette Baby Donation Pressure Lion Of Cuteness to TERRIFY YOU into opening your wallets: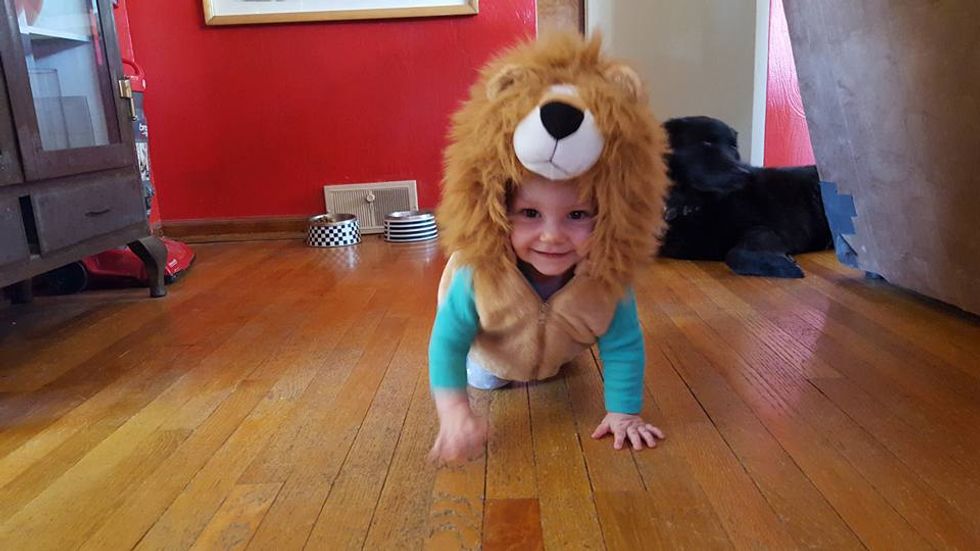 YOU CANNOT EVEN RIGHT NOW
We shall now count down the top 10 stories of the week, chosen as usual by Beyoncé:
1. Trump Flies To Puerto Rico To Call Them Fuck-Ups To Their Faces. And throw paper towels at their heads!
2. Alex Jones: Las Vegas Was A False Flag Attack By ISIS And Also Antifa Celebrating Bolshevik Revolution. If anything, this makes TOO MUCH sense.
3. Idaho Pol Yells At 'Liberal Nut-Tard' At County Fair, Demands Apology From Fair. He seems nice.
4. We'd Tell Nikki Haley To Go Fuck Herself, But Instead We'll Just Say Bless Your Fucking Heart. Wouldn't want to be ugly.
5. Robert Mueller Showing Russian Hookers Pics Of Trump, Asking 'Have You Peed On This Man?' OK NOT LITERALLY.
6. A Listicle Of New NBC Show Ideas, To Build Off Success Of Megyn Kelly's Fresh Hot Turd! A Megyn Kelly post in the #6 position for the second time in a week! She's #6! She's #6!
7. Jared Kushner Is A Complete Dipshit, And His Lawyer Isn't Far Behind. And don't even get us started on Ivanka.
8. Trump Takes Break From Golfing To Tweet Asshole Things At The Mayor Of San Juan. Because of course he fucking did.
9. Las Vegas Reax Day Two: More Shitmouths, With Mouths Dripping With Shit. Because there were too many shitmouths for one post!
10. And finally, The Week In Garbage Men: How Alt-Triggered Are You By This Alt-Dweeb's Alt-Right Alt-Comic That He Alt-Made? Because you all just love that weekly series Robyn does!
So there you go. Those are your top ten most clicked upon stories, according to Beyoncé. They are very good stories!
Oh, hey, sign up for our newsletter RIGHT NOW DO IT DO IT DO IT:
Evan Hurst
Evan Hurst is the managing editor of Wonkette, which means he is the boss of you, unless you are Rebecca, who is boss of him. His dog Lula is judging you right now.
Follow him on Twitter RIGHT HERE.