Your Weekly Top Ten Rates Trump's First 100 Days As PUNY AND WEAK AND SAD!
News
April 22, 2017 10:30 AM
SHE IS A HUMAN PERSON NOW!
---
OH HI WONKERS. Two things. Do you see Wonkette Toddler Baby Person up there? She is basically a grown woman and a professional golfer now! Time flies, right?
Secondly, Donald Trump's first 100 days, which he doesn't care about but also cares about THE MOST, are almost over. Don't they suck? Isn't this literally the worst America has ever been? Be sure to write in the comments on this post what a weak and sad and failing loser Trump is.
First, though, it is time for US ASKING YOU FOR MONEY, with all the love our hearts can muster! See, we are 100% funded by you readers, and we have no ads, and we love it, and you love it, but we have to keep asking you to give us dollars and subscription moneys and things in order to make this system work. We explained all this in your monthly reminder post about how we need moneys, on a regular basis, to keep this place running without ads. Will you throw $5, $10, or $25 at our faces? Or we even take thousand dollar and million dollar donations, like if you are a secret famous celebrity fan of Wonkette! Seriously, if you are able -- DO NOT MONEY US IF YOU CAN'T AFFORD IT -- then pull out your wallet and sign up to throw money on our face every month! You can also pull out an envelope and stamp and send money to Wonkette, PO Box 8765, Missoula MT 59807. Or do a subscription! Whatever, just please support us any way you can.
Look, it's the traditional Wonkette Baby Donation Pressure Lion Of Cuteness, who is now a GROWN LION GOLFER WOMAN: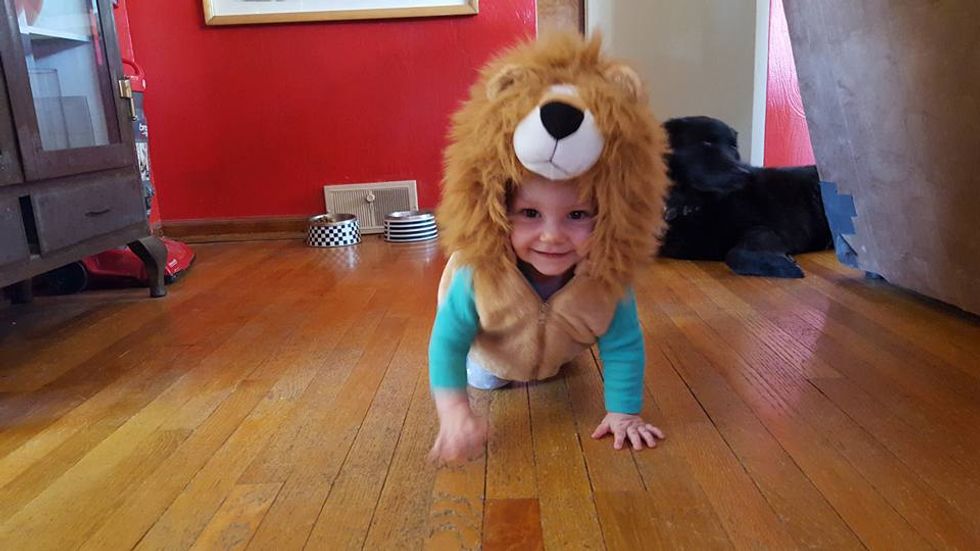 YOU CANNOT EVEN RIGHT NOW
We shall now count down the top 10 stories of the week, chosen as usual by Beyoncé:
1. Kellyanne Conway is just real concerned you don't know Donald Trump died for your sins, and also so you may have some beautiful Easter eggs.
2. That Alabama horndog ex-governor's lady pal was behind the state's plan to deny black people voter IDs. Obviously.
3. Nazis? Sovereign citizens? Furries? ALL THOSE THINGS AT THE SAME TIME? They are in this post, for you to read!
4. Your idiot president didn't even know what the FISA court was until well after he started howling about "wire tapps."
5. Hey, let's watch Trump fuck up the White House Easter Egg Roll!
6. Now let's tell Fareed Zakaria to fuck off, for being bad at writing.
7. Those stupid idiots over at The Intercept really want mean lady Rachel Maddow to shut her mouth about Trump's Russia scandal.
8. No, for real, IS IT TIME FOR THESE TRUMP RUSSIA FUCKERS TO GO TO JAIL YET?
9. This men's rights activist is alarmed and sad to see his local 7/11 going the way of the "cuck."
10. And finally, who the hell was that fake CENTCOM spokesman? Was it Trump himself? Stephen Miller? Some asshole commenter from Breitbart?
So there you go. Those are your top ten most clicked upon stories, according to Beyoncé. They are very good stories!
Oh, hey, sign up for our newsletter RIGHT NOW DO IT DO IT DO IT:
K HAVE A NICE WEEKEND GOODBYE.
Love,
Wonket
Evan Hurst
Evan Hurst is the managing editor of Wonkette, which means he is the boss of you, unless you are Rebecca, who is boss of him. His dog Lula is judging you right now.
Follow him on Twitter RIGHT HERE.