Zombie TrumpCare Dies Again! Wonkagenda for Tues., July 18, 2017
Elections
July 18, 2017 09:29 AM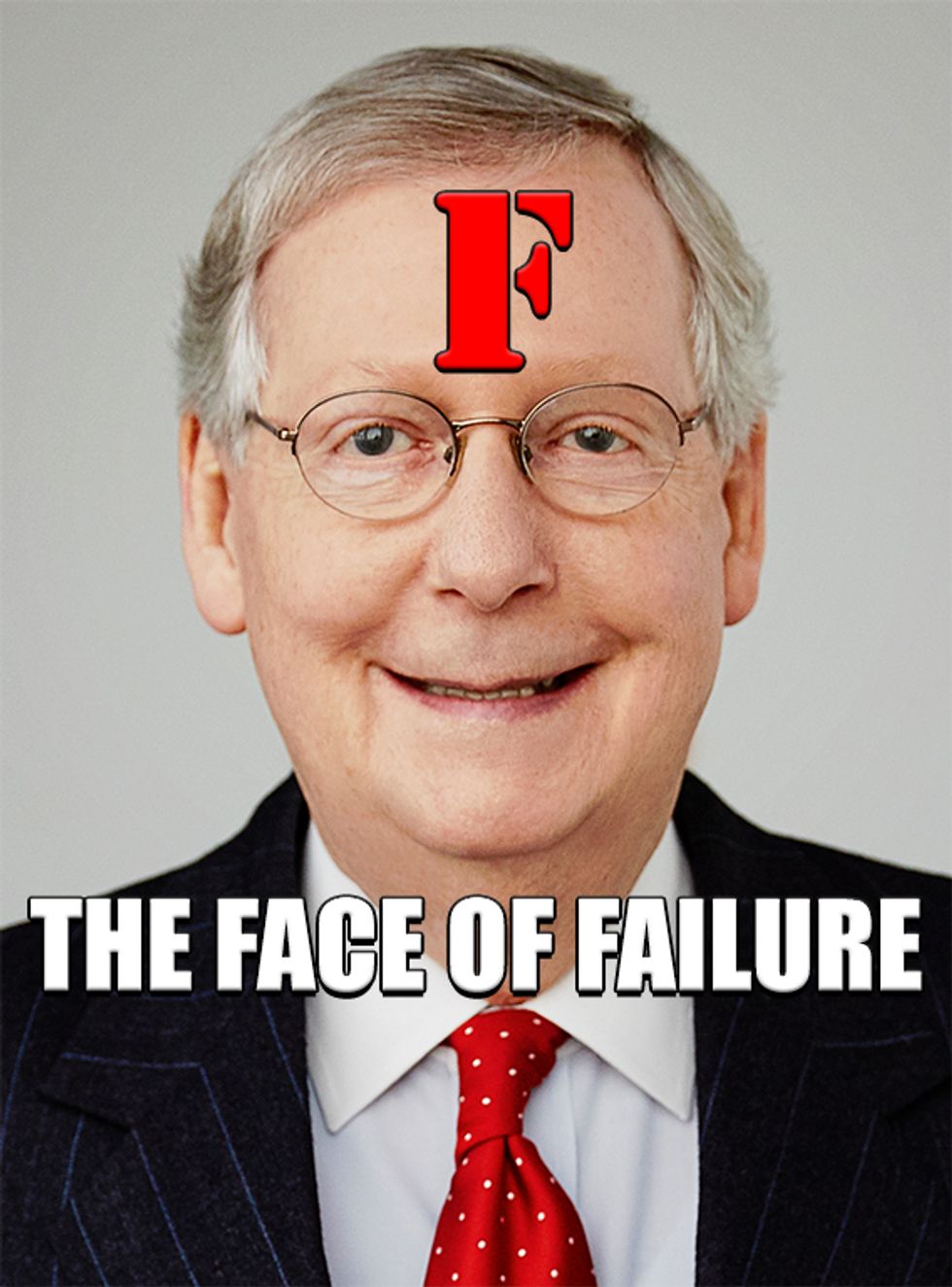 Hello there, Wonketariat! We have MANY NEWSES this morning, and here's some of the things we may be talking about today!
---
Zombie TrumpCare/McConnellCare has collapsed after Sen. Mike Lee and Jerry Moran pulled out late last night, making the GOP look like "dopes," according to Trump.
While Lee and Moran were crafting their escape route, Trump was strategizing on how to strong-arm wobbly Republicans during a fancy dinner at the White House.
Mike Pence has been lying through his surgically perfected teeth about healthcare, suggesting he either never read about zombie TrumpCare/McConnellCare, or he's just A Idiot.
House Republicans unveiled their budget plan early this morning and it outlines massive spending cuts to financial regulations, federal workers' benefits, and the social safety net. Here's a surprise: they're hoping to skip Democratic opposition by using reconciliation...again.
A House panel wants to make massive cuts to the Department of Transportation, rejecting a $200 billion spending bill to upgrade roads, rails, airports, ports, and public transit. Guess "MAGA" is more a metaphor.
REXXON will close the State Department's Office of Global Criminal Justice because the US no longer gives a damn about Not American leaders committing war crimes. God forbid we should get out hands dirty and stand up for human rights in some fuggo mud hole.
The FBI can keep secretly spying on US citizens, for better or worse, according to a ruling the 9th Circuit Court of Appeals. Content distributors and phone operators had been suing for the ability to notify customers.
US Cyber Command will split from the NSA and become a separate, independent military command instead of an investigative tool by the NSA.
Jeff Sessions wants to steal all your shit if you're arrested and says he will issue new directives on asset forfeiture.
The Kansas Supreme Court's disciplinary office is investigating Kris Kobach over a complaint about Kobach's ethics as an attorney in the state. Wonder if this will hurt Trump's chances of finding all those illegal Mexican voters? Nahhh.
Texas Republican Rep. Lamar Smith joined House members for a SUPER SECRET trip to the Arctic Circle to learn about climate change back in May. No word on whether he brought back any snowballs for James Inhofe.
Last week, acting head of the Office of Civil Rights Candice Jackson said "90 percent" of campus sexual assault complaints"fall into the category of 'we were both drunk,' 'we broke up, and six months later I found myself under a Title IX investigation because she just decided that our last sleeping together was not quite right.'" She's since offered an apology, disclosed very personal information, and even made Betsy DeVos defend her, but a number of people still think she's got to go.
Trump's pick for the Export-Import bank, former Rep. Scott Garret, is being pressured to withdraw by lobbyists and Congress over previous statements about how much he hates the Export-Import Bank.
Republicans don't know how they're going to raise the debt ceiling, and that has forced Steve Mnuchin to "brush up on options in the 'crazy drawer.'"
Trump's White House has declared this Made In America Week, and we've been treated to silly photos of Trump playing in fire trucks. BEEP! BEEP!
The legislative civil war raging in Texas is about to get serious as Republican lawmakers in the statehouse are set to enact more preemptive laws to stop cities and counties from enacting liberal polices, like transgender bathrooms, or making the governor replace a pecan tree he cut down, possibly because he suspected it was wearing a boy tree's leaves.
Alabama is having a fuck-tussle trying to fill Jeff Sessions's seat, with the top three super-conservative candidates trying snipe each other with Nancy Pelosi associations, being Trump's doormat, and threatening to read the King James Bible on the Senate floor until someone builds the Tortilla Curtain.
Illinois Republican Governor Bruce Rauner "You're Fired" his new body man on his first day after Politico found explicit sexist, racist, and homophobic tweets on his twitter account. #ThisFuckinGuy
Trump is fighting a request to testify in a suit over violence at his rallies during the election. His lawyers say he didn't mean to hurt people, despite all the times he threatened the press, threatened protesters, and told people to "Get'em out of here."
Trump will certify the Iranian nuclear deal that he spent a year railing against. Good thing they have their talking points. Thanks, Obama!
The creator of a darkweb black market has been found dead of an apparent suicide in a Thai jail. Alexandre Cazes, 26, had been targeted by cops from around the world for ALLEGEDLY selling drugs on one of the largest darkweb marketplaces.
The Daily Mail has a copy of a new book that describes all the ways Trump is a potty-mouth a huge dick to Chris Christie and Paul Manafort. My favorite part was how everyone ignored Trump and started saluting Pence when the election was called, but the stuff about Chris Christie's gross phone is good too.
Chris Christie thinks it's "probably against the law" to use oppo from a foreign country, but he doesn't want to jump to conclusions. Then again, with the weight of Christie's poll numbers bearing down on him I can't imagine Christie is jumping on anything.
The porn site for rich men trying to cheat on their spouse, Ashley Madison, is offering (at best) $3,500 to users whose lives were shattered after the company was hacked and its users were exposed back in 2015.
Megyn Kelly's new show drew fewer eyeballs than reruns of "America's Funniest Home Videos." Again. Just let that sentence sink in for a moment.
People are screaming about this WSJ op-ed that hopes Trump's new lawyer will convince President Pussgrab be more transparent, and it's funny when you consider that an entire board of crusty old white man has to tell another crusty old white man how to clean up his act. [Archive]
Sinclair Broadcasting, the conservative media company gobbling up local news outlets, is defending itself from rumors of miserable working conditions brought by "biased" media coverage about the "poor quality" of its "must run" commentary by blowhards and former Trump spox.
Just a reminder, Wonkers: Don't be like this mean RNC lady who wished John McCain would "just fucking die already." We're better than that. It's mandatory.
And here's your late night wrap-up! Stephen Colbertkicked off his Russia week; Seth Meyers took A Closer Look at Little Donnie's emails; and The Daily Show wondered why Republicans hate zombie TrumpCare.
And here's your morning Nice Time! Lemurs!
Help us help you! Give us Ameros and we'll keep giving you all the newses!
Dominic Gwinn
Dominic is a broke journalist in Chicago. You can find him in a dirty bar talking to weirdos, or in a gutter taking photos.