President Sh*tmouth. Wonkagenda For Tues., Jan. 8, 2019
Trump
January 08, 2019 09:07 AM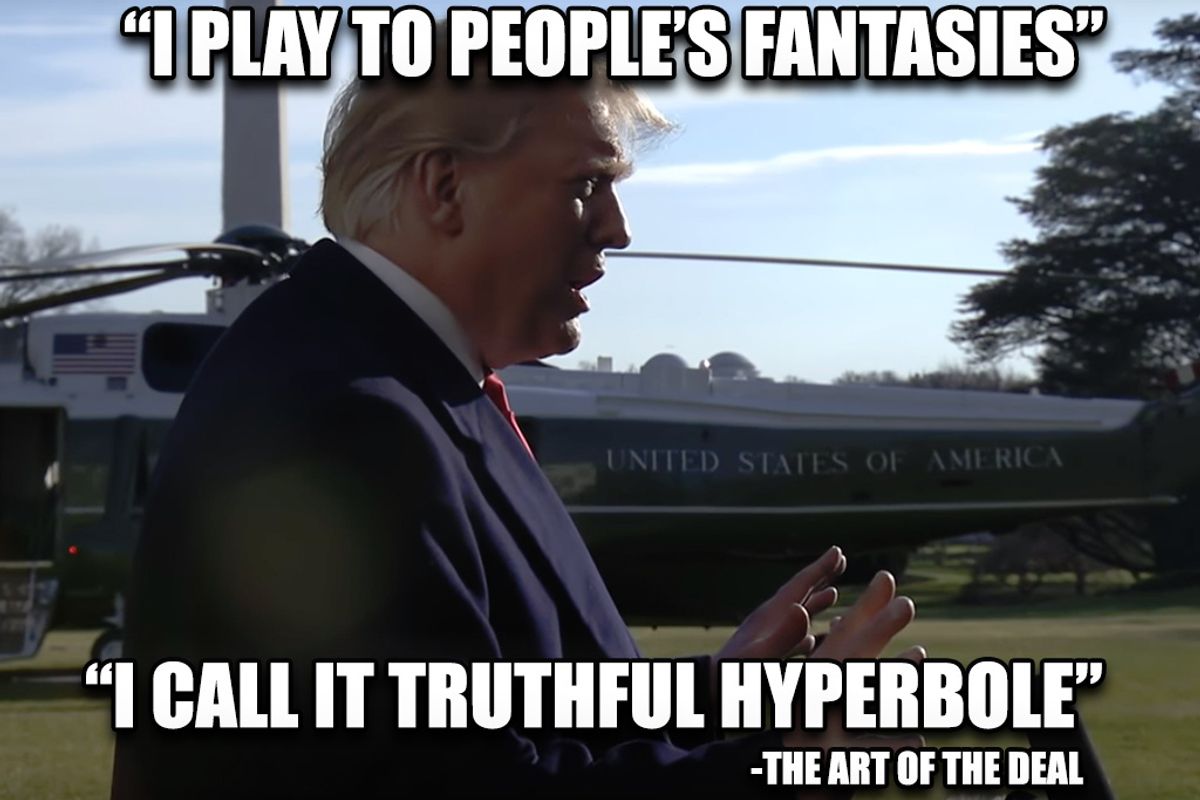 Morning Wonketariat! Here's some of the things we may be talking about today.
---
Now in Day 18 of Trump's shutdown, President Hamburglar is expected to make his first prime time national address tonight where he'll lie about his manufactured crisis on the southern border. Following a field trip to Texas, it's widely believed Trump will follow the advice of Sean Hannity and declare a national emergency in order to reallocate DOD funds to build portions of his wall on federal land, setting the stage for a massive legal fight about the use of wartime powers under the National Emergencies Act. This morning, Mike Pence is telling NBC News that Trump has "made no decision" to declare a national emergency, "but it's something he's looking at and considering," adding, "It's a real crisis." (It's not a real crisis.) Democrats have asked for equal time for a rebuttal, which several networks have agreed to.

As many as 55 Republicans may cross the aisle to vote for bills that could end the government shutdown as early as Wednesday, according to Politico, and Republican leaders are privately worrying about a potential override of Trump's veto. Fearing an embarrassing revolt from within their own ranks, Trump's White House has dispatched Mike Pence, Kirstjen Nielsen and Jared Kushner (natch) to whine that congressional Democrats are refusing to give Trump money for his wall and baby jails.
Administration officials are throwing out a lot of numbers on all the terrorists they're catching at the southern border, but NBC's Julia Ainsley got her hands on some CBP data from May of last year that contradicts the administration's bogus claim that 4,000 spooky Muslims were caught sneaking through the southern border last year. According to the report, only six non-US persons ID'd in the Terrorist Screening Database were "encountered" at the southern border between Oct. 1, 2017, and March 31, 2018, and 41 non-residents or citizens on the northern border. In all fairness, the Trump administration has never been good with math.
Throughout the country, people are beginning to wonder which bills they won't pay this month thanks to Trump's government shutdown. The Department of Agriculture is now compounding woes saying it may not be able to keep paying out food stamp benefits to low-income families within the next few weeks. Administration officials are now dodging questions about whether or not they'll feed children, the elderly, and the disabled. Good thing SNAP recipients don't have work requirements!
Thanks to Trump's shutdown, a number of federal agencies are ringing alarm bells with their skeleton crews. The administration says it will dole out cash to the IRS to process tax returns, but the Securities and Exchange Commission is warning it can't respond to "emergency situations," the Bureau of Alcohol, Tobacco, Firearms and Explosives can't approve new beer labels, and the Commerce Department can't deal with manufacturing companies looking for exemptions from Trump's trade war. TSA agents are now calling out sick, and there's even rare grumblings from Secret Service agents who are pissed they're not getting paid to deal with the 42 different people in Trump's orbit.
McClatchy has a handy list of dates showing when Trump's shutdown will really begin kicking people in their pocket books.
Vanity Fair gossips that Trump and his sycophants had no idea what a government shutdown meant, mirroring his incompetence in 2017 when he fired his transition team under the assumption that Obama's White House staff came with the job.
The DOJ is trying to stall Acting AG Matt Whitaker's testimony before the Democratic-led House Judiciary Committee. According to the crew helming what's left of the DOJ, Meatball is just SO BUSY right now, and the government shutdown has hobbled their efforts to keep Meatball from perjuring himself before they can install Matthew Barr.
As rumors abound that #HesRunning in 2020, Beto is planning a road trip to community colleges outside Texas in order to feel out whether he should throw his hat in with the other 9,000 people ALLEGEDLY running in 2020. We should probably make some BETOMANIA merch. Get it? It has a moptop, and is a joke for olds.
There's a rumor going around that Sen. Kamala Harris will announce #ShesRunning on The View tomorrow. HMMMM
Democratic operatives are trying to distance themselves from "Project Birmingham," a social media influence campaign intended to swing the special election in Alabama away from ALLEGED pedophile Roy Moore. There was even a "Dry Alabama" group that claimed to be Baptist teetotalers. When in Rome?
Los Angeles teachers are threatening to go on strike as early as Thursday after the union failed to reach a deal with school district negotiators. Both sides are expected in court today to argue whether or not the teachers union gave sufficient time in announcing a strike. Teachers contend that the district is hoarding emergency funding, and are demanding pay raises among other concessions, but the city contends it's spending all that it can to reduce class sizes and raise wages. The possible strike follows a growing trend of walkouts at public and charter schools across the country as teachers demand fair compensation. SOLIDARITY!
According to a draft speech obtained by Politico, Secretary of State Mike Pompeo is expected to praise Saudi Arabia for its handling of its murder of journalist Jamal Khashoggi, and bitch, whine and moan about Barack Obama's Middle East policy. Pompeo's remarks are intended to ease the fears of allies in the Middle East despite Trump's shitpost diplomacy that changes US foreign policy every other minute.
The Times reports after John Bolton locked out everyone else in the National Security Council, he inadvertently convinced Trump to pull out of the Middle East. Bolton and Pompeo are now trying to convince US allies in the region that they speak for an impulsive jackass who doesn't understand the most basic principles of multilateralism, and not just their individual crackpot foreign policy ideals.
The Yellow Vest protests are spreading and being co-opted by alt-right Islamophobic assholes in the UK and Canada, and merging with QAnon idiots who think gay people have a conspiracy to create a New World Order.
Wilbur Ross doesn't think Trump's trade war is a big deal because there's no tariffs on all the Apple products being made in China (there most certainly are). From the relative safety of Squawk Box, Ross is now threatening Chinese officials with "disgruntled" and "aggressive young people" who are threatening to revolt.
National networks spent the day debating whether or not they should be complicit in letting Trump have yet another uninterrupted bullshit session with America. The suit and tie crowd eventually capitulated -- SURPRISE! -- so here's a list of things you can watch instead of Trump's racist rant from the Oval Office, and here's a bunch of random educational videos.
Mother Jones got its hands on internal emails from the EPA that show the agency was not happy about Scott Pruitt's never-ending scandals. In order to make themselves feel better, they hired the same GOP-aligned PR firm as Facebook, Definers Public Media, to shill fake news and nonsense. They clearly wasted their money.
The shadowy executive VP of the Federalist Society, Leonard Leo, has been secretly setting mountains of cash on fire in order to pack the courts with conservative judges, like Justices Neil Gorsuch and Rapey McPrivilege. The Daily Beast has been helping to trace Leo's dark money trail and found millions connected to the Koch Network, the NRA, and various conservative PR firms. Naturally.
A terrifying communist moose invaded an Alaskan hospital and declared war in the waiting room. After abusing the hospitality of nurses and doctors, and plundering resources, the Canadian beast moved on. [Video]
And here's your morning Nice Time! Piano kitties!

Fevzi & Veysel 🎹🐈😊 www.youtube.com
Follow Dominic on Twitter and Instagram!

We're 100% ad-free and reader-supported, so consider buying us coffee, or get a subscription!
Dominic Gwinn
Dominic is a broke journalist in Chicago. You can find him in a dirty bar talking to weirdos, or in a gutter taking photos.