'I'm Still Doing It.' Wonkagenda For Wed., Jan. 9, 2019
Elections
January 09, 2019 09:09 AM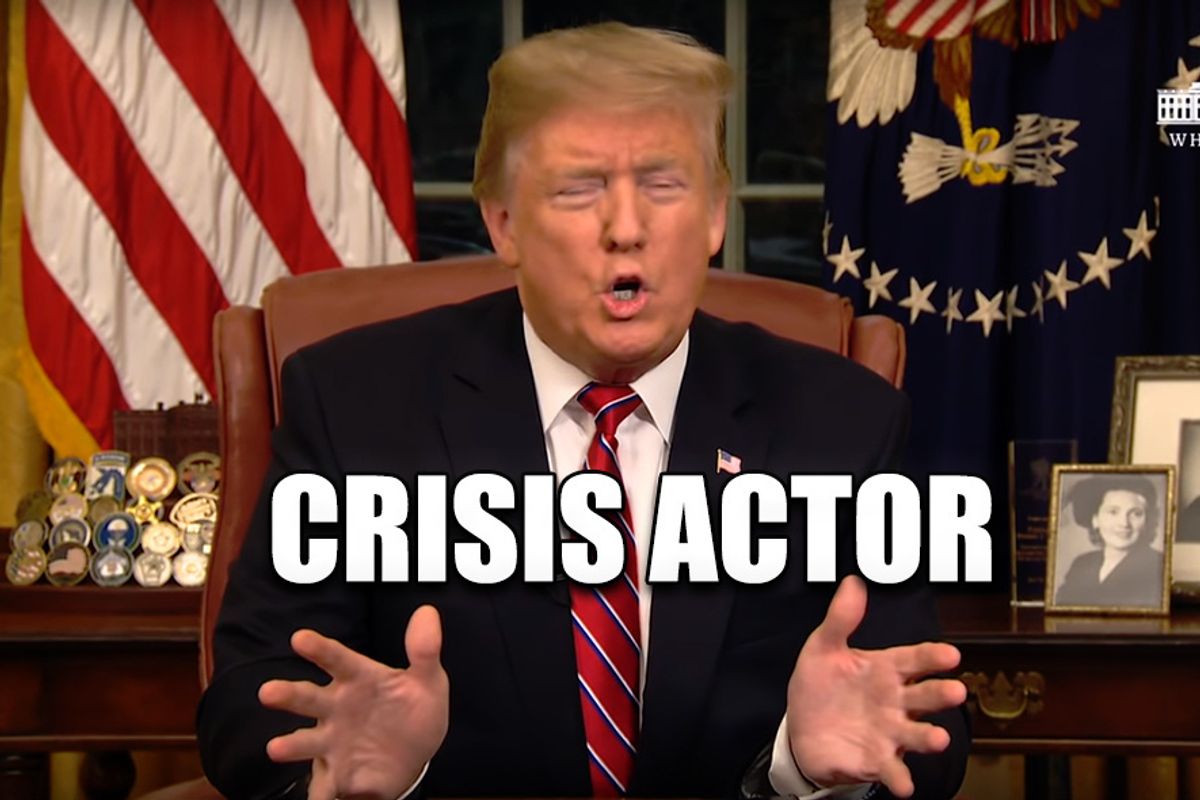 Morning Wonketariat! Here's some of the things we may be talking about today.
---
During his first nationally televised LOW ENERGY address from the Oval Office, Trump falsely claimed that the the southern border was being overrun by drug peddling bad hombres, and the only cure was his wall. Instead of declaring a national emergency, for 10 minutes Trump lied, squinted and snuffled at Stephen Miller's heavily scripted wet dream, declaring the southern border a "humanitarian crisis," and arguing that "the wall would pay for the wall" via some non-existent provision in his NAFTA 2 deal (that is unlikely to be approved by Congress, let alone Canada and Mexico).
Behind the scenes, the Times reports Trump doesn't really care, and privately told TV talking heads during an off-the-record lunch that his publicity stunts were "not going to change a damn thing," but he was doing them anyway because Bill Shine, Sarah Huckabee Sanders and Kellyanne Conway told him it's "worth it." Later today Trump and Vice President Mike Pence will head to the Hill to gut check congressional Republicans who are quietly considering Democratic proposals to reopen the government.
[ Fact-checked Trump Transcript ]

Following Trump's attempt to imitate empathy, Democratic Sen. Chuck Schumer and House Speaker Nancy Pelosi said Trump was manufacturing a crisis, and told him to quit his bullshit and stop holding the country hostage over a racist fantasy. Here's the combined transcripts and videos of Trump's address, and the Democratic response.
Gabe Sherman gossips in Vanity Fair that Trump is afraid he won't win in 2020 if he doesn't get his stupid wall. One former aide gossips that Mitch McConnell has called it "total fucking chaos," and they're worried the government shutdown could last all the way through the State of the Union. Things are so bad that Maggie Haberman is gossiping that Mick Mulvaney is already looking for an exit, while Rudy Giuliani thinks Mueller's report could be so "horrific" that Trump might cut a deal and quit-fire himself.
Deputy AG Rod Rosenstein is giving large swaths of America panic attacks this morning after ABC News started reporting Rosenstein is bailing out of the Trump administration "around the time" William Barr is inevitably confirmed as the new attorney general.
Emergency Nice Time: It's a tree kangaroo joey!
Introducing Ecki!www.youtube.com
On the eighth anniversary of the Tucson shooting that claimed the lives of six people and seriously injured former representative and real life superhero Gabby Giffords, House Democrats introduced a bipartisan bill to expand background checks on gun sales. The bill would effectively close the so-called "gun show loophole." Giffords helped introduce the bill yesterday, and upon its introduction, Rep. Steve Scalise hugged her on the House floor.

Aside from bad hombres, Trump is pissed at pharmaceutical companies for jacking up drug prices (again). He recently summoned former big pharma CEO/HHS Secretary Alex Azar to the White House and chewed him out over the price of hillbilly heroin, and demanded he do something to lower the cost. We're sure he'll get right on that...
A previously passed bipartisan House bill to help Vietnam veterans suffering from the effects of Agent Orange has been fished out of the Senate trash can. Reps Mark Takano and Phil Roe are expected to reintroduce their bill to provide care for so-called "blue water" vets suffering from toxic exposure.
NICE TIME: Yesterday Sgt. Tara-Lyn Baker became the first female Marine to graduate from the super tough Mountain Leaders Course, a program that trains soldiers how to survive in extreme cold weather. [Video]
According to a report in McClatchy, the CIA was operating a secret black site torture prison within GitMo, and CIA Director Gina Haspel MIGHT have overseen its operation for a time. Most of the information is beyond super secret and coming from the mouths of known terrorists, but former CIA officials say there's a greater than zero chance that the CIA was operating a black site from within a black site so it could torture people.
While Beto hasn't said if #HesRunning in 2020, people close to him tell Politico he's certainly warming up to the idea. Rather than behave like one of the usual 2020 suspects, Beto is planning lowkey stops for his upcoming road trip, telling reporters he'll make his decision by February. Honestly, who really wants to go to Iowa for corn dogs and grip and grins anyway?
The TSA union is warning the federal government that screeners are about to quit en masse if they don't get their paychecks Friday. The same sentiment is being echoed by many federal workers, like corrections officers, who say they've families to feed and bills to pay, and don't have time for Trump's stupid games.
Thanks to Trump's shutdown, Joshua Tree National Park will temporarily close tomorrow since people are trashing the park. Park officials say they're going to use the time to clean up all the overflowing toilets and asses the damage from jerkoffs who think it's cool to go off-roading on national treasures.

Trump's White House still hasn't paid its portion of the federal government's $16.5 million quarterly water bill, according to DC's NPR affiliate, WAMU, which was contacted by DC Water officials. Under DC law, the water company has the authority to charge late fees, shut off service, and even place a lien on the property of deadbeats. Since DC is a federal city with home rule, officials are now wondering if they can actually shut off the water to the White House.

In November the people of Missouri voted to change the way the state draws its gerrymandered districts, but the state's new GOP-controlled government is already trying to repeal the measure. According to the Republican supermajority, it's all part of liberal plot from city slickers who want to screw flyover country.
Trump is trying to open up a new front on his trade war by kicking out Nicaragua, El Salvador, and the Dominican Republic from the Central American Free Trade Agreement (CAFTA-DR). The administration has been slapping sanctions on the increasingly authoritarian government of Nicaragua, but it's also been quietly slapping El Salvador and the Dominican Republic for forging closer trade alliances with China, and many Not American nerds are warning that killing CAFTA will only make things worse.
Mike Pompeo took a field trip to Iraq to say mean things about Iran, and reassure Iraqi leaders that we're not just using them like an 18th century colony run by the East-India Trading Company.
With Trump waffling on his Syrian pullout, and John Bolton trying to fix his own catastrophic screw-up in the Middle East, Turkish dictator Recep Tayyip Erdogan says he still wants to go ahead with his plan to kill US-backed Kurdish fighters despite the fact they're hunting ISIS/ISIL/whatever. After recently snubbing Bolton, Erdogan is now telling reporters that its attack on the Kurds could happen "at any moment."
Anthony Zinni, the retired Marine Corps general and former head of US CENTCOM, suddenly quit the State Department. Zinni had been trying to work with Qatar to resolve regional issues and establish a NATO-like alliance in the Middle East.
The Trump administration quietly downgraded the EU's diplomatic status, but didn't bother to tell anyone about the change, not even the EU. The move has been temporarily reversed after officials in Brussels wondered what the hell the Trump administration was thinking.
The Daily Beast reports Cambridge Analytica and its parent company, SCL Elections, pleaded guilty to violating UK data laws. The Guardian says SCL Elections has been fined £15,000.
Politico has a super interesting and weird story about how a career NSA employee got caught ALLEGEDLY stealing terabytes of highly sensitive information and hardcore hacking tools -- after cryptic messages were sent to shady Russian software company Kaspersky Labs. Federal prosecutors are now butting heads with the accused person's defense attorneys after they started demanding copies of all the information he stole. This is one of the worst security breaches in history, and it doesn't end the way you'd think!
Treat yourself to comedian Maria Bamford's "Letter From the Future," and remember to enjoy making your own bowel movements (before Amazon does it for you). #SingleSexyCentenarian
And here's your morning Nice Time! IT'S MAYA, the fluffy polar pupper!

This is importantwww.youtube.com
Follow Dominic on Twitter and Instagram!

We're 100% ad-free and reader-supported, so consider buying us coffee, or get a subscription!
Dominic Gwinn
Dominic is a broke journalist in Chicago. You can find him in a dirty bar talking to weirdos, or in a gutter taking photos.