Game Of 'You're Boned.' Wonkagenda For Wed., Jan. 16, 2019
Russia
January 16, 2019 09:13 AM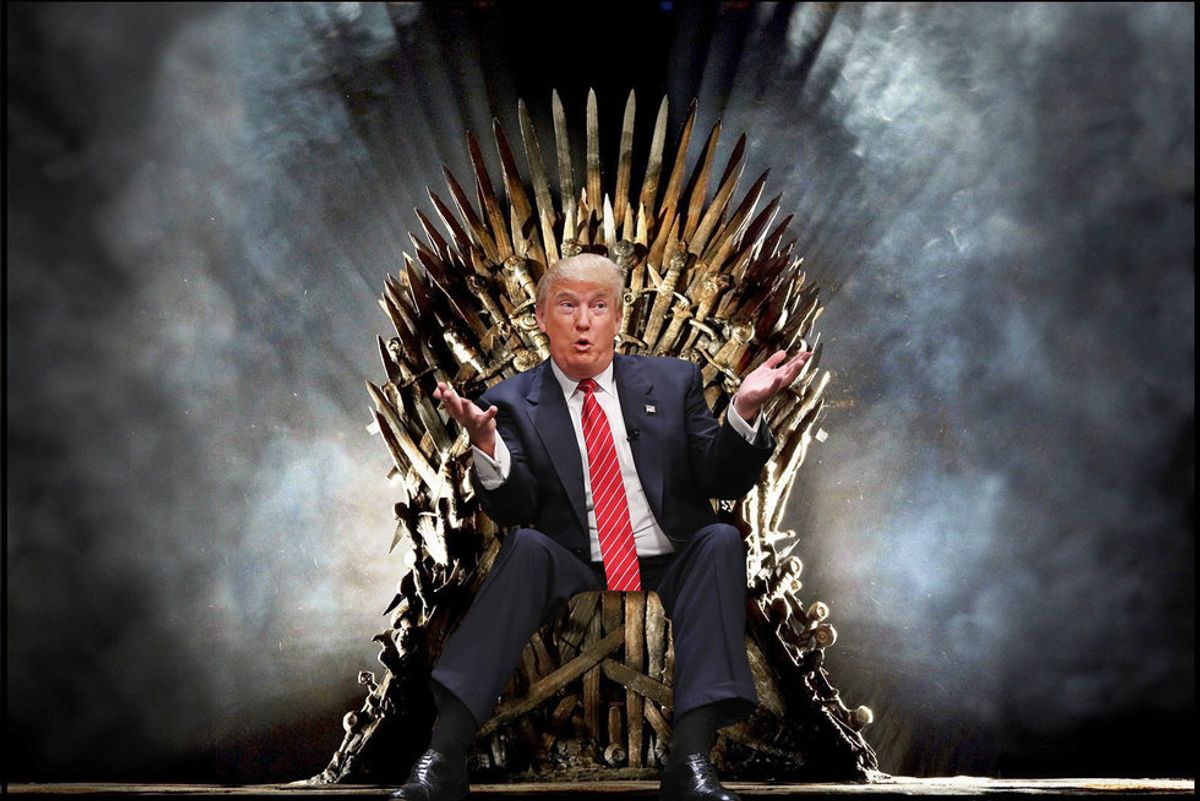 Morning Wonketariat! Here's some of the things we may be talking about today.

Now in its 26th day, Trump's shutdown shows no signs of stopping after Democrats rejected a useless photo op at the White House yesterday (twice). Trump's White House is attempting to peel off Democrats by tricking some into appearing to support his goddamn wall (oops, steel slats -- wait, now it's "a barrier?"). Rather than be used as props, dozens of House Democrats marched over to Mitch McConnell's vacant office and demanded he do his job by bringing House-passed legislation to the Senate floor. Where was he, on a beach in Puerto Rico or something?

The administration is realizing that government shutdowns are hard to win when the government is really shut down, so it's recalling thousands of federal workers to work without pay at the FAA, the DOT, the EPA, HUD, the IRS, and the FDA. Not to mention dozens of Interior Department workers to sell oil drilling leases in the Gulf of Mexico. Meanwhile, a federal judge has shot down a lawsuit by federal workers' unions over being forced to work without pay. The judge said workers deemed "essential" have to show up in order to avoid creating "chaos and confusion." The judge empathized with workers, but ultimately ruled, "the judiciary is not, and will not, be leverage in the internal struggle between the branches of government." Well...fuck.

A federal judge hilariously smacked down the Trump administration's attempt to put citizenship questions on the 2020 Census, arguing it was a "veritable smorgasbord of classic, clear-cut" violations to the Administrative Procedures Act. The judge then dumped on crooked Commerce Secretary Wilbur Ross's attempt to put the question on the Census, stating Ross had "ignored and violated a clear statutory duty," and "concealed its true basis rather than explaining it."
Nancy Pelosi seems to be getting her revenge on her detractors, blocking them from positions on powerful House committees. Politico gossips that Rep. Kathleen Rice was blocked from a seat on the House Judiciary Committee despite her seniority, with Pelosi instead offering up freshman Rep. Debbie Mucarsel-Powell. You come at the queen, you best not miss!
A group of Arizona nerds has launched a petition to get astronaut Mark Kelly to challenge Sen. Martha McSally in 2020. Roll Call and Politico note Kelly has been meeting with Democratic leaders and fundraisers over the last several weeks as he considers boldly going where few astronauts have gone before. The draft Mark Kelly movement is part of a broader push to get science geeks and pencil pushers into positions of politico power.

During an appearance on Colbert last night, Democratic Sen. Kristen Gillibrand announced her intention to run in 2020. Politico reports Gillbrand is making her pitch to female voters, but last night she stated that healthcare was a right, "not a privilege," which if you ask us is an appeal to anybody who likes having health. [Video]

Stacey Abrams and Andrew Gillum are not only on the shortlist of potential 2020 VEEP candidates, according to Politico, but they're also mulling their own 2020 presidential runs now that they both have a solid network of donors, voters, and volunteers who know how to knock on doors in crucial swing states.

Some yokels in the West Virginia House of Delegates want to give Trump $10 million for his goddamn wall instead of spending their $200 million surplus on the all the things slowly killing the state's population, like alternatives to the dwindling coal and natural gas gigs, ending food deserts, or helping addicts left to rot thanks to the opioid crisis. Gotta have priorities, and the priority is keeping people scared enough to vote R.
UK Prime Minister Theresa May's Brexit proposal went down in flames yesterday in a disastrous 432 to 202 vote. With calls to hold a second referendum growing in the UK, the EU is now telling Britian to shit or get off the pot. Later this morning the liberal Labour party is expected to call for a vote of "no confidence" in May's leadership, but it too is expected to fail as conservatives would rather have a bumbling, ineffectual idiot helping lead the world towards economic catastrophe than another distasteful political opportunist.

The New York Times has a retrospective on all the times Trump spoke with Russian President Vladimir Putin (keepign no detailed record of the meetings) and the curious coincidences that always seem to happen shortly after their little get-togethers, like revelations on the Trump Tower meeting, sanctions, and Trump's disdain for US allies and NATO. NYT even made a fancy infographic!
Robert Mueller's team has delayed sentencing for Rick Gates because he's not done spilling the beans on all the Trump-Russia fuckery he's been privy to. Furthering speculation that the investigation into Trump's ALLEGED COLLUSION with Russia is far from over, Mueller's team filed a 31-page affidavit and 406 pieces of almost entirely blacked-out exhibits showing how Paul Manafort lied his ass off after he cut a deal with federal prosecutors. According to the filings, Manafort's lawyers had to pull him aside several times during questioning and remind him to keep his mountain of lies straight. CNN is also reporting that Manafort's lawyers tried to obscure the fact that Manafort's longtime pollster -- who he brought in to work on the Trump campaign -- met with Mueller's team and acknowledged he gave polling data on the 2016 campaign to Russian while serving as Trump's campaign chairman. LOCK HIM UP!
Don't expect Michael Cohen to say much to the House Oversight Committee next month as Robert Mueller's team of extraordinary investigators still isn't done with him either! People close to Cohen told the Wall Street Journal he intends to gossip about what it's like to work with Trump, and that his testimony will give people "chills," though the WSJ has since yanked those comments from its original story. HHMMMM!
Speaking of Michael Cohen, when he finally does report to jail, he'll be neighbors with one of those jerkoffs from "The Jersey Shore" at the Otisville Federal Correctional Institution.
According to a new survey by City Lab, Chicago has has one of the best public transit systems in the country. Not only is the CTA fairly reliable, it has a cleanliness rating of, "meh, could be worse," something called, "bus justice," and (most importantly) there are taco stands at (almost) every "L" station. That's right, y'all, TACO TRUCKS ON EVERY CORNER!
Treat yourself to some lovely sing-song by the fabulous Randy Rainbow!

And here's your morning Nice Time! OTTERS!

Follow Dominic on Twitter and Instagram!
We're 100% ad-free and reader supported, so consider buying us coffee, or get a subscription!
Dominic Gwinn
Dominic is a broke journalist in Chicago. You can find him in a dirty bar talking to weirdos, or in a gutter taking photos.