ANOTHER Government Shutdown!?! Wonkagenda For Mon., Feb. 11, 2019.
News
February 11, 2019 09:16 AM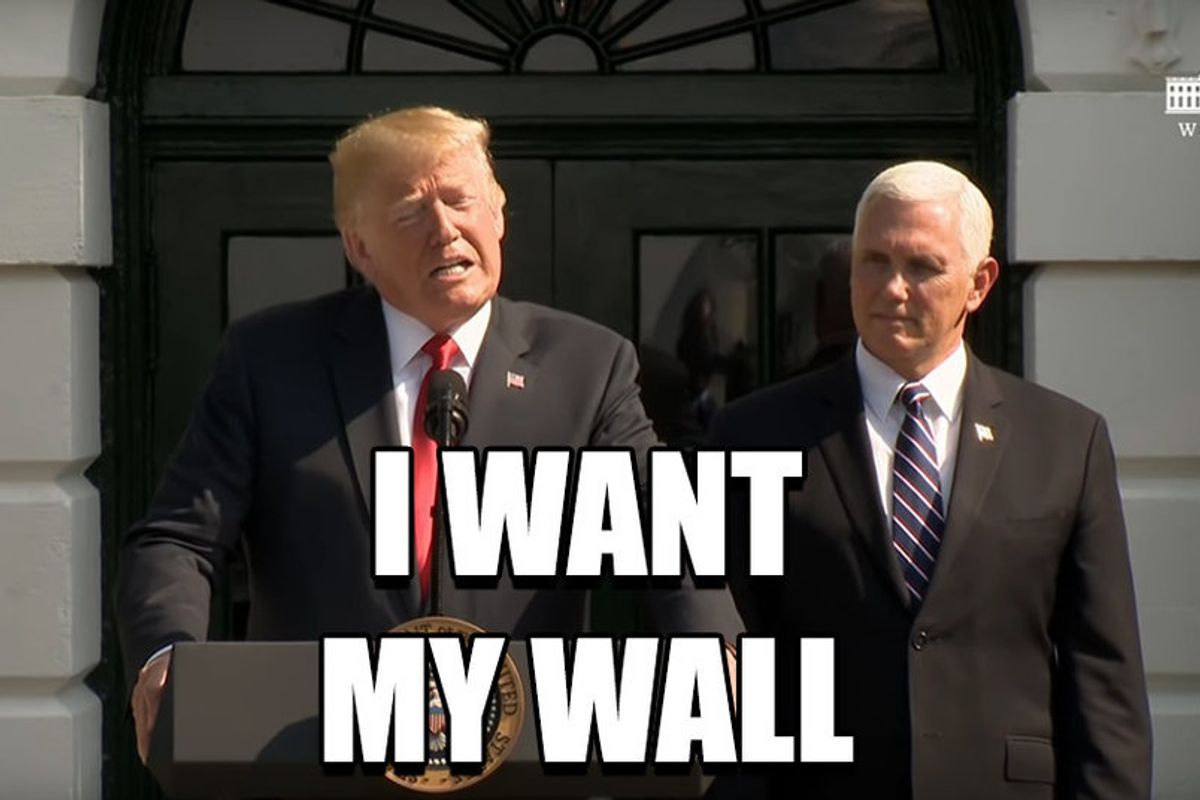 Morning Wonketariat! Here's some of the things we may be talking about today.
---
Negotiations to avoid ANOTHER government shutdown appear to have broken down yesterday over Democrats' insistence on limiting the number of immigrants detained by ICE in exchange for some money for border security. This caused a two-faced Lindsey Graham to cry on Fox News that Democrats were abolishing ICE, and that Trump should take whatever Democrats are willing to give him as a "downpayment" for his goddamn wall (or "peaches," or steel slats, etc.). Later today Trump will head to El Paso to bitch and moan about WALL as another 5,900 US troops head to the southern border to stare listlessly into the desert. Trump is expected to be greeted by protesters led by Beto O'Rourke, who will troll Trump by delivering a speech at 9 pm, the same time as Trump. [FOX]

California Governor Gavin Newsom will redeploy the state's National Guard troops sent to the southern border. Newsome has ordered the troops to help fight wildfires instead of standing around with their thumbs up their asses. Meanwhile, Democrats are fighting to protect federal disaster relief and infrastructure money from being killed off by Trump and spiteful Republicans, while Los Angeles FINALLY became a sanctuary city following a 12-0 city council vote. LA's resolution languished in legislative purgatory since September of 2017; among other reforms, the resolution bars the LAPD from demanding papers from brown people.
The Washington Post's David Fahrenthold has a brilliant investigation into how Trump's golf courses created an entire pipeline of undocumented immigrants from Central America, and how the wages they earned helped build entire towns. Workers tell WaPo working at the Bedminster course in particular was often a launch pad to creating a better life, even if they had to deal with backbreaking labor and blatant racism.

During an appearance on "Meet the Press," House Intel chair Adam Schiff defended investigating Trump's taxes and his business with Deutsche Bank, saying he wasn't sure if Robert Mueller has crossed Trump's "red line." Schiff said, "If the special counsel hasn't subpoenaed Deutsche Bank, he can't be doing much of a money laundering investigation," adding Congress has a "separate and independent and important responsibility" to find all the rubles lining Trump's pockets. [Video]
Axios got its hands on MORE of Trump's personal schedules. The new schedules show that Trump spent half his time screaming at the TV and shitposting on Twitter, AKA "Executive Time." Politico reports Trump's White House has started a witch hunt to ferret out the LEAKERS. Over the weekend, Trump defend wasting his time by ironically tweeting he is "generally working, not relaxing" during "Executive Time." All of Twitter replied, "Hey, you do that with one hand or two?"
Trump is expected to crank his trade war up to 11 (again!) when he announces an executive order banning equipment from Huawei and ZTE, two major Chinese telecoms, ahead of the 2019 Mobile World Conference later this month. The administration will reportedly use the International Emergency Economic Powers Act as part of a DHS push to secure the global supply chain and safeguard federal agencies. Geeks say that's a pipedream and distracts policy makers and companies from tackling the rapid rollout of 5G wireless technologies. The move comes as Axios gossips Trump wants to hold upcoming meetings with Chinese dictatorPresident Xi Jinping at Mar-a-Lago.
On Friday, the EPA quietly released data it hoped nobody would notice -- that environmental inspections have fallen dramatically. WaPo notes that, thanks to Republicans, the number of investigations and civil penalties continues to fall due to constant budget cuts and the Trump administration's habit of setting all of its fucks on fire.
Democratic Sen. Elizabeth Warren OFFICIALLY announced #ShesRunning in 2020 over the weekend at a rally in Lawrence, Massachusetts. Warren stated she was running to break down the "rigged system that props up the rich and the powerful and kicks dirt on everyone else." Shortly thereafter, Trump and his spawn made blatantly racist shitposts joking about the Trail of Tears. Speaking with reporters in Iowa about Trump's constant shitposting about her and the looming 2020 election, Warren quipped, "By the time we get to 2020, Donald Trump may not even be president. In fact, he may not even be a free person."
News junkies and political wizards are livid CNN is giving Howard Schultz a prime time town hall, with some telling the Daily Beast they're having nightmares the self-described "most trusted name in news" is giving airtime to rich assholes who have no place in politics. AGAIN.
Republicans are bawling this morning after Democratic Rep. Ilhan Omar said mean things about AIPAC on Twitter. Rep. Omar was shitposting with Glenn Greenwald -- who was hypocritically rambling about #Merica from his safespace in Brazil -- when she criticized the pro-Israel lobby for making it rain all over Washington. Apparently it's OK for Republicans to support anti-Semitic white supremacists like Rep. Steve King, but when a Muslim woman (very clumsily) decries lobbying she's advocating genocide. IN PEACH!
Ronan Farrow just dropped a crazy new story about how Israel's "Psy-Group" has been acting as a self-described "private Mossad" that would "shape reality" for its clients by abusing international laws and brainwashing people on social media.
Independent news outlets in Russia report Google has caved to Vladimir Putin's censorship policies and deleted a bunch of blacklisted websites. In a related move, Reddit users noticed posts critical of China's regime were being deleted shortly after a Chinese company dumped $150 million into the site's coffers, so they began flooding the site with videos of the 1989 Tiananmen Square protests and memes comparing Chinese President Xi Jinping to Winnie the Pooh. Xi really doesn't like that.

Over the weekend President Skidmark tweeted he will hold his second meeting with North Korean dictator Kim Jong Un in Hanoi, Vietnam. Details are still sketchy, but we're reasonably confident Trump will suggest holding the meeting at the Hanoi Hilton.

Prince Bonesaw is now (ALLEGEDLY) allowing the rape and torture of women's rights activists in Saudi Arabia because their quest for equality damages the delicate fee-fees of the Saudi patriarchal monarchy.
The Daily Beast is reporting that it was indeed Michael Sanchez who leaked Jeff Bezos's dick pics to the National Enquirer. According to the Daily Beast, Sanchez, the brother of Bezo's GF Lauren Sanchez, is one of the Trump crazies who thinks Bezos "gets up every morning and has a WaPo meeting to plot its next diabolical attack on President Trump," and that he thinks Trump knew about and encouraged leaking Bezos's stupid lovelorn text messages. A lawyer for AMI, the hokey gossip mag's parent company, didn't exactly deny it was Sanchez, though he did deny Trump and Saudi Arabia's involvement while doing damage control with George Stephanopoulos yesterday.
Page Six is gossiping Javanka are SUPER SCARED about a tell-all book describing them as "entitled inheritors of the worst kind" whose "combination of ignorance and insatiable lust for power" will probably kill us all.

Naval Academy graduate Alexandra Marberry was one of the first transgender persons allowed to transition while serving in the US military, but Marberry was discharged over sexual misconduct charges she says were motivated by a commanding officer's bigotry. Marberry is fighting to clear her record of the charges, and trying to raise money to pay off debt to the Naval Academy as a result.

Circus of Books, a West Hollywood staple of the gay community since the 1980s, closed on Saturday. For decades the lovely couple behind the erotic bookstore fought everything from federal raids, the AIDS epidemic, and Jesus freaks to be one of the original safe spaces for gay people, but they were unable to fight against Jeff Bezos and the rise of dating apps.
Former North Carolina Republican Rep. Walter Jones has passed away. A Newt Gingrich acolyte, Jones was responsible for the anti-French backlash during the build up to the second Iraq war that led to "freedom fries" and "freedom toast." He was 76.
And here's your morning Nice Time! IT'S MARMALADE!

When The Catnip Kicks Inwww.youtube.com
Follow Dominic on Twitter and Instagram!

We're 100% ad-free and reader supported, so consider buying us coffee, or get a subscription!
Dominic Gwinn
Dominic is a broke journalist in Chicago. You can find him in a dirty bar talking to weirdos, or in a gutter taking photos.