Chinaman Not The Preferred Nomenclature, Trump. Wonkagenda For Tues., Feb. 26, 2019
News
February 26, 2019 09:00 AM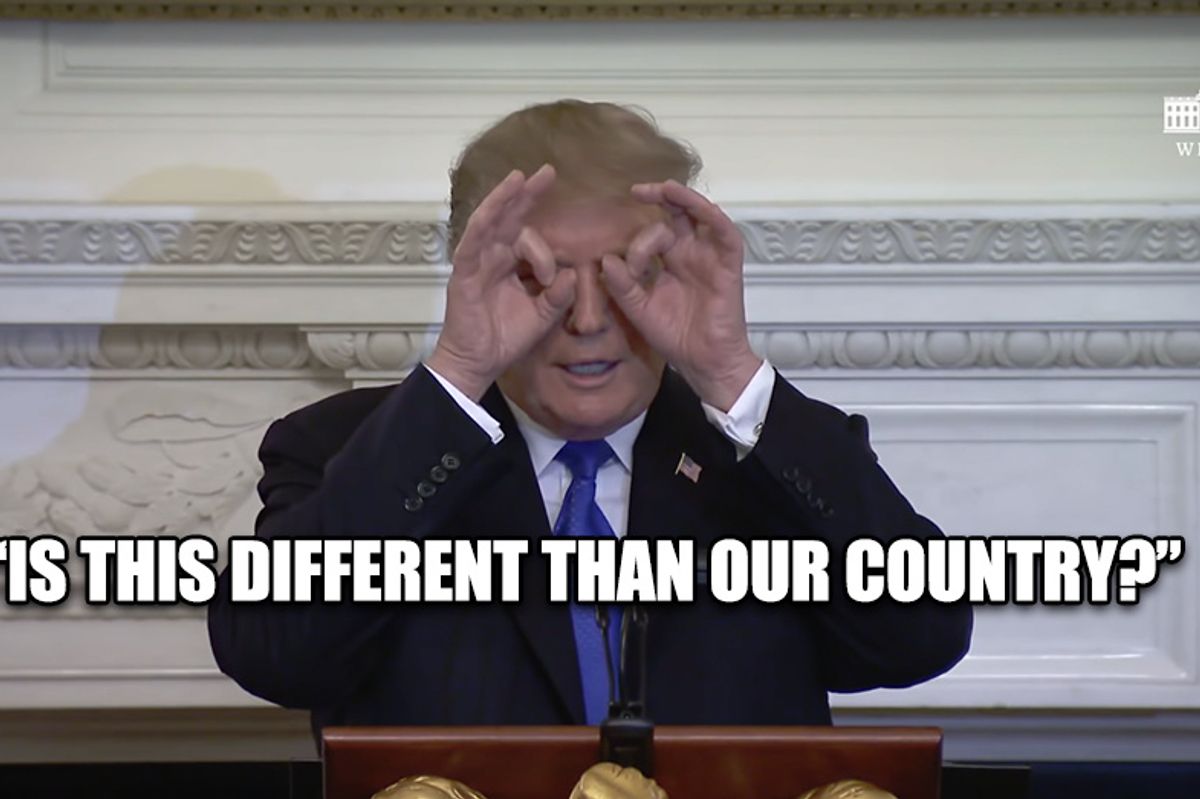 Morning Wonketariat! Here's some of the things we may be talking about today.
---
Trump was an embarrassing piece of shit on the world stage again. Admit it, you were relieved he stopped himself from doing "slant-eyes."
The WSJ reports Trump world's pariah-in-chief, Michael Cohen, will publicly tell Congress Trump is a lying, racist criminal and a tax cheat who told him to pay off porn stars who've seen Trump's (ALLEGED) toad penis. Cohen is expected to say why he lied to Congress, but he isn't expected to say anything about whether or not Trump told him to lie, nor is he expected to say anything about the Trump-Russia investigation. Emily Jane Fox has some "earth shattering" gossip, per usual, but you can skip it unless you have a fetish for schadenfreude or masochism.

The House Judiciary Committee thinks it has evidence Meatball lied to Congress. According to the WSJ, investigators have reason to believe former acting AG Matthew Whitaker was told by Trump's White House that Manhattan US attorney Geoffrey Berman could "unrecuse" himself and squash the investigation into Michael Cohen. Aides for Trump gossip they're glad Trump will spend much of the week without "the full TiVo replay capacity."
The Trump administration intends to ignore defense spending caps, drop a ton of cash in a warfighting slush fund, and then slash nondefense appropriations in its 2020 budget, according to an op-ed by acting OMB Director Russ Vought ironically titled, "Congress Must Join The President In Cutting Spending." According to the plan, the administration will call for a $34 billion increase in defense spending, bringing the total to $750 billion. Democrats on the House Budget and Armed Services committees called it an attempt to "obscure the true cost of military operations, and shortchange several other investments vital to our national and economic security."
Senate Republicans have blocked a bill to stop support for the Saudi-led war in Yemen due to a technicality. Because the bill contained an amendment condemning anti-Semitism, the Senate's parliamentarian ruled the bill was not "germane" to the Yemen War Powers resolution. The anti-Semitism rider was added at the last minute by WASPY House Republicans who claimed to be deeply offended by Rep. Ilhan Omar's comments about AIPAC; all Democrats joined in voting for it. Politico reports Democratic senators still plan to vote for a clean version of the bill, but Republicans have been quietly whipping each other to kill the bill.
Republican Senator Thom Tillis says he'll vote to kill Trump's national emergency declaration. Writing in a WaPo op-ed, Tillis says he's all for securing the Southern border from a horde of Mexican Muslim taco trucks; Politico notes that Tillis's defection makes it very likely Congress is about to tear down this wall decoration, but most are too chickenshit to come out against it. (Murkowksi also says she's "likely" to vote to kill it.)
Capitol Police arrested 42 hippies for protesting in favor of the Green New Deal at Sen. Mitch McConnell's office in the Russell Senate office building. KEEP FIGHTING THE GOOD FIGHT!
New York Senator and 2020 Democratic candidate Kirsten Gillibrand went on Fox News to compare the Green New Deal to a the new mission to the moon, but host Chris Wallace was more interested in her Pfizer fundraiser than gay rights, women's rights, gun control, or the world burning.
Vermont independent Senator and 2020 Democratic candidate Bernie Sanders had a town hall on CNN where he yelled at rich people (again), criticized big pharma (again), demanded universal healthcare (again), dodged questions on Venezuela (again), called Trump a racist liar (again), insisted that he'd make rich people pay more taxes (again), and called for DC statehood (again). The mostly young crowd then chanted his name, and he posed for selfies.
Washington Democratic Gov. Jay Inslee says he'll make a decision on whether or not #HesRunning soon.
Mike Pence said mean words about Venezuelan dictator Nicolas Maduro in Columbia, and announced the US was slapping sanctions on four Venezuelan governors for "endemic corruption" and "blocking the delivery of critical humanitarian aid," according to the Treasury Department. Shortly thereafter, Univision journalist Jorge Ramos was temporarily detained by Venezuela's dick-swinging goons following an interview with Maduro. The dictator's henchmen ultimately confiscated Ramos's camera after Ramos reportedly showed Maduro video of Venezuelans eating out of garbage trucks, causing Maduro to walk out of the interview. Ramos later told Univision, "He didn't like the things we were asking, about the lack of democracy in Venezuela, the torture of political prisoners, about the humanitarian crisis that they are living."
British Labour Party leader Jeremy Corbyn decided not to be a tremendous prick (for once) and stopped resisting calls for a second Brexit referendum. This comes amid a revolt against party leaders in Parliament as the likelihood of a disastrous "no-deal" Brexit scenario becomes very real. With British PM Theresa May facing a mass resignation of cabinet officials, some MPs are now calling for a delay of Brexit, yet others still worry what the doddering old farts in the Northern shires will do if they ignore the will of a few racists in favor of Queen and Country. UPDATE: Late this morning Theresa May promised a vote to delay Brexit.
Jared Kushner says he has developed a magic plan for peace in Israel and Palestine, and it MIGHT involve new borders -- but he's not telling (yet). As Kushner flies around the Middle East seeking advice from people like Mohammad Bonesaw and other "stakeholders" -- but not the Palestinians -- Israel's rightwingers are using claims that Kushner intends to create a Palestinian state as a cudgel against sitting Israeli PM Benjamin Netanyahu. After gleefully hopping into bed with a radical right fringe party, Netanyahu is now branded a weak leftie by possible future Israeli PM Naftali Bennett, who claims Netanyahu "will be forced to acquiesce" into recognizing the Palestinian people. Is it "Fauda" or Dafuk?
Facebook comment moderators may be going completely insane according to a new investigation by The Verge which finds employees at a Phoenix contractor were smoking weed and screwing each other at work to cope with the stress of sifting through the ceaseless piles of human garbage. The report notes staffers routinely joke about committing suicide, while others say they began believing in conspiracy theories they were tasked with snuffing out. One moderator apparently became so terrified of fired employees that they began carrying a concealed gun to work in order to defend themself and others. In response, Facebook said it was working hard to make the world a better place by offering a "comprehensive wellness program."
Former Daily Show host Jon Stewart is shaming Congress's inability to give aid to 9/11 first responders. Stewart is calling on Congress to pass the Never Forget the Heroes: Permanent Authorization of the September 11th Victim Compensation Fund bill, a dedicated fund to help first responders suffering from chronic illnesses related to their efforts to save victims on September 11th, 2001. The existing 9/11 Victims Compensation Fund is set to expire in December of 2020, and the DOJ has announced it needs to make dramatic cuts to the existing program (*cough*baby jails and border walls*cough*), and Stewart is charging politicos not to let this get drowned out in the 24-hour news cycle.

New England Patriots owner Robert Kraft has been charged with getting $100 hand jobs in a Florida spa as part of a bust on a human trafficking ring. Police reportedly have video of Kraft getting happy endings after placing hidden cameras as part of a "sneak and peek" operation.

A Florida man and woman were allowed to make out to Barry White's "Can't Get Enough Of Your Love" while smoking cigarettes in the back of a cop car after being arrested for shoplifting, according to an internal affairs investigation. The cop has since been suspended for 20 days without pay for letting the couple get it on. And yes, there's body camera footage.
In the event that you needed further proof that God is dead/a lie, a Norfolk, Virginia-based craft beer company is set to launch a Lucky Charms-flavored beer. Smartmouth Beer says their Saturday Morning Marshmallow IPA is made with "pounds of marshmallows" and Calypso hops. Hail Satan, or whatever!
And here's your morning Nice Time! BABY ANI-PALS!

Zoo Arrivals - Takin, Hamadryas Baboon, and Siamang Babies Melt Heartswww.youtube.com
Follow Dominic on Twitter and Instagram!

We're 100% ad-free and reader-supported, so consider buying us coffee, or get a subscription!
Dominic Gwinn
Dominic is a broke journalist in Chicago. You can find him in a dirty bar talking to weirdos, or in a gutter taking photos.