You've Lost That Lovin' Feeling. Wonkagenda For Thurs., Feb. 28, 2019
News
February 28, 2019 08:58 AM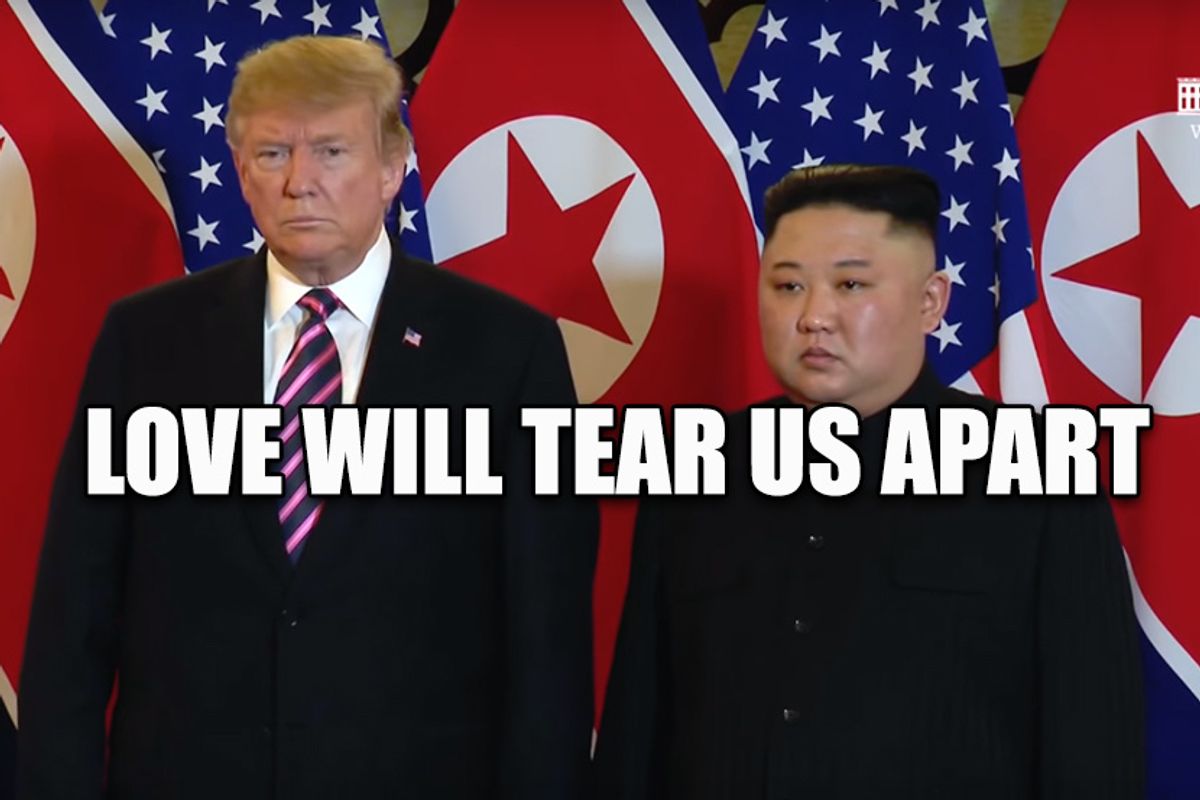 Morning Wonketariat! ASIDE from Michael Cohen's INSANE testimony yesterday, here's some of the things we may be talking about today!
---
Trump's Vietnam PR stunt with North Korean dictator Kim Jong Un was suddenly cut short after they unsurprisingly failed to come to a "denuke" agreement. Trump officials say Kim insisted on an immediate end to all sanctions and refused to show all the nuclear rockets in his pocket, and that this had NOTHING TO DO with Michael Cohen eating up the entire news cycle. As the Asian stock markets nosedived, Trump blabbed during a press conference, "This wasn't a walkaway like you get up and walk out," adding that he and Kim had had a "special" relationship with "warmth," and that they reached around to shake each other's hands. When a reporter asked Trump about Otto Warmbier, a UVA student who was detained in a North Korean prison for 17 months while comatose for ALLEGEDLY stealing a propaganda poster -- and died shortly after release -- Trump said Kim denied knowing anything about Warmbier, and stated, "He tells me that he didn't know about it, and I will take him at his word. Those prisons are rough. They're rough places, and bad things happen. But I don't believe he knew about it."
House Democrats are expected to reintroduce a new and improved Dream Act on March 12. Called the Dream and Promise Act of 2019, the new version would include a permanent path to citizenship for the Dreamers, as well as including protections for people with Temporary Protected Status and Deferred Enforced Departure recipients. See? VOTING MATTERS!
[A bunch of stuff happened in the House yesterday, and we're pretty sure Dok already wrote about it while watching Michael Cohen, agape and agog. At least that is what Rebecca says since she is adding this in. She should edit those, and post them! Something about guns, and Medicare For All!]
IF Trump starts picking the Pentagon's pocket to build his goddamn wall, the Pentagon is telling Congress that it has to be reimbursed. During a hearing on the House Military Construction-VA Appropriations Subcommittee, the assistant secretary of Defense for sustainment said, "The fiscal year 2020 president's budget request will include a request for funds to replenish funding for these projects," prompting Democrats and the subcommittee's top Republican to lose their shit and scream that Trump is making an "end-run around Congress," adding that there's no guarantee Trump will ever get his money.
Five transgender military members appeared before Congress to dump on the Trump trans-ban, and demand equal treatment under the same standards as other soldiers. Army captain Jennifer Peace told legislators that arguments about money and morale were "all red herrings for a policy based in bigotry," adding soldiers could care less about what's going on between your legs, "It's only in offices here in D.C."
Later today the Senate is expected to vote on Trump's nominee for the EPA, Andrew Wheeler, HOWEVER, Republican Sen. Susan Collins says she opposes Wheeler's nomination, so who the hell knows how this one is going to go!

The new MAGA-version of CPAC starts today, and you'll never see a more wretched hive of scum and villainy screaming about the threat of China. McClatchy reports some Never Trumpers and "traditional" conservatives are holding their own conference without all the MAGA bullshit, as if to say that they're better than the trash roaming about DC in their Trump hats and Trump shirts, eating their Trump Steaks, and drinking their Trump Vodka.
The Dallas Morning News was first to report that Beto O'Rourke is not mounting a Senate challenge against Texas Republican Sen. John Cornyn. Shortly after the news broke, Beto said he and his wife have (FINALLY) "made a decision" on whether or not #HesRunning, and they were "excited to share it with everyone soon." [Editrix here: DON'T BE AN ASSHOLE BETO, JESUS CHRIST.]
California Democratic Rep. Eric Swalwell tells the San Francisco Chronicle IF #HesRunning he won't simultaneously run for re-election in the House. As every politico in the Bay Area fantasizes about their own campaigns, Swalwell says he doesn't want people to think he has a "lifeboat," adding, "I think you have to assure the people you're asking to vote for you that you're not hedging." [Beto and Swalwell, COUPLA ASSHOLES.]

A federal judge has ruled that Texas officials need to stop purging voter rolls. In the ruling the judge said, "perfectly legal naturalized Americans were burdened with what the Court finds to be ham-handed and threatening correspondence," and Texas Secretary of State David Whitley's "advisory on voter registration list maintenance activity" is the perfect example of the government behaving like a boogeyman.

SCOTUS Chief Justice John Roberts has become the new swing justice after repeatedly siding with the court's more liberal justices as opposed to the religious nuts and (ALLEGED) sexual predators. This comes after the court kicked the case of a death row inmate suffering from dementia due to multiple strokes back down to lower courts.
After a Brazilian woman knocked the MAGA hat off a guy in a restaurant following a shouting match, she was detained by ICE officials who say she was in the US "unlawfully." The MAGA guy tells CBS, "I don't really understand why people can't just express themselves anymore, everybody has to get mad," adding, "It's good that they got her." The CBS Boston affiliate notes the woman has since been released and ordered to appear before an immigration judge for deportation.
The United Methodist Church hath decreed gay-mo sexuals are still icky and wrong. LGBT members of the church made heartfelt and impassioned pleas during a global conference in St. Louis, Missouri, but they were ultimately rebuffed by gayhatin' Jesus freaks who think buttsexing is sin. NPR reports it's similar to the church's view on black people in 1939, when "white folks stood up and clapped, and the black folks sat down and cried."
The wife of Virginia Democratic Gov. Ralph Northam gave raw cotton to black kids touring the governor's residence and asked them to imagine being slaves. They've since asked for forgiveness. Again.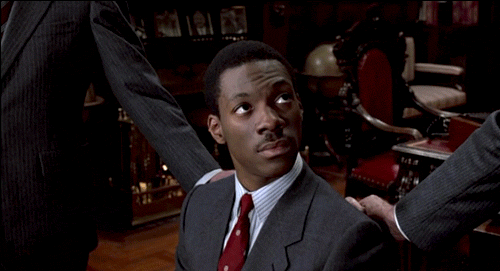 Pakistan says it's shot down at least one Indian fighter jet in response to Indian airstrikes in the disputed territory of Kashmir. The Pakistani government later published video of a captured pilot, scaring the crap out of pilots throughout the region. Tensions have flared between the two nuclear powered countries in recent weeks as India cracks down on terrorist attacks in Indian-controlled Kashmir amidst its own elections; Pakistan's new prime minister, Imran Khan, has been swinging his dick while pocketing cash from China, according to the New York Times. Late this morning, Khan agreed to release the pilot on March 1 as a "peace gesture" after Indian Prime Minister Narendra Modi began rattling his saber (again).
The British Parliament rejected a "soft Brexit" plan put forth by liberal Labour party leader Jeremy Corbyn that would have kept a number of trade and immigration agreements intact while formally separating the UK from the EU. Leaders of EU member nations yesterday said a delay in Brexit would only be "justified" by "new British choices," a less than subtle suggestion that a second referendum is the only thing that could stop a "no deal" Brexit. Last night Labour stated it would file a parliamentary motion calling for a new referendum on March 12, the same day Prime Minister Theresa May's second withdrawal agreement is scheduled to go up in flames. This comes as super rich guys continue biting their nails to the nubs at the thought of a "no deal" scenario.
US officials are calling for new elections in Venezuela, however Russia is attempting to counter this by calling for negotiations, and allowing the dictatorial regime of Nicolas Maduro to oversee the distribution of international aid. While attempting to bullshit the UN Human Rights Council, 60 representatives walked out on a speech by Venezuela's foreign minister. In other news, Reuters reports the Maduro regime has secretly been moving hundreds of tonnes of gold from banks, and selling it overseas.
US Cyber Command kicked Russian troll farms off the internet during the 2018 midterms, with one official telling WaPo, "They basically took the IRA offline." Officials say they not only clogged the tubes, but they sent messages to trolls letting them know they were being watched, and that the operation was so successful that trolls complained to system admins (HAAAA!). Even though some nerds described US's first offensive cyber operation as a "pinprick," Russia is rolling on the ground crying like a futballer with a boo-boo, saying that this is why Russia needs its own internet.
Federal prosecutors delayed Russian spy Maria Butina's sentencing again, cryptically telling a judge that she was still helping them with ... things.

Facebook is expected to release a "clear history" feature that will (ALLEGEDLY) delete all those pictures from your blunder years, but Facebook CFO David Wehner whined that users deleting troves of data will be bad for business since their entire business model centers around hoarding user data and selling ads.

A US Capitol Police officer left a service weapon in the bathroom (AGAIN). Maybe they need bigger guns to chaperone the smaller guns, or leashes so the guns don't get lost?
And here's your morning Nice Time! IT'S MAVERICK!

Bird 🦅 watching in Utah :)www.youtube.com
Follow Dominic on Twitter and Instagram!

We're 100% ad-free and reader-supported, so consider buying us coffee, or get a subscription!
Dominic Gwinn
Dominic is a broke journalist in Chicago. You can find him in a dirty bar talking to weirdos, or in a gutter taking photos.