And Iran Iran So Far Away. Wonkagenda For Wed., May 15, 2019
popular
May 15, 2019 08:58 AM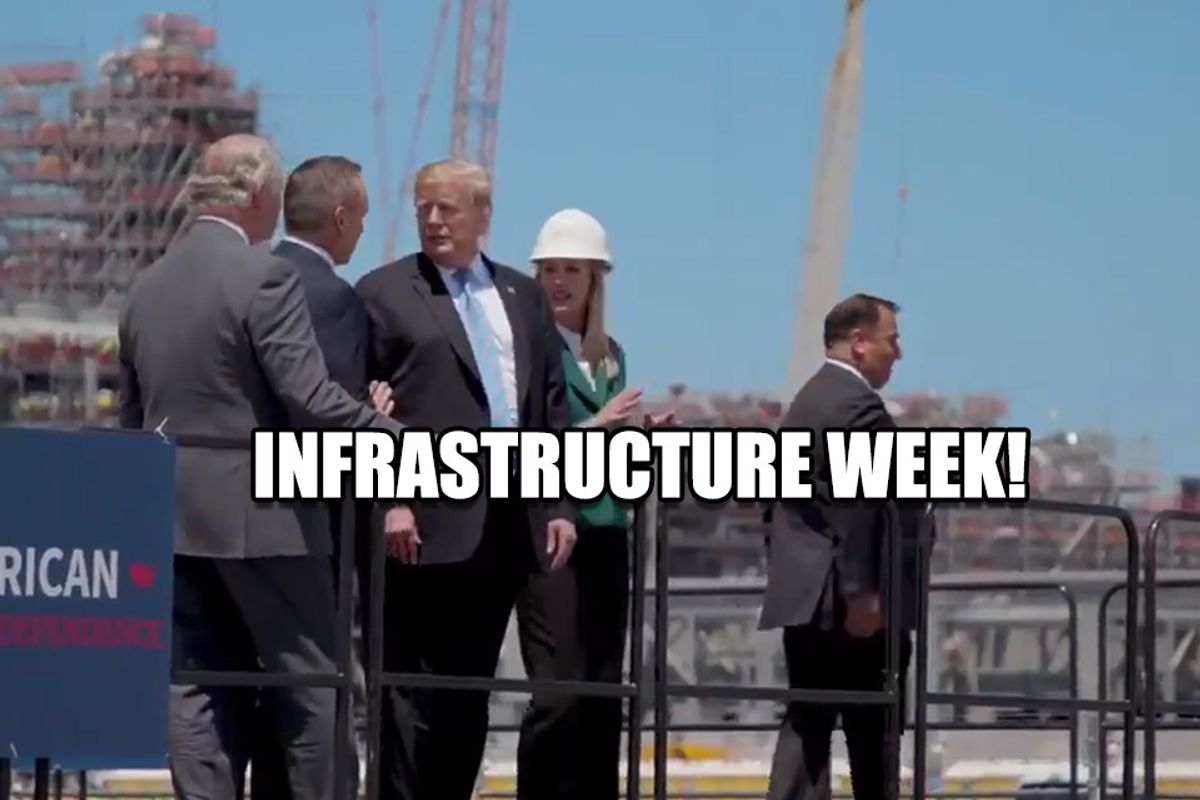 Morning Wonketariat! Here's some of the things we may be talking about today.
A number of Republican leaders are publicly saying they don't think Trump's trade war is a good idea, but rather than do anything about it they want to shove some more bailouts for farmers into a disaster relief package. As Trump shitposts us into the next Great Depression, the administration is saying it definitely has a plan (it doesn't) and that everything will work out just fine (it won't). Axios gossips that the Chinese aren't afraid of Trump's ham-fisted threats, and are turning their nationalist propaganda up to 11. Politico reports Nancy Pelosi and Democratic leaders will grill Trump's dumbass trade advisors, and remind them that she ultimately controls part of the fate of Trump's trade war.

Jared Kushner showed his PowerPoint presentation to fix the Mexican-Muslim taco truck invasion to a couple of Republicans, but he forgot to study so Stephen Miller had to do all the talking parts for him. Republicans tell WaPo that the plan was light on details, like a deal for "dreamers" to win over Democrats. One GOP legislator told WaPo, "He's in his own little world ... And there were a number of instances where people had to step in and answer questions because he couldn't do it."
Donald Trump Jr. says he'll testify before the Senate Intel committee sometime next month, provided the questions are limited to five or six topics for up to four hours, and that he doesn't have to perjure himself on national television.
Democrats are writing up some new sanctions to target Russian sovereign debt, and their energy and financial sectors. The bill is also expected to contain a provision requiring US intel agencies to report to Congress two months after an election if there's any kind of future election fuckery.
House Oversight Chair Elijah Cummings is warning that former Trump officials who wave around NDAs in order to skirt subpoenas may not get their paychecks. Yesterday Cummings sent a letter to acting White House Chief of Staff Mick Mulvaney asking (again) for copies of the NDAs Trump administration officials are forced to sign, noting that the NDA could violate whistleblower laws.
The House Intel Committee is now investigating Trump's TV lawyers for possible obstruction of justice charges. RUH-ROH!
Politico has a long, 'splainery thing on how Trump officials keep violating the Hatch Act because all they care about is keeping Trump from throwing tantrums.
Trump held a rally in Louisiana where, instead of talking about energy policy, he made up names about Democratic candidates, and promised to build a bridge in Louisiana if people vote for him. #InfrastructureWeek.
The Navy issued a memo warning that 5G wireless networks could really screw with weather satellites, prompting Democratic Senators Ron Wyden and Maria Cantwell to send a letter to the FCC asking them to suspend the sale of the 24 GHz spectrum until nerds can be sure NASA and NOAA don't suffer a "Partial-to-complete loss" of the Navy's ability to predict crappy weather. As usual, the administration ignored those science bozos and Trump's piece of shit FCC chair, Ajit Pai, started the sale anyway. #MAGA
The House Appropriations Committee may have just kicked Trump's SPACE FORCE! right in the fuel pods. The House wants the Pentagon to submit a detailed plan on what the Space Development Agency will buy with Uncle Sam's credit card, and where it intends to put all of its new toys. The committees move seems to echo concerns from outgoing Air Force Secretary Heather Wilson that the SDA and SPACE FORCE! will waste money to infinity and beyond.
The new head of the Federal Housing Finance Agency is moving ahead with plans to privatize Fannie Mae and Freddie Mac. FHFA Director Mark Calabria says he wants Congress to overhaul Fannie and Freddie. In the past Calabria has said Uncle Sam shouldn't be in the business of guaranteeing mortgage securities. It's really only a big deal if you're poor, or black, or both.
Later today Democratic Senator and 2020 candidate Kamala Harris is expected to propose a ban on importing AR-15 assault rifles, effectively doubling down on her proposed gun control legislation.
Republicans in the North Carolina Ninth Congressional District have tapped the author of that trans-ban bathroom bill, state Sen. Dan Bishop, to face Democrat Dan McCready in the do-over election. Roll Call reports national groups are already eyeballing the race with their checkbooks in hand, ready to make a(nother) spectacle of the race between a gay-hatin' jerk and a Marine veteran.
For all intents and purposes, Alabama just banned abortions after the state legislature jammed through a bill, 21-11, that makes it a felony to perform an abortion, punishable with 99 years to life in prison. The bill is expected to be signed by the state's Republican Gov. Kay Ivey, and the political wizards note that the legislature could easily override a veto.
Florida Republican Gov. Ron DeSantis met with the FBI to discuss how the Russians hacked into "at least one" county's election system back in 2016, but he says he was forced to sign a nondisclosure agreement and not name the counties. Security and legal nerds think that's weird, and we think he should TELL US THE FUCKING COUNTIES!
GOOD NEWS: San Francisco has become the first US city to ban city cops and agencies from using facial recognition technology. The bill also mandates that new surveillance tech be approved by city leaders to make sure people aren't having their civil rights and liberties violated.
The rest of the world isn't really turned on by John Bolton's war boner. Shortly after Spain pulled frigates out from the US-led combat fleet moving to the Strait of Hormuz, a top British general who is part of the US-led coalition fighting ISIS said, "There's been no increased threat from Iranian-backed forces in Iraq and Syria." In a bitchy statement released late last night, US CENTCOM Commander Gen. Joseph Votel said, "YEAH HUH," and noted that even British troops were also on a "high level of alert." For his part, Trump says a report that the US has plans to send 120,000 troops to the Middle East are "fake news." Early this morning the US doubled-down and the State Department ordered all non-essential personnel to GTFO of Iraq (and that's usually a bad sign).
Reuters reports that Facebook could be forced into a 20 year consent decree with the FTC over its near constant privacy violations, as well as facing a $3 to $5 billion dollar fine. Senators Dick Blumenthal and Josh Hawley, a Democrat and a Republican, have since sent a letter to the FTC saying that's a crock of shit, calling for Facebook to pay a hell of a lot more, and to hold Mark Zuckerberg personally responsible.
Two months after yet another terrorist massacred people in a Facebook livestream, Facebook is instituting a "one-strike" policy that will temporarily block access to its streaming service under certain conditions. Facebook hasn't exactly specified what those conditions are, but they did say they're trying to make the world a better place.
The Verge's Casey Newton has a good piece about how social media has been enabling kids to learn and spread extremist rhetoric, and concludes that this is a platform problem, not a magical math problem.
The New York Times got its hands on some of the NRA's tax documents and found that it may be "running the organization into the ground." The fuck you say! According to financial records, the NRA has been getting hundreds of millions in cash injections since 2010 in order to stay alive. No wonder New York AG Letitia James wants a peek at their books!
WaPo's David Fahrenthold noticed that Trump's Doral golf resort is losing a ton of business, especially when compared to other similar resorts in the Miami area. The takeaway here is that Trump's businesses are hurting a hell of a lot more than anyone knew (or that Trump World will ever admit).
Bloomberg has a thinkery piece on how Trump was able to live in luxury while claiming billions in losses. The TLDR is that over the years Trump used excessive amounts of tax fuckery to inflate his losses, thereby allowing him to run a ridiculously expensive scam on the back of the Uncle Sam.
The Navy Times got its hands on the double-secret investigation into the SKY PENIS incident; naturally they fed the transcript of the pilot's comm logs into a text-to-speech robot. "The balls are going to be lopsided!"
And here's your morning Nice Time:DOGS WITH JOBS!

CUTE! Puppy Guide Dog Training | Earth Unpluggedwww.youtube.com
Follow Dominic on Twitter and Instagram!
We're 100% ad-free and reader-supported, so consider buying us coffee, or get a subscription!
Dominic Gwinn
Dominic is a broke journalist in Chicago. You can find him in a dirty bar talking to weirdos, or in a gutter taking photos.