'We Will Not Apologize.' Wonkagenda For Tues., June 19, 2018
News
June 19, 2018 09:08 AM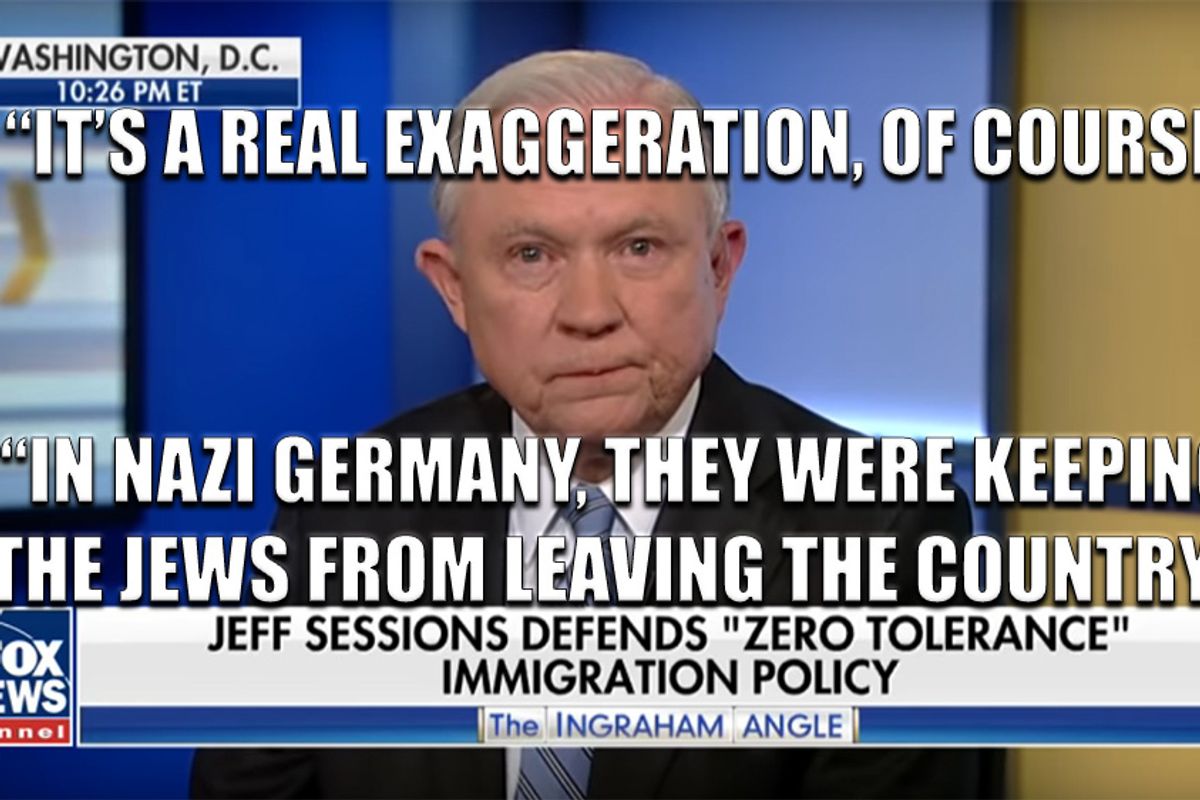 Morning Wonketariat! Here's some of the things we may be talking about today.
---
ProPublica got its hands on audio from inside a Border Protection facility housing children. You can hear children screaming for their parents while Border Patrol agents joke about the "orchestra" needing a "conductor."

The Trump administration is digging in to its policy of kidnapping children from undocumented immigrants despite bipartisan and widespread backlash. Trump is continuing to blame everyone but himself, claiming that immigrants "could be murders and thieves." Yesterday, DHS head Kirstjen Nielsen fought back against criticism of the policy during a speech at the National Sheriffs' Association in New Orleans, stating, "We will not apologize for doing our job. We have sworn to do this job. This administration has a simple message. If you cross the border illegally, we will prosecute you."

Nielsen later held a disastrous White House press briefing that was delayed by four hours where she defended the Trump policy by blaming immigrant families and Congress for the administration's kidnapping of children, and feigned ignorance of photos released by CBP showing children being detained. This morning there are calls from congressional Democrats for Nielsen to resign.
Sinister senior policy advisor Stephen Miller is working with officials from the departments of Justice, Homeland Security and OMB to make Trump's immigration policies even worse so that Trump can claim he fulfilled his campaign promises without building his wall. Among the potential changes: student visas and exchange policies, limits on temporary agricultural workers, tougher residency rules for legal immigrants who rely on the social safety net, and collecting biometric data from people visiting from certain countries.

Laura Ingraham called the immigrant detention centers "essentially summer camps," and brought on AG Jeff Sessions to say that likening them to Nazi death camps wasn't fair because "in Nazi Germany they were keeping the Jews from leaving."
The Justice Department wants SCOTUS to scuttle an order that bars the limiting of federal funds to sanctuary cities for not complying with immigration policies.

Amnesty International is calling the Trump administration's policy of kidnapping children "torture" under both US and international law. Good thing Team America isn't bound by Not American laws!
Politico has this story about DHS head Kirstjen Nielsen finally growing her demon horns, but the most juicy nugget is where four people close to Chief of Staff John Kelly say Kelly doesn't even care if Trump is impeached anymore.
A new poll from Quinnipiac shows 66 percent of people think kidnapping children at the border is a terrible idea. Additionally, 55 percent of Republicans support it, and 79 percent of Americans think "Dreamers" should stay and apply for citizenship.
Interpreters in Iraq and Afghanistan have been unsung heroes in helping the US combat assholes, but Trump's immigration policy has made it even harder to save the lives of military interpreters even though laws were created specifically to help them settle in the US.

Ted Cruz just introduced a bill that will increase the number of deportations, but it'll at least keep families together. Thanks, dick.
Here's a quick crash course in what to expect from Congress about immigration this week. SPOILER ALERT: It's nothing.
Yesterday Trump (finally) demanded the DOD create a "separate but equal" military branch that Mike Pence likes to call the "Space Force," despite opposing it last year. Note: This is the exact mission of Air Force Space Command, it takes an act of Congress to create a new branch of the military, and it blatantly violates a host of international nuclear and weapons treaties begun in the 1960s. And to top everything off, all the National Space Council wanted was (no joke) someone to help them pick up all the trash floating around in space.
Hollywood is hiring veterans to help advise, produce, direct and act so movies and shows about war are totally sweet and technically correct (minus the dirty undies, pain, injury, loss, PTSD, etc).
There's a brewing feud between Mike Pompeo and John Bolton, but multiple current and former military and government officials think neither will last too long since Trump gets bored so easily.
Robert Patterson, the acting head of the DEA, has put in his two week notice citing an inability to predict the future and work in an acting capacity.
The DEA is worried that cash seized in raids could be laced with toxic substances, so it wants to impound suspected cash for testing before they count it. Cops are laughing and calling this bullshit.
FBI Director Christopher Wray and Justice Department Inspector General Michael Horowitz trudged up to the Hill to get bitched out by Republicans still obsessing over HER EMAILS. The pair will head back to the Hill today for more political theater with a joint session of the House Oversight and Judiciary committees.
SCOTUS decided to do a hard pass on ruling on gerrymandering cases, kicking cases from Maryland and Wisconsin back to lower courts. Conservative Justices Neil Gorsuch and Clarence Thomas were the dissenting votes, arguing the cases should be dismissed.
A federal judge has ruled that Kansas's voter ID law violated the Constitution, and ordered Kansas Secretary of State Kris Kobach take six hours of legal education classes. HAAAAA!
Politicians now figure they're going to get hacked by Russia eventually. I'm not sure which is more appalling, their apathy or their ignorance.
With November elections just a few months away, only 33 states have filed the necessary paperwork to get their cut of the pathetic $380 million Congress allocated to safeguard local elections from hackers.
Beto O'Rourke's fundraising numbers are making conservatives nervous, so the Club For Growth is about to give Ted Cruz a ton of money.
A Texas sheriff's deputy is being charged with "super aggravated sexual assault" on allegations that he blackmailed an undocumented mother with threats of deportation if she reported him sexually assaulting her 4-year-old.
Massachusetts Republican Gov. Charlie Baker is taking back the stuff he loaned to the Trump administration to secure the border citing the "inhumane treatment of children."
New reporting from the Chicago Tribune shows Trump Tower in Chicago has never met EPA standards. The tower uses 20 million gallons of water a day, kills an incalculable number of local fish, and is the only building along the river that has failed to document its impact on the local ecosystem. #MAGA
Shifting gears in his trade war, Trump is threatening to put 10% tariffs on almost everything imported from China; the Chinese are calling it "blackmail," and pencil pushers are warning that Trump has no idea what he's doing. Chinese markets tanked overnight, and US markets are expected to follow suit.
The Senate has voted 85-10 to reinstate the ban on shady Chinese tech company ZTE by sneaking the ban into the annual NDAA. Now House Republicans will have to choose between their blind loyalty to Trump, and dedication to throwing money at national defense.
Rudy Giuliani tells Politico that he's only bullshitting whenever he goes on TV and starts running his mouth: "That's what I'm supposed to do. What am I supposed to say? That they should investigate him forever? Sorry, I'm not a sucker."

Erik Prince sat down with the Daily Beast's Betsy Woodruff to dodge a bunch of Trump-Russia questions, and gin up support for using his mercenaries.

Attorneys for Summer Zervos want records of Trump's repeated stays in the Beverly Hills Hotel. In all fairness, the hotel does brag about all the secret scandals that have gone behind its walls...
Ted Cruz beat Jimmy Kimmel in a charity basketball game, 11-9. Kimmel responded by apologizing to his fans and asking Cruz, "Did you spend more time this week practicing basketball than trying to get those kids out of that detention center?"
The conspiracy-peddling nuts behind Q-Anon are losing their shit after the release of the OIG report, so naturally they've created a new conspiracy to reinforce their failures.
AT&T might have helped kill net neutrality, but it's going to give all you suckers free TV so you stop bitching about all the other media companies A&T wants to buy.
ReCode has a big infographic of which megacorp owns what in media. This is going to be handy as big telecoms start inhaling content companies, like AT&T owning Time-Warner, and the bidding war between Disney and Comcast for 21st Century Fox.
Remember the Facebook hearings? Facebook finally responded to questions about privacy with 500 pages of shrugging emojis. ¯\_(ツ)_/¯
A federal grand jury has indicted a former CIA software engineer, Joshua Adam Schulte, for a breach of CIA known as "Vault 7." Prosecutors alledge Schulte stole CIA hacking tools last year then leaked them to Wikileaks, and authorities are pretty sure he did it because his CIA computer used the same password as his encrypted kiddie porn.
Congratulations to South Bend, Indiana, Mayor Pete Buttigieg and Chasten Glezman! The two got gay married and it is a magical tale.
And here's your morning Nice Time!
We're 100% ad-free and reader-supported, so consider buying us coffee, or get a subscription!
Follow Dominic on Twitter! and Instagram!
Dominic Gwinn
Dominic is a broke journalist in Chicago. You can find him in a dirty bar talking to weirdos, or in a gutter taking photos.