'Stop Wasting Their Time On Immigration.' Wonkagenda For Fri., June 22, 2018
Elections
June 22, 2018 09:04 AM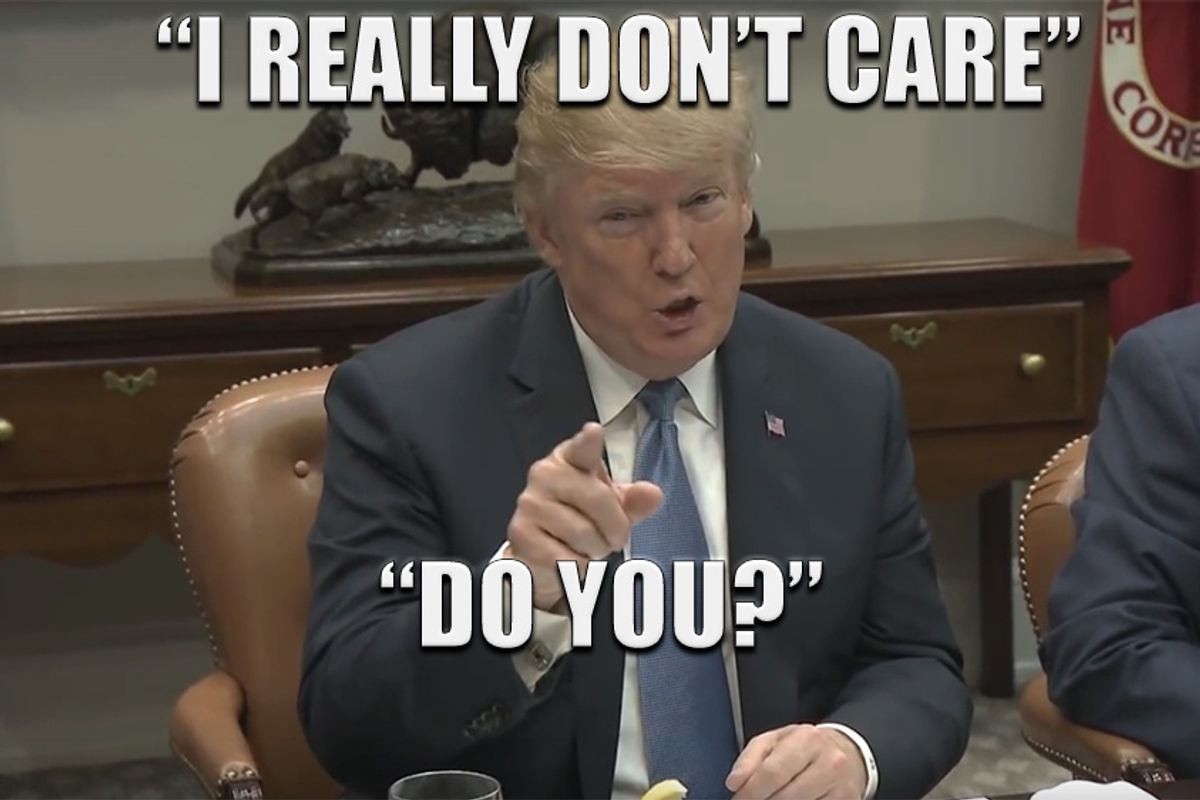 Morning Wonketariat! Here's some of the things we may be talking about today.
---
Before we get started, prime yourself with ocelot kittens!

After the House immigration bill failed yesterday, 193-231, Paul Ryan yanked the compromise bill from the floor so that Republicans could reintroduce the bill with new provisions that include using E-Verify for legal status checks, and language on the guest worker visa program aimed at farm workers. Now nobody is sure what the hell is going on.
This morning Trump tweeted that Republicans should "stop wasting their time on Immigration [sic]" until after the midterms, blaming Democrats for the House Freedom Crazies' refusal to compromise with the "moderate" Republicans' bill.
Stopping the planes, trains, and automobiles headed for Trump's Mexican baby jails is proving astronomically difficult for legal aid organizations attempting to reunite families separated by Trump's immigration policies, and they're now worried about "permanent separations."
Congressional lawmakers and public health groups want the Trump administration to commit more to the health and safety of immigrant children in Trump's baby jails with Washington Democratic Sen. Patty Murray stating in a letter to HHS Secretary Alex Azar, "HHS has also failed to provide estimates of additional funding that will likely be needed to provide adequate care for the children in its custody."
Sinclair, the pro-Trump TV company that owns 193 of local news stations, has been attempting to brainwash people with "must-run" commentary by spox/former Trump adviser Boris Epshteyn that blames the LIBERAL media for Trump's baby jails.
House Republicans barely passed a Farm Bill that creates work requirements for adults seeking SNAP, scuttles the Conservation Stewardship Program, and expands sugar subsidies.
Some of Trump's federal reorganization plans are hitting a brick wall in Congress due to their lack of detail, and some Republican legislators are flatout saying, "We're not doing that." Designed by Mick Mulvaney, the plan is "a wish list for anti-government ideologues," designed to create dysfunction in every branch of the government.

In a rejection of Trump's proposed pay freeze, the Senate Appropriations Committee voted 29-2 to give federal workers a 1.9 percent pay raise next year. The move comes as hardliner House Republicans continue a repeated effort to slash federal workers' pay and benefits.
Four bills designed to make nuclear power great again passed the House Energy and Commerce subcommittee yesterday. All together, the bills fast-track the construction of new nuclear plants, despite safety concerns from Democrats.
A federal judge struck down a suit by the CFPB, ruling that the structure of the CFPB is unconstitutional, and that the CFPB should be scuttled after hearing a case about a company in New Jersey scamming former NFL players and 9/11 emergency medical workers out of millions in compensation for medical injuries. [Archive]
The SEC has been slapping big banks on the wrist while gut punching small banks even though the large banks pose a greater risk to consumer finances and the economy. Suck it, Main Street!
Interior Secretary and grifty bastard Ryan Zinke's meetings with Halliburton Chair David Lesar are more extensive than previously reported. According to a new report by Politico, Zinke met with Lesar in his office last August, and had dinner with Lesar at a fancy DC brewery. I wonder what they talked about?
Government oversight groups are wondering how the hell Scott Pruitt wrote only ONE EMAIL over his 10 month at the EPA.
Ximena Barreto, the Pizzagate-peddling HHS official who called the Women's March "retarded" and said "our forefathers would have" hanged Obama, deleted her private Twitter account after Mediaite posted a bunch of her private tweets pushing conspiracy theories.Womp womp.

Chuck Grassley wants to drag James Comey and Loretta Lynch before his committee for more political theater over HER EMAILS.

A new poll shows Arizona Republican Senate candidate Rep. Martha McSally opening up a 14-point lead over "Chemtrail Kelli" Ward and former Sheriff/ex-con Joe Arpaio.
A number of young and inexperienced Democratic congressional candidates in New York are so desperate, at least one has been catfishing potential voters by creating fake Tinder dating profiles. Kids these days...
Air Force veteran MJ Hegar is a Democratic congressional candidate running against Tea Party wingnut John Carter in the Texas 31st. She's been a trailblazer for women in the military, and one of the reasons women can now serve in combat roles. Hegar has a new ad and HOLY SHIT it's the new standard for badass lady candidates! [Video]

McClatchy reports that many state and local elected officials have been accepting ethically dubious gifts from the largest e-voting machine company. These are just good, old fashioned bribes.
DC locals loathe millennial Trump staffers, and now the Trumpers are complaining that their MAGA hats make them unfuckably ugly social paraiahs in the bustling DC scene.Womp womp.

During a working lunch with governors, Trump told the Puerto Rican governor, "I think we helped a lot."
UN Ambassador Nikki Haley is angry UN Special Rapporteur Philip Alston had the balls to investigate income inequality in the US and conclude the Trump administration has been engaged in a concentrated effort to screw the poor and punish the unemployed, calling it "patently ridiculous for the United Nations to examine poverty in America," before pointing a finger at African countries.
Jared Kushner's Middle East peace plan is allegedly close to completion, but analysts are already skeptical as Kushner hasn't even met with Palestinian leaders.
Robert Mueller and his team of extraordinary investigators are worried "widespread media attention" ahead of Paul Manafort's trial could taint a jury pool.
Jason Kessler has applied to hold a white supremacist rally in DC on the anniversary of the Charlottesville massacre. What could go wrong ... again?
Neo-conservative columnist Charles Krauthammer died. He was 68.
The Daily Show took a look at CNN's incoherent shouting matches commonly known as cable TV news panels. #Murica
Wikileaks reproduced a database of LinkedIn profiles belonging to suspected ICE agents. Wikileaks co-founder Julian Assange calls it a "public resource," and denies having an ulterior motive...
FCC Chair and corporate controlled piece of shit Ajit Pai uploaded (and apparently deleted) a bizarre 44-second unlisted video to Youtube. Over the past few weeks, Pai has been attempting to become a vlogger as he runs around promoting a telecom-sponsored plan to for rural broadband.
California legislators caved to AT&T and telecom lobbyists, removing key provisions from pending net neutrality laws that were considered the "gold standard" of consumer protections.California Assemblyman Miguel Santiago, you suck!
Facebook will start using AI to gauge "fake news" so they can continue blaming all their problems on robots and algorithms.
And here's your morning Nice Time! Kittens and goat kids!
We're 100% ad-free and reader-supported, so consider buying us coffee, or get a subscription!
Follow Dominic on Twitter and Instagram!
Dominic Gwinn
Dominic is a broke journalist in Chicago. You can find him in a dirty bar talking to weirdos, or in a gutter taking photos.