Dirty On The Inside. Wonkagenda For Mon., June 25, 2018
Elections
June 25, 2018 09:06 AM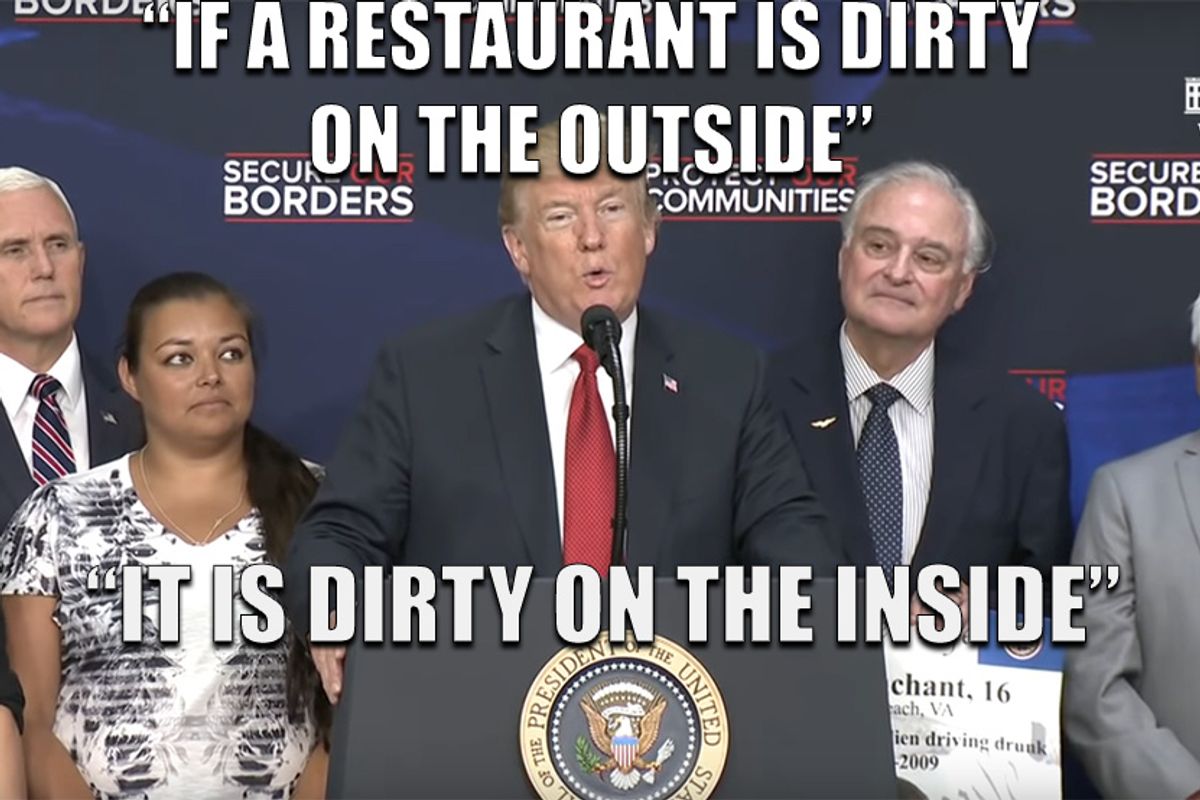 Morning Wonketariat! Doktor Zoom is off this week, so don't think we fired him (again). Here's some of the things we may be talking about today.
---
Here's Trump's stupid tweet of the morning.
The Red Hen Restaurant should focus more on cleaning its filthy canopies, doors and windows (badly needs a paint jo… https://t.co/CObp1kkDlk

— Donald J. Trump (@Donald J. Trump) 1529926885.0
Speaking of dirty, we're going to give you one guess as to whose steakhouse was shut down by Deep State Health Inspectors a few years back in Vegas.
Under a new plan being crafted by Trump's minions, migrants and refugees caught crossing the border illegally with their families will be given a choice of detention with their children in Trumpville, or surrendering their kids to Uncle Sam. It's a sophist's choice!
Now that they've been caught imprisoning children, HHS has created an "unaccompanied children reunification task force," a move that is generally only seen during natural disasters or a public health crisis.
Rep. Michael McCaul, the author of the "moderate" immigration bill, is still backing Trump "100 percent" even though Trump's constant shitposting on Twitter has effectively nuked any chance of an immigration bill (again).
Good news, Han Solo-wannabes! USA Today is reporting that the DOJ has been shifting resources from drug-smuggling to immigration cases, lowering the chance that Uncle Sam will care about the ditch weed hidden in your secret floor panel!
A visit to one of Trump's baby jails left Sen. Elizabeth Warren in tears, telling reporters, "We talked to mothers who just said, from Honduras in particular, who said, 'there's nothing there for us. ... America is our last hope.'" [Video]
Michael Avenatti has been using his fancy lawyer powers to help immigrants being detained, like passing notes, tracking people down, and defending them in court.
Here's a quick rundown of all the cuts to the social safety net the House passed on Thursday, and where they'll hit Trump voters the hardest.
Trump thinks he's found a way to win in trashing Mueller, and new polling suggests it's helped him to solidify his base.
Defense Secretary Mattis has been largely sidelined, according to a new report by NBC, and Trump is relying more and more on Mike Pompeo and John Bolton as defense advisers since Mattis takes too damn long to carry out orders from Dear Leader.
New emails show that Scott Pruitt's lobbyist landlords tried to get their friend a job at the EPA, and they were actively lobbying for several companies to the EPA while Pruitt stayed at their house, despite earlier denials.
Scott Pruitt has ANOTHER investigation (that's 14 now?) after allegations that he retaliated against EPA employees who tried to blow the whistle on all his grift and ethically dubious shenanigans.
Ryan Zinke has quietly killed violations against a coal company that failed to rehabilitate old coal mines in Oklahoma. Nature has a way of sorting things out ... eventually.
A bunch of angry hippies ruined Pam Bondi's movie date by screaming at her as she tried to watch the new Mr. Rogers documentary, and now many Trump staffers are finding themselves being publicly shamed whenever they try to go out in real world, and now all the pundits (and Meghan McCain) want CIVILITY.
Later this week Trump is expected to fire more shots in his trade war with China by blocking tech and industrial companies with 25 percent of Chinese ownership.

As Trump continues to up the stakes in his trade war, Republicans in Iowa are getting a little nervous.
NICE TIME! Joe Manchin saved the life of Claire McCaskill after she started choking during a luncheon on Thursday. Manchin reportedly performed the Heimlich maneuver, which caused McCaskill to suffer a broken rib, but McCaskill has vowed to continue campaigning.
Republican candidates up and down the ticket are starving for money, so they're calling in DJTJ to headline fundraisers and milk their base of super rich white people.
Some political fortune tellers are using recent rallies of Elizabeth Warren and Donald Trump as foreshadowing for the 2020 election, and migrants are caught in the middle.
Katie Arrington was in a serious car accident over the weekend. Arrington recently secured the Republican nomination in the South Carolina 1st District after defeating incumbent Rep. Mark Sanford. She is currently listed in stable condition.
Later today a federal judge in North Carolina will hear arguments for the controversial "bathroom bill" that makes LGBTQ people go outside in the bushes. Happy Pride month, y'all!
Trump's ambassador to Germany has been seriously fucking things up overseas by openly embracing neo-nationalists and brazenly meddling in foreign affairs, and the Germans aren't exactly sure what to do with him.
State Department employees are finding Mike Pompeo is even worse than REXXON as he installs incompetent Trump loyalists in key positions, and leaves big operational holes in others.
Almost 20 NGOs wrote a mean letter to Nikki Haley telling her to piss off, reminding her that it was she who walked away from the UN Human Rights Council after members objected to a US "proposal to reopen the Council's institutional framework at the General Assembly."
Military leaders in Europe are warning that they are woefully unprepared for a Russian invasion into NATO countries in the Baltics due to a litany of logistical hurdles.
After weeks of threats, shrieks, and incessant bitching, the FBI caved to Devin Nunes and handed over thousands of Trump-Russia documents.
Stormy Daniels WAS going to meet with federal prosecutors to dish some gossip on all the horrible things Michael Cohen did, but the meeting was canceled after some nosy reporters spilled the beans.
Here's a story about the "safe spaces" women in the "alt-right" have created to help themselves survive the garbage men they blindly support. Don't say we didn't warn you!
Glenn Beck's flaming conservative shithole, The Blaze is fizzling out amid more layoffs and asset liquidations. HA!
Trump's business is selling stupid crap made in Not America (again). Good thing he didn't start a trade war, amirite?
John Oliver 'splainered the super important Mexican elections, and why everyone is literally telling President Enrique Pena Nieto to go "fuck his mother." [Video]

New Zealand Prime Minister Jacinda Ardern just appeared in public for the first time with her newborn daughter, Neve. YAY! BABY KIWIS!

And here's your morning Nice Time! Baby elephants!
We're 100% ad-free and reader-supported, so consider buying us coffee, or get a subscription!
Follow Dominic on Twitter and Instagram!
Dominic Gwinn
Dominic is a broke journalist in Chicago. You can find him in a dirty bar talking to weirdos, or in a gutter taking photos.