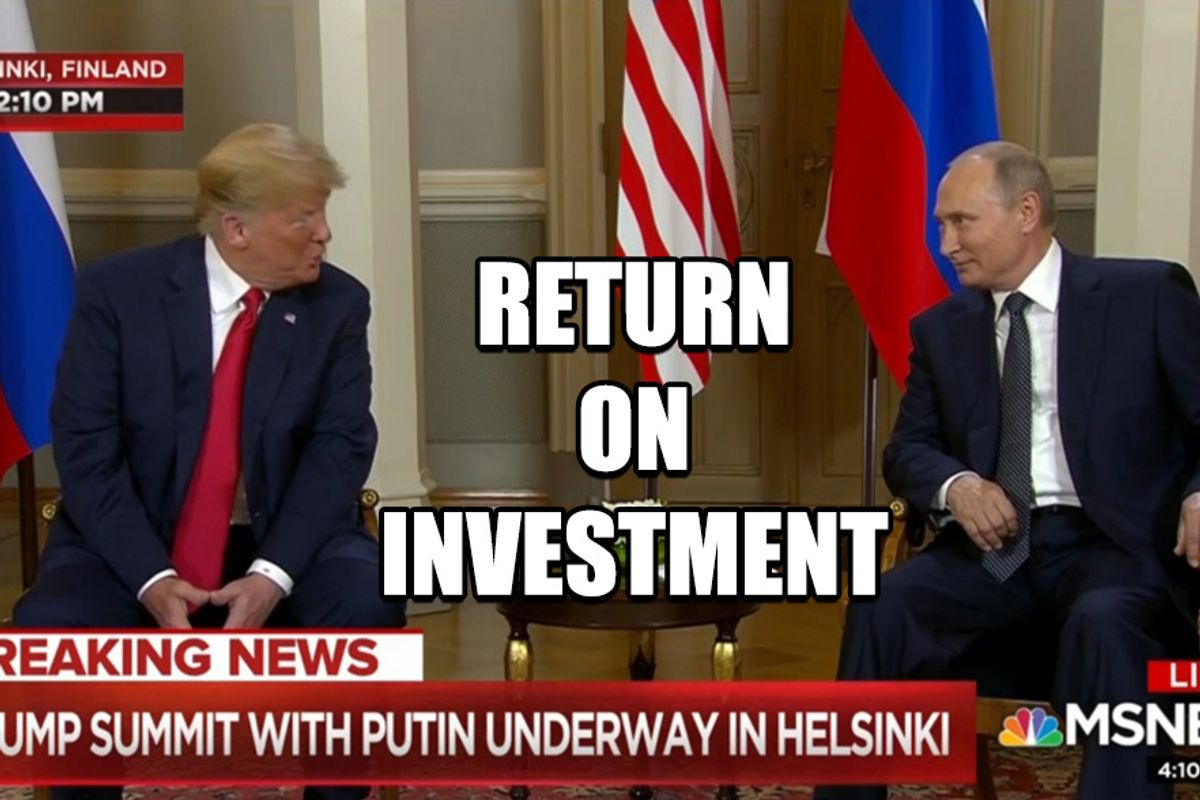 Morning Wonketariat! Here's some of the things we may be talking about today.
---
Early this morning, Trump sat down for a private, 90-minute conversation with President Vladimir Putin. Before the meeting kicked off, the two pulled some macho bullshit and kept each other waiting. In the brief photo-op, Trump nervously proclaimed an "extraordinary relationship" with Russia.Pee hookers.

While shitposting on Twitter ahead of his "Summit" with Putin, Trump again called the ongoing investigation into Russian meddling in the 2016 election a "Rigged Witch Hunt," and is blaming Russian hacking on the DNC and Obama.
During an interview on Face the Nation, Trump again insulted US allies, calling the EU the "biggest foe globally right now," falsely rambled about international agreements between other countries, and bitched about the Trump-Russia investigation. [Transcript]
On Friday, DNI chief Dan Coats stressed a dire need to increase US cyber security policy, stating "we are at a critical point" and that the country's digital infrastructure "is literally under attack" by Russia, warning that the situation is as bad as the months leading up to 9/11.
Shortly after Coats's statement, Democratic members of Congress signed a letter warning against giving out too much super secret information to other members of Congress. There's transparency, and then there's stupidity.
The right-wing echo chamber has been breathlessly defending Trump ahead of his meeting with Putin, with Hannity calling it on par with North Korea, and Steve Bannon likening it to the US/Soviet alliance against the Nazis in WWII. Steve Bannon is an expert on Nazis after all.
Hillary Clinton took to Twitter to troll Trump ahead of his meeting with Putin. Heh.

Finnish newspapers kicked into "high gear" ahead of the Trump-Putin summit, with one paper placing almost 300 billboards and ads along Trump and Putin's route to Helsinki. [Video]
As we welcome the presidents to the summit in Helsinki, we @hsfi want to remind them of the importance of free press. 300 billboards on the routes from the airport to the summit are filled with news headlines regarding presidents' attitude towards the pressfreedom. #HELSINKI2018pic.twitter.com/KmYJtLyeNE
— Kaius Niemi (@KaiusNiemi) July 15, 2018
Just before Trump fucked off to Europe to piss all over the rug of US allies, Trump quit-fired Army Colonel Richard Hooker, the senior NSC director on Russia, Europe, NATO, for ALLEGEDLY snitching on Russian fuckery without permission.
On Friday evening, Jennifer Arangio, the senior director of the NSC's international division, was quit-fired because she kept fighting with Stephen Miller about baby jails.
Lisa Page received high praise from several House Republicans after a super secret sit down on Friday, but they don't want to tell anyone what she said about her sexts to Peter Strzok.
The almost 3,000 immigrant children being held in concentration campsTrumpville live under prison-like supervision where they're discouraged from sharing food, touching one another, running, sitting on the floor, or using nicknames. #MAGA.
A federal judge in Connecticut has ruled that Trump's family separation policy is unconstitutional, ordering that the government reunite parents with their kids held in baby jails later this week. The judge added that the children be provided PTSD counseling. In response to that ruling, HHS officials have submitted a new plan to reunite 2,551 children between ages 5 and 17 with their families.
HHS is getting ready to kill off a widely used medical database due to budget cuts. Who needs evidence-based research when you have the power of prayer?
Nobody has been awarded a National Medals of the Arts, Science or Technology and Innovation since Trump took office as America didn't exist until Donald Trump had the biggest Electoral College victory ever.

A new report by the Reporters Committee for Freedom of the Press has found that Brett Kavanaugh has a conflicted relationship with the press, and really doesn't like it when reporters say mean things about the war on terror.
The gas station company Mike Pence and his brother ran into the ground has cost taxpayers multiple millions of dollars in environmental clean-up operations, and the bill is still growing. Maybe Jesus can chip in?
Trey Gowdy went on TV to say he won't support impeaching Rod Rosenstein, and called the Strzok hearings a "circus" and "freak show." In a message to Trump, Gowdy said he should ask where the US can "pick up the 25 Russians" who were screwing with the 2016 election.
Rand Paul went on TV to run his mouth like a fucking idiot (again) and claim that everyone screws with each other's elections, then denies it if they get caught. This is why Rand Paul has no friends.
New financial disclosures show Trump sitting on a massive multi-million dollar war chest for the 2020 elections, and that he and Brad Parscale are getting filthy rich through insanely sketchy campaign expenditures.
Sen. Elizabeth Warren and VP Joe Biden are leading a cadre of Democratic 2020 contenders along with Sen. Cory Booker and Senh. Kamala Harris, but the field is wide open.
As Starbucks founder Howard Schultz mulls over a potential 2020 run, Wall Street and Starbucks brass are biting their nails about a possible backlash from people who can't afford overpriced lattes.
In a rather stunning upset, the California Democratic party has endorsed state lawmaker Kevin De León over Sen. Dianne Feinstein, but it's still too early to know if the Berners fueling De León's challenge can put him over the top in November.
NICE TIME: After he was chastised by Republican lawmakers for buying tampons for female staffers, six people donated 500 boxes of tampons to New York Democratic Rep. Sean Patrick Maloney. Anyone who swings by his office in the Longworth House Office building can pick up a box for free.
After spending the last year watching Trump start a useless trader war, strip away healthcare, and create baby jails, voters in Midwestern flyover country appear to be flirting with Democratic candidates. Baby, we'll make you feel good.
Chicago police shot and killed a man on the city's South Side, sparking outrage and protests that led to police assaulting reporters and protesters as people threw bottles and rocks. The death is being investigated as a homicide.
An Ohio woman has been arrested and charged with three first-degree misdemeanors, including hate crimes and property damage, after she spray painted "racially charged" pro-Trump slurs on her neighbors house -- and was caught by another neighbor's security camera.
A federal judge has ordered the LA Times to censor a published story that accidentally made public information on a database of court documents relating to a plea agreement between prosecutors and a dirty cop caught working with the Mexican Mafia.
Tenants at one of the buildings owned by Jared Kushner's family real estate company are saying they were forced out of rent-controlled apartments after the company began violent reconstruction efforts in the middle of the night that sent rats throughout the building and lead falling off walls.
Mississippi's lieutenant governor tried to build a $2 million road from his gated community to a nearby shopping plaza. Why should he have to deal with traffic and crumbling roads like the poors?
Trump's White House has told diplomats to start "direct talks" with Afghan Taliban leaders.Trump is negotiating with terrorists.
The Chinese government doesn't want reporters to "over report" Trump's trade war in a way that makes China look bad, so the government has given reporters a handy list of do's and don'ts while talking about the economic clusterfucks.
The US has lifted its ban on shady Chinese tech company ZTE after it paid a $1.4 billion penalty. Don't worry about the spying, they promise it won't happen (again).
Vladimir Putin says the World Cup triggered "almost 25 million cyber attacks and malicious information campaigns" against Russia during the World Cup -- but they totally stopped every single one of them.
France won the World Cup 4-2, but not before Pussy Riot ran onto the field in protest of Putin and his oligarchs.
British investigators say the second round of deadly poisoning attacks in England are the fault of the GRU, the Russian spy agency responsible for the 2016 DNC hacks.
The British royal family "snubbed" Trump by refusing to meet with him at Windsor Castle Friday, leaving the Queen to do it alone. You want something disgusting done, ask a woman.
Steve Bannon went on a British radio show with Brexit cheerleader Nigel Farage and got all butthurt when the host asked how Bannon could support an "alt-right" neo-nationalist/Islamophobe imprisoned for hate crimes. Poor baby!
British tabloid dildo Piers Morgan sat down with Trump on Air Force One to listen to him bitch about not having any friends, and doing bigly good trade deal with Not America. This is a stupid story about two idiots who jerk off to their own pictures, and features Piers bragging about stealing M&Ms and various swag.
Sacha Baron Cohen's "Who is America" debuted last night and shows current and former Republican members of Congress endorsing a fake bill for three and four-year-olds to be given guns in schools as part of the "Kinder-Guardians" program. "Happy shooting, kids!"
And here's your morning Nice Time! KITTIES!
We're 100% ad-free and reader-supported, so consider buying us coffee, or get a subscription!
Follow Dominic on Twitter and Instagram!
Dominic Gwinn
Dominic is a broke journalist in Chicago. You can find him in a dirty bar talking to weirdos, or in a gutter taking photos.