LOL This Fucking Guy. Wonkagenda For Mon., July 23, 2018
Russia
July 23, 2018 09:06 AM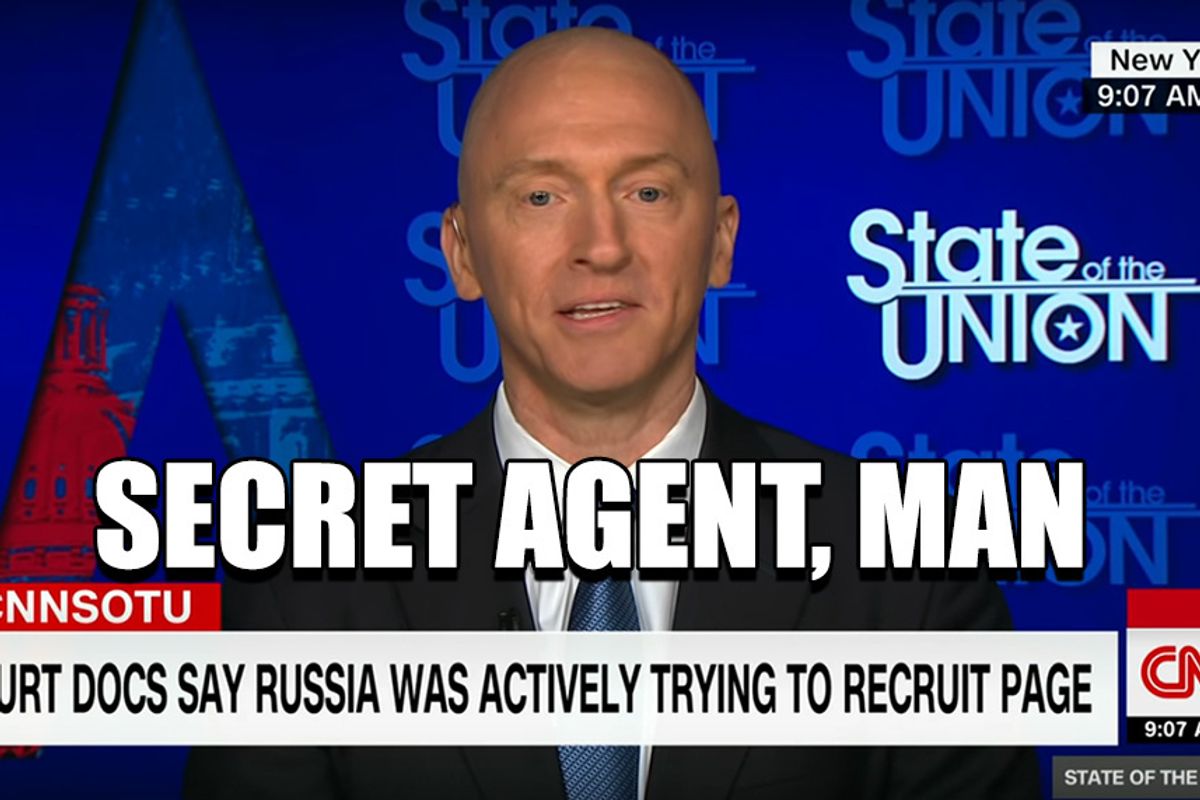 Morning Wonketariat! Here's some of the things we may be talking about today.
---
A mass shooting along a busy Toronto street left two people dead and 12 injured, including children. Witnesses say the gunman fired indiscriminately into storefronts and cafes before being fatally shot in a brief confrontation with police.
In a clear attempt to change the subject, Trump's Justice Department released the heavily redacted FISA warrant used to monitor Carter Page, the ALLEGED Russian wannabe-spy. The scheme seems to have backfired as the warrant confirms a number of allegations against Page, and obliterates "witch hunt" claims by Rep. Devin Nunes and Trump. Womp womp.
This weekend Carter Page crawled out from his hidey hole (without a silly hat) and admitted to working with Russia as an "informal advisor," but then he remembered his programing and denied everything. [Video]
After being forced to call Russian interference in the 2016 election real, Trump went back to calling Russian fuckery "all a big hoax," blamed everything on Obama, and gave Putin a quick handy.
Michael Avenatti is reassuring everyone that, lordy, there are MORE hooker tapes with Donald Trump and Michael Cohen.
The Trump administration's newest tactic to combat the wave of Mexican mothers flooding our borders is by investigating 21.2 million people suspected of war crimes, false identities, or faux-marriages and revoking their citizenship.

Axios is reporting that Trump admires Adam Schiff and Emmanuel Macron because they don't put up with his shit. Trump reportedly told aides that Schiff's relentless criticism last fall had him convinced that he "had committed a crime!"
Shortly after Scott Pruitt was quit-fired, John Kelly initiated a "purge" of Pruitt loyalists at the EPA. And nothing of value was lost!
Democrats are protesting the nomination of Kathy Kraninger to head the CFPB, noting that it took two years to get Richard Cordray in place, and Mick Mulvaney's stooge has only had a month. It's just semantics.
There is a quiet GOP operation to derail Democratic 2020 hopefuls underway, and they've already started building over a dozen different oppo files on political and business leaders who might have the balls to grab Donald Trump by the pussy.
House Republicans would rather not talk about Donald Trump while they're kissing babies and schmoozing the elderly, but Trump keeps making the 2018 midterms all about him -- and that's great for Democrats.
Out of fear for their own safety, the hard-right gun-toting militiamen in the Oath Keepers canceled their own protest of California Democratic Rep. Maxine Waters after "busloads" of violent counter-protesters showed up and ... set a flag on fire.
After meeting a bunch of poors, Ohio Democratic Rep. Tim Ryan has announced support for legalizing marijuana nationwide. It's definitely NOT because he's running a(nother) shadow campaign to challenge Nancy Pelosi in the House.
There's a real fear among Republican gubernatorial hopefuls that a galvanized Democratic base could upend a decade of farm belt fuckery in state capitols. At the end of the day, all politics is still local.
In all caps Trump tweeted a threat to Iranian President Hassan Rouhani after an earlier warning from Rouhani that any US conflict with Iran would spur the "mother of all wars" (as usual). Yesterday, Mike Pompeo started gaslighting Iranian-Americans in a speech that casually forgot to mention the crippling sanctions the Trump administration reinstated on Iran (for funsies).

With Israelis and Hamas engaged in new escalating clashes, Jared Kushner's plan for peace in the Middle East may now include abandoning Gaza. Two op-eds appear on CNN and WaPo, coauthored by Kushner, UN ambassador Nikki Haley, and others, that really just talk shit about Palestinian militants, and anyone who criticizes Israel.
At the request of the US and European allies, Israel is now evacuating Syrian White Helmets, the civil defense group that runs into freshly bombed buildings to rescue civilians. :(
The commander of US forces in South Korea says that North Korea still hasn't "denuked," and they SHOCKINGLY seem to be playing Trump like a fool.

"Alt-Right" Republicans on the House Judiciary committee are threatening to regulate tech companies if they don't start promoting conspiracy theories about HER EMAIL sex slavery.
Since the White House and congressional Republicans refuse to do anything, the NSA has created a task force to combat Russian fuckery on the internet.
Julian Assange might be getting booted out of the Ecuadorian embassy in the UK, and now the pro-Russian press is attempting to claim that London Bridge is falling.
Wire your jaw closed if you decide to watch Georgia state Rep. Jason Spencer screaming the n-word and trying to rub his bare naked ass on people in the new episode of Sacha Baron Cohen's "Who Is America?" Spencer says he was duped into making an anti-terrorist training video, and he was only acting like he was shoving severed dicks in people mouths.

Michelle Wolf has a great new skit where she ponders ICE's newest recruits...
And here's your morning Nice Time! An otter in love with a vacuum?
We're 100% ad-free and reader-supported, so consider buying us coffee, or get a subscription!
Follow Dominic on Twitter and Instagram!
Dominic Gwinn
Dominic is a broke journalist in Chicago. You can find him in a dirty bar talking to weirdos, or in a gutter taking photos.