Trump's YUGE Koch Problem. Wonkagenda For Tues., July 31, 2018
Elections
July 31, 2018 09:10 AM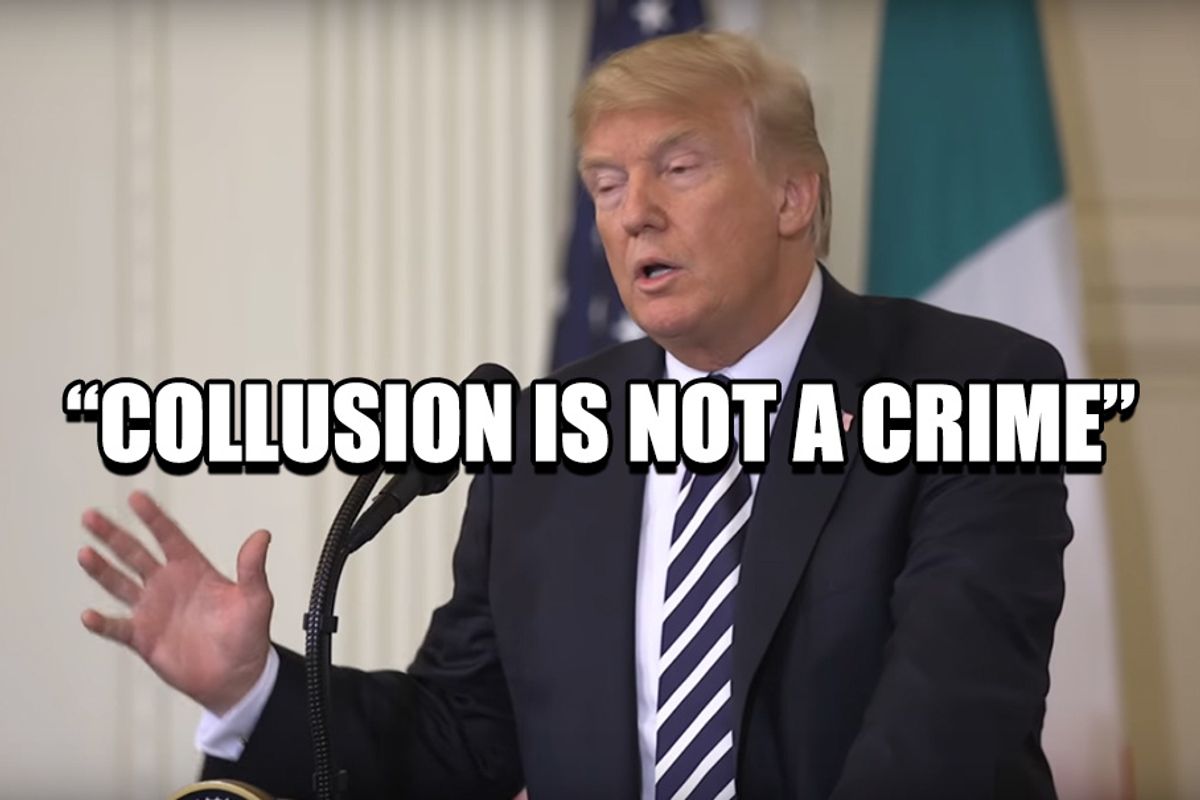 Morning Wonketariat! Here's some of the things we may be talking about today.
---
Jury selection in Paul Manafort's fraud trial is scheduled to start today, and federal prosecutors PROMISE they won't even have to mention Russia to show Manfort's a crooked bastard who tried to hide millions of dollars of Ukrainian blood money from the IRS.
Yesterday's media blitz by Rudy Giuliani obliterated years of convoluted Trump-Russia defenses when he stated collusion wasn't a crime, and suggested there may have been a second 2016 Trump Tower meeting in an attempt to undercut a forthcoming story by Maggie Haberman. In an appearance on Hannity last night, Giuliani continued to ramble like a mindless old drunk, causing many giggles on Morning Joe.
Federal investigators are taking a hard look at large sums of Russian money that was moved between NRA swamp monster Paul Erickson and ALLEGED Russian spy Maria Butina after the Treasury Department received a bunch of Suspicious Activity Reports back in 2016. NO COLLUSION NO COLLUSION NO COLLUSION!

It's entirely possible the government got a FISA warrant to monitor Carter Page back in 2013, seeing as how he was already running around with Russian spies. HHMMM!
Natasha Bertrand reports Russia has been abusing the international legal system to attack critics of the Kremlin with the backing of DHS and US immigration courts, thanks to their ability to fill out paperwork.
A federal judge has told Trump's minions they're required to get permission before doping up kids held in baby jails, and they're legally obligated to tell children WHY they're being imprisoneddetained.
The DOJ does not have the authority to withhold federal funding from sanctuary cities, according to a new ruling by a federal judge. The judge also struck down a DOJ request to share citizenship information, and to get permission to raid local jails for undocumented immigrants.
Gabe Sherman has a new report about Trump's 2020 build up, revealing (among other things) Sarah Huckabee Sanders refused to defend Trump's baby jails on camera, Nancy Pelosi is the new Hillary, and Steve Bannon is back.
The Trump administration wants to give the super-rich ANOTHER tax break, this time without congressional approval, by redefining the word "cost" in the Revenue Act of 1918. The scheme is rather familiar: Cut capital gains tax for the super rich, and the profits magically trickle down on the poors!
Republicans are trying to ignore Trump's threats to shut down the government if he doesn't get money to build his stupid wall, but they're worried Señor Shitfit's two-faced theatrics may doom passage of a spending bill in September.
Aside from Brett Kavanaugh, conservatives have been rapidly packing the court system since Trump took office, even as the ABA notes their distinct lack of qualifications, abysmal paper trails that include opposing the abolition of slavery, and support of birtherism.
Big business lobbies are starting to flirt with Democrats as Republicans embrace Trump's trade war and shutdowns, but Democrats are still justifiably skeptical about making deals with the Devil.
The conservative/pro-business swamp creatures in the US Chamber of Commerce think Trump's trade war bailouts could cost $39 billion, but that's IF Trump decides to double down on government handouts.
As the Koch network abandons pro-Trump Republicans for their support of Trump's trade war, this morning Trump decided to pick a fight with Koch brothers on Twitter. LOLOL, have fun!
A new analysis by USA Today shows a third of 2018's most contested House races runs through soybean fields, and that could be disastrous for Republicans if Trump keeps up his trade war.
Despite warnings from top intel officials and revelations of attempted Russian fuckery on Sen. Claire McCaskill, Congress is still lost in the clouds when it comes to digital security, and there's no rules guiding the 20,000 staffers on how to not act like fucking idiots on the computer.
Philip Bump was dicking around with some new 2016 electoral maps and noticed that it's pretty easy to make bad infographics when you screw with the numbers and casually gloss over details.
Florida's Republican gubernatorial candidate Rep. Ron DeSantis has a new political ad where he touts his pro-Trump bonafides by telling his one-year-old daughter to "build the wall," and then reads her "The Art of the Deal." Seriously.
Here's another cletus safari in Trump country featuring chicken packers who are full of sads because they're the only white people at work.
Pennsylvania AG Josh Shapiro accused "predator pediatrician" Dr. Johnnie "Jack" Barto of 69 counts of abusing 29 different children, including "involuntary deviate sexual intercourse, aggravated indecent assault, indecent assault and endangering the welfare of children."
A North Korean ICBM factory is *gasp* making new ICBMs! Despite declarations from Trump that the hermit kingdom started to "denuke," senior regime officials have ALLEGEDLY talked about how they could lie to Trump and nuclear inspectors.
Just over a week after threatening thermonuclear war with Iran, Trump now says that he'd sit down with Iranian President Hassan Rouhani "anytime they want to," without preconditions. A few hours later Secretary of State Mike Pompeo outlined the conditions under which a potential meeting would take place. Anyone remember when Republicans lost their minds when Obama suggested the exact same thing in 2007?
Rather than bitch about Trump's assault on the free press and affinity for garbage news, some reporters are yelling at NBC's Ken Dilanian after he called the ultra-conservative Daily Caller "Trump's pet media." Y'all need a healthier hobby, like alcoholism.
Charlottesville organizer Jason Kessler doxxed his followers after losing a court battle to turn over chat logs and private messages with his neo-Nazi and white supremacist sympathizers.
Here's a bizarre profile on that one pro-gun Parkland kid, Kyle Kashuv, and how he just sent conservatives into a bloodthirsty frenzy during a meeting of other horribly confused young Republicans.

An activist journo has published 11,000 Twitter DMs from Wikileaks that show a campaign to discredit journalists, a clear preference for Donald Trump in the 2016 election, and anti-semitic and transphobic jokes from the Wikileaks account believe to be controlled by Julian Assange.
The Ecuadorian government wants to kick Julian Assange off the couch in its UK embassy, so it's been trying to negotiate with British authorities -- however, US authorities (and Robert Mueller) want him to have a chat before he couch surfs to Russia.
And here's your morning Nice Time! Baby mountain goats!
We're 100% ad-free and reader-supported, so consider buying us coffee, or get a subscription!
Follow Dominic on Twitter and Instagram!
Dominic Gwinn
Dominic is a broke journalist in Chicago. You can find him in a dirty bar talking to weirdos, or in a gutter taking photos.