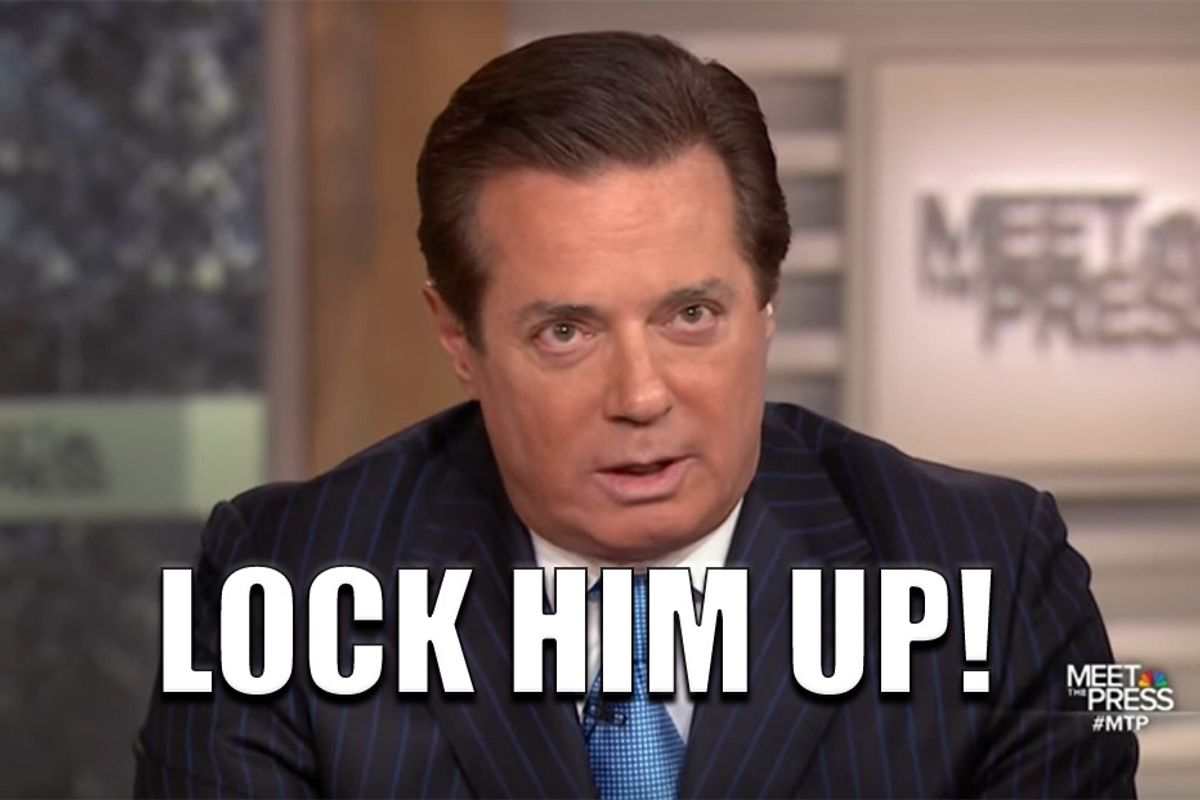 Morning Wonketariat! Here's some of the things we may be talking about today.
---
Paul Manafort's former business partner (/2016 Trump deputy campaign chair) Rick Gates told a court that he definitely committed crimes with Paul Manafort, and began detailing his years-long tax and bank fraud scam with Manafort. He also admitted to a laundry list of crimes, some of which prosecutors didn't even know about, like how he secretly stole money from Manafort for years. Today Gates is expected to continue detailing how he and Manafort doctored financial documents and hid Ukrainian blood money in Not American bank accounts.

Screw Paul Manafort, Judge TS Ellis has made himself the belle of the ball by belittling, badgering, and bitching out prosecutors whenever he feels like they're taking too long to make a point, being boring, or making funny faces. Cranky old bastard.
The judge overseeing the case against the Russians accused of screwing with the 2016 election has agreed to appoint a lawyer to review evidence for potential national security issues, and has agreed to create a firewall counsel so that the Russian lawyers don't get their grubby hands on any more sensitive stuff.
Rudy Giuliani tells WaPo that he intends to tell Robert Mueller to fuck off, and he won't let Trump talk about obstruction of justice IF he ever agrees to sit down with Mueller ... unless it's on Twitter.
Kristin Davis, otherwise known as the "Manhattan Madam," is set to sit down with Robert Mueller's grand jury. Davis has a history of providing WHO-ORES for the New York elite, but says she now does "web design" and writes "position papers" for Nixonian rat-fuck Roger Stone.
Vanity Fair's Emily Jane Fox gossips that Hope Hicks was just hanging out with with JaVanka ... on Air Force One ... and she wasn't there to talk about replacing John Kelly, or get pointers on what (not) to say to Robert Mueller.
Stephen Miller's been toiling away in his dungeon looking for new ways to screw LEGAL immigrants. This morning NBC reports that the Trump administration intends to make it harder to get a green card if immigrants have ever used the social safety net (that's stuff like Obamacare, food stamps, and CHIP). Pretty soon the Statue of Liberty will just say, "Ass, gas, or grass, nobody rides for free."
A newly released study by the Government Accountability Office has found Trump's Tortilla Curtain "will cost more than projected, take longer than planned, or not fully perform as expected." In a statement, the DHS disagreed, called the GAO fake news, then held out its hat and asked for another $1.6 billion.
Axios asked a bunch of people on the internet to rate Trump's immigration policies and (SHOCKINGLY) found a correlation between his approval rating, baby jails, and border wall. Who knew?
With Trump and China doubling down on a trade war, Trump's White House tried to calm the fears of Silicon Valley by saying Trump's only slapping tariffs on China because he loves them too, but sometimes they just make him so mad that he goes crazy, and takes it out on the tech babies.
Back in 2013 Trump's SCOTUS nominee Brett Kavanaugh was defending the Bush 43 administration and wrote that a president can just ignore annoying laws "unless and until a final Court order dictates otherwise." You see, if the president does it, it's not illegal. CASE CLOSED!

Mike Pence once argued that the president should be held to the highest moral standard, thus Bill Clinton's blow job was grounds for impeachment. By that standard, Trump's pathological lying and pee hooker addiction would be grounds for smiting.
A new report by Forbes details how Commerce Secretary Wilbur Ross is a not-so-secret sneak thief who potentially embezzled $120 million over the years, stiffs charities out of pledged donations, screws people out of paychecks, and (no joke) pockets handfuls of Sweet'N Low packets at restaurants. Is Wilbur Ross your DAD???
Rand Paul went to Moscow to shoot the shit with some Russian lawmakers, and now they've agreed to come to the Capitol to talk about...stuff... What could possibly go wrong?
IT'S PRIMARY DAY (again)! Here's a good breakdown of all the things to look out for during today's elections!
The Mendocino Complex wildfire in California exploded overnight and is now the biggest in the the state's history, burning 283,800 acres, and surpassing last years Thomas fire.
Those awful commie liberals at the Weather Channel have an ambitious new project on the growing climate migration crisis, and how people all over the world are suffering from the effects of climate change. Why don't they just science up a giant ice cube, drop it in the ocean and be done with it?
After 74 people were shot in Chicago over the weekend, Chicago Mayor Rahm Emanuel and Police Superintendent Eddie Johnson denied accusations that cops were too busy protecting drunk suburbanites at Lollapalooza, and instead shifted the blame from city officials to poor neighborhoods in the South and West sides. As usual, it's not the city's fault, it's just "those people" in "those neighborhoods."
The Republican National Committee has been tweeting out links to "Sexy Car Babes" for months after the Maryland Republican party changed its Twitter handle. PPFFFFF.
Last night the West Hollywood City Council unanimously voted for a resolution to ask for the removal of Trump's star on the Hollywood Walk of Fame. The decision now falls on the Hollywood Chamber of Commerce. If removed, it would be the first and only star ever to have been taken out. How about replacing it with Stormy Daniels?
The Trump administration will will reimpose sanctions on Iran that were lifted during the Iranian nuclear agreement. The rest of the world is now pissed that is has to choose dollars and dumbasses over free markets and opportunity.
Buzzfeed reports that Jared Kushner used to kill stories critical of his friends when he owned the New York Observer, that way nobody would know they were on a list of the "10 worst landlords."
Set your coffee aside before you read the ramblings from Dave Janda, a right wing radio loudmouth who believes that Trump has survived several assassination attempts, and deserves our praise for being "under a howitzer every day." Dude, if Trump survived an assassination attempt he'd never shut up about it.
Media Matters has some graphs showing how much time major cable news networks have spent airing Trump rallies, and you'll never guess which network is just giving him free advertising!
LeBron James is making a new three-part documentary series about the role of sportsball players in politics called ... "Shut Up and Dribble."
The DOJ is wants to scuttle the merger between AT&T and Time-Warner, arguing that the merger was "contrary to fundamental economic logic" that the new hybrid company wouldn't simply jack up prices or screw consumers.
Seeking to head off a damning report from the OIG, FCC Chairman Ajit Pai says there never was a cyber attack on FCC servers during the net neutrality commenting period last year. Ajit Pai is a fucking dick.
And here's your morning Nice Time! Kittens and babies!
We're 100% ad-free and reader-supported, so consider buying us coffee, or get a subscription!
Follow Dominic on Twitter and Instagram!
Dominic Gwinn
Dominic is a broke journalist in Chicago. You can find him in a dirty bar talking to weirdos, or in a gutter taking photos.