Gonna Be A Hell Of An Infrastructure Week. Wonkagenda For Tues., Sept. 4, 2018
Russia
September 04, 2018 09:01 AM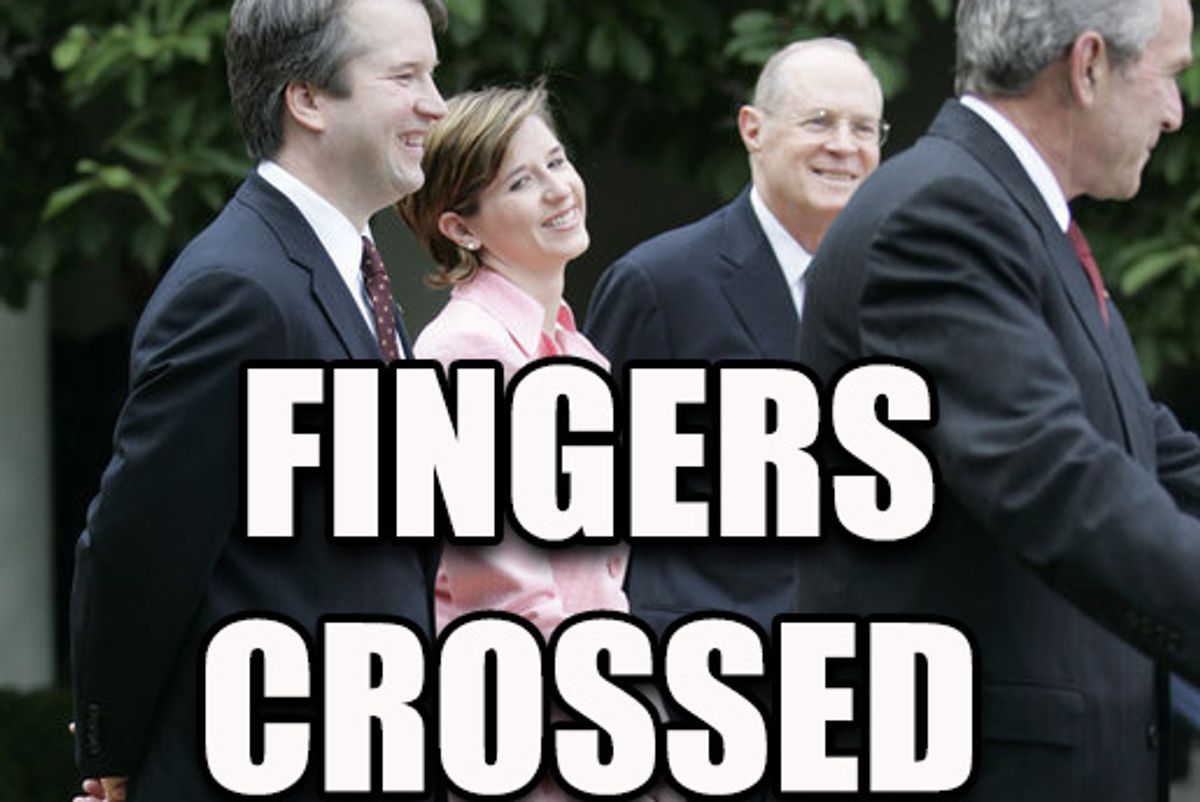 Morning Wonketariat! Here's some of the things we may be talking about today.

---
As the Senate gets ready to sit down with Trump SCOTUS nominee Judge Brett Kavanaugh, Bush 43 lawyers suddenly dumped 42,000 documents on Democrats and denied calls to delay the hearings. Just HOURS after the dump, Republican Sen. Chuck Grassley told Democrats to stop complaining, and noted that his legal team had done the impossible and reviewed "each and every one of these pages."

Late on Friday night the Trump administration claimed executive privilege on 100,000 documents related to Kavanaugh's time as a Bush 43 swamp monster, and there isn't anything you fetus flushers can do to stop them!

Republicans plan on painting Kavanaugh as a righteous womynist who wears his pussy hat while drinking mimosas and La Croix at Lilith Fair, but Democrats are cracking their knuckles and plan to remind everyone that he wanted to excuse Nixon, shield Trump, ban abortion, greenlight torture, kill net neutrality, scrap the CFPB, and spy on Americans.
In Kavanaugh's opening statement, he says he'll be a "team player," and a "neutral and impartial arbiter." Is he trying to channel Zapp Brannigan?
Last night Rachel Maddow played audio of Judge Kavanaugh's role in attempting to deny a 17-year-old undocumented immigrant's legal right to an abortion. [Video]

Jared Kushner's prison reform plan is getting a push from -- GASP -- Jared Kushner! The boy wonder is now urging Republicans to support the bill he gave them (before they all get locked up).

After Fox News talking heads spent the weekend screaming that Trump should "You're Fired" Jeff Sessions, Trump bitched out Sessions on Twitter last night (again), blaming indictments on reps Duncan Hunter and Chris Collins on the Obama administration, and complaining that the DOJ shouldn't be indicting Republicans ahead of the midterms.
Instead of honoring the sacrifices of labor unions, Trump fired off some mean tweets on Labor Day at the AFL-CIO, and whined about the economy.
A new analysis by WaPo has found Trump makes about eight false claims a day. Over the last few months he's been making about 15 a day, and on August 30 he made 73. #MAGA.
NBC's Chuck Todd blasted Fox News and the super rich conservative echo chamber in a blistering op-ed where Todd admits being told to entertain conservative bullshit at the risk of being labeled as biased, and called them out for exploiting "the public's lack of knowledge of journalistic conventions" to scare old white people. It's a good op-ed.
Aside from Kavanaugh hearings, Congress will be busy trying to ram through a number of last minute spending bills to avert another government shutdown ... unless Trump does it anyway.
A new ABC News/WaPo poll finds Democrats holding a distinct advantage over Republicans heading into the midterms, with a majority of people feeling that both major parties are out of touch with the average Joe the Plumber.
With Trump's LOW RATINGS sinking even lower, Democrats taking the Senate isn't an impossible goal, according to new research by the Cook Political Report, but geeks caution that the odds are still in favor of Republicans, so don't start slacking off!
The Boston Globe has finally put the stories about Sen. Elizabeth Warren's heritage to rest in an exhaustive new report that meticulously details how she never got a job based on her race, but Republicans are still calling her racist names.

North Carolina Democrats have reluctantly concluded that it's not possible to redraw the congressional districts this close to an election as the primaries have already been held, and Republicans have already begun last minute judicial fuckery to maintain their gerrymandered stranglehold.
FYI: Many congressional interns don't get paid, forcing them to live in squalor as they do all the dirty work for Congress critters and swamp creatures. #PayOurInterns
California is in desperate need of pilots to fly the S-2T tankers and UH-1 Hueys that fight wildfires, so if you know anyone with brass balls/ovaries (as well as the appropriate license and flight experience) they might want to call California Fire Chief of Flight Operations Dennis Brown.
A Myanmar court has sentenced two journalists from Reuters to seven years in prison for violating a colonial-era state secrets law in their reporting about the genocide on Rohingya Muslims. :(
Almost 90 elephants in Botswana were found murdered by poachers near the borders of an elephant sanctuary. The mass killing is being seen as one of the worst elephant poaching atrocities ever recorded.
The outgoing head of US forces in Afghanistan offered an impassioned plea to Taliban insurgents to "stop killing your fellow Afghans" in a speech that most people in Washington will ignore as the war in Afghanistan drags into its 17th year.
Social media is far more toxic in other countries with activists fighting on the web and in the streets, allowing governments to excuse genocide and terrorist cells to recruit suicide bombers. Hearts and minds, folks.
Treat yourself to the truly hilarious story of how ALLEGED Russian spy Maria Butina failed to make a million dollar oil deal with a bunch of idiotic old white guys who couldn't stop rubbing their dicks.
Some suits at NBC News have dug up a 10-page memo from Andy Lack that dumped Ronan Farrow's original Harvey Weinstein story. Last night Farrow, a former producer at NBC, and at least one source responded on Twitter by calling the memo a convenient pile of garbage.
The family of Aretha Franklin is calling Rev. Jasper Williams Jr., an Atlanta pastor who spoke at her funeral, "offensive" for saying, "black lives do not matter" during the funeral. Franklin's family added, "He spoke for 50 minutes and at no time did he properly eulogize her."
Colin Kaepernick is the new face of Nike's "Just Do It" campaign, and the white supremacists are so triggered with outrage that they're cutting the logos off their socks. Too bad Nike just inked another 8-year contract to make uniforms for the NFL. Somehow I don't think these snowflakes will start rocking out to "My Adidas."
BREAKING NEWS: Omarosa's got more tapes because she ALLEGEDLY taped everything. Literally.

The New Yorker has a big profile on Rudy Giuliani, but the only thing you really need to know is that Trump's White House hasn't ruled out blocking the Mueller report on Trump's ALLEGED pee-hooker party.
Steve Bannon has been kicked out of the New Yorker Festival after the magazine's editor, David Remnick, got bitched out by staffers, celebrities and social media. Bannon responded by throwing a tantrum and spewing toxic goo on his cargo shorts.
ICYMI: The Village Voice is dead after its young, super rich trust-fund owner, Peter Barbey, blew all his money on stupid parties and useless crap. Thanks, dick.
As Facebook bans public-facing groups for hate speech, conspiracy theorists and garbage monsters have found a safe space in private groups where they don't have to worry about Mark Zuckerberg's non-existent banhammer.
A report in the WSJ alleges that Twitter CEO @Jack Dorsey overruled a staff decision to ban Alex Jones and neo-Nazi Richard Spencer for being hate mongering liars, though Twitter's legal team denies this.

Y'ALL! The original 7-inch vinyl EP from Beto O'rourke's band, Foss, has surfaced. It's pretty solid post-hardcore-ish punk from the 1990s!
And here's your morning Nice Time! RED PANDAS!

We're 100% ad-free and reader-supported, so consider buying us coffee, or get a subscription!

Follow Dominic on Twitter and Instagram!
Dominic Gwinn
Dominic is a broke journalist in Chicago. You can find him in a dirty bar talking to weirdos, or in a gutter taking photos.