Infrastructure Week: Supreme Court Edition. Wonkagenda For Tues., Sept. 18, 2018
News
September 18, 2018 09:04 AM
Morning Wonketariat! Here's some of the things we may be talking about today.
---
Brett Kavanaugh and Christine Blasey Ford will appear before the Senate Judiciary Committee Monday to testify about Ford's accusation that Kavanaugh seuxally assaulted her at a party in the 1980s. After spending nine hours at the White House, Kavanaugh signaled that he was unable to recall anything about the night he got blackout drunk and (allegedly) tried to rape Ford.

Hundreds of friends, family members, and colleagues have rallied to support Christine Blasey Ford in a pair of letters that call her decision to come forward a "civic duty," and not a "partisan act." WaPo has published both letters.
Mitch McConnell is pissed Democrats are trying to #MeToo Brett Kavanaugh. Yesterday he bitched on the Senate floor that they were looking for "any possible reason that this nomination should be delayed," and praised the walking corpse of Sen. Chuck Grassley. Behind the scenes McConnell is scheming contingency plans, like steamrolling a nominee during a lame-duck session after the elections.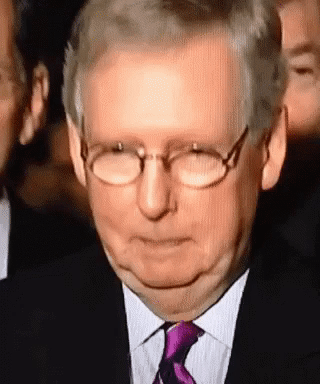 Trump ordered the declassification of materials related to the FISA warrant on Carter Page, text messages between federal agents, and other materials related to the Trump-Russia investigation. Last night ranking Democrat on the House Intel committee Rep. Adam Schiff called Trump's actions a "clear abuse of power," and said DOJ and FBI officials had confided in him that this was a "a red line that must not be crossed" in order to preserve what integrity is left of the investigation into Trump's pee hooker problem.

With a cheap can of beer and a cigar, Rudy Giuliani sat in the back of some oak-paneled shithole in Georgetown cold-calling the Washington press corps and assuring them that Paul Manafort won't snitch on Donald Trump -- even if Manafort just cut a deal with Robert Mueller and pleaded guilty to hiding Russian blood money.
Fun Fact: Russians keep trying to visit ALLEGED spy Maria Butin in prison (and it ain't for conjugals).
The Trump administration is slapping another $200 billion in taxes tariffs on Chinese imports, effectively half of all goods the US imports from China. The Chinese have threatened to retaliate with an additional $60 billion tariff on US goods, causing Trump to threaten an additional $267 billion. Experts note that would be every single Chinese import. This morning Beijing signaled their intention to back out of upcoming trade talks with the US. #MAGA

The Trump administration will cap the number of refugees entering the US at 30,000 for FY 2019, the lowest it's been since 1980, so that it can focus on the "massive backlog" of almost 800,000 cases the administration will likely just throw in the trash. #MAGA
An investigation of FEMA head Brock Long has been referred to federal prosecutors who will now consider pressing charges on Long's ALLEGED theft of government property to drive home to North Carolina, and six other charges that include trying to cover up a car accident. To make matters worse, Republican Rep. Trey Gowdy is asking for all his receipts. Now that's a shit storm!
Ted Cruz is so desperate to get an edge on Beto O'Rourke that he claimed, "If Texas elects a Democrat, they're going to ban barbecue across the state of Texas," after PETA passed around BBQ tofu outside a Cruz rally. Note: Cruz's wife, Heidi, is a vegetarian from California.
The Senate passed a massive bipartisan bill to combat opioid abuse by 99-1. The bill still needs to pass in the House, but the Senate version includes all sorts of provisions like tracking distribution, money for NIH, and curbing the sale of overseas fentanyl. In case you were wondering, it was Utah Republican Sen. Mike Lee who voted against the bill.
Nancy Pelosi isn't clapping for the House Republicans' one year extension of the Violence Against Women Act, calling it an "abdication of our responsibilities to women in our country" in a letter to Speaker Paul Ryan that criticized Republicans' refusal to include Native American, immigrant and LGBTQ communities. A Ryan spox simply shrugged and said the Democrats will still vote for it.
Georgia Republican Rep. Doug Collins wants to dismantle the paywall on the PACER system, the public network that hosts judicial documents. Federal courts have called PACER a slush fund for the judiciary, and the reason why traffic courts have nicer TVs than the crap in your apartment.
Billions of Ameros in the Pentagon are being shifted around for vague reasons, like "historical obligation," after the authors of the new Defense spending bill decided that certain programs and expenditures were redundant. Now Trump will NEVER get that $100,000 toilet seat!
Through gritted teeth a federal judge seethed that Georgia can conduct its November elections on sketchy electronic voting equipment, but only because there's no way incompetent state officials can get their shit together in time. US District Court Judge Amy Totenberg stated Georgia officials "presented no witness with actual computer science engineering and forensic expertise," and the state fails to recognize research-based findings from national security geeks.
Twelve separate lawsuits from 14 different people have been filed against the city of St. Louis and 11 cops for the infamous police "kettle" on the third night of the Jason Stockley protests last year. The "kettle" saw riot police trap dozens of protesters, journalists, and innocent bystanders in an area where they were then beaten, pepper sprayed, and arrested.

Secretary of State Mike Pompeo is ignoring requests by Congress to explain a breach of its cloud-hosted email service, exposing the personal information of federal workers. An internal alert shared with Politico downplays the breach, saying it only affected "1% of employee inboxes," but it's a known-known among geeks thats State's cyber security is a joke.
UN Ambassador Nikki Haley says Russia "cheated" and "lied" to help North Korea avoid violating sanctions by blocking a report that details Russia's actions to help Pyongyang skirt investigators. In response, Russia called Haley a goddamn cry baby, and said everyone should stop being mean to North Korea and Syria.
Russia was apparently worried they might get accused of using chemical weapons (again), so this past spring they sent two bumbling spies to a Swiss lab in The Hague testing for chemical agents used in Syrian gas attacks on civilians, and the Novichok used in the poisoning of former spy, Sergei Skripal. The spies were caught, and the testing confirmed Russia poisoned Skripal, and aided in Syrian chemical weapons attacks with gas remarkably similar to gas used in the 2002 Nord-Ost hostage crisis that killed 100 innocent people.
China is declaring a massive multi-day joint military exercise with Russia a resounding success. Russian officials said the 2018 Vostok war games, which haven't been attempted since the Cold War, will now happen every five years, adding it's DEFINITELY not trying to prepare for an assault on NATO forces stationed in the Baltics or Nordic regions. [HILARIOUS VIDEO]
Defense Secretary Jim Mattis is in Macedonia warning that Russia is attempting to stop a referendum on joining NATO by using drunken soccer hooligans and "malicious cyber activity" to swing the vote.
A new report by the World Economic Forum concludes that the robot revolution will actually create more jobs through 2022 than it will take away as businesses and industries expand and automate mind-numbing jobs. Nerds warn that those predictions aren't exactly etched in stone.
FCC Chairman and piece of shit Ajit Pai said California's net neutrality bill is "radical, anti-consumer" and "illegal" because it makes Uncle Sam act like a nanny and enforce competition between telecom agencies who would rather enjoy their monopolies on providing internet services.
Yusaku Maezawa, a Japanese tech billionare, will be the first person Space X flies around the moon in a bigass rocket. The trip isn't expected until 2023, and he wants to take a bunch of hipsters with him for an art project called, "#dearMoon."
And here's your morning Nice Time! Red Panda cubs!

Follow Dominic on Twitter and Instagram!
We're 100% ad-free and reader-supported, so consider buying us coffee, or get a subscription!

Dominic Gwinn
Dominic is a broke journalist in Chicago. You can find him in a dirty bar talking to weirdos, or in a gutter taking photos.