Ronan Calling. Wonkagenda For Mon., Sept. 24, 2018
Russia
September 24, 2018 07:50 AM
Morning Wonketariat! Here's some of the things we may be talking about today.
---
New allegations about Brett Kavanaugh being a teenaged sex monster surfaced last night after Ronan Farrow published a piece about a woman claiming Kavanaugh shoved his dick in her face at a drunken frat party when he was a freshman at Yale. Shortly after Farrow's story hit the web, Michael Avenatti tweeted that he was representing a third person with "credible information" that alleges Kavanaugh and his friends would target drunk/drugged women and attempt to gang rape them.

Dr. Christine Blasey Ford and Brett Kavanaugh will testify on Thursday before the Senate Judiciary Committee. Last night the committee's ranking Democrat, Sen. Dianne Feinstein, called for a delay in the hearings to asses the new allegations against Kavanaugh.
Brett Kavanaugh continues to deny allegations that he was a teenage sex terrorist, and he plans to use his calendar from 1982 as evidence that he never attempted to rape Dr. Ford in in high school. Because teenagers write EVERYTHING in their day planners.
Trump is itching to start insulting the women claiming Brett Kavanaugh was a teenage sex monster, but Republican senators Mitch McConnell, Lindsey Graham, and White House Counsel Don McGahn have taken his phone away, and pinned him to the bed with their hands over his mouth.
CNN aired a segment about Florida women who support Kavanaugh, but enterprising sleuths noticed that they were Republican operatives, some of them failed political candidates and GOP fundraisers.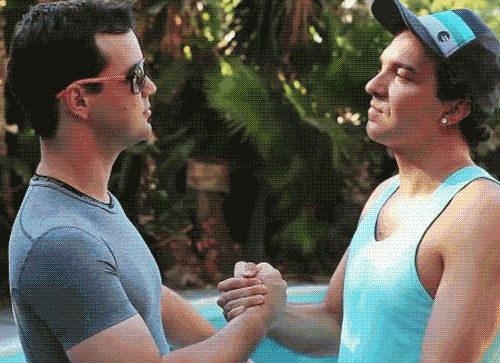 In the fallout from the New York Times story claiming Rod Rosenstein suggested wiretapping Trump to invoke the 25th Amendment, Trump started polling White House staffers about what he should do. Over the weekend Hannity and Fox News talking heads talked him off a cliff by claiming it was all a #DEEPSTATE conspiracy to lure Trump into an obstruction of justice trap. Yesterday, Sen. Lindsey Graham called it a "bureaucratic coup" and called for the appointment of a special counsel because he clearly has nothing better to do.

According to new reporting from ABC News, Roger Stone tried to connect Julian Assange with his friends, conservative conspiracy theorist Jerome Corsi and grandiose liar Ted Malloch, to serve as intermediaries in dumping more of HER EMAILS.
Rob Goldstone talked to WaPo about his involvement in the Trump-Russia scandal. He says it's all a fantastic coincidence that's been "puffed up" by the press. In an interview with the Today Show, Goldstone says he's sorry he set up the Trump Tower meeting to peddle "dirt" on Hillary Clinton.

A federal court has ruled that Commerce Secretary Wilbur Ross must sit for a deposition in a suit brought by cities, states, and mayors opposed to questions of citizenship on the 2020 Census. Hopefully he'll stay awake?

The Trump administration is expected to announce new rules denying green cards to any immigrant who's ever taken government assistance as a way to weed out all the sick, tired and poor hombres looking to build a better life. #MAGA.
House Democrats have set their sights on Ryan Zinke, Trump's grifty Interior Secretary. Should they seize control of the House, they intend to launch investigations into a laundry list of Zinke's ethics violations and business dealings. In a statement, Zinke's office reminded everyone that he's a Navy SEAL and owns many challenge coins.
NSA Director Adm. Mike Rogers has announced the NSA is shutting down the TAO division, the secretive arm that develops and launches offensive cyber measures. Adm. Rogers order come as Trump's White House and the DOD update US cyber policy, directing the Pentagon to engage hostile actors with offensive cyber weapons. TLDR: The tech war has begun!
With so many women potentially unseating men in the House this fall, Nancy Pelosi is facing a mini-revolt in a Democratic women's caucus. Some of the women want open elections to decide who helms the caucus, while others argue that these new young bloods don't have the strength to put pressure on the Hill.
New polls in Florida show that Republican Gov. Rick Scott and Sen. Bill Nelson are now running neck and neck, and Andrew Gillum has opened up a lead over Republican Rep. Ron DeSantis. Looks like people don't like red algae or racism. [Poll Results]
After the brothers and sisters of Arizona Republican Rep. Paul Gosar launched a political ad endorsing Gosar's Democratic opponent, Gosar spent all day Saturday shitposting against his siblings on his personal Twitter account. At one point Gosar tweeted, "I guess I really am Mom's favorite."
Reps Mike Quigley and John Katko have introduced bipartisan legislation to create an election hacking competition that would reward people who uncover vulnerabilities in election hardware and software instead of sending them to federal prison. In order to highlight how easy it is to hack some voting machines, Quigley and Katko will host a demonstration of voting machine hacking on Wednesday.
Thanks to Trump's trade war, the price of Russian wheat is so low that Russia is now the largest exporter for wheat. Things are about to get worse as global stocks fell off a cliff (again) overnight while the world prepares for hundreds of billion in taxes tariffs to take effect today. #MAGA
UN representatives for Europe, Russia and China will meet with Iranian reps in an attempt to convince Iran to stay in the JCPOA and calm the fuck down despite whatever crazy nonsense will spew out of Trump's mouth tomorrow when he addresses the world. Last night Trump's White House posted a rambling video criticizing the UN in advance of a UN Security Council meeting this week.
Actor James Woods is likely getting kicked off Twitter over his refusal to delete a tweet from July 20 where he spreads a conspiracy theory that Twitter says is damaging to the election. Bye, Felicia!
ICYMI: Here's Trump denying a kid a hug while passing out food in North Carolina. He learned a valuable lesson that day...
John Oliver 'splainered why Facebook is a toilet and completely full of shit.
And here's your morning Nice Time! Tony, the baby hippo!
Follow Dominic on Twitter and Instagram!

We're 100% ad-free and reader-supported, so consider buying us coffee, or get a subscription!
Dominic Gwinn
Dominic is a broke journalist in Chicago. You can find him in a dirty bar talking to weirdos, or in a gutter taking photos.