Oh, It's Gonna Be A DAY. Wonkagenda For Tues., Oct. 30, 2018
popular
October 30, 2018 08:58 AM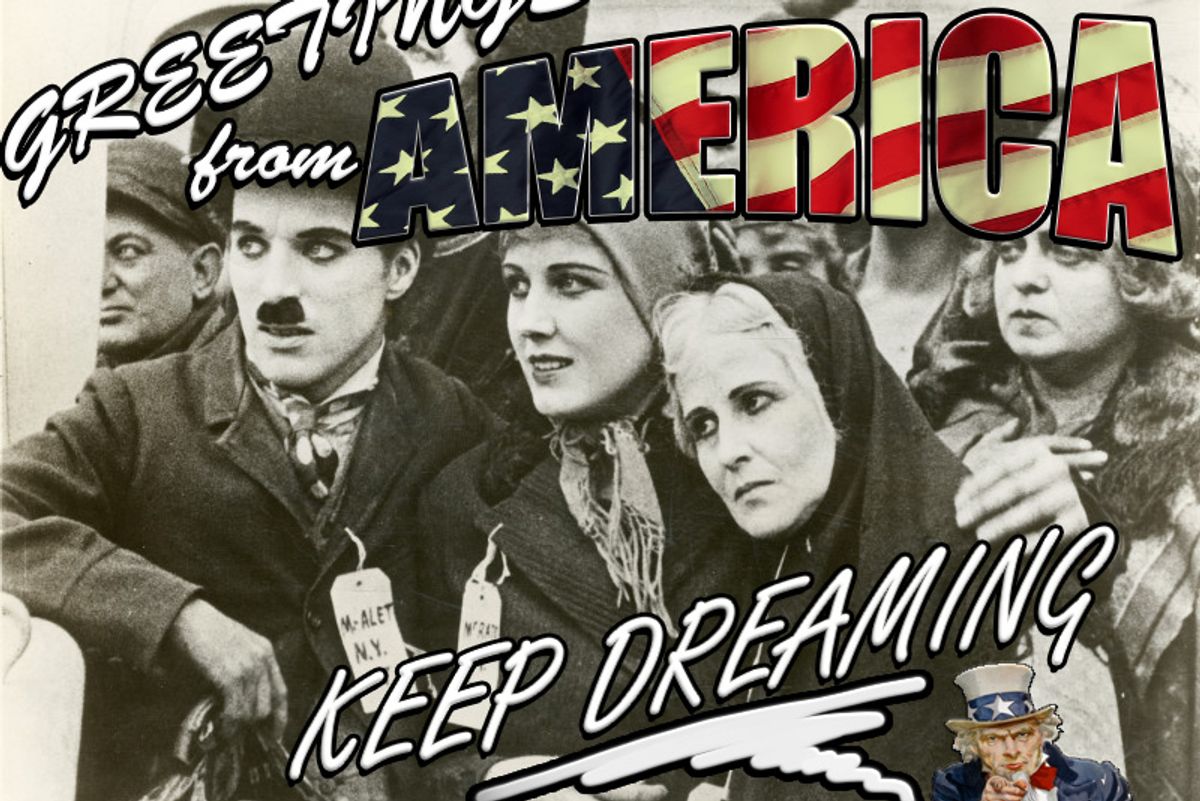 Morning Wonketariat! Here's some of the things we may be talking about today. Strap in.
---
After Trump refused to denounce white nationalism, many Jewish leaders and city officials in Pittsburgh have told him not to visit the grieving city while they're burying victims of Saturday's anti-Semitic massacre. The city's mayor has told the administration that it does not have the security to simultaneously safeguard Trump and the funerals, but Trump's White House says it doesn't give a fuck. Trump wants a photo op standing over dead Jews.
Mike Pence honored the victims of the Pittsburgh massacre during a rally in Michigan last night by bussing in a "Jews for Jesus" rabbi to offer thoughts and prayers for local Republicans ahead of the midterms.
Axios reports that Trump plans to eliminate birthright citizenship after the election by executive order. Technically speaking, the 14th Amendment makes this illegal, but it's not like laws or the Constitution or multiple Supreme Court rulings going back a century have given Trump pause in the past.
The Trump administration plans to send 5,200 troops to the US border to reinforce the existing 2,000 National Guardsmen already supporting the Border Patrol officials who are standing picking their asses and staring at the desert. By all accounts, it's the largest US troop deployment on US soil in peacetime. The Military Times reports the Pentagon was caught completely off guard by Trump's request, apparently only expecting to send several hundred soldiers, not several thousand, to putz around and build Trump's wall with jersey barriers. The Pentagon calls this "Operation Faithful Patriot," and it's expected to last through December. At the moment, nobody knows how much this will cost US taxpayers.
During an interview with Fox News's Laura Ingraham, Trump said he'd build big, beautiful tent cities, like Herbert Hoover, to house all Middle Eastern Mexicans from Central American "shithole countries." Trump also complained about being unfairly blamed for the attempted assassinations of his political rivals while Obama was never blamed for the racially motivated Charleston Church massacre. After Ingraham asked Trump about the shootings in Pittsburgh, Trump sputtered some gibberish and lies about 9/11, called himself "a nationalist ... not a globalist, " and said his daughter is a JOOOO. When Ingraham asked Trump about calling the free press "the enemy of the people," Trump rambled about fake news and called journalist Julia Ioffe a "sick woman." [Full Interview]
A new RICO lawsuit claims Trump and his kids purposefully defrauded people to invest in phony businesses and get-rich-quick schemes, accusing them of "a pattern of racketeering activity" that lasted for more than a decade and involved multiple Trump businesses.
Republicans are getting nervous that their base of wealthy, white suburbanites might sit the election out because many of them just can't stand Donald Trump. Instead, they're airdropping Paul Ryan and buckets of money, and running a brand new ad to scare the diapers off geriatrics -- and it doesn't even mention Donald Trump! [Spooky Ad]
The New York Times is calling Beto a gentrifying hipster crime lord because he walked away from a revitalization project in El Paso before it ultimately went nowhere. It's just like HER STATE DEPARTMENT FAVORS, except less interesting. SCANDAL!!!
Virginia Republican Rep. Dave Brat went on Alex Jones to educate people about the secret Middle Eastern Mexican conspiracy to take away our precious bodily fluids with tuberculosis taco trucks and Sharia law.
Florida has a ballot measure to to restore voting rights to felons, potentially giving 1.4 million people, many of whom are black, the right to vote. Of course, Republican Gov. Rick Scott thinks is an absolutely horrible idea. [Video]
Wisconsin Republican Gov. Scott Walker's $4.1 billion Foxconn factory is being paid for via taxpayer subsidies, and now Foxconn is demanding exemptions from environmental regulation as it scales back plans to hire 13,000 blue collar workers in favor of white collar workers for something it calls, "AI 8k+5G."
Conservative sleaze machine Matt Drudge spent yesterday shitposting and rage tweeting at Fox News after one of their shows aired a segment with a bunch of idiots laughing about last week's bomb attacks and mass shootings.

Deputy AG Rod Rosenstein has announced a new website to make reporting hate crimes easier. Rosenstein made the announcement at a roundtable for law enforcement, and said the new site would help coordination between federal and local authorities. "Simply because hate crimes are not reported," Rosenstein said, "does not mean they are not happening."

The closet full of skeletons and ghouls Trump calls his legal team tells Bloomberg Trump might send Robert Mueller written answers to questions, but not until after the election, and as long as there's nothing about obstruction of justice. Yeah, this again.
During some of Trump's many hours of executive time last night, he Orange Julius Caesar tweeted out a photo of himself with Stephen Colbert circa 2015 from "Blacks for Trump," that's been floating around since April. Obviously this is a "very revealing" thing that "you are not supposed to see." Checkmate, libs.
Singer Pharrell Williams sent Trump a blistering cease and desist letter for using his song "Happy" at his rally in Indiana Saturday without permission. The letter BEGINS by saying, "On the day of the mass murder of 11 human beings at the hands of a deranged 'nationalist,' you played his song 'Happy' to a crowd at a political event in Indiana. There was nothing 'Happy' about the tragedy inflicted upon our country on Saturday and no permission was granted for your use of this song for this purpose."

A court in Ecuador told Julian Assange that he has to clean his room, take care of his cat, and shut his goddamn mouth. Assange told the court he feels that the country has shielded him from extradition for multiple crimes, including rape and espionage, has left him "humiliated."
Later today Apple is expected to wow people with a bunch of overpriced crap their engineers copied from other hardware developers in a very smug presentation. Whoopty-doo.
Comedian Tim Heidecker released a satirical song, "Ballad of the Incel Man," to mock Trump-loving man-babies who still live in their mom's basement. All proceeds benefit Hebrew Immigrant Aid Society (HIAS).

And here's your morning Nice Time! Today's Nice Time comes from "D.A." via our tipline. IT'S A SLEEPY KITTY!
Follow Dominic on Twitter and Instagram!
We're 100% ad-free and reader-supported, so consider buying us coffee, or get a subscription!
Dominic Gwinn
Dominic is a broke journalist in Chicago. You can find him in a dirty bar talking to weirdos, or in a gutter taking photos.