'I Am Not A Crook.' Wonkagenda For Tues., Dec. 11, 2018
Russia
December 11, 2018 09:02 AM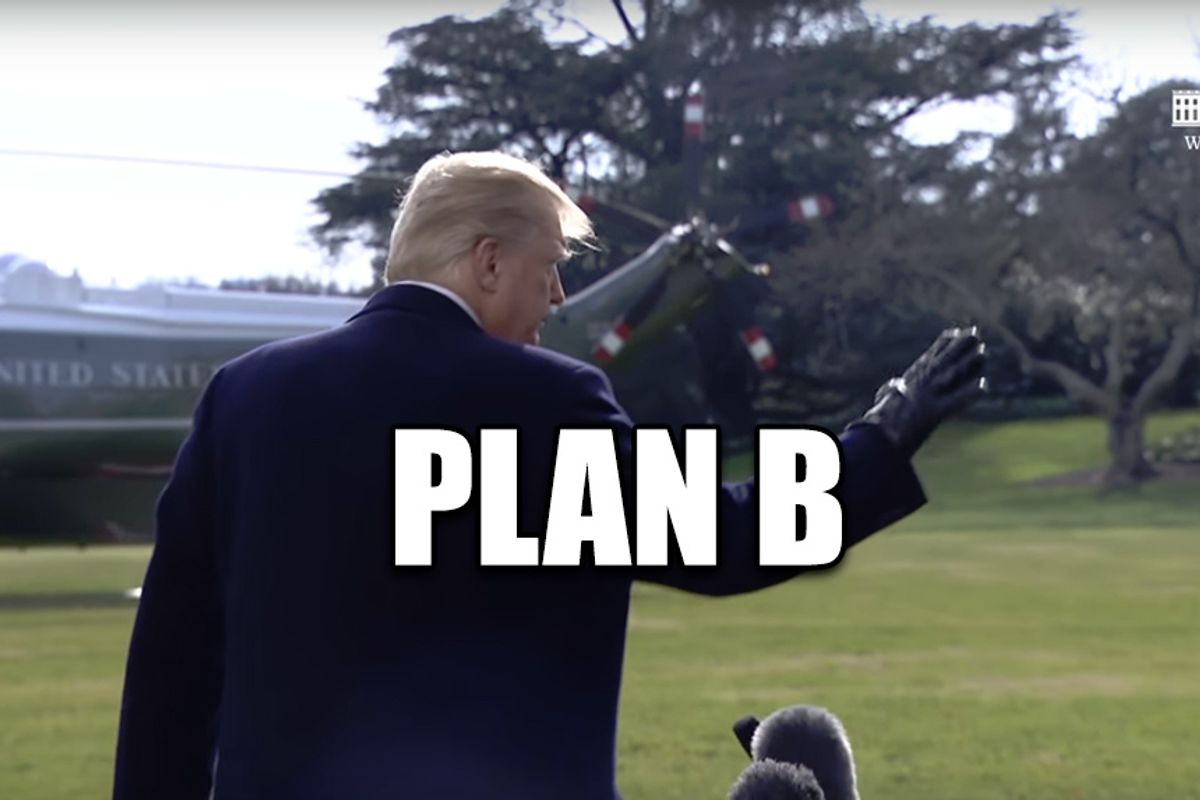 Morning Wonketariat! Here's some of the things we may be talking about today.
---
ALLEGED Russian spy Maria Butina has reached a deal with prosecutors to plead guilty to ALLEGEDLY acting as a gun humper to infiltrate conservative US political circles. In exchange, Butina is hoping to get a shorter prison term. Whatever, LOCK HER UP!

Get ready for more Paul Manafort madness! A federal judge has scheduled a Wednesday hearing to hear arguments that Manafort lied to federal investigators during his plea agreement. LOCK HIM UP!
With two weeks left before a government shutdown, Nancy Pelosi and Chuck Schumer will meet with Trump today to talk about his $5 billion border boondoggle. As Trump adds "unindicted co-conspirator" to his long list of aliases, it's doubtful he'll get anything more than the $1.6 billion Democrats have already offered, and it's likely Trump will throw another tantrum, then shut the government down (again) over his goddamn wall. Trump has been shitposting since 6:00 AM. Go figure.

While Trump bitches about his wall, Sen. Kamala Harris and Rep. Nanette Barragán are spearheading an effort to work with state and local governments in fighting against a Trump administration proposal to limit access to green cards for immigrants. #ShesRunning
All the budget chaos has screwed over benefits for so-called "Blue Water" Vietnam vets exposed to Agent Orange. Republicans are now openly questioning whether there is enough science to claim this is Uncle Sam's fault, and whether or not Congress should spend $2.2 billion to make the lives of sick and dying vets easier. #SupportOurTroops, right?
In a rather surprising move, SCOTUS declined to hear a case brought by Kansas and Louisiana to cut off Medicaid funding for abortion providers like Planned Parenthood. Joining the court's four liberal justices, Justice Rapey McPrivilege and Chief Justice John Roberts shot down the case by arguing states were more interested in nitpicking Medicaid funding, not abortion rights.
Politico got its hands on a CFPB investigation that found Wells Fargo was charging college students some of the highest fees compared to competitors, and the Trump administration hid the results from the public. Advocacy groups want the administration to release the report, but the Consumer Bankers Association says the snaky fees they charge are all "optional." Pro Tip: "Overdraft protection" is a scam!
Texas Republican Rep. Kevin Brady wants to make the Trump tax cuts (for the super rich) even worse. Brady's proposal would let nonprofits engage in political activities, and give anti-abortion activists a wet dream by letting "unborn children" be designated as beneficiaries of 529-education savings accounts. Brady's bill also fires salvos at Obamacare by suspending the so-called "Cadillac tax" on super rich health insurance plans, suspends a fee on health insurers, cancels a "tanning tax," and kills an excise tax on coal that funds a program that helps people who contracted lung disease while working in coal mines. Oh, and it would cost $80 billion.
Jared went on Hannity last night to show the world how clean his hands are now that he's scrubbed all the blood off. Kushner said that the Trump administration isn't paying attention to how Dr. Bonesaw dissolved the body of murdered journalist Jamal Khashoggi in acid at the request of his bestie, Saudi Crown Prince Mohammad bin Salman; they're focusing on killing Palestinians peace in the Middle East! J-Kush also whined that Congress should really pass his white-collar prison reform bill before anyone else gets locked up. [Video]
Texas Republican Sen. John Cornyn is trying to whip votes for Jared's white-collar prison reform bill, even if he thinks it's the political equivalent of an elevator shart. McConnell and other Republicans think the bill stinks, and rumors abound that Cornyn does too, but Kushner is the crown prince of Kalorama, so Cornyn has to put on a shit-eating grin even if the stench kills him.
The Trump administration is scrambling to find someone to replace John Kelly. WaPo reports that there was no Plan B after Nick Ayers decided to bugger off to Georgia to run for office be with his family. The whole thing has taken on a reality show feel, and even Steve Bannon says Trump and Co. fucked up by kicking out Kelly early.
Rep. Mark Meadows (R-Crazytown) is running around the Hill floating the idea that he's "favorably inclined" to be Trump's chief of staff. The House Freedom Crazies are egging him on, but the grand old folks in the party are sharpening their knives as they remember how Meadows forced out former Speaker John Boehner. The rest of DC is keeping its distance, smart enough to know ANY gig in the Trump White House is political suicide.
LinkedIn co-founder Reid Hoffman is backing a massive effort to create a for-profit database of progressive voter data to better thwart Republican efforts in 2020. The DNC is NOT happy, and is quietly calling it an "existential threat" since it could make its own coveted voter data less useful, and now they're hoping for a more collaborative effort.
After years of endlessly naive blowjobs about Paul Ryan's fiscal policies, Ezra Klein has had a change of heart and now thinks Paul Ryan is a bad man. Oh, STFU, Ezra Klein!

Florida Republican Gov. Rick Scott spent $64 million of his own money to buy his Senate seat during the 2018 midterms. Scott, a former for-profit healthcare sleazeball who ran a company that defrauded Medicare, Medicaid, and other government programs, previously spent $75 million to buy his way into into the governorship.

Fun Fact: 6,670 mail-in ballots in Florida remain uncounted because they didn't arrive by 7:00 PM on Nov. 6. No biggie.
About 150 high-school and college students were arrested for marching into the Capitol to protest Democratic House members not making climate change legislation a top priority. Around 1,000 protesters in total rallied outside the offices of Nancy Pelosi and Steny Hoyer. At the same time on the other side of the world, the Trump administration was literally laughed at and heckled when an adviser told a climate conference in Poland, "No country should have to sacrifice economic prosperity or energy security in pursuit of environmental stability."
Theresa May's Brexit deal has collapsed, and MP's are now openly suggesting that they should take a vote of no confidence. Yesterday Parliament was in chaos after May postponed a vote on her Brexit plan that WAS scheduled for today after it seemed doomed to failure. Shortly after that, a Labour MP seized the ceremonial mace and attempted to walk out of the House of Commons, which would be kind of like ripping the gavel from the hands of the Speaker of the House.
Kid Rock and Glenn Beck are trying to buy their way out of a guilty conscience by paying off layaway debts at Walmart, kind of like Tyler Perry (but with less money, and more white people). Maybe we should get a chalkboard and draw the conspiracy lines connecting Beck to the white supremacist movement?
Sweaty pig-human hybrid and conservative talking head Dan Bongino has been "You're Fired" by NRA TV. Bongino says reports that he was quit-fired are "fake news," and that he didn't get dumped by the NRA, he dumped them! Breaking up is hard to do!
Youtube has banned Proud Boys founder Gavin McInnes because he's a Nazirevenue embarrassment. McInnes has now been deplatformed from all major social-media outlets, including Twitter, Instagram, and Facebook because, again, he's a fucking Nazirevenue embarrassment.
Youtube still has a glut of Pizzagate conspiracy videos, and they're probably not going to do anything about them until they start costing Youtube money.
There's no debate necessary: Youtube douchebag PewDiePie is a fucking Nazi. Aside from being an obnoxious video game troll who makes oodles of cash by shitposting for your children, he makes anti-semitic comments and throws casual shoutouts to other Nazis. Period.

Google's Sundar Pichai will get yelled at by members of the House Judiciary Committee who are aware of the internet. Instead of talking about sexual harassment policies and discrimination policies, Republicans are likely to bitch about seeing CNN instead of the Daily Caller in their search results, and ask to hide their search history from their mistresses.
Since piece of shit and FCC Chairman Ajit Pai has refused to cooperate with a New York state investigation into the fake anti-net neutrality comments, the FBI is now investigating all the sketchy comments that spammed the FCC's website last year.
A House Oversight Committee report has found that last year's Equifax breach was "entirely preventable," and the only reason Equifax leaked the personal information for 143 million consumers in the US, Canada, and the UK was because of its executives' penny-pinching incompetence and general laziness. To date, there have been no penalties or prosecutions for the suits and ties at Equifax, who blamed everything on a single IT staffer for failing to patch its 50-year-old (!!!!) system.

Time Magazine has announced that "The Guardians" are the 2018 Person Of The Year, highlighting the journalists around the world who are busting their asses, getting arrested and even murdered for doing their jobs.
And here's your morning Nice Time! BABY GOATS!!

Rhubarb's triplets arrive - First seconds of life!www.youtube.com
Follow Dominic on Twitter and Instagram!

We're 100% ad-free and reader-supported, so consider buying us coffee, or get a subscription!
Dominic Gwinn
Dominic is a broke journalist in Chicago. You can find him in a dirty bar talking to weirdos, or in a gutter taking photos.