A Children's Treasury Of Ted Cruz Making His Concerned Face At Young Freedom Lovers
News
March 12, 2014 01:54 PM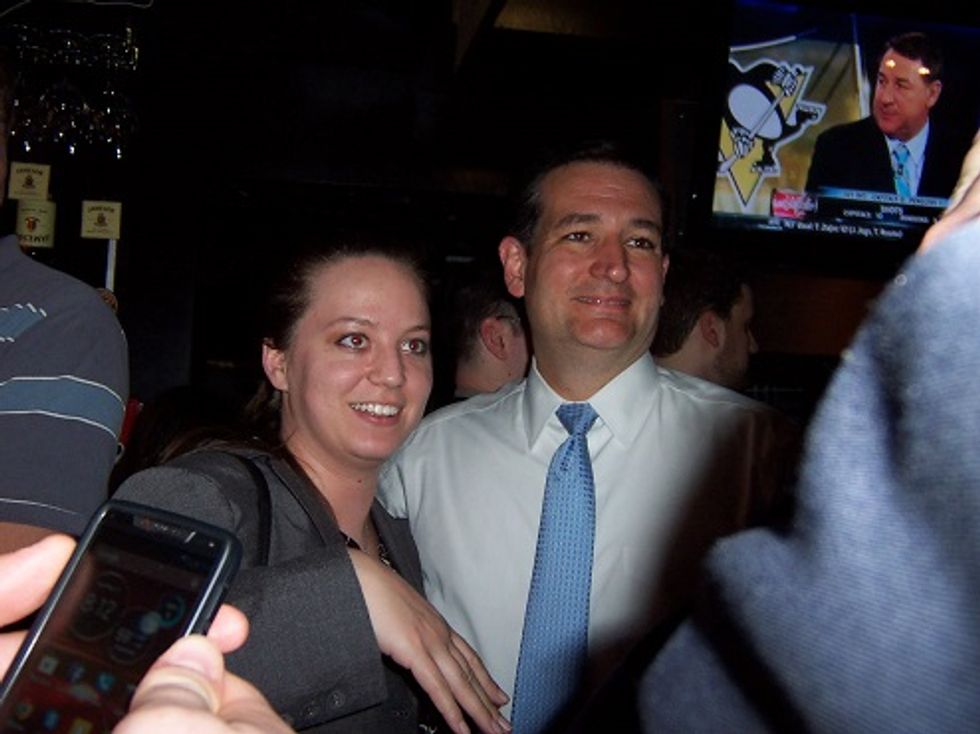 ---
Ted Cruz has had a bumpy week. First, his high-profile conference-opening speech at CPAC was delivered to a sparsely populated ballroom since many people, media and regular, were still trying to get through the epic check-in lines. A couple of days later, he got a meager 11 percent in the conference's presidential straw poll, dwarfed by Rand Paul's dominant 31% showing. Then, on Monday, Rand Paul took to the hallowed pages of Ghost Breitbart to trash Ted while never mentioning his name.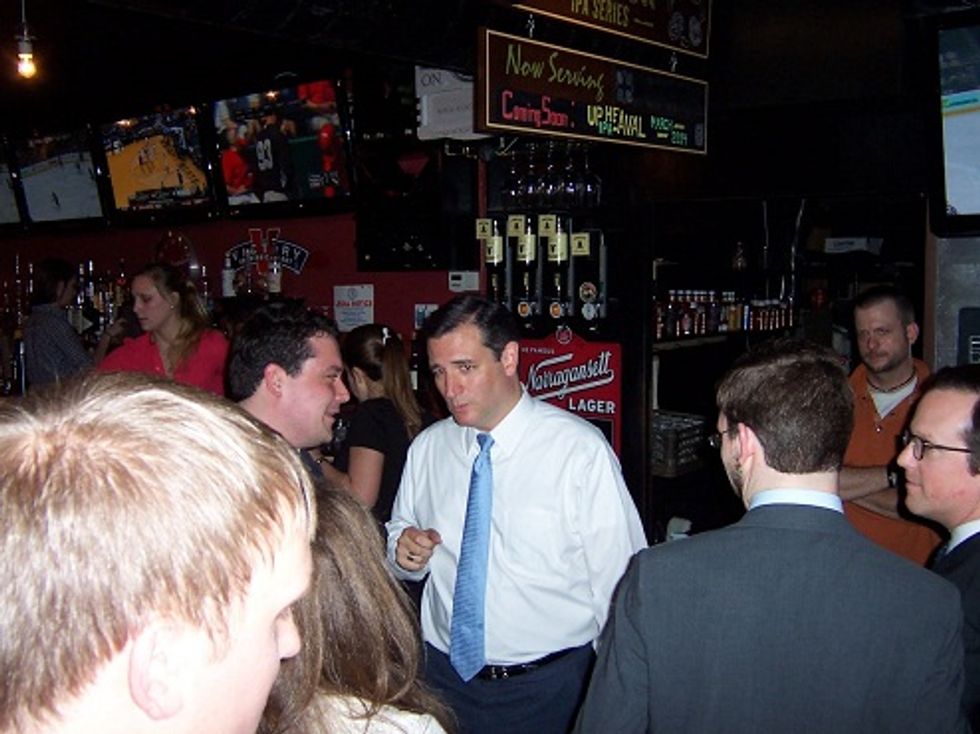 By Tuesday evening, the junior Senator from Texas had to get out of the office and relax. Luckily, he was slated to join a group of young freedom-lovers at the Union Pub for their monthly Liberty on the Rocks happy hour.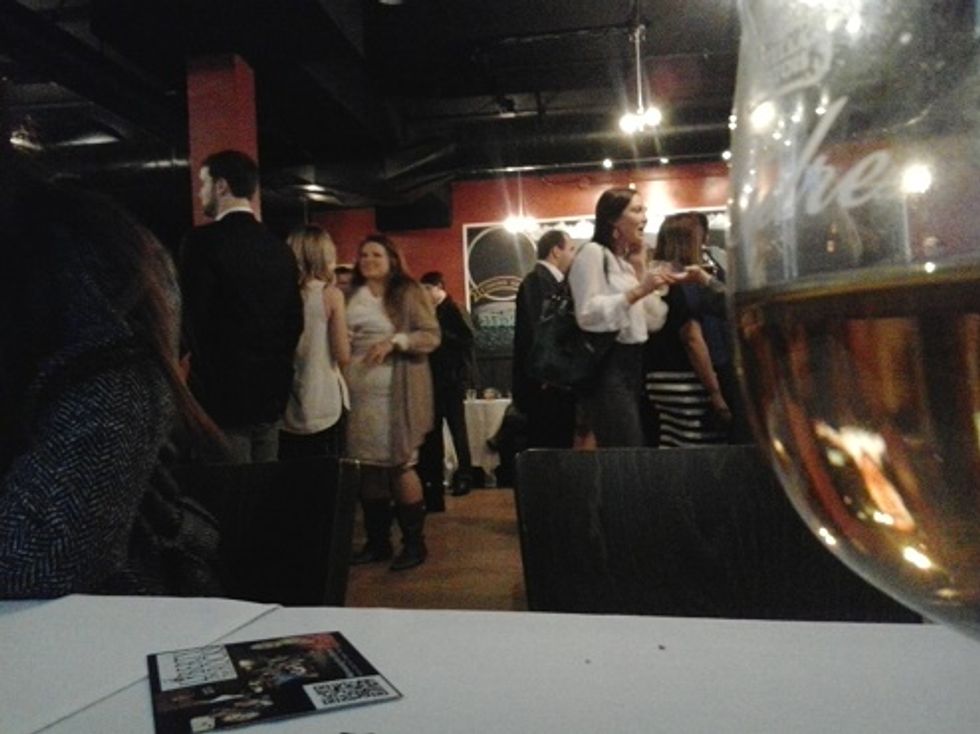 Still, things just kept going wrong. After being delayed nearly an hour past his expected appearance, Ted arrived to find the bar's microphone didn't work. Nonetheless, he forged ahead with a pep-talk for the 30 or so remaining alcohol enthusiasts. He thanked them for using Facebook and Twitter, as all the kids do, to harass their friends about politics. One-to-one communication, he said, was the key to waking up the American people to the depraved abuses perpetuated upon them by the Kenyan Usurper and the need for urgent action.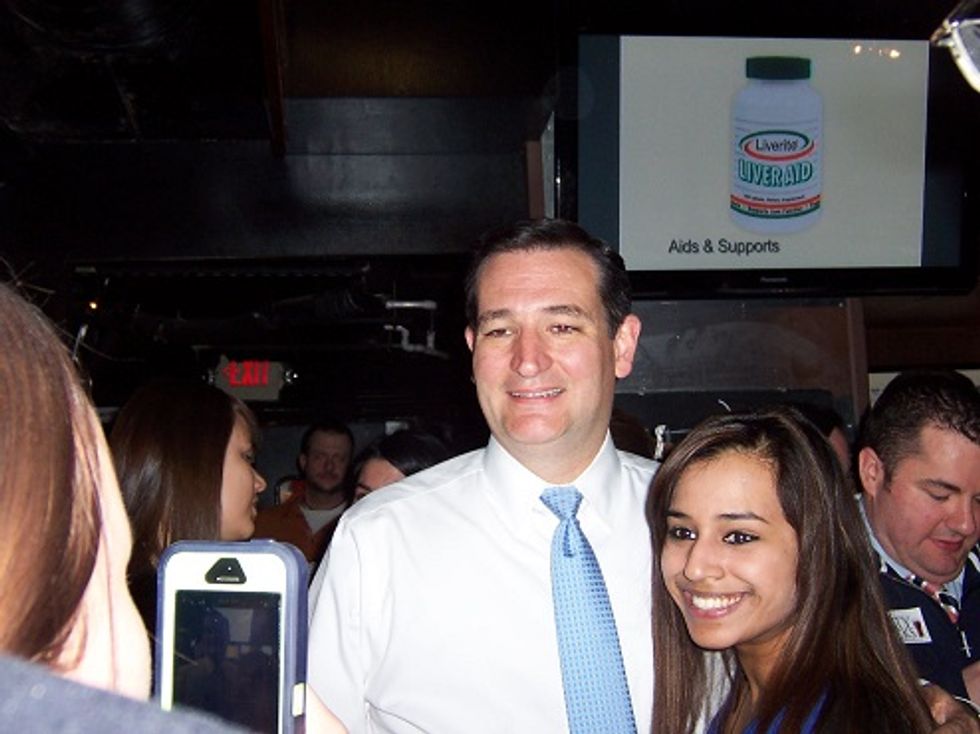 "People understand that the window to turn things around is not long, and I think people also are coming to appreciate the value of constitutional rights," he said, holding a pint of what we assumed was noble working-man's domestic beer. "We have seen an administration that has been almost systematically targeting our constitutional rights, whether it's the First Amendment, the Second Amendment, the Fourth Amendment, the Fifth Amendment, one after another, this administration has been disregarding our rights. And I think people are waking up to that. You combine it with the pattern of lawlessness of this administration, the willingness of this President to say if he disagrees with a law he simply won't enforce it, he'll change it, he'll waive it, he'll put it aside, and I think people are understanding that anytime you have a President who is picking and choosing which laws to follow that that is fundamentally inconsistent with liberty."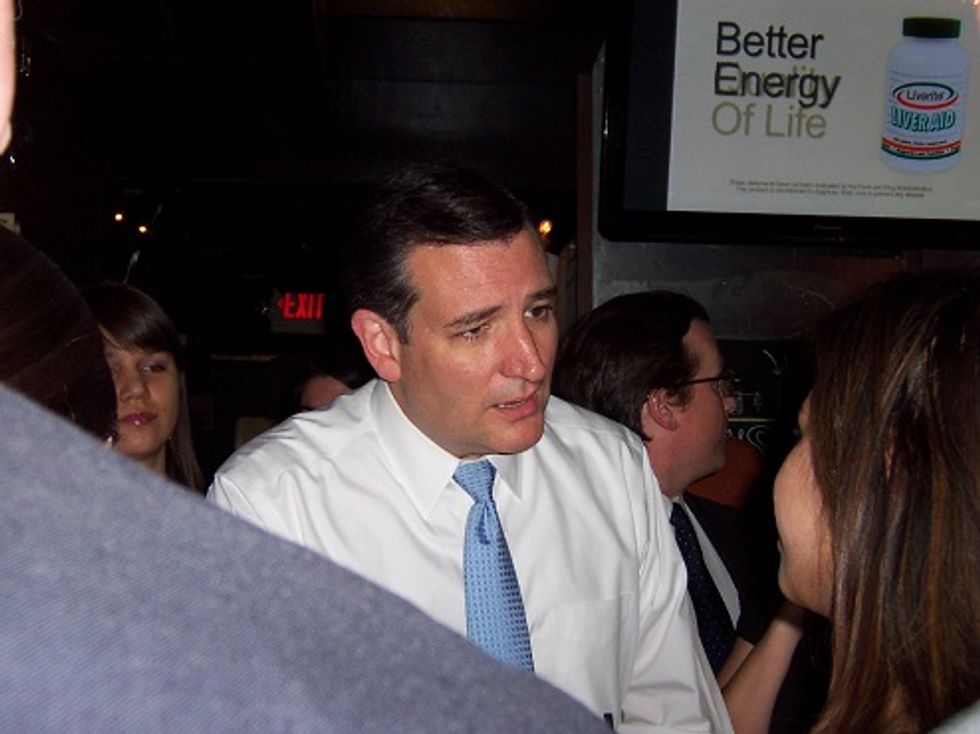 Talking points deployed, Ted opened up the floor to questions. A girl from Texas asked what he thought their home state could teach the rest of the country about being awesome.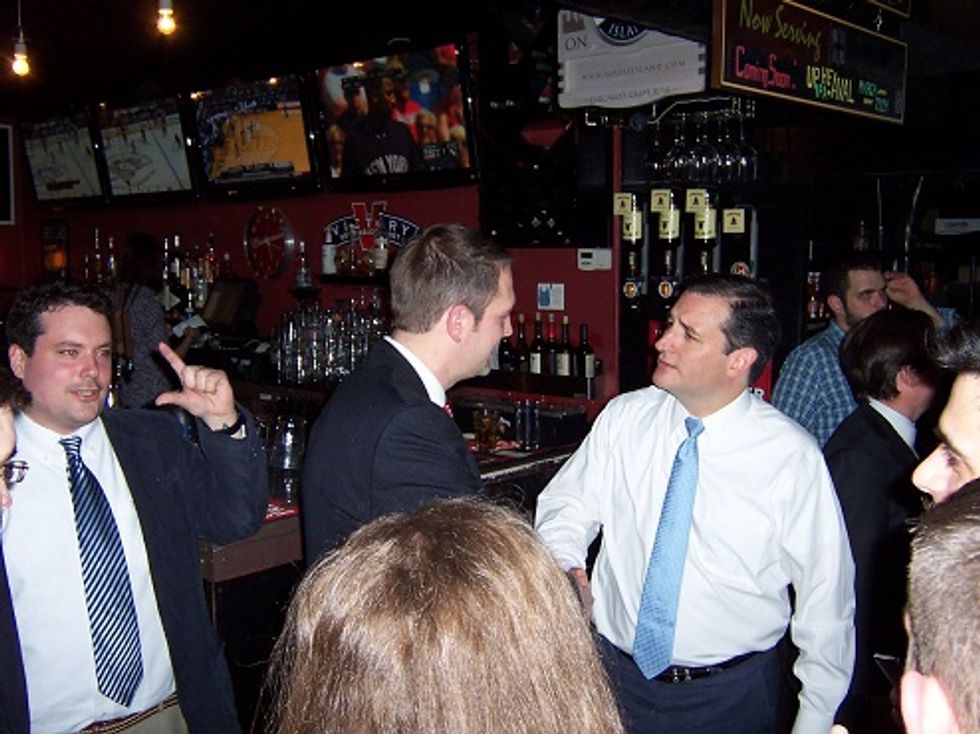 Then came the chance for Ted to talk about one of his "true passions" when someone asked about school vouchers (sorry, "school choice"). After taking a moment to single out Cleveland, Ohio's public schools as the kind of cesspool of crime and illiteracy that made vouchers necessary, Ted added despondently that, of course, nothing would change because of the unholy alliance between Democrats and teachers' unions. "School choice is the civil rights issue of the 21st century," he intoned gravely, his voice thick with emotion. Get on it, Justice Department!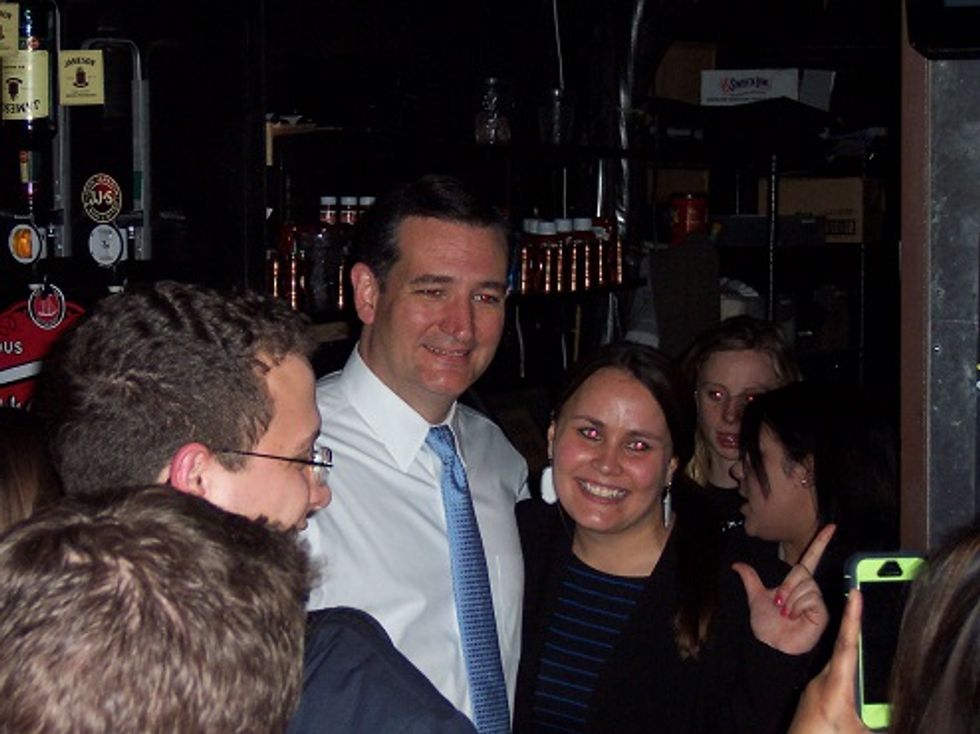 The party finally broke up when the last of the Senator's fans had gotten their pic fixes.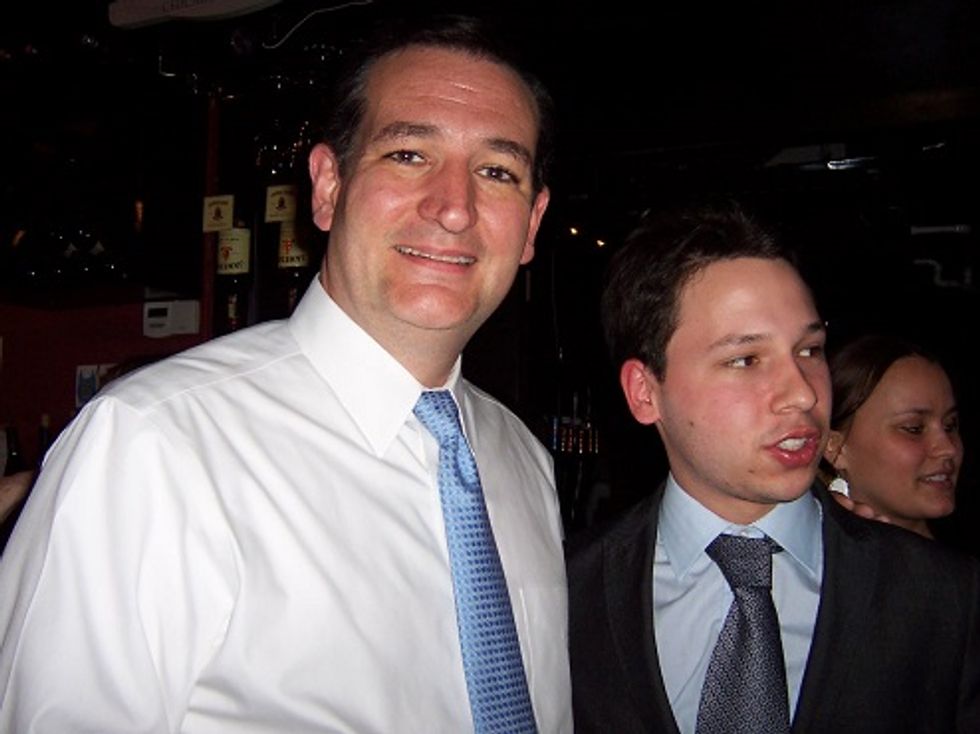 The Liberty on the Rocks boys were left to gather their Gadsden flag, soaked in liberty in the form of spilled gin, and Ted went on his way, hoping for a batch of better news. We hear he's planning a bitchin' road trip to Iowa and New Hampshire! Anything to get out of the district, right?