A Children's Treasury Of Wingnut Remembrances Of Communist Traitor Andy Griffith, Who Burns In Hell
News
July 04, 2012 11:28 AM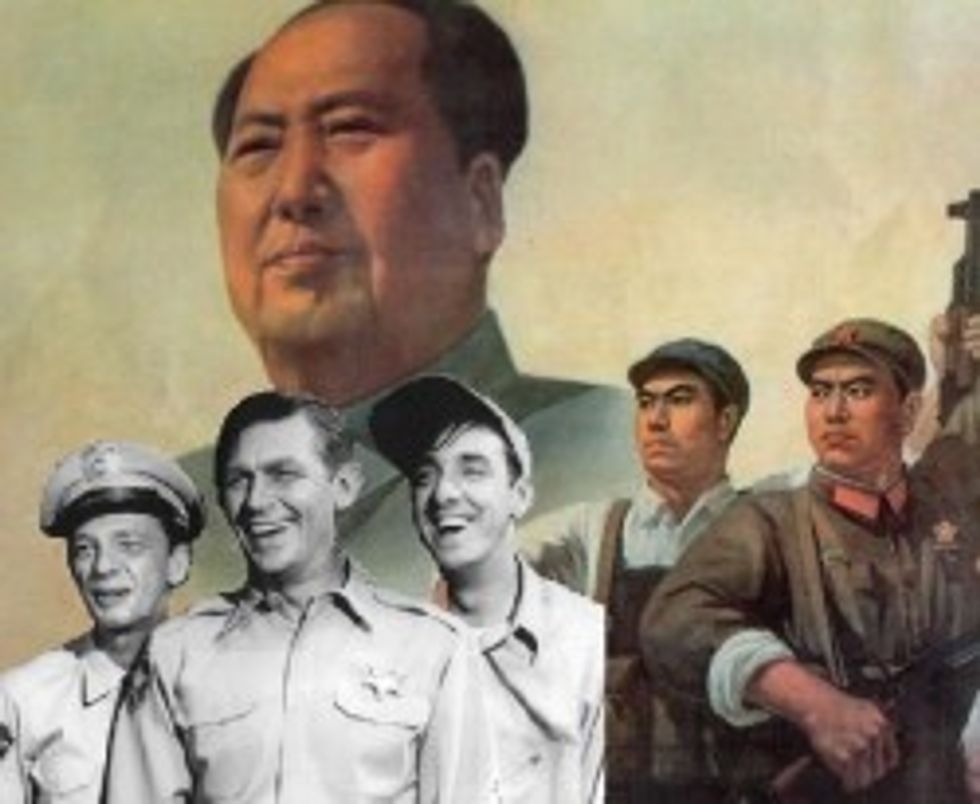 Happy Independence Day, U.S. Americans! Iconic actor Andy Griffith, who played Iconic Sheriff Andy "Lonesome Rhodes" Matlock on the Iconic Teevee, died July 3 at the age of 86, and Wingnut America honored his memory with an outpouring of patriotic fervor, remembering how the late actor embodied decent small-town values, common-sense parenting, and destroying America by supporting the Illegal Alien Marxist Usurper Barry "Goober" Soetero. While most blog posts on Griffith's death merely noted that he appeared in a Ron Howard ad for Barack Obama in 2008 (he was onscreen for about 46 seconds) and released a32-second PSA in support of the Affordable Care Act in 2010, the commenters made certain to put those particular 78 seconds of screen time, out of a 59-year career, into their proper perspective. From The Blaze:
---
Progressive POS. Have fun burning in Hell for eternity. -- Red Meat

Good people don't promote laws that will directly lead to the death of millions, hope someday I get to spit on his grave. -- Swampy

So long Andy [smiley emoticon] You are a total sell out to this great nation. You are a communist piece of garbage and you will not be missed. -- Truthbeliever2

Sadly, my first thought when I saw the headline was "if he'd passed away at age 82 I would have missed him so much more" ... Now, I only feel angry the old shill didn't live another year or two so he'd have to face a "death panel" before kicking it. The old bastrd died too soon to reap what he helped sow. I feel cheated that we'll never get to hear him lament his decision to be a wh0re for the socialist DNC. -- Wool-Free Vision

Another dead Democrat…today's shaping up to be a better day than expected. -- teddrunk

America's sheriff? Maybe he was Maryberry's, but Arpaio is America's sheriff!!!! -- catholicextremist
Also, a few trends: Since Griffith was old, obviously his support for Obama (and the socialist scheme to have people buy insurance from for-profit companies) had to be the result of senility. Or maybe Griffith was subverted by that radical Marxist Ron Howard! Oh, and did anyone notice that Andy Griffith died the week after Obamacare was determined to be Constitutional? Surely those two events must be connected!
The guy that was the spokes person for Obamacare dies 1 week after it is upheld, 1 and counting. -- Love The Kids

I had hoped that he would live long enough to be denied the healthcare that he helped shove down America's throat. -- Posterchild

So how did that Maobamacare you were pimping a couple of years ago work out for ya? Gee did the death panels keep you waiting too long? -- Sweetrae
Because as we all know, old people mostly die from Politics. But let's see what the patriots at Free Republic have to say!
Griffith was a total communist and hated this country. He was a bitter resentful person as Libs usually are. He was wasting air that someone else deserved. I won't miss him in the least. -- el_texicano

It's funny...everybody says the Sheriff Taylor character was so sweet and kindly. I guess that's so. But I could never get past the look on Griffith's face, and the expression in his eyes. He always looked shifty and downright mean to me. That affable smile looked sort of like a shark's grin. He always creeped me out. -- CatherineofAragon

Later in life he did a movie called "Gramps" where he played a sinister old man. Given how truly EVIL obamacare is, I imagine this character came naturally to him. -- brickdds

yup looks like he died before he could vote for obama again -- al baby

What makes you think he won't still vote for Bamby? He is, after all, a Democrat. -- JaguarXKE
This joke -- Griffith will now vote over and over because he is dead -- appears again and again in these threads. These folks have "constant voter fraud is going on!" like Wonkette has buttsecks jokes.
Finally, let's visit the Breitbart Big Hollywood site:
More dead Hollywood vermin. Who cares? -- Conway193

They never showed you on the TV show Sheriff Taylor's white hooded outfit that he kept in the back of his closet, next to Opie's and Aunt Bea's! -- xnobozos

Actually he didn't have one for his make-believe TV life but he did have one in real life cause he was a democrat. -- Roadchaser

I am quite sure he now knows the truth about the religion, afterlife and judgement he so casually ridiculed in life. Having portrayed values he did not hold will likely make his plunge into the abyss all the more bitter. That is the tragedy of Mr. Griffith. Sheriff Andy Taylor will not be the one standing before the judgement seat. -- Randy

Ted Bundy was known to tell a good joke and make people feel good from time to time as well. Of course, if he were to get you alone, you could be in some serious trouble. -- libtarded

He's yet another in a long long long long line of celebrities who end up leaving a bad taste in my mouth by toeing the socialist/fascist line. First Ron Howard, then Andy. I don't remember the great Don Knots [sic] doing this. -- nolotrippen
Frankly, it does our hearts good to see the phrase "the great Don Knotts," because no matter what those elitists at the AFA say, The Incredible Mr. Limpet is one excellent wad of cinema.
Now, let us be fair: the full-throttle lunatic comments above represent only a noisy minority of comments on Sheriff Andy's passing, even on the three right-wing sites linked above. The vast majority of comments are predictably nostalgic, with a soupçon of wistful yearning for a Lost America that never really was, and quite a bit of appreciation for Griffith's acting chops (particularly as seen in the prescient media satire A Face in the Crowd, which eerily prophesied the meteoric career of blackboard-frottageur Glenn Beck, only with singing. Excellent movie, even though it's no The Incredible Mr. Limpet). For all the hyperbolic douchebaggery, there are any number of reminders to Play Nice...which are inevitably followed by somthing like this, from the Big Hollywood thread:
Ever see a lib blog after one of ours dies? Ever seen the unbridled filth and hatred in which they roll around like pigs? I for one am sick and tired of playing nice with commies. We will never win if we continue to allow them to play by different rules.
Because America's fate will ultimately decided by the tone of blog comments.
Doktor Zoom wishes you a safe and happy Scaring the Shit Out of the Pets For America Day! Keep the poor things inside if you can.