Actual Palin/Beck Reign of Terror To Kick Off With Night of Family Fun
News
August 16, 2011 05:38 PM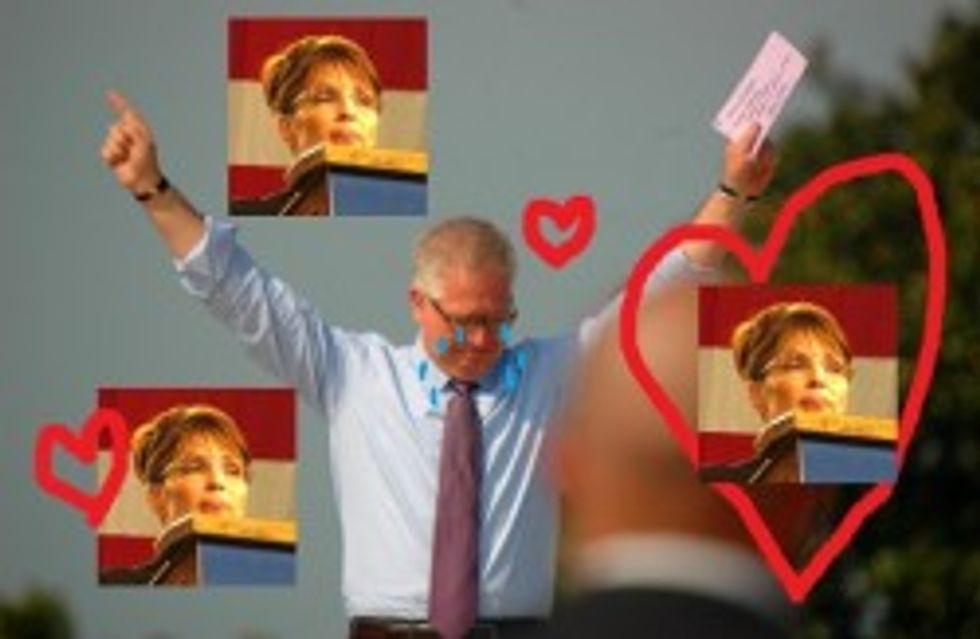 Good thing you did not waste your pathetic paycheck on those Donny and Marie tickets, because America's other tragic duo is heading to good ol' St. Louis this October, to sing some songs about Freedom! "Defending the Republic" promises fun for the whole family, and will feature lessons, comedy, and Sarah Palin scratching her fingernails across Glenn Beck's chalkboard. The name of this rally seems to suggest that perhaps there will also be some French people guillotining each others' heads off, but probably not because Glenn Beck does not like the French, except for the ones that are fried. How will America handle so much raw, unapologetic patriotism in one Family Arena?
---
The radio station that is hosting this event is practically wetting itself with excitement right now, as evidenced by the event description on the 97.1 web site which follows all the important Palin-style journalism grammar guidelines. STLtoday.com reports:
Two of the biggest names in conservative commentary will appear together this fall in St. Charles.

Former vice presidential nominee Sarah Palin and radio pundit Glenn Beck will share the spotlight at the "Defending the Republic" event on Oct. 7 at the Family Arena.

Tickets for the rally — sponsored by 97.1-FM and Hansen's Tree Services in O'Fallon, Mo. — range from $20 to $97.

It's hard to gauge what the pending appearance means for Palin's possible White House aspirations, though it's hard to imagine a presidential candidate charging people to see her speak.

She would, however, have some time after the event to decide whether she wanted to put her name on the ballot.
Sarah Palin has to charge people to see her speak, because she is not just an ordinary presidential candidate. She is a presidential candidate who is so far not running for president, so obviously she needs lots of extra ca$$h, because Willow and Piper will probably need to start buying diapers soon. [STLtoday]