After Vigilantism Career Fizzles, George Zimmerman Taking A Shot At Art
News
December 17, 2013 09:44 AM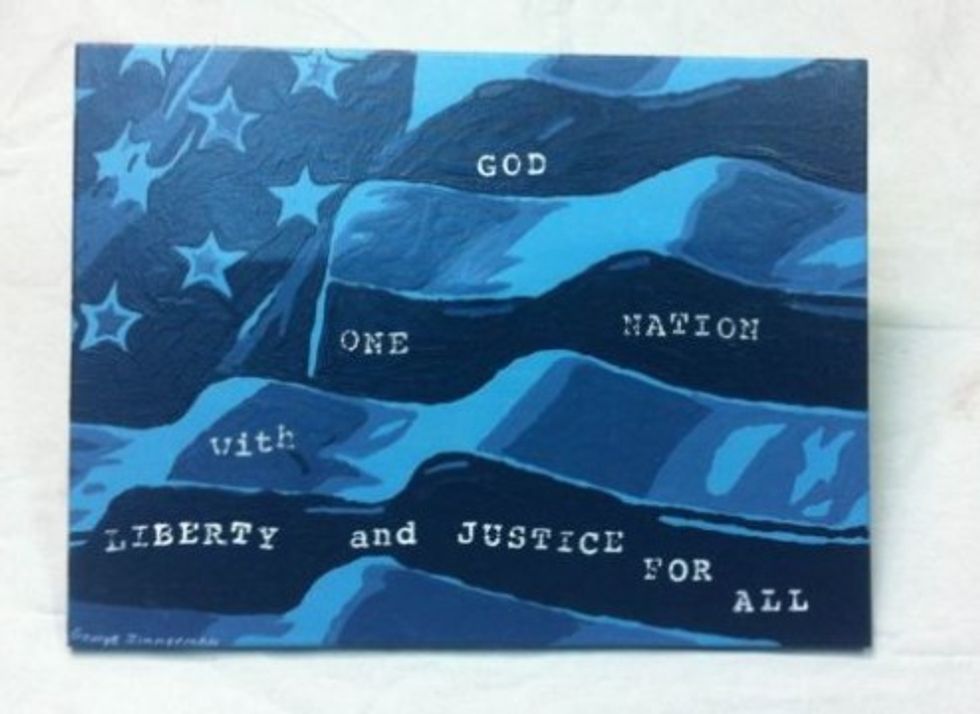 It looks as if George W. Bush is not the only greasy sociopath with bloodstained hands to take up painting in an effort to keep the demons at bay. May we present to you the artistic stylings of George Zimmerman, loving husband and partner, brave slayer of Skittles-wielding teenagers, and this decade's Bernie Goetz for reactionary, terrified white people with aspirations to levels of badassery not seen since the Death Wish movies mercifully petered out.
Despite having been so busy threatening his ex-wife, redecorating their old house, allegedly domestic violencing his girlfriend, calling 911 operators to explain that he's really a great guy once you get to know him, all while suffering the scourge of Post-Traumatic Stress Disorder resulting from all the mean people saying mean things about him (you kill one unarmed teenager and they never let you forget about it...!), the Picasso of Pensacola managed to finger-paint this little doodle, which he is now auctioning on eBay. Let's take a look at it.
It's blue. And it has the words "One Nation" directly under the word "God" because get it??? It's an allegory or a metaphor or some such shit, we don't know, we write dick jokes, not art-themed trend pieces for Interview. George might have just colored in a page from the Ted Cruz coloring book for all we know.
George had this to say about his work:
First hand painted artwork by me, George Zimmerman. Everyone has been asking what I have been doing with myself. I found a creative, way to express myself, my emotions and the symbols that represent my experiences. My art work allows me to reflect, providing a therapeutic outlet and allows me to remain indoors :-) I hope you enjoy owning this piece as much as I enjoyed creating it. Your friend, George Zimmerman
"The symbols that represent my experience…" Not totally, but we guess Snapple bottles and impotent rage are difficult to paint. Probably don't get to objects that complex until you take the intermediate-level class at the Learning Annex.
Old George opened the bidding for his painting at $50 (plus $40 for shipping and handling) because when you are $2.5 million in debt thanks to all the lawyers you keep having to hire to keep you out of prison for all the stupid shit you keep doing, you have to start raising the money somewhere. Luckily for George as of late Monday night the bidding for his masterwork was up to just shy of $100,000. We're sure he'll put the money to good use…pay off some debts, maybe start a scholarship in the name of the teenager he murdered (George loves black people, doncha know!)
Or he'll buy himself an all-new arsenal, because a guy like George Zimmerman can never have enough guns in his possession. Good luck, everyone in Florida!
[ebay]