Lindsey Graham, Stephen Miller Interrupt Your Sunday With Their Stupid Lie-Holes
News
February 18, 2019 09:36 AM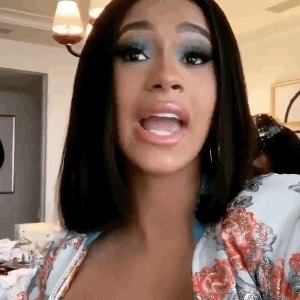 Hello Wonks! We begin today's cavalcade of xenophobic morons with White House Senior Policy Advisor and Santa Monica Goebbels Stephen Miller. After being summoned by saying his name three times into a mirror, he appeared on "Fox News Sunday" to discuss the national emergency declaration made by his short fingered overlord. Chris Wallace, however, and as occasionally happens, was having none of Miller's bullshit:
---
WALLACE: But let's talk about national emergencies. National emergencies have been declared 59 times since 1976 when the law was passed, The National Emergencies Act. Can you point to a single incident, even one, where the president asked Congress for money, Congress refused to give him that money, and the president then evokes national emergency powers to get the money?

MILLER: First of all --

WALLACE: Can you find one case?

MILLER: What you're missing, Chris, is that national emergencies don't have all the same authorities and the same justification.

WALLACE: I assume that, but there have been 59. Can you find one case like that?

MILLER: This authority specifically refers to using military construction funds. Other emergencies, for example, were to --

WALLACE: If you want to talk about military constructions, do you know how many times military construction has been invoked as a national emergency? That would be only be twice.

MILLER: Right.

WALLACE: Twice. Once by George H. W. Bush during the middle of the Gulf War and the second time by George W. Bush right after 9/11.
But when Miller wasn't done being embarrassed, as he normally is on his news show appearances, Miller turned to his favorite tactic: filibustering.
MILLER: Chris, can you name -- can you name one foreign threat in the world today, outside the country's borders that currently kills more Americans than the threats crossing our southern border?

WALLACE: You know the joy of this is I get to ask you questions and --

MILLER: The answer is no.

WALLACE: Answer my question, can you name one case where a president has asked Congress for money, Congress has refused and the president has then evoked national policy to get the money anyway?

MILLER: Well, this current situation --

WALLACE: Just yes or no, sir.

MILLER: The current situation pertains specifically to the Military Construction Authority.

WALLACE: I'm just asking --

WALLACE: When Congress asked for money for military construction, Congress said no and he's then --

MILLER: The meaning of the statute, Chris, is clear on its own terms. If you don't like the statute or members of Congress don't like the statute --

WALLACE: But you agree the answer is no that --

MILLER: But the premise of your question is also false because Congress has appropriated money for construction of border barriers consistently. This is part of the national security --

WALLACE: But they've never done this under a national emergency where the president --

MILLER: Who declared national emergency to promote democracy in Belarus, to promote democracy in Zimbabwe?

WALLACE: But it didn't involve taking money that Congress refused to appropriate.
See for yourself the whole excruciating interview.

Wallace was correct: Trump is raiding other tranches of money for his idiotic vanity project. The breakdown of where the $8 billion is coming from is illustrated by this graphic: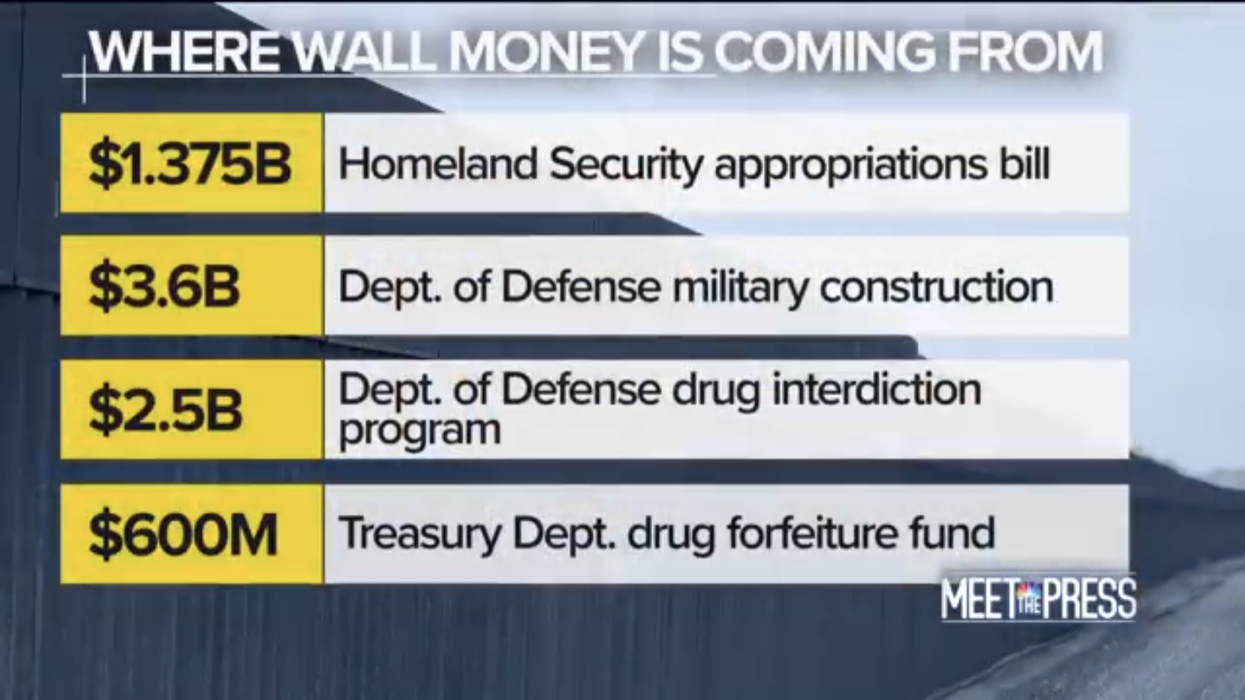 NBC's Meet The Press
The two most egregious on this list are also where most of the money is being raided, the Department of Defense (DOD) drug interdiction program and DOD military construction.
The first is the $2.5 billion DOD drug interdiction program, which is focused on interrupting illegal drugs smuggled by air, sea, or land and consists of several phases like detection, sorting, monitoring, interception, handover, disruption, endgame, and apprehension (most of which occur simultaneously). So they are taking money that is being used to successfully capture and slow the flow of drugs to build an ineffective wall. It's the patented GOP "if it ain't broke, 'fix it' until it is because government is broken, so elect us to prove it further."
The second is the $3.6 billion for military construction. Now if you want to see where the money is being stolen for military construction, look no further than improvements to the toxic condition of military base housing. On February 13, two days before Trump decided to raid these funds, the Senate held a hearing in which military families described living in decrepit, dangerous homes as lawmakers expressed shock over the allegations of slum-like conditions of privately managed housing. The hearing coincided with a survey that described the horrifying living conditions at US bases for thousands of families, including black mold, lead, infestations of vermin, flooding, radon and faulty wiring.
So Trump and his GOP enablers/defenders are doing worse than nothing for our military. Here's South Carolina senator and Trump sock puppet Lindsey Graham to exemplify the problem on CBS's "Face The Nation":
MARGARET BRENNAN: In terms of getting those funds though through this emergency action there's about 3.6 billion of it that could come from military construction efforts, including construction of a middle school in Kentucky, housing for military families, improvements for bases like Camp Pendleton and Hanscom Air Force Base. Aren't you concerned that some of these projects that were part of legislation that you helped approve in Congress are now going to possibly be cut out?

GRAHAM: Well, the President will have to make a decision where to get the money. […] But, let's just say for a moment that he took some money out of the military construction budget. I would say it's better for the middle-school kids in Kentucky to have a secure border.
Don't ever let them fool you about them caring for the troops or the drug crisis. If it's not an election year or the troops aren't in their shiny uniforms or medals, the GOP does not care about robbing them ... or us.
Wonkette is ad-free and funded ENTIRELY by YOU. Take a minute if you can and click the widget. You'll feel good all day.
Michael Mora
Your friendly neighborhood Puerto Rican Political Freelance Writer for @wonkette. Pop Culture observer, Amateur Movie reviewer & Comics fan. Former Active Duty Marine. All opinions are mine only.