America Proudly Number One In Not Reaching Vaccination Goals
coronavirus
June 21, 2021 09:00 AM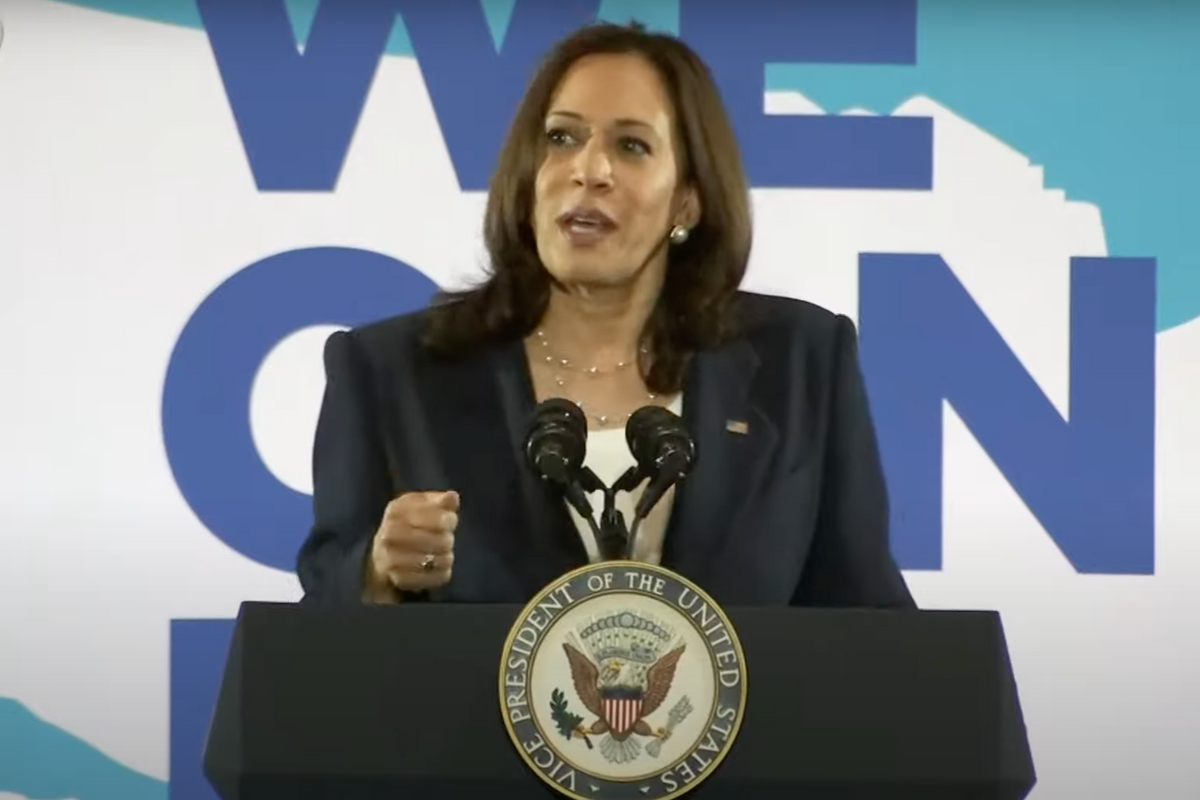 President Joe Biden set two ambitious targets in May: Fully vaccinating 160 million American adults and giving at least one shot to 70 percent of adults by July 4. We're on pace to miss both goals, because apparently Americans' collective stupidity exceeds their survival instincts.
According to data from the Centers for Disease Control and Prevention, as of last Wednesday, about 65 percent of adults are at least partially vaccinated from COVID-19. This means about 13.6 million would have to receive their first shot within the next 18 days to reach the desired 70 percent figure. That's an average of roughly 756,000 new vaccinations each day, and the US is averaging less just 336,000 newly vaccinated adults per day over the past week. It's like in college when you were behind in the assigned reading but convinced yourself you could somehow catch up if you buckled down and read something like 500 pages a day until the finals. That never panned out.
---
Biden focused on the positives during a White House press conference Friday: 300 million shots have been administered within his first 150 days in office. That's still a tremendous achievement, but the 70 percent figure wasn't pulled out of a hat, like the winning numbers in a vaccine lottery. Medical experts estimate that 70 percent of the population, at a minimum, needs to be vaccinated for the country to achieve herd immunity. The vaccine also can protect you from COVID-19 variants, the worst right now being the Delta variant, which the CDC upgraded last week from a "variant of interest" to a "variant of concern." Maybe once the CDC upgrades Delta to a "critical race variant," Americans will pay more attention.
The Delta variant is responsible for 10 percent of new cases in the US. Missouri has the highest number of reported Delta variant cases at 6.8 percent. GOP Senator Josh Hawley could try overturning those results but it won't change reality. The CDC reports significant community transmission in rural parts of Missouri and Kansas, where vaccination rates are low.
Biden, unfortunately, had to state the obvious last week: "The best way to protect yourself against these variants is to get vaccinated." Vice President Kamala Harris and Secretary of Health and Human Services Xavier Becerra have gone on the road selling the vaccine. This is a public good, but Republicans couldn't resist attacking Harris for not focusing instead on their contrived border "crisis."
When Harris visited South Carolina last week, Governor Henry McMaster claimed that Harris's time would be better spent at the border. McMaster isn't the boss of Harris, who is free to go wherever she wants. That's why Juneteenth is a federal holiday. GOP Rep. Nancy Mace shared a photo on Twitter from some MAGA supporter holding up a sign that read: "The Border Is That Way."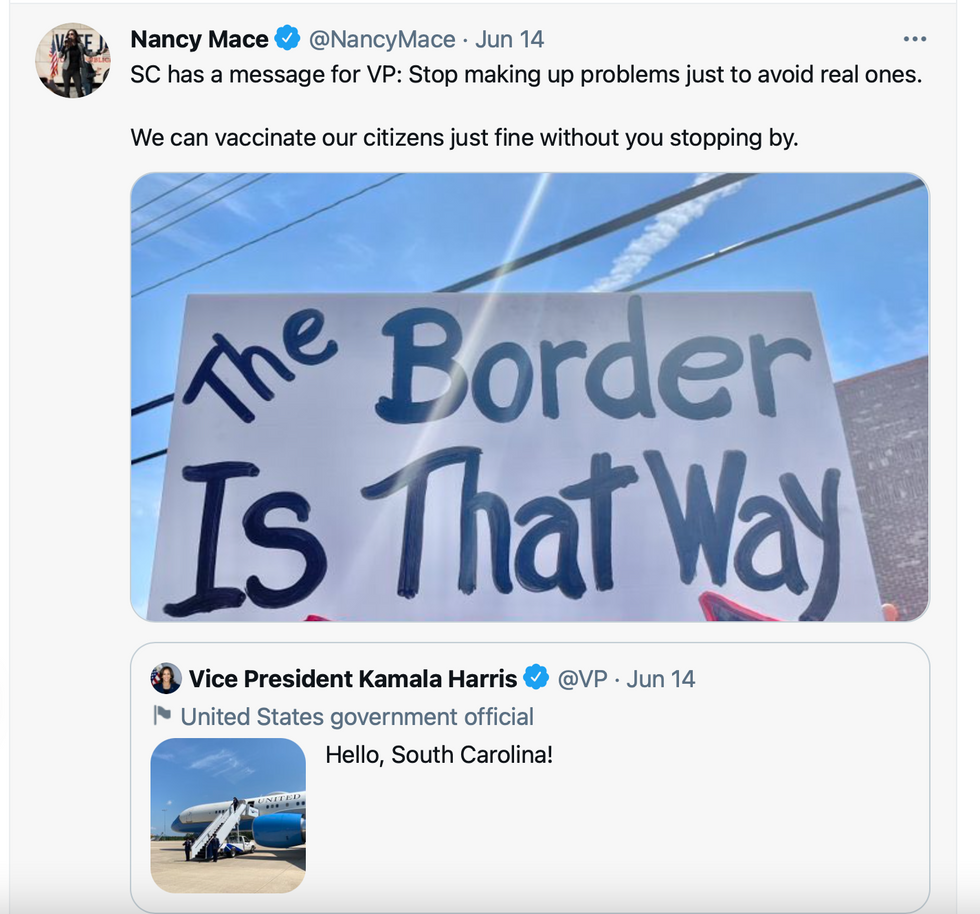 Twitter
Mace tweeted: "SC has a message for VP: Stop making up problems just to avoid real ones. We can vaccinate our citizens just fine without you dropping by."
This comes off like a very classy "N-word Go Home" sentiment. Mace seems to be trying to rebrand herself as a Diet Racist version of Marjorie Taylor Greene. South Carolina ranked 40th among states in vaccinations with just 42.3 percent of residents having at least one dose. South Carolina is also ranked 42nd in education, so maybe Mace just doesn't get math. However, my home state isn't doing "just fine" on vaccinations.
South Carolina is also 27.3 percent Black and 5.7 percent Hispanic, and MAGA-enabling Mace doesn't speak for them. They were happy to see the vice president they overwhelmingly supported, and they could use her help. South Carolinians of color have been disproportionately impacted by COVID-19. Black people account for 50 percent of COVID-19 deaths, which includes my cousin. I consider that a "real" problem even if Mace doesn't care.
Encouraging vaccinations should've been a bipartisan cause, like when a hurricane or other natural disaster hits, but these days Republicans are more likely to just blame Harris for the rain. She was greeted with more metaphorical burning crosses when she visited Atlanta last week. Fewer than half of Fulton County residents have received at least one shot.
From Capitol Beat:
"Biden and Harris have created a growing border crisis and today, day 86 as Biden's crisis 'manager,' Harris is in Atlanta," said Savannah Viar, a spokeswoman for the Republican National Committee. "Instead of grandstanding in Georgia, Harris needs to visit our southern border immediately."
This isn't "grandstanding." More than 600,000 Americans have died from COVID-19 over the past year. Maybe twice as many Fox News viewers are freaking out over a supposed "border crisis," but that doesn't make it a more serious issue or even a real one.
Like other Republican-run states bringing up the rear on vaccinations, South Carolina and Georgia have already lifted most COVID-19 restrictions. Guess it's easier to pretend the pandemic doesn't exist than it is to promote civic responsibility.
Follow Stephen Robinson on Twitter.
Keep Wonkette going forever, please, if you are able!
Stephen Robinson
Stephen Robinson is a writer and social kibbitzer based in Portland, Oregon. He writes make believe for Cafe Nordo, an immersive theatre space in Seattle. Once, he wrote a novel called "Mahogany Slade," which you should read or at least buy. He's also on the board of the Portland Playhouse theatre. His son describes him as a "play typer guy."