America's Senator Doug Jones Gives Fist-Pumping Speech On Racial Justice Via Selfie-Cam
Post-Racial America
June 01, 2020 10:35 AM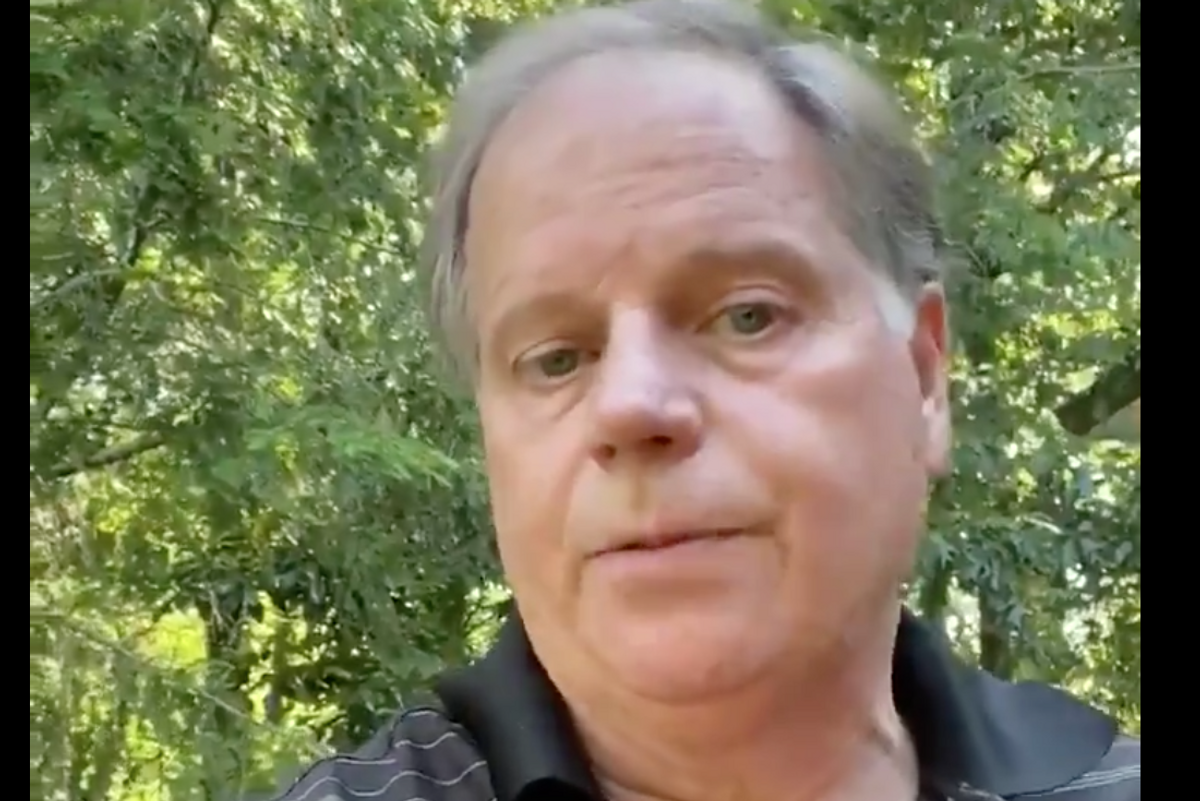 A rally for justice and peace called "Birmingham, the World Is Watching" was held Sunday at the pavilion at Kelly Ingram Park in Birmingham, Alabama. The park is a key setting in the Civil Rights Movement. It stands just outside the 16th Street Baptist Church, a longtime meeting place for black people organizing and protesting against institutional racism. The Ku Klux Klan bombed the church in 1963, killing four young black girls who'd never become women.
Democratic Alabama Senator Doug Jones, when he was US attorney, secured justice for those girls. He successfully prosecuted Thomas Edwin Blanton Jr. and Bobby Frank Cherry for murdering Carol Denise McNair, Addie Mae Collins, Cynthia Wesley, and Carole Robertson. For almost 40 years, this human filth had enjoyed the freedom and very lives they'd denied innocent children. The case was reopened before Jones's appointment but wasn't seriously pursued until he was in office. Blanton and Cherry were found guilty in 2001 and 2002 respectively. Although Cherry left prison for hell a couple years later, Blanton was denied parole in 2016 when Jones argued that his racist ass needed to rot in jail some more.
Jones believes in justice for all Alabamians. (He also prosecuted terrorist Eric Robert Rudolph, who committed a series of anti-abortion and anti-gay bombings across the South in the mid-1990s.) I wake up every day happy that Jones replaced Jeff Sessions in the Senate.
Jones was an honored guest at this rally, joining Birmingham Mayor Randall L. Woodfin and faith leaders, community members, and everyone else for whom George Floyd's senseless, violent death has inspired -- no, demanded -- that they speak out and advocate for serious change.
---
We are all hurting.Headed to a rally for justice in Kelly Ingram Park https://t.co/s1EGTMLe4A

— Doug Jones (@Doug Jones) 1590960547.0
On his way to the rally, Jones stopped to tweet a quick barnstormer speech about racism and justice, "justice for George Floyd, justice for America, justice for black America."
Jones reminds us that Kelly Ingram Park was the site of protests in May 1963, when Birmingham police and firemen, under the orders of Eugene "Bull" Connor and also probably for kicks, sicced vicious dogs and sprayed firehoses on children and high school students peacefully demonstrating. If that sounds horrible, note that even today, I've seen people blame a mother for bringing her child to a protest in Seattle where she was sprayed with mace. "Well-meaning" moderates will always find excuses for police brutality.
JONES: [Kelly Ingram Park] has been the site of so many rallies for peace and justice, rallies that have gone unanswered over the years. So we gotta do more. This week has been a really tough week. On top of the pandemic that we have seen and the spotlight on the disparities for our minority communities in rural America, we now see the underbelly of racism in this country, and we see it in the form of police officers, who used to be called "peace officers," folks who should be keeping the peace and not disturbing it, not making it worse than it is for all Americans.

So today, our hearts are heavy, but we gotta do more than just words. We've gotta do more than just talk. The time for talk is over. We have an opportunity to come out of this pandemic with a better America, better leadership with better things we can do for all Americans regardless of their skin color, regardless of their religion, regardless of the zip code in which they live. That's our charge. That's what we've gotta do. We've gotta listen to the voices that are on the streets of Minneapolis before they resort to violence. We've got to listen to the voices that have been unheard for so long. We've got to listen to the mothers who are scared to let their kids go out at night. We've gotta listen to the voices of the poor. We've gotta listen to the voices of the needy and the underserved. That's our charge, America. That's our charge, Alabama -- to be one Alabama, to be one America.
Of course, Jones addressed the nation and the world more movingly while talking into his phone than Donald Trump ever could from his bunker. Trump ain't shit, and we don't expect shit from him. We'll bounce his ass at the polls in November, and we should support a hero like Doug Jones. While some prosecutors turned senators in blue states declined to charge the killers of black people, Jones sought justice for minorities in Alabama, because he sees all Alabamians.
Let's keep him in the Senate.
But if he were to lose, that wouldn't lessen the impact of his 2017 victory. Black people elected the champion while white voters unfortunately backed the mall-cruising pervert. Our voices were heard across the country. Besides, Jones could make a mighty fine attorney general. After the corrupt Bill Barr and racist toady Jeff Sessions, an honest man leading the Department of Justice would make a welcome change.
The Prosecution of the 16th Street Baptist Church Bombingwww.youtube.com
Follow SER on Twitter.

Wonkette is ad-free and relies entirely on the kindness of strangers. Please subscribe, donate, and otherwise help as you're able.
Stephen Robinson
Stephen Robinson is a writer and social kibbitzer based in Portland, Oregon. He writes make believe for Cafe Nordo, an immersive theatre space in Seattle. Once, he wrote a novel called "Mahogany Slade," which you should read or at least buy. He's also on the board of the Portland Playhouse theatre. His son describes him as a "play typer guy."