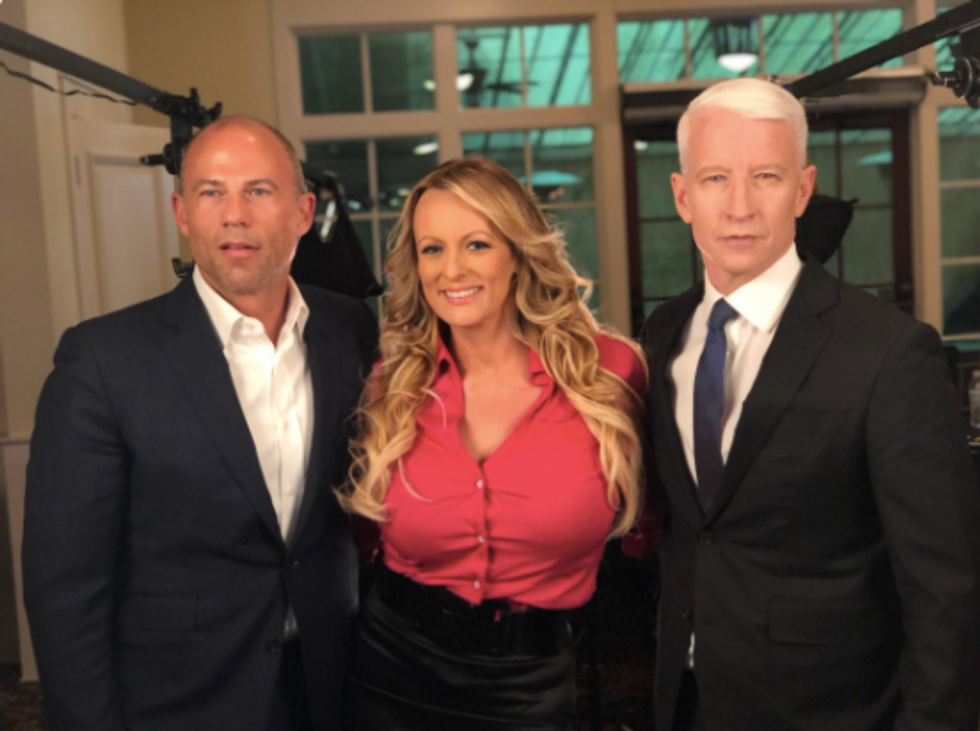 Who could resist his animal magnetism!
---
Good Morning! Who's ready to talk some trash? Shit's going down this week with our "favorite" porno/soap opera/police procedural. Let's do a quick check-in with all the characters so we're ready for whatever filthy smut comes our way. Glove up, kids. WE'RE GOING IN!
Michael Cohen, Call Your Lawyer!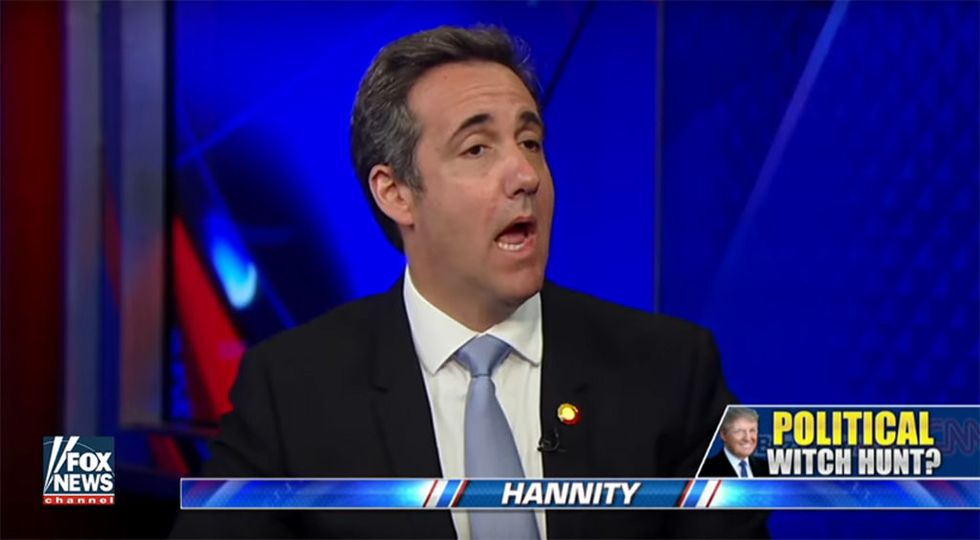 How fucked is Michael Cohen? Well, at the Friday hearing on his request to delay the Stormy Daniels civil suit in California, Judge Otero was like, DUDE, THE FEDS RAIDED YOUR OFFICE. YOUR ASS IS GETTIN' INDICTED! Well, more or less.
This is not your standard case. [...] I would expect something big to follow.
Ruh roh! Looks like Michael Cohen, Cooley Law's most distinguished alum, has A PROBLEM. If he testifies in the Daniels civil suit, the feds can use his own words to prosecute him for campaign finance violations and who knows what else in New York. If he pleads the Fifth in California, then he'll probably lose the civil case. So Cohen's lawyer came up with a genius plan. He filed a Please Postpone This Case, Your Honor, So My Client Won't Have To Plead the Fifth Motion.
To which Judge Otero said, NOPE. Cohen has until Wednesday to say I PLEAD THE FIFTH, or he's likely to lose his Motion to postpone the case.
Michael Avenatti fared only slightly better, failing to give a compelling reason why a postponement would be a hardship for Stormy Daniels. Although, in fairness, what was he supposed to say? "My client is a 39-year-old woman who takes her clothes off for money, and if she's going to capitalize on this story, she needs to do it now before the public loses interest?" There's just not a nice way to put that.
Keith Davidson, Come on Down!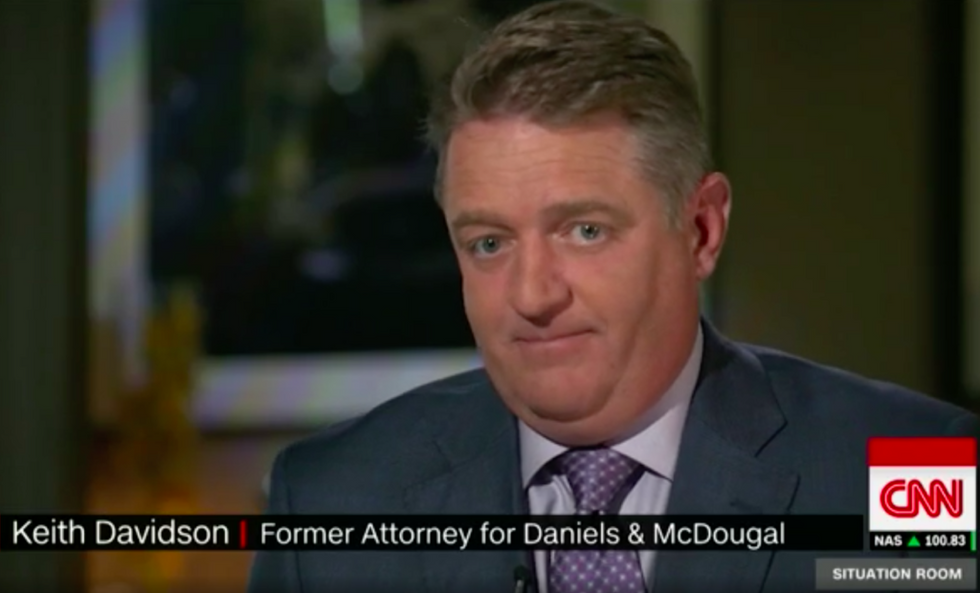 Here's a minor character who may be about to get a lot more screen time. Davidson is the lawyer who represented both Stormy Daniels and Karen McDougal in their hush agreements about bumpin' bits with Donald Trump. He also represented Playboy model Shera Bechard in her payoff negotiations with former RNC deputy finance chair Elliott Broidy. What do all these agreements have in common? Well, Michael Cohen was on the other side of them! Which is a mighty big coincidence.
Want to see a guy who looks nervous as hell? Watch this CNN video.
Remember how McDougal expressly reserved the right to sue Cohen and Davidson in her settlement agreement with American Media Inc. last week? Well here's an interesting tweet from the lawyer currently representing McDougal and Bechard.
As this story unfolds, we hope that its focus remains on the profoundly disturbing and repeated collusion between Donald Trump's fixer, Michael Cohen, and Ms. Bechard's former lawyer, Keith Davidson. /3/

— Peter K. Stris (@PeterStris) April 14, 2018
Looks like Keith has a good reason to be nervous! Davidson is no stranger to controversy, having made a lot of money on sex tape payoffs -- he was investigated but never charged by the FBI for attempting to extort Hulk Hogan. The LA Times has a good roundup of all the minor celebrities currently suing Davidson, along with this quote from Hogan's attorney David Houston.
In another court declaration, Houston, the Hogan attorney who worked with the FBI on the sting operation, recalled asking Davidson whether "there was some kind of celebrity sex tape industry in Los Angeles big enough to keep people like him busy."

Davidson replied that most of his targets were not celebrities, but gay people who paid hefty fees for their sex tapes because they were closeted, Houston wrote.

Davidson's attorneys responded in court that Houston's account was "patently false."
HE SEEMS NICE.
Davidson's recorded conversations with Michael Cohen were seized in last week's FBI raid, and Davidson is reportedly cooperating with the federal investigation into Michael Cohen.
Blahblahblah, When Do We Get To That Hottie Avenatti?
WE GOT YOU, GIRL!
Check out your boyfriend predicting Cohen will flip and bring down Donald Trump.
"3 weeks ago I said (Cohen) would flip I was the first one to call it.. Now people close to the president are telling him the same ... I'm going to make a prediction now: I do not think the President will serve out his term" - @MichaelAvenatti tells @NicolleDWallace pic.twitter.com/Mw3Pdlhudt

— Deadline White House (@DeadlineWH) April 19, 2018
Three weeks ago I said that ultimately [Cohen] was going to be indicted and he was going to flip on the president. I was the first one to call it. And now people that are close to the president are telling him the same thing. [...] There's no question that Michael Cohen knows where many, many bodies are buried. They are going to turn him, and when they turn him, the president is going to be in a very, very bad place. And I'm going to make a prediction now. I do not think the president will serve out his term.
Oh, Michael, you know how to sweettalk us!
Here he is on Bill Maher.
And here's your boyfriend telling Brian Stelter that Hannity overpaid by $9 if he paid Cohen $10 for legal advice. MEEE-OWWW.
Michael Avenatti says that he thinks Sean Hannity's relationship with Michael Cohen is "far more extensive than people have been led to believe." (via CNN) https://t.co/kXJRt6moXQ

— Kyle Griffin (@kylegriffin1) April 22, 2018
TL; DR!
Oh, fine! This week we should hear from the California court whether Cohen gets to put off the Daniels depositions, or whether that case proceeds. And we'll probably get some movement from the New York court on who gets to sort the documents seized by the FBI from Michael Cohen's office. Michael Cohen is all kinds of fucked and sooner or later, he'll flip.
And if (when) he does, your Wonkette will be here to tell you all about it!
Follow your FDF on Twitter!
Please click here to fund all your porno lawsplainers! We are a full-service establishment!
Liz Dye
Liz Dye lives in Baltimore with her wonderful husband and a houseful of teenagers. When she isn't being mad about a thing on the internet, she's hiding in plain sight in the carpool line. She's the one wearing yoga pants glaring at her phone.