Andrea Tantaros To Fox News: Take This Lie Detector Test Or I Will BEAT YOUR ASS
News
August 29, 2016 03:43 PM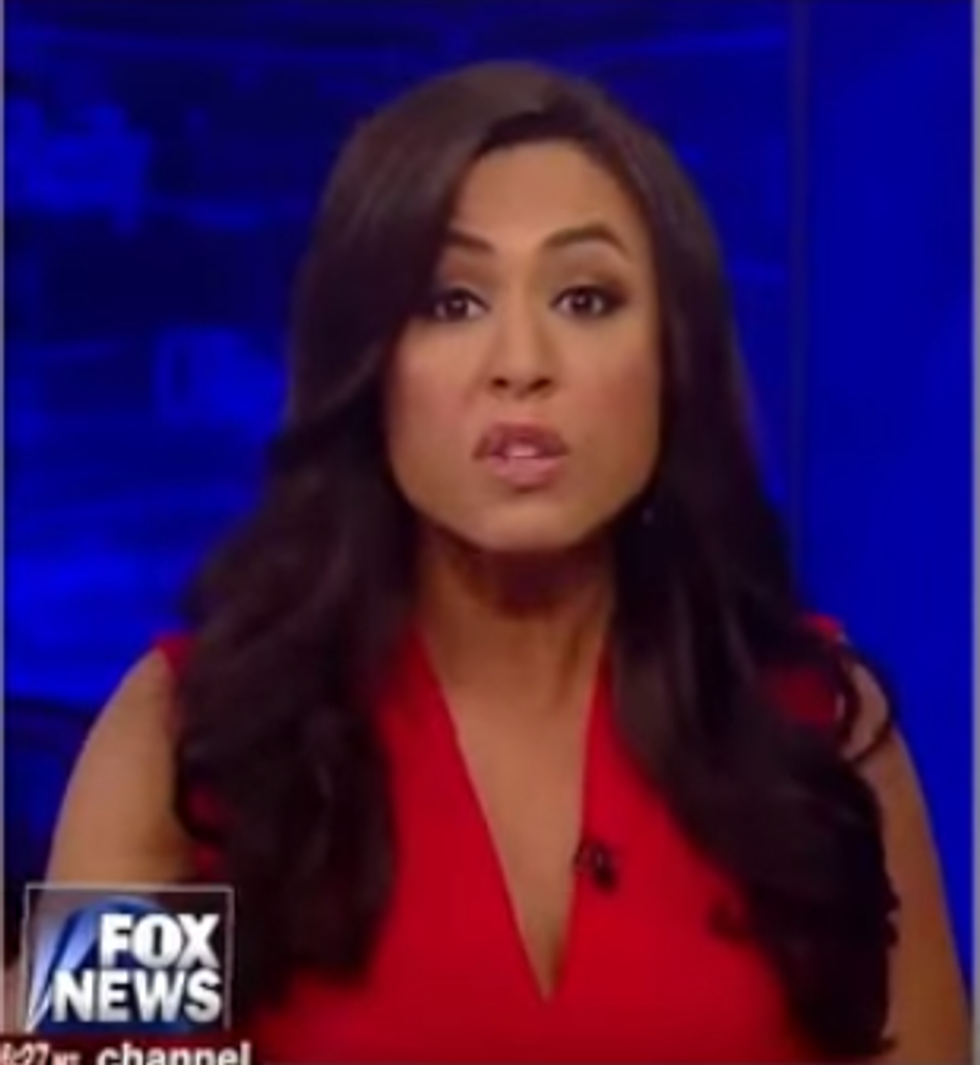 SAY IT TO HER FACE
---
Early in August, former Fox News host Andrea Tantaros came forward to say, "Oh yeah, I, like Gretchen Carlson, am covered in the peen slime that happens when Roger Ailes walks into a room and sexually harasses you," and then last week, she filed a lawsuit to that effect. Except that her lawsuit was way bigger than Carlson's, featuring not only Roger Ailes, but also Bill O'Reilly, John Roberts, and a couple other Fox contributors, including naked former Massachusetts Sen. Scott Brown, who obviously thinks his peen slime is too sexxxy to be viewed as sexual harassment. And all this time, Fox News has been like "NUH UH THAT DUMB LADY IS A LIAR."
[wonkbar]<a href="http://wonkette.com/605809/andrea-tantaross-lawsuit-against-fox-news-is-omg-wtf-insane"></a>[/wonkbar]Obviously somebody is lying here, and from the looks of things, we are going to guess it's Fox News, because Andrea Tantaros and her lawyer have said, "Fine, if you are not lying, then hook your brain and your body up to this lie detector test, and we will see who is the real liar, which is you and not me, Andrea Tantaros, nor my bikini, which is named Andrea Tantaros's Bikini." Or some words like that. Tantaros says she, too, is willing to take a lie detector test, with questions made up by Fox News.
BuzzFeed's Kyle Blaine reports that the following landed in his email box Monday morning: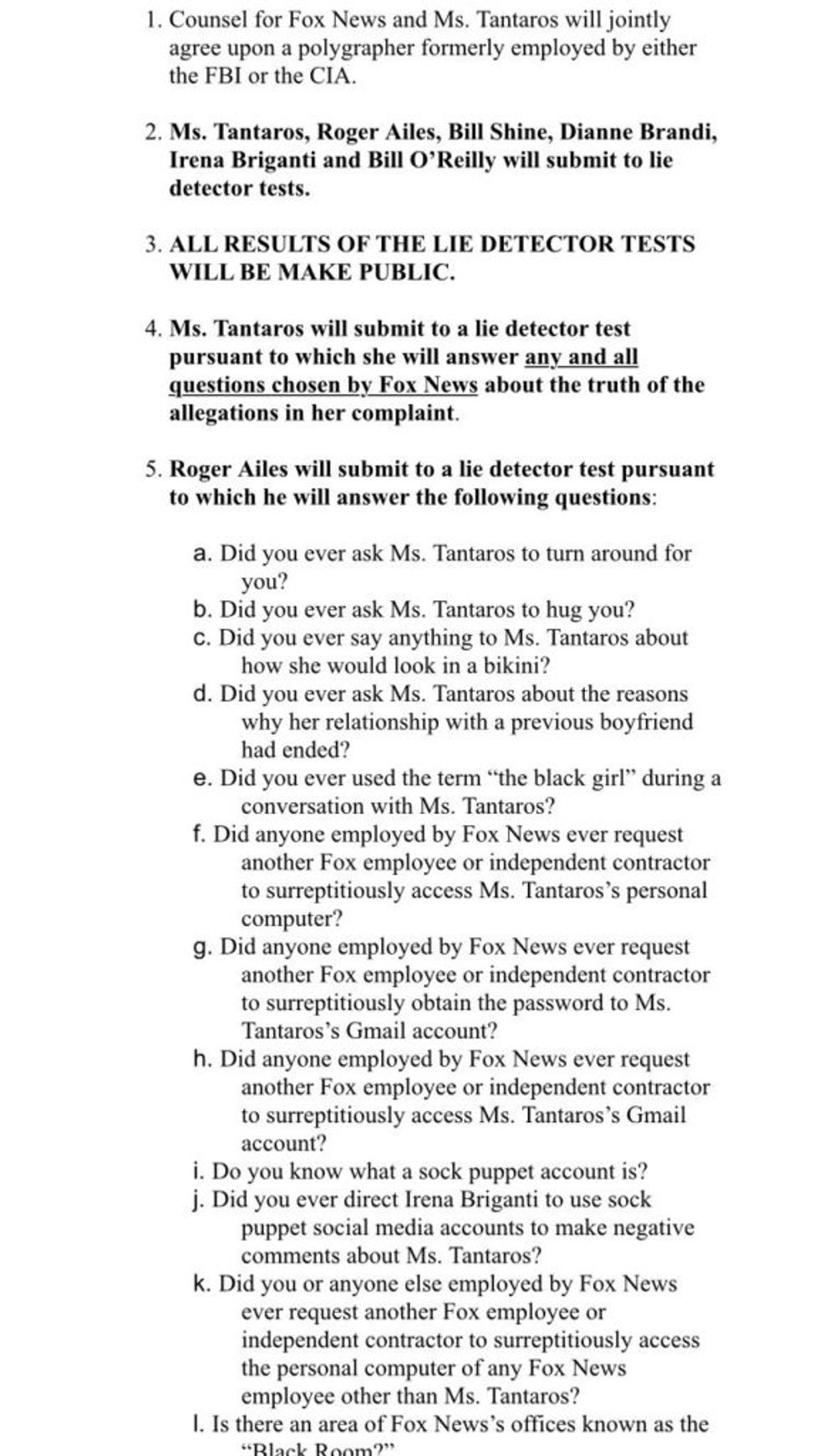 Those are all things in the lawsuit! As we have already made the joke in this post (and will always make the joke), we must say they should add, for Ailes, "Do you Google Andrea Tantaros in a bikini and visit Wonkette every day during lunch, as a result of that search?" They probably won't add that, but they should.
There are other questions, for Bill Shine, the new co-head of Fox, and for Irena Breganti, the head of publicity who allegedly did all the "sock-puppeting," wherein nasty or salacious things about Tantaros would be tweetered via "sock puppet" accounts, as a way to stir up controversy and ratings, and also to embarrass Tantaros. The questions for Shine and Breganti are much the same, asking them to confirm or deny (OR LIE ABOUT) things alleged in the suit. Here are the questions for Breganti: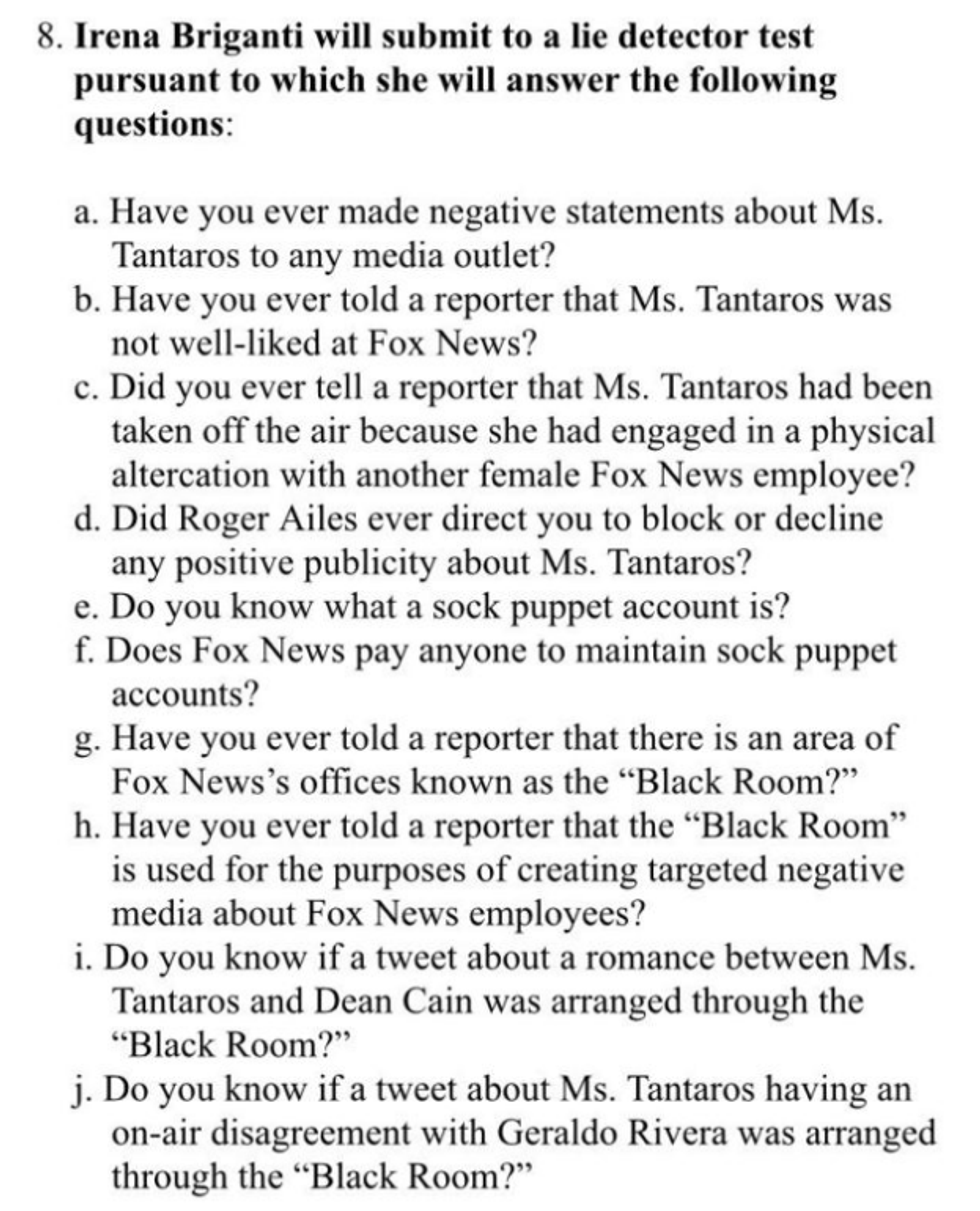 Ooh, and how about a couple questions for gross falafel pig Bill O'Reilly, about whether he wanted to do falafels with Andrea Tantaros's vagina, at the beach: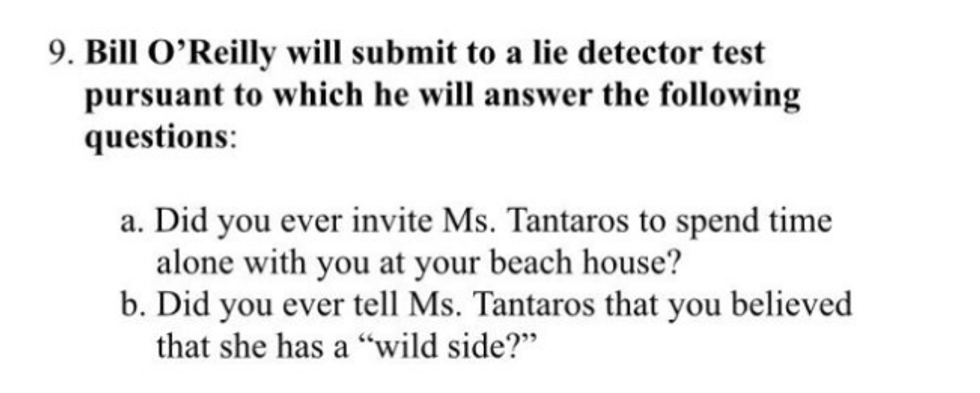 There are also questions for Fox News general counsel Dianne Brandi, related to Tantaros's complaints. They are more of the same, and also a few things about the promotion of Tantaros's recent book.
Here comes the final ALL CAPS zinger:

Shorter Andrea Tantaros right now:
[wonkbar]<a href="http://wonkette.com/596163/dumb-fox-chick-not-scared-old-grandma-muslims-just-kids"></a>[/wonkbar]HEY MOTHERFUCKERS CALLING ME A LIAR, YOU WANT TO SAY THAT TO MY FACE AND ALSO TO MY LAWYER'S FACE? I AM NOT THE REAL LIAR, YOU ARE THE REAL LIAR, AND EVEN THOUGH I AM KIND OF A IDIOT, I KNOW THE DIFFERENCE BETWEEN SAYING THE TRUTH AND SAYING SOME LIES, AND I AM SAYING THE TRUTH, NOW GIVE ME THE $49 MILLION BUCKAROOS I AM SUING YOU FOR AND WE CAN FORGET THIS EVER HAPPENED.
LOVE IN CHRIST,
ANDREA XOXOXOXOXOXO
Evan Hurst
Evan Hurst is the managing editor of Wonkette, which means he is the boss of you, unless you are Rebecca, who is boss of him. His dog Lula is judging you right now.
Follow him on Twitter RIGHT HERE.