Anyone Can Take Notes On A Criminal F*ckin' Conspiracy. Proud Boy Enrique Tarrio Filmed One.
January 6
March 15, 2022 11:54 AM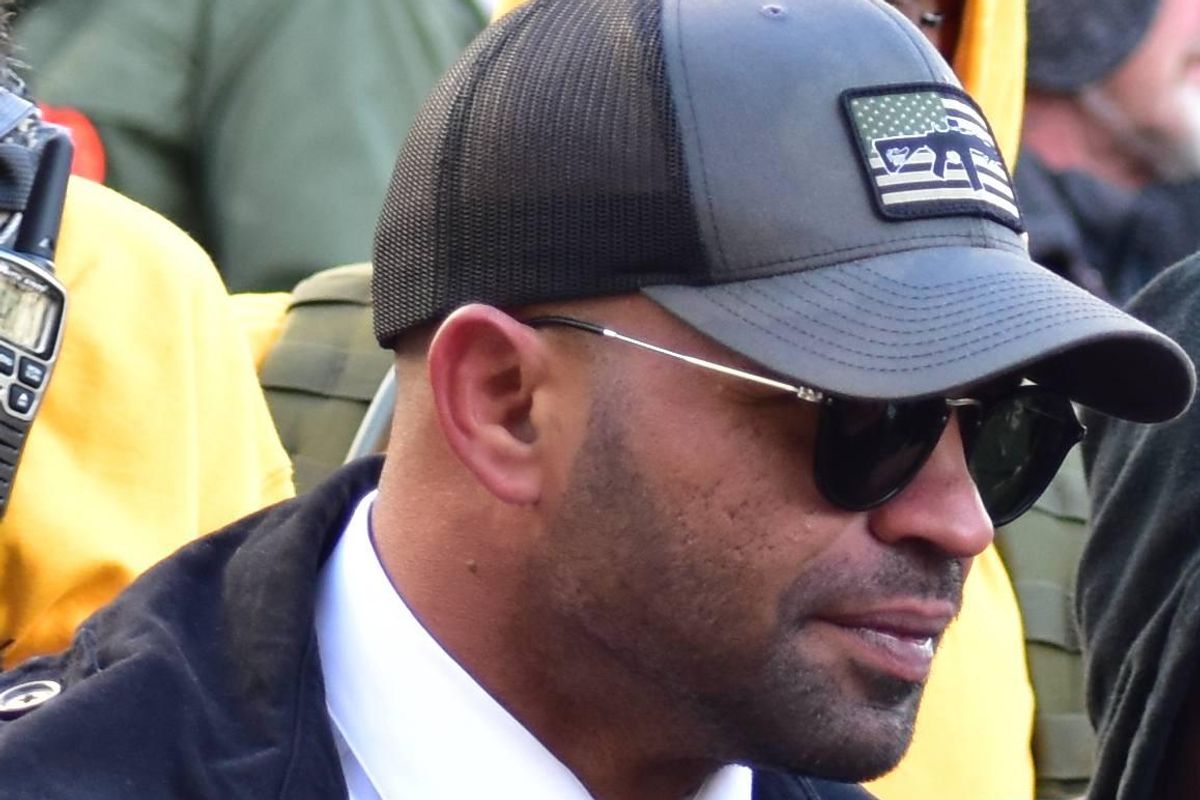 commons.wikimedia.org
Today a federal magistrate in Miami will hold a bail hearing for Proud Boys leader Enrique Tarrio. The Afro-Cuban white nationalist Aladdin aficionado and five of his fellow face-licking dipshits were indicted last week for conspiracy to obstruct an official proceeding. The government made its case to detain him pending trial in a Memorandum in Support of Detention filed last night.
The big news out of the filing is that these guys are even dumber than we previously knew.
How is that possible, you are asking?
What if we told you that Enrique Tarrio brought a film crew to his pre-insurrection powwow with Oath Keepers head Stewart Rhodes, who is currently charged with seditious conspiracy? Oh, yes, he did. And what if we said that this fuckin' genius made sure to let these guys catch him on tape admitting to destruction of evidence?
---
Darlings, feast your eyes on this bloody great idiot, who was arrested on January 4, 2021, for burning a Black Lives Matter banner, had his phone confiscated, and was ordered to leave DC:
Tarrio was released at approximately 5 p.m. on January 5, after having been ordered to leave the District of Columbia. Tarrio did not immediately comply with the order. Instead, he travelled to an underground parking garage, located in downtown Washington, D.C., where for approximately 30 minutes he met with a group of individuals that included Elmer Stewart Rhodes III, the founder and leader of the Oath Keepers. A documentary film crew was present in the garage and, at one point, picked up audio of a person referencing the Capitol. Id. While in the parking garage, Tarrio told another individual that he had cleared all of the messages on his phone before he was arrested. Tarrio further stated that no one would be able to get into his phone because there were "two steps" to get into it.
Was this the same Danish film crew that filmed Roger Stone cahootsing in the lead up to the Capitol Riot? Unclear! But all these MAGA dumbasses are big on documenting their crimetimes, so maybe each of them needed his own dedicated band of paparazzi.
Last week's indictment covered six defendants, but this bail hearing is for Tarrio alone. This let prosecutors focus on his role in leading the insurrection, even though he'd parked himself up the road in Baltimore on January 6, 2021. Luckily they had all of Tarrio's messages (and probably that video, too) despite the Boy Blunder's crafty plan to defeat them with two-factor authentication — although it is very funny that this doofus thought he was going to outsmart the FBI with his mad cyber skillz.
From the beginning, Tarrio was hot to let everyone know who was in charge, informing new recruits that the Ministry of Self Defense (MOSD) would have a "top down structure" where recruits would be expected to follow orders and "Fit in [ ] or fuck off."
He told them what to wear on the day of the insurrection: "We will not be wearing our traditional Black and Yellow. We will be incognito and we will be spread across downtown DC in smaller teams. And who knows . . . we might dress in all BLACK for the occasion."
He created encrypted messaging channels where his guys planned their attack and traded messages like "time to stack those bodies in front of Capitol Hill."
While the riot was going on, he ordered his crew to stay put:
Just over 20 minutes after [codefendant Dominic] Pezzola breached the Capitol with a riot shield, Tarrio made a public post on social media that read, "After I finish watching this I'll make a statement about my arrest...But for now I'm enjoying the show...Do what must be done. #WeThePeople." At 2:38 p.m., Tarrio made a public post on social media that read, "Don't fucking leave." At the time of this post, multiple MOSD members and leaders were inside the Capitol. At 2:41 p.m., Tarrio made a public post on social media that read, "Proud Of My Boys and my country."
And he sought to take credit afterward:
Around this same time, a Proud Boys member posted in an encrypted message chat: "Are we a militia yet?" Tarrio responded with a one-word voice note, "Yep." He then posted, "Make no mistake…" and then "We did this…" Later that day, Tarrio posted a message in that same group chat that stated, "They'll fear us doing it again…" A member of the group asked, "So what do we do now?" Tarrio responded at 4:14 p.m., "Do it again."
"Do it again," is probably not what you should be saying about an assault on the nation's capital if you're seeking to persuade the court that you are not danger to the community and should be granted bail. And since Tarrio already got caught calling up the wife of his co-defendant Zachary Rell to see if his co-conspirator had flipped, a move which he described in a voice memo to his super secret encrypted bro chat, the government is bolstering its case by claiming that Tarrio has a demonstrated propensity to tamper with witnesses and destroy evidence.
Plus there's the whole nature of the crime thing.
"The evidence shows that dozens of men in his charge functioned as the tip of the spear for the mob on January 6, including by conducting assaults on law enforcement, leading a charge up the stairs to the Upper West Terrace of the Capitol grounds, occupying the Capitol grounds and building, and causing lawmakers to be evacuated and the proceedings to be suspended," prosecutors wrote. "It is difficult to imagine conduct that poses a graver risk to our society than leading a conspiracy targeted at corruptly undermining the laws and procedures at the heart of our democratic process."
Well, when you put it like that ... dude should probably pack a toothbrush.
[US v. Tarrio, Florida Docket via Court Listener]

Follow Liz Dye on Twitter!

Smash that donate button to keep your Wonkette ad-free and feisty. And if you're ordering from Amazon, use this link, because reasons.
Liz Dye
Liz Dye lives in Baltimore with her wonderful husband and a houseful of teenagers. When she isn't being mad about a thing on the internet, she's hiding in plain sight in the carpool line. She's the one wearing yoga pants glaring at her phone.