Appearance Of Powerful Black Woman At The Oscars Provokes Predictable Pavlovian Response In Prickish Political Press
News
February 25, 2013 01:10 PM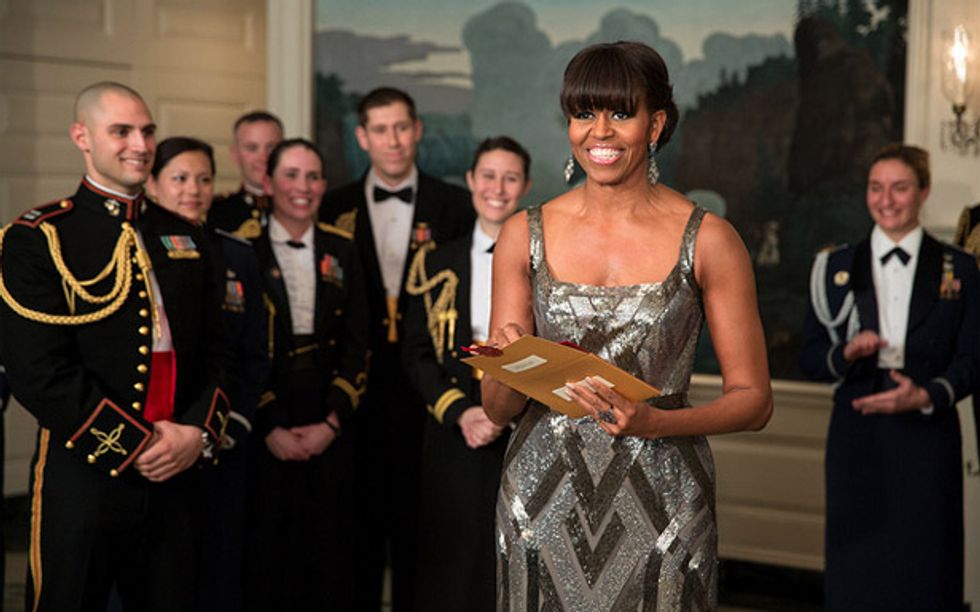 Last night, after the world tuned into the insufferable movie industry and their big night of self-congratulation, denizens of the somehow even more insufferable political industry decided to take their uniquely awful brand of commentary and apply it to entertainment. What prompted this year's wingnut freakout? Was it a retro act of moralization over a visible nipple? Did Michael Moore take the mic to remind everyone that he was right about the war ten years ago? Nope, Michelle Obama showed up and instantly ruined what had previously been an awesome 4-hour episode of American Dad.
---
Apparently important person Nikki Finke was "live-skarking" the Oscars from her West Hollywood bunker and was the first to lose her mind over the pro-forma appearance of the first lady. Finke's main belief is that Michelle daring to show up and speak words at a major annual event is an "obvious" act of trolling from the corrupt Hollywood elite (JEWS!!!):
As if Hanoi Jane wasn't fuel enough. Oh My God - the Academy actually fans the fire by drafting First Lady Michelle Obama to help present Best Picture from presumably the White House? So unnecessary and inappropriate to inject so much politics into the Oscars yet again. Hollywood will get pilloried by conservative pundits for arranging this payoff for all the campaign donations it gave the President's reelection campaign. I don't understand this very obvious attempt to infuriate right-leaning audiences. Clearly the studios only want to sell their movies to only half of America.
Pretty sure red state America was cargasmin' over at Daytona and could care less about the Gay Superbowl. However Finke's assessment that the appearance of "Queen Michelle" instantly ruined the marketability of "How to Survive a Plague" in Mississippi is probably right on target.
But who specifically is responsible for this worst-ever thing to happen at the Oscars? Well Matt Drudge made sure to sound the correct dog whistle by highlighting the "HARVEY ARRANGED" act of forced integration on the Ceremony.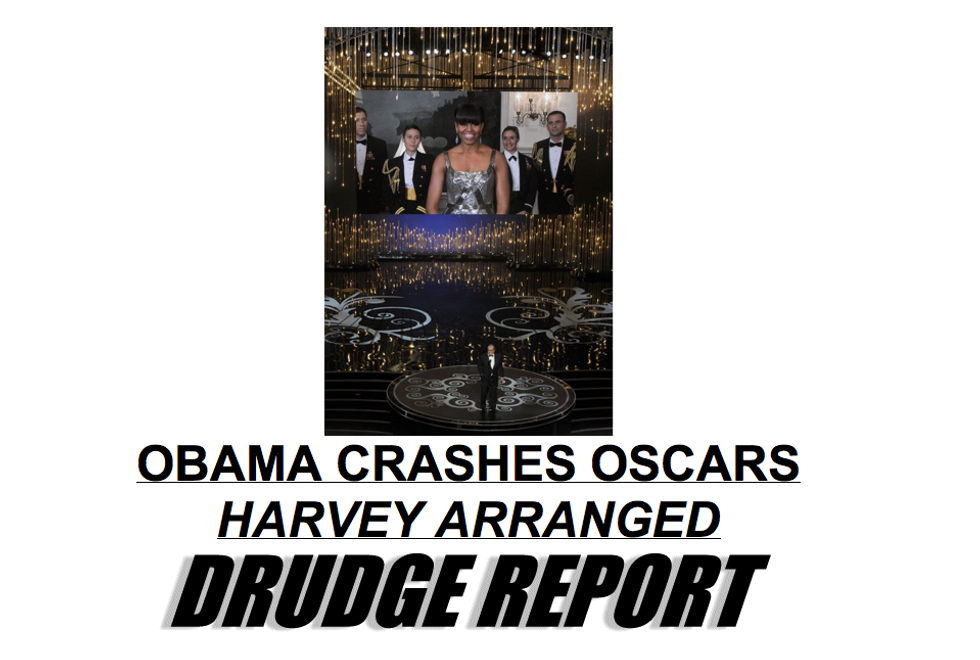 But Michelle's appearance seems to have caused a bit of confusion amongst the right wing over how specifically to lose their minds. The first lady did not mention how much she obviously loved Django Unchained, and she even bested Hattie McDaniel by choosing not to be physically present at the ceremony. However when irrational outrage needs a justification, no matter how ludicrous, Jennifer Rubin and Jim Hoft are certainly up to the task.
First off, the Stupidest Man on the Internet™ is very pissed off at the First Lady for how insensitive she was to the awful economy in making this presentation:
Fresh off her Aspen vacation, First Lady Michelle Obama made a surprise video appearance at the Oscar's tonight.

The economy is going to hell in a hand basket, but at least we have a glamorous First Lady who likes to party....

...Their economic policies suck raw eggs. But they dress up nicely for a party. That's important.
Skiing AND an Oscar party? Goddamned Obamas have turned the White House into a rap video I tell you what.
Sadly even for Hoft this is a bit of a stretch. Taking a break from the Governor's Ball to speak into a camera for a two minute segment with five soldiers isn't exactly the sort of Gatsby style bacchanalia that would justifiably incense our nations poors. Luckily Jennifer Rubin somehow found a reason to condemn Weinstein and the rest of the Hollywood Judenrat for selling out Israel and inflicting Michelle on us:
It is not enough that President Obama pops up at every sporting event in the nation. Now the first lady feels entitled, with military personnel as props, to intrude on other forms of entertaining (this time for the benefit of the Hollywood glitterati who so lavishly paid for her husband's election). I'm sure the left will holler that once again conservatives are being grouchy and have it in for the Obamas. Seriously, if they really had their president's interests at heart, they'd steer away from encouraging these celebrity appearances. It makes both the president and the first lady seem small and grasping. In this case, it was just downright weird.
No one, it seems, gets within a mile of the White House with any sense of restraint. No one there would dare suggest nearly half the country didn't vote for him and doesn't much like him and might want to be left to their small daily pleasures. (Greta Garbo said it best.) And no one there is apt to explain that the White House, the military and the first lady (not this one in particular) are institutions bigger than the Obamas and their e-mail list.
Fucking Michelle and her bangs came in and hogged the show like a black Imelda Marcos and then had the gall to snub Rubin's favorite fap film by snubbing Zero Dark Thirty over that movie that Jimmy Carter somewhat liked. What a disgrace. If only Michelle could have been more like Laura Bush in 2002 by being so boring that her existence was apparently only recorded by IMDB, or inspire Hollywood to love America half as a much as our Blowjob Queen Nancy Reagan did when she sang at Bob Hope's 85th birthday.
Why can't the Obamas just accept that their place during the Oscars is in the back of the theatre?