Are Boner-Killing Feminists Murdering Your Sexy Movies? Probably!
News
January 11, 2018 02:10 PM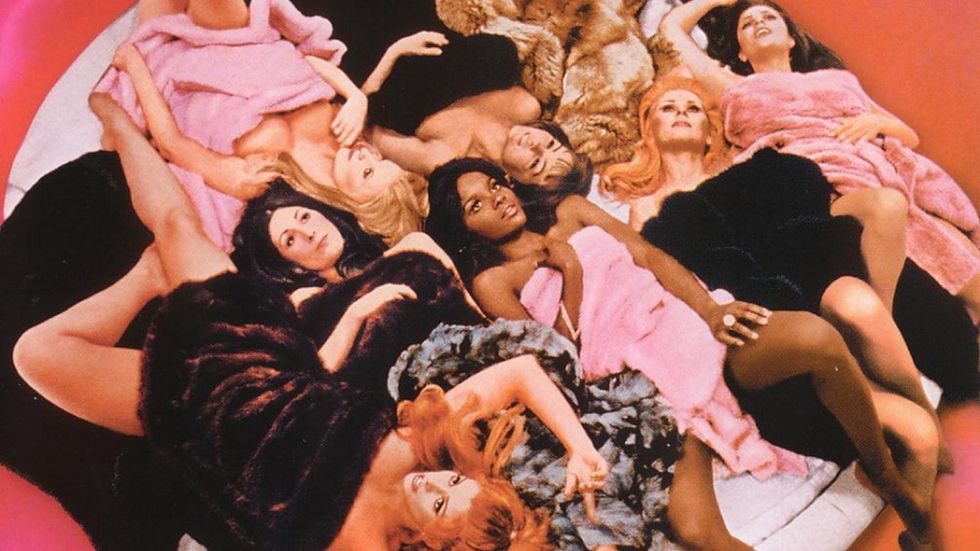 ---
Those who are incapable of seeing nuance have had a very hard time processing this whole #MeToo thing. They fear that vicious bands of roving feminists are out to destroy consensual flirting, because, of course, said feminists are so stupid that they cannot discern enjoyable, consensual flirting that is a good time for everyone from sexual harassment. Some women, even, fear that cultivating an environment in which consent is prioritized will result in them not getting hit on or not having boyfriends or not having sexy sex with men they would like to have very sexy sex with. They fear that feminists are out to destroy sex, because they hate sex and are very puritanical like that.
Not true! Feminists are very fond of sex. So fond of it, in fact, that we actually believe it should be a good time for everybody involved. It's why we talk about enthusiastic consent. The conflation of sexual harassment and sexual assault with "sexiness" or with "flirting" is insulting and ridiculous.
The latest installment in this series is an article published yesterday in The Hollywood Reporter by Tatiana Siegel titled How the #MeToo Movement Could Kill Some Sexy Hollywood Movies.
Kill, you say? That seems a little harsh. If the idea of women consenting and actually having a good time during sex is a boner killer for you, I would imagine you have more problems than a sexy movie can possibly solve.
In the article, Siegel brings up a few movies that are less likely to be produced -- or will be considerably changed -- in order to appeal to audiences in this brave new world, and laments that the final installment of the 50 Shades series could be the last sexxxy movie America ever sees.
With 'Fifty Shades Freed' poised to hit theaters as the town navigates the post-Harvey Weinstein landscape, an early casualty of the climate shift may be big-screen erotica — unless it has a feminist spin: "With this current climate, I don't think the appetite is ripe."

When Universal releases Fifty Shades Freed on Feb. 9, it will close the final chapter on the S&M trilogy that already has earned nearly $1 billion worldwide. The third installment marks a happily-ever-after ending for kinky couple Anastasia Steele and Christian Grey. But it also may prove to be the finale for studio-financed sex-fueled films.
This is the part where we need to ask -- what would the feminist spin on 50 Shades be, and would it actually be so terrible and unsexy? From what I have read (I've never seen the movie or read the books), Anastasia "submits" to Christian Grey not because S&M is her personal jam, but because she is madly in love with him despite his penchant for ending emails with the astoundingly cringeworthy "Laters, baby" and wants to please him. Maybe, in the feminist version, Anastasia seeks out what she wants, sexually -- regardless of which side of the riding crop she is on. If we think of that as inherently un-sexy, maybe it's time to start thinking about why.
According to Siegel, this new normal means that the Bradley Cooper and Lady Gaga helmed remake of A Star Is Born will be less "steamy" than it was initially planned to be; that the planned Hugh Hefner biopic may never even get made. But isn't it worth considering the way A Star Is Born -- a movie that has been made four times already and by better actors than Lady Gaga -- ought to be done in this era? Is it so wrong that the public is not exactly clamoring for a biopic of Hugh Hefner? Are there no other stories they could possibly tell?
Our notions of "what is sexy or romantic" and what is not can and should change over time. The "sexy" movie Last Tango In Paris featured a scene in which Marlon Brando anally rapes his young Parisian paramour using butter as lube -- a scene the was added to the movie by Brando and traumatized his co-star, Maria Schneider. In Gone With The Wind, Scarlett doesn't realize how much she loves Rhett Butler until he rapes her. At the end of It Happened One Night, Clark Gable tells Claudette Colbert's father that What she needs is a guy that'd take a sock at her once a day, whether it's coming to her or not, and this is what makes her father decide that he's the one his daughter really ought to marry. This is a film that is supposed to be a light-hearted rom-com. Feminism probably ruined romantic or sexy rape and spousal beatings for Hollywood, but I think we can agree that this was a step in the right direction.
Siegel later notes that at least two films produced by one guy have had trouble getting "traditional financing" on account of the fact that they might be too sexy.
"The studios and the financiers are going to be conscientious of putting something out there that could alienate audiences and restrict the potentiality of the film," says producer David Permut (Hacksaw Ridge), referring to both #MeToo and international box-office considerations. Permut, who made movies within the studio system for decades, couldn't find traditional financing for two of his upcoming films that deal with sexual storylines (I Am Chippendales with Ben Stiller and Dev Patel and Russ & Roger Go Beyond, which chronicles the unlikely friendship between sexploitation director Russ Meyer and film critic Roger Ebert, a Meyer devotee who wrote the screenplay for his Beyond the Valley of the Dolls). Instead, both are being financed independently.
Permut later describes Russ Meyer as a feminist.
It may surprise you to know that I am actually a very big Russ Meyer fan. Beyond the Valley of The Dolls and Faster, Pussycat! Kill! Kill! are two of my favorite movies ever. I would not, however, suggest that Russ Meyer was a feminist. That is ridiculous.
There is, however, a feminist story to be told in the Russ Meyer universe.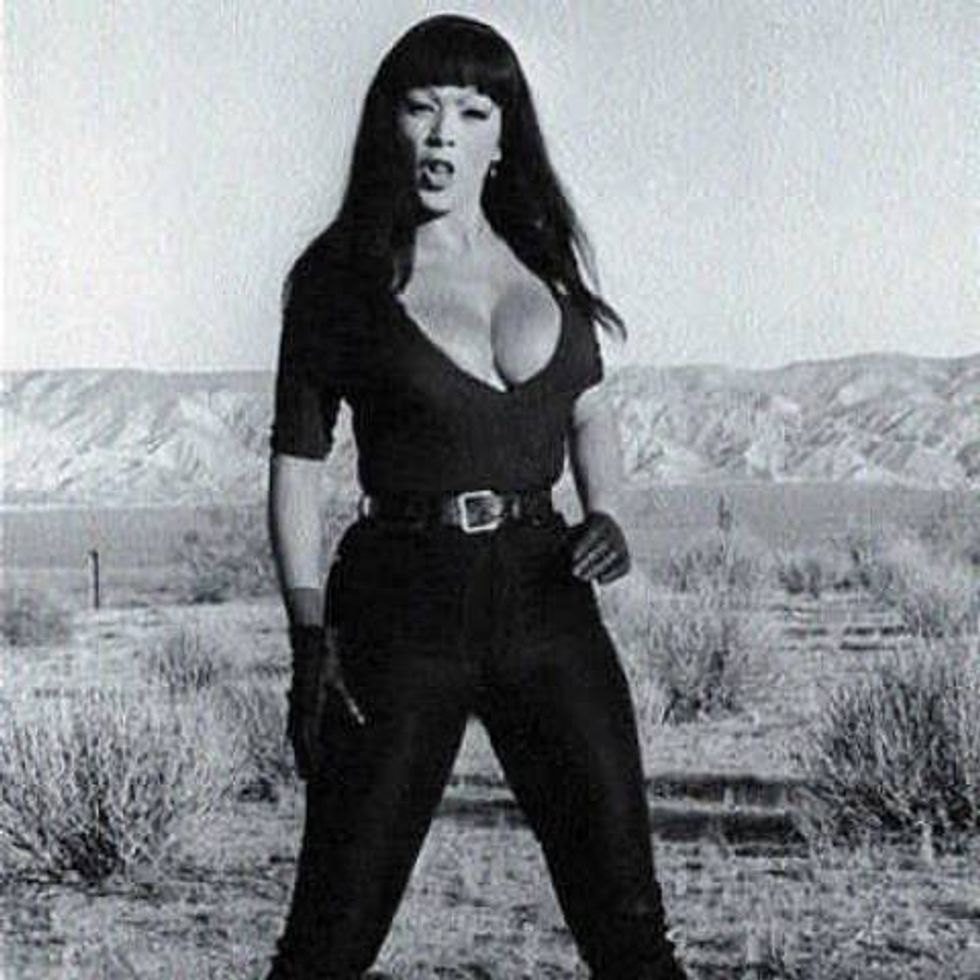 Tura Satana was a legitimate badass with an incredible life story. After being gang-raped at the age of nine and seeing her attackers go free, Satana dedicated herself to martial arts. Over the next 15 years she tracked down each one of them and exacted her revenge. She started a girl gang. She became a burlesque star and then a movie star and then she turned down a proposal from Elvis.
Maybe instead of wringing our hands wondering if this atmosphere of "Consent is good and you shouldn't sexually harass or assault anyone" is so oppressive that it contributed to a movie about Russ Meyer not getting traditional financing and having to be made as an indie film, we ought to ask ourselves where the damn Tura Satana biopic is, and why no one is trying to get that made and financed. There is a documentary about her being made, starring John Waters and Margaret Cho, but that movie is getting its financing from Kickstarter. Why is Tatiana Siegel not mourning that?
People are often inclined to wring their hands and go "Oh! But what about the menfolk!" To worry about the bright futures of rapists, to worry about the careers of men who have been accused of sexual assault or harassment, to worry about the men whose stories won't get told "in this kind of environment." We don't worry about the bright futures ruined for women who have been raped, who had to quit their careers because they were sexually harassed, whose stories -- regardless of how compelling they are -- are unlikely to be told.
Part of that is because we are not telling those stories to begin with. When you watch a movie or read a book, you spend a chunk of your time imagining what it is like to be in another person's shoes. You empathize with them and their struggles become your struggles, if only for an hour or two. Making our cinematic gaze less male-centric might actually result in people being at least as able to empathize with women as they are with those who prey on them.
Wonkette is ad-free and relies on the kindness of readers like you to pay our writers and our hosting bills. Kick in if you like us!
Robyn Pennacchia
Robyn Pennacchia is a brilliant, fabulously talented and visually stunning angel of a human being, who shrugged off what she is pretty sure would have been a Tony Award-winning career in musical theater in order to write about stuff on the internet. Follow her on Twitter at @RobynElyse