ARE YOU READY TO SHUTDOWN???? A Wonksplainer Of 'Yeah, No, Really, It's Republicans' Fault'
Culture
January 19, 2018 11:41 AM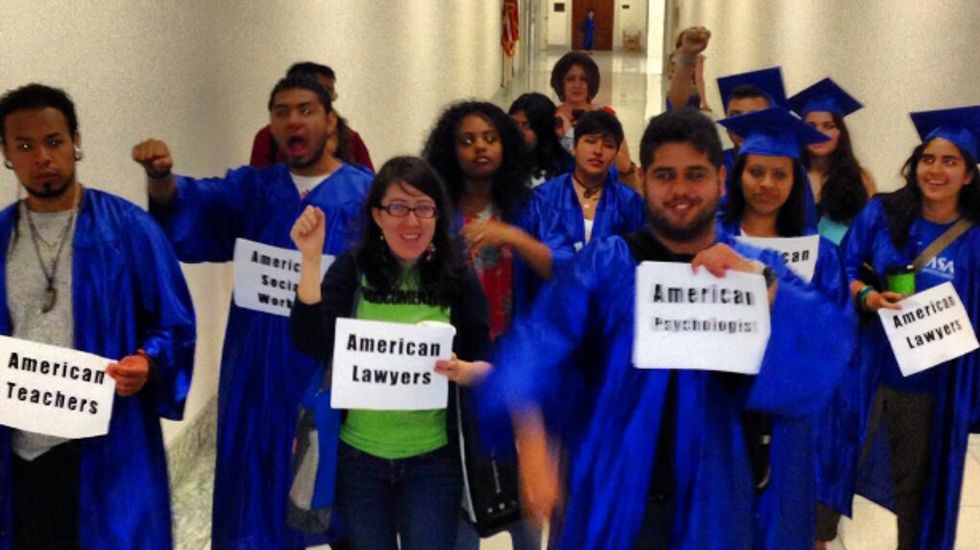 Trump has a lot of heart for these people he also wants to deport. If he knows they're the same people.
---
You know the possibility of a government shutdown is serious when Donald Trump cancels his plans to go golfing. Or at least delays them. Trump had been scheduled to fly to Florida again this weekend, but this morning the White House announced he'd stay in Washington until Congress passes a spending bill to keep the government open. Democrats have him by the Titleists, so they want him to follow through on his pledge to sign a bill fixing immigration status for 700,000 Dreamers who were brought to the US as children. First, though, congressional Republicans have to include a DACA fix in the spending bill, which, oops, they forgot to do.
The House passed a continuing resolution last night which would fund the government for 30 more days; while it includes one Democratic priority -- a
six-year reauthorization
of the Children's Health Insurance Program -- it doesn't include the other measure that most members of both parties keep insisting they want, that DACA fix. Republicans, who control the White House and both houses of Congress, have been insisting that a failure to fund the government would obviously be the fault of the Dems because they love illegal immigrants more than American children.
Which sounds like bullshit to us! Particularly since Republicans have been quite open about their intention to use CHIP as a means of trying to bludgeon Democrats into supporting a budget bill -- any budget bill, whether it helps DACA recipients or not. It's clever maneuvering, but as we noted yesterday, nobody's fooled by Republicans' sudden realization that CHIP needs to be reauthorized. The Rs knew that back in September, when they let CHIP funding lapse in the first place. And as Vox's Dylan Scott points out, it's an open secret that Republicans had been holding back any serious action on CHIP for maximum effect:
I asked one GOP lobbyist well plugged into House Rs if they had decided back in October to hold onto CHIP until they needed it:

"Yes."https://t.co/Q6lQvn5dax

— Dylan Scott (@dylanlscott) January 18, 2018
The New York Times briefly ran a headline that accurately reflected how the Republicans were making use of CHIP, but then replaced it with a less contentious version: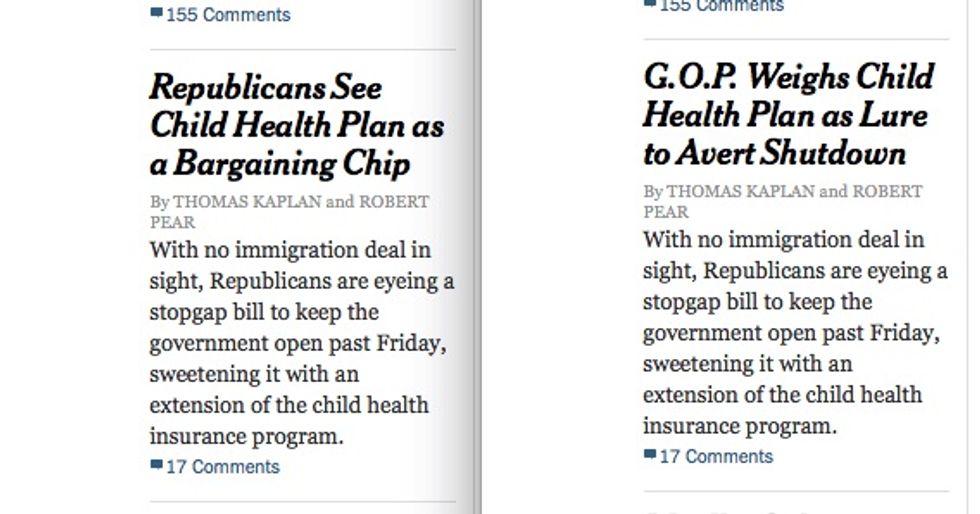 And as Greg Sargent
reminds us
at the Washington Post, the crisis over DACA is entirely of Donald Trump's own making. He's the one who rescinded DACA in hopes that Congress would accept big changes to
legal
immigration and funding for a border wall as the price of preserving DACA. He has frequently said that he wants to help the Dreamers, at least when he can remember that "Dreamers" and "DACA recipients" are the same people -- although it's not altogether clear he does remember that, as we saw in that
bizarre WSJ interview:

Regardless of Trump's confusion, a bipartisan group of senators actually did come up with a compromise bill that would have offered DACA recipients a path to citizenship while limiting legal immigration and funding border security. That's the one Trump rejected in his "shithole countries" tantrum all of a week ago, after
Stephen Miller and John Kelly told him to
go back on his own pledge to sign any bill Congress sent him.
And now, here we are, with even Mitch McConnell not knowing what the "president" wants:
"I'm looking for something that President Trump supports, and he has not yet indicated what measure he is willing to sign," McConnell said. "As soon as we figure out what he is for, then I would be convinced that we were not just spinning our wheels."
Of course, after saying that on Wednesday, McConnell knew by Thursday who was really blocking progress, and why: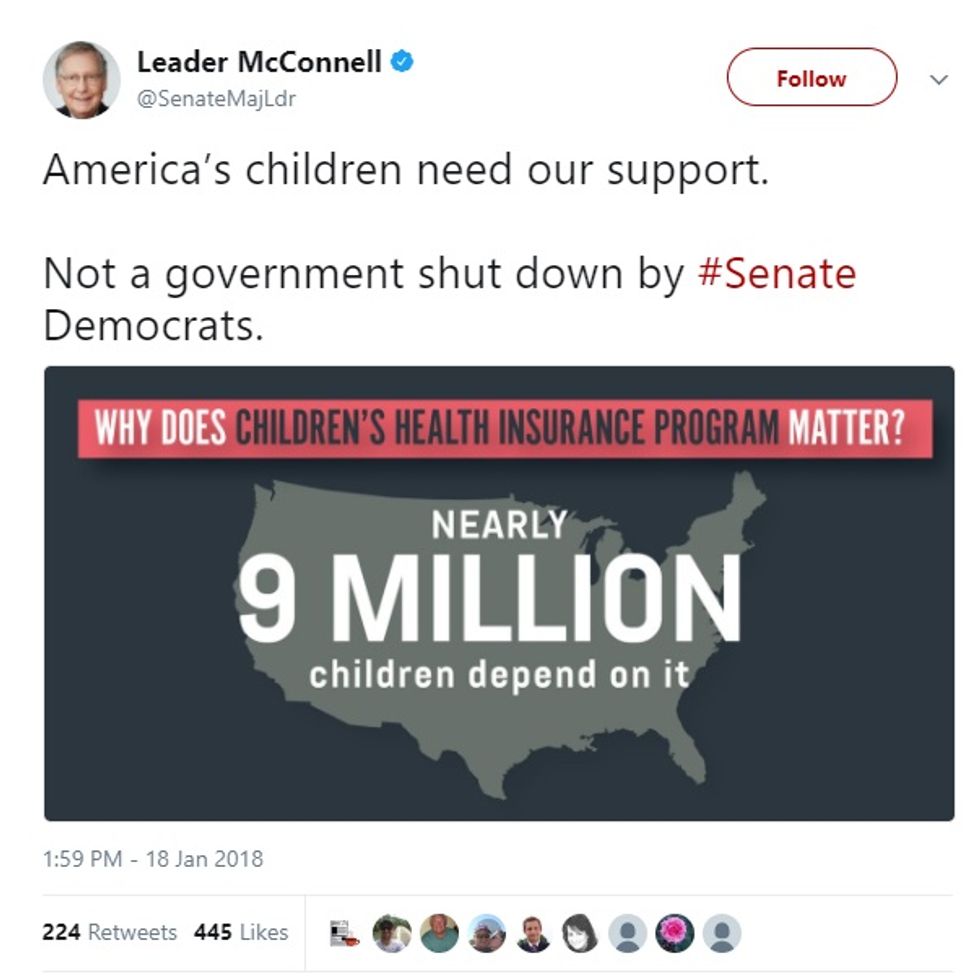 The general chaos even left Lindsey Graham downright flummoxed, by golly:
"We don't have a reliable partner at the White House to negotiate with," Sen. Lindsey O. Graham (R-S.C.) said. "This has turned into an s-show for no good reason."
(Yes, he said "s-show," not "shitshow.")
It sure is dastardly of those Democrats to have not done their job and made Donald Trump somehow communicate what he wants in a consistent way, isn't it? For shame. Maybe Republicans will decide to do what they have said they want on DACA, or maybe we'll see a CR for a few more days to negotiate a DACA deal, or maybe we'll see a shutdown starting tonight. Whatever happens, the Republican chaos masters are the ones who've been all over the place on what they're willing to do, and that seems unlikely to change.
Yr Wonkette is supported by reader donations. Please click here to prevent a snark shutdown.