Arkansas School Not Racist, Just Wants To Make Sure The Blacks Don't Gangbang Everybody
Post-Racial America
February 19, 2016 01:30 PM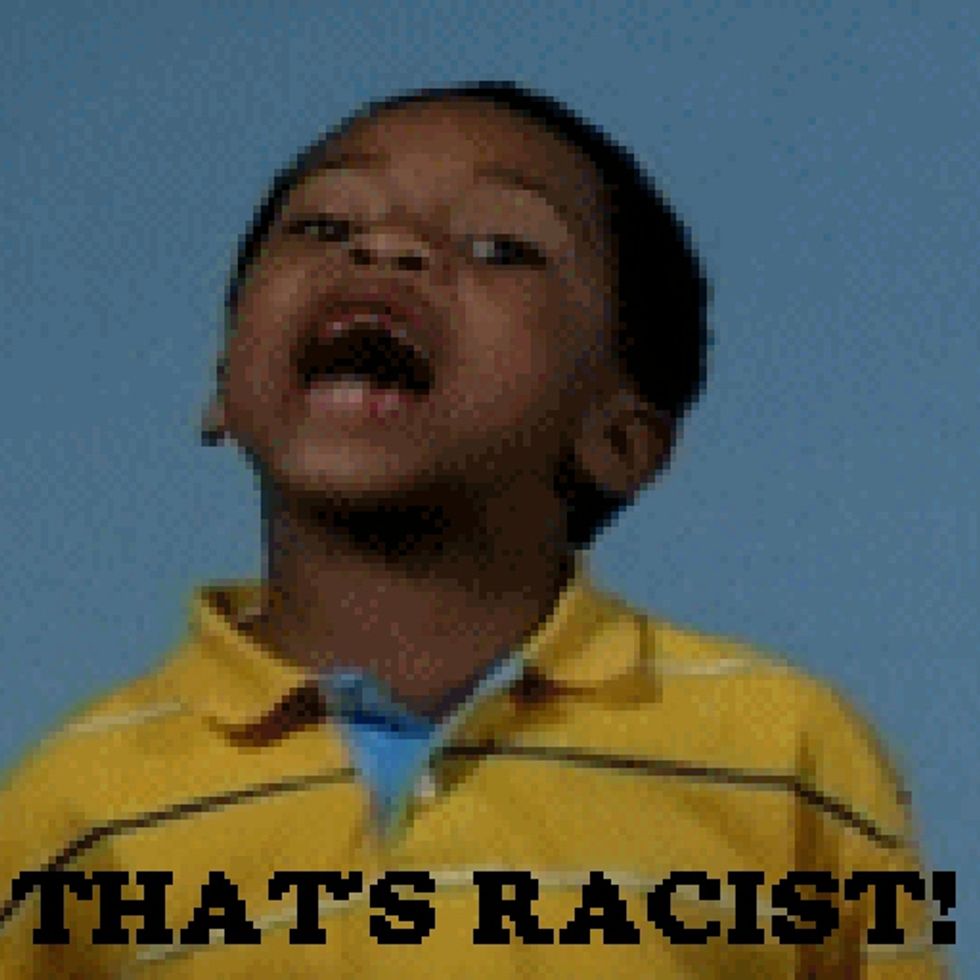 KINDA!
---
Maumelle High School in Maumelle, Arkansas, is doing real good at the racial issues, y'all. At least it's TRYING, but mean liberal ACLU-types are up in its grill saying, "THAT'S RACIST!" And here is why:
Shortly after arriving at school Wednesday morning, an announcement over the public announcement system instructed black freshmen to go to the auditorium for an assembly. [...]

Local youth pastor Dante Shelton spoke to the students about gang violence and his personal story.
Uh OK good idea, you guys. "Paging all The Blacks!"
Now, lest ye think this is some podunk high school in the sticks where the football field doubles in the off season as a cow-tippin' pasture, Maumelle is an upper-middle class suburb of Little Rock, just across the Arkansas River. So it's kind of, um, U R DUMB for the school to think, "Hey, here's an idea! What if we do a nice assembly JUST for freshmen of the darker persuasion, to teach them about how not to gang-bang the innocents? Maybe we could serve some fried chicken and watermelon, too!"
The school district says y'all hatin':
Freshmen students were identified by the school because it is a time of transition when they are more easily influenced. Black students were selected with the intent that the assembly would be an extension of the district's court-ordered desegregation efforts, which encourage programs and opportunities tailored to minority students. Students who did not want to attend the program were not required to do so, and the response to Mr. Shelton's presentation was overwhelmingly positive. The Pulaski County Special School District regrets that this inspirational program was not made available to all students and in the future will work to ensure that when outside speakers are brought into a school that all students are included.
[contextly_sidebar id="EIwi3B1K4oDHCrOojDrF3t13y9EPtHTA"]DE-segregation, y'all. Not RE-segregation. Because, by definition, if all the black freshmen are in the gym listening to a lecture on "Pull your pants up!" and don't shoot up all the cops like that whore Beyoncé, and all the white freshmen are in the classroom, learning about whatever the school wanted to teach the white kids about that day (Making America Great Again?), then they are SEGREGATED. We know the Little Rock area has been pretty confused about what desegregation means since, oh, 1957, but maybe the school board should Bing the Jeeves on the Google about it or something.
Our favorite person in this story is a man named Arron Perkins, whose sister was one of the black students paged for the special blacks-only seminar on How Not To Be Such A Thug:
"What does that leave kids that are mixed? 'Oh, you know, that's my other side that's calling, let me go learn about gang-banging.' To me it's just wrong on every level," said Perkins who is biracial.
GOOD POINT, Mr. Perkins, and also LOL for saying that on the Little Rock local news report.
As we mentioned above, the ACLU has fired off an angry letter and is determined to help any way it can. And MAYBE the school had good intentions, and just doesn't know how to communicate them, like how your mom always says she loves her black neighbors because they keep their yard SUPER nice. That's not a good thing to say, MOM. And doing a blacks-only assembly on How To Make Friends And Influence People Without Even Being In A Gang is not a good way to "desegregate," you dumb Arky ding-wads.
We are just saying.
[KATV]
Evan Hurst
Evan Hurst is the managing editor of Wonkette, which means he is the boss of you, unless you are Rebecca, who is boss of him. His dog Lula is judging you right now.
Follow him on Twitter RIGHT HERE.