Beef Wellington: Proof That I Have Lost My Damn Mind
Mommyblogging
January 07, 2017 01:30 PM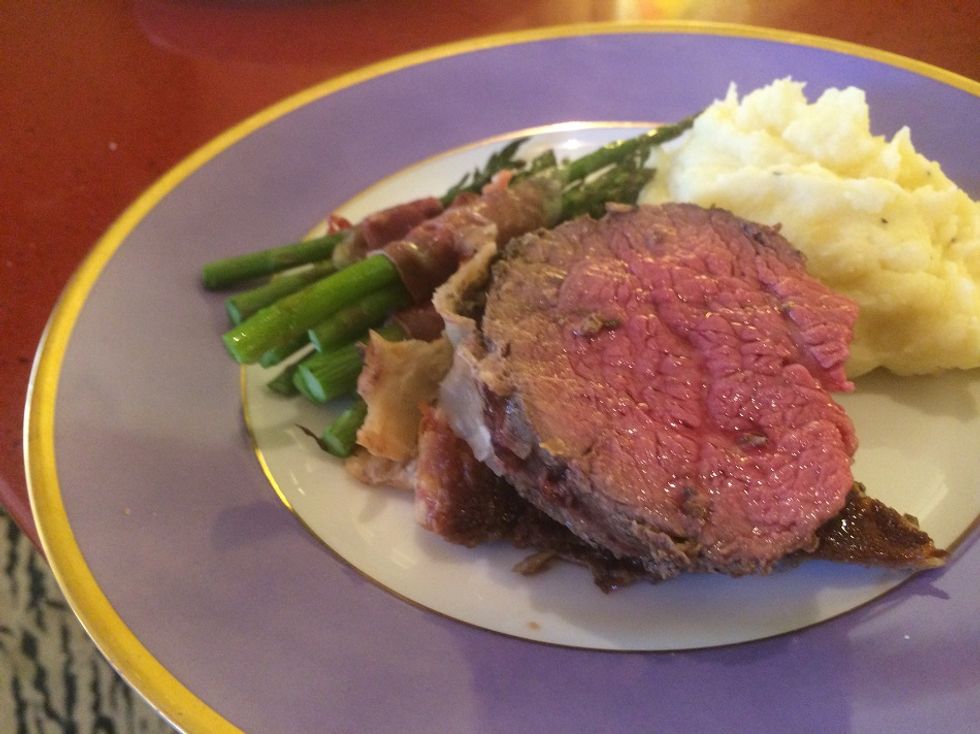 Mistakes were made.
---
Process errors occurred.
The result was still delicious.
Today, we take a critical look back at The War On Xmas 2016, Battle Of The Kitchen, in which I made
BEEF WELLINGTON.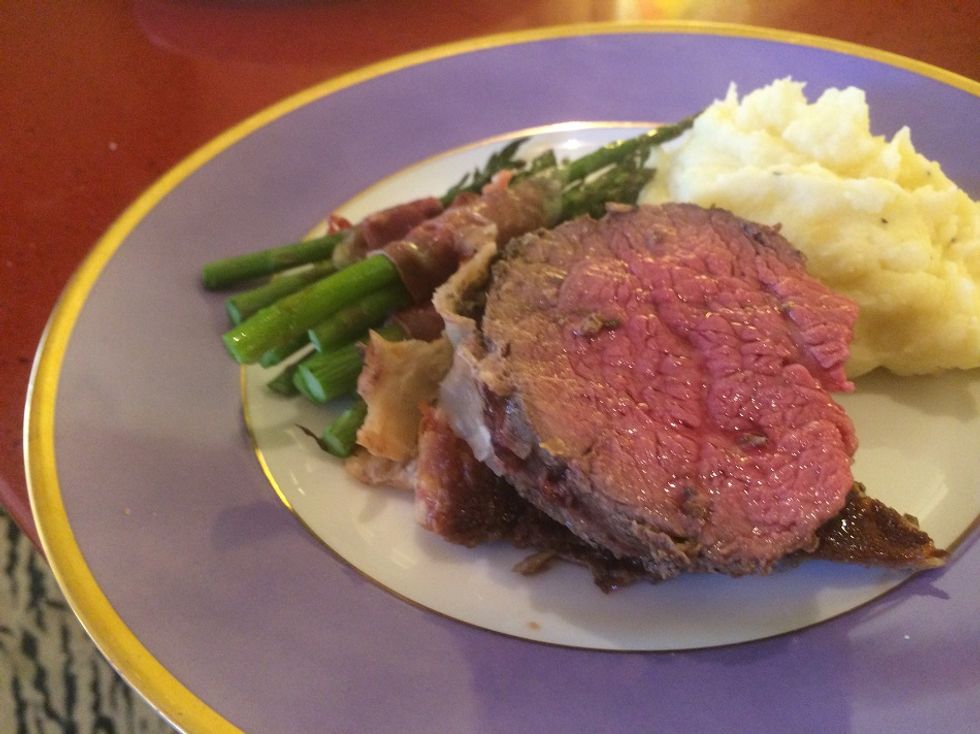 I have good reason to be proud of my meat
Holy shit, this was intense. I failed to mentally rehearse enough, nor did I adequately plan out my timetable. This led to me being disorganized, rushed, and frazzled; inevitably causing me to make errors. The recipe I meant to make is not, quite, the recipe I actually made. What you see below is what I planned to do. The few minor deviations will be discussed after.
None of this mattered. The dish that went to the table was beautiful, fork tender, and loaded with flavor. Gordon Ramsay might not be impressed, but nearly anyone else would. Whether you follow the recipe below or one of the myriad variations available on the net, MAKE THIS. Yes, unless you are a professional chef, it will push your limits - but that's where we learn.
Drinkage level: No.
Serves 6 -8
Difficulty: BWWAHAHAHHAHHAHHAHAHHAHHAAAA!!!!!!!*
Time: All of the time. ALL . OF . IT !!!
WHAT YOU NEED!
For the Pate: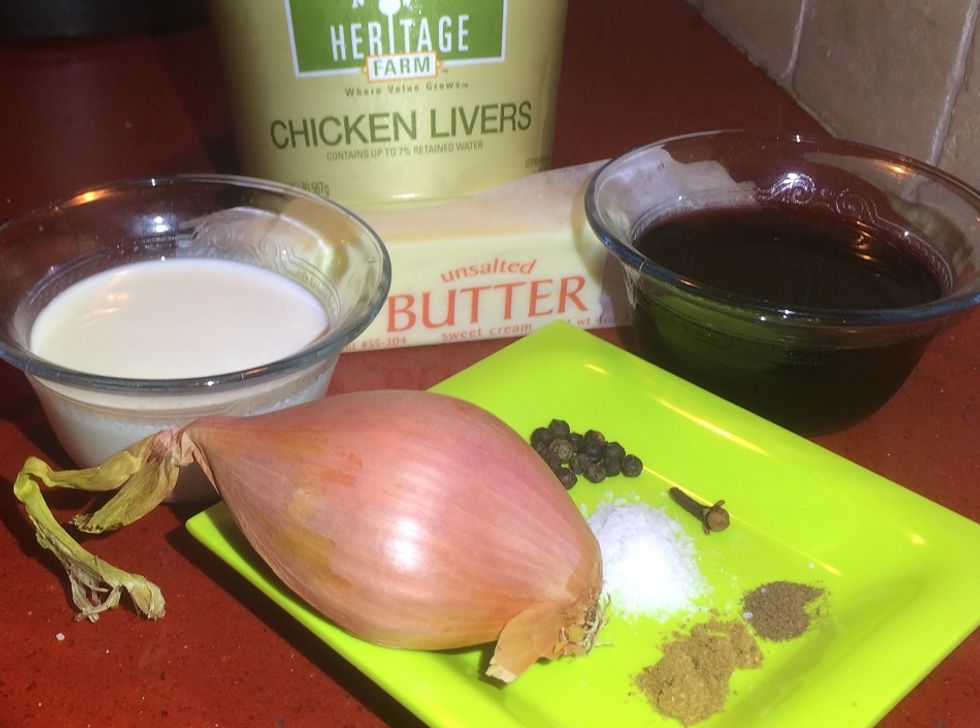 Patetime!
1 lb chicken livers
1 shallot
1/3 cup half and half
1/3 cup red wine
1 hard boiled egg
15 peppercorns
1 clove
1/8 tsp ground Allspice (or 2 berries)
1/4 tsp ground coriander (or 4 seeds)
salt
For the Duxelles: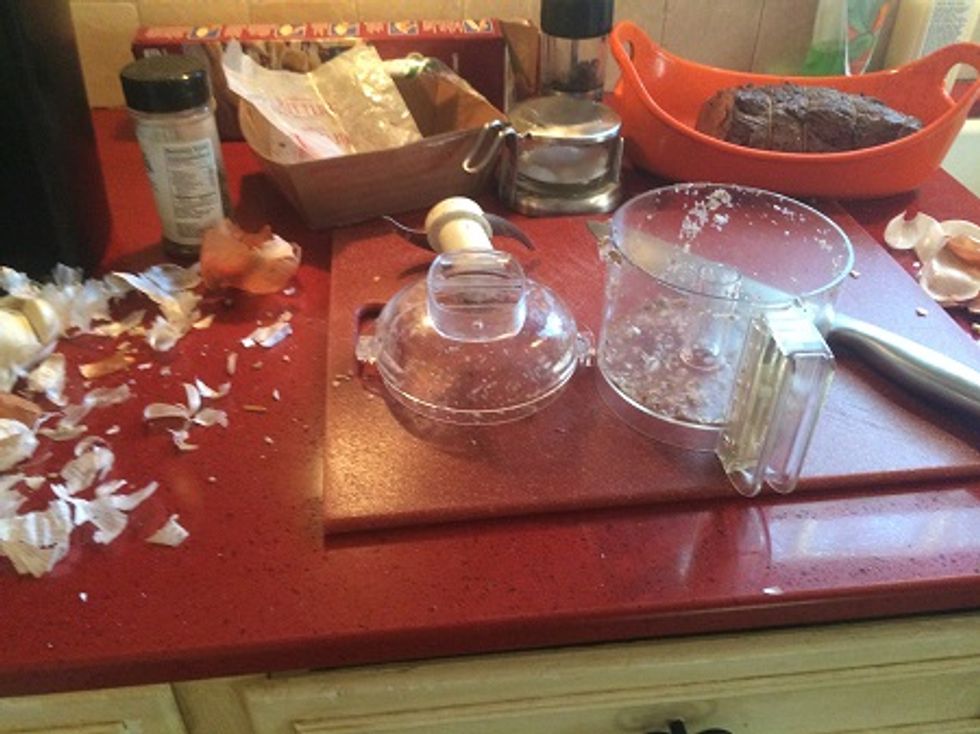 (Semi) controlled chaos.
8 ounces portobello Mushrooms
1 large shallot
6 cloves of garlic
leaves from 2 sprigs of thyme
2 Tbls unsalted Butter
2 Tbls EVOO
kosher salt and black pepper
For the Beef: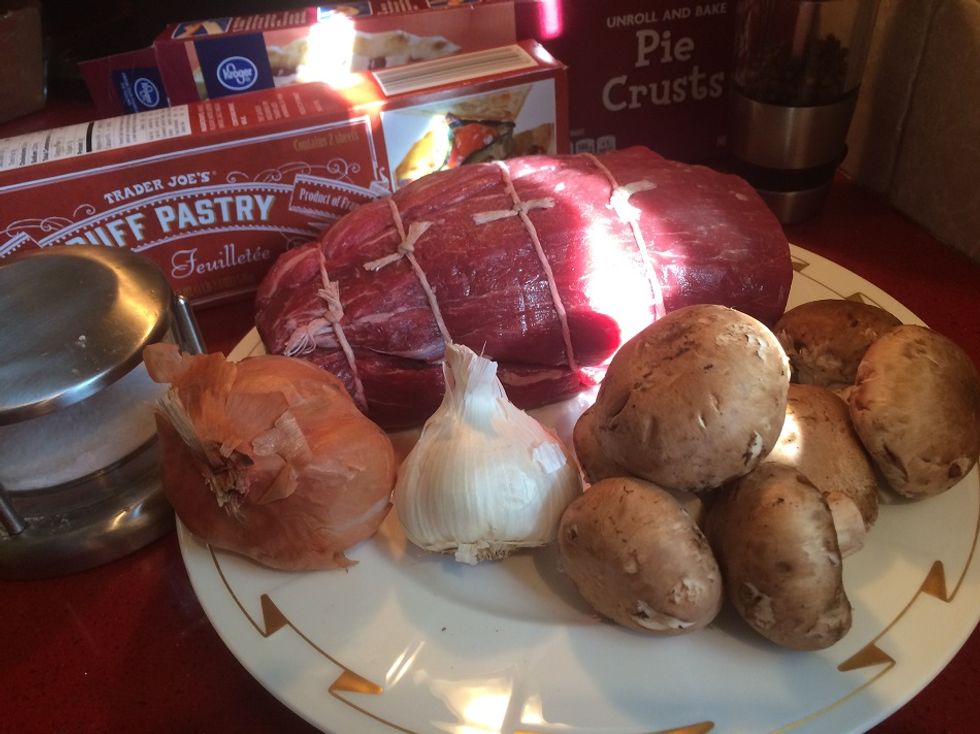 A few of the main ingredientses.
One, 2 lb beef tenderloin
EVOO
kosher salt & black pepper
9 - 12 slices prosciutto
leaves from 6 sprigs of thyme
2 Tbls Dijon mustard
1 pie crust (your favorite recipe, or the grocery store)
1 lb puff pastry (Trader Joe's all Butter Puff Pastry. If you're making your own Puff Pastry, you should be writing this column, not reading it!)
1 jumbo egg
~ 1 Tbls half & half
Holy crap, that's a lot of ingredientses! What kind of hardware do you need? More like what DON'T you need?
Cutting board, big knife, paring knife, heavy skillet, spice grinder, blender, food processor, plastic wrap, strainer, various measuring cups & spoons, rubber spatula, metal spatula, a variety of bowls, a baking sheet, probably something else that I forgot but that's most of it. And a partridge in a damn pear tree.
WHAT TO DO WITH WHAT YOU NEED!
Treat the pate as a separate recipe: it needs at least overnight, and preferably 24 - 48 hours for the flavors to marry. 30 minutes total.
Clean livers: remove any connective tissue & separate the lobes - do not cut the lobes themselves.
Place peppercorns, allspice, clove & coriander seed in grinder: grind fine.
Slice the shallot.
Melt 2 Tbls butter in skillet over medium - medium high heat.
Add sliced shallot and cook until softened, about 2 minutes.
Add livers to the pan and sprinkle with salt. Brown on one side, then flip to sear the other. Once seared on all sides, remove from heat. Livers should still be pink inside.
Deglaze skillet with red wine & reduce by 2/3.
Put shallot, livers (with any drippings in the dish) into blender with the egg, remaining butter, half and half, and spices. Puree until very smooth.
Press the puree through a strainer.
Place strained pate in a bowl & refrigerate. IMPORTANT: to avoid discoloration and drying out, the surface of the pate must not be exposed to air. The traditional way to seal it is to spread it smooth, then pour melted butter on the surface. I simply used plastic wrap, carefully pressed down to ensure there were no airspaces.
The duxelles can also be made a day or two in advance. I recommend doing so. 15 - 20 minutes total.
Add mushrooms, shallots, garlic, and thyme to a food processor and pulse until finely chopped.
Add butter and olive oil to a large saute pan and set over medium heat.
Add the shallot and mushroom mixture and saute until most of the liquid has evaporated, approx 8 - 10 minutes.
Season with salt and pepper and set aside to cool.
And now, Wonkers, it's time for the main event: We need to play with our meat! Get comfortable: this is gonna take a while. Give yourself 2 hours, plus cooking time. Step lively!
If necessary, tie the tenderloin in 4 places so it holds its shape while cooking.
Drizzle with olive oil, then season with salt and pepper and sear all over, including the ends, in a hot, heavy-based skillet lightly coated with olive oil - about 2 to 3 minutes.
Set out your prosciutto on a sheet of plastic wrap on a clean counter.
Shingle the Prosciutto so it forms a rectangle big enough to cover the entire filet of beef.
Using a rubber spatula, cover evenly with a thin layer of duxelles. Season with salt and pepper and sprinkle with fresh thyme leaves.
When the beef is seared, remove from heat, cut off twine and "butter" pate thinly over the top & sides.
Place your meat, buttered side down, in the middle of the prosciutto. Butter the rest of your beef.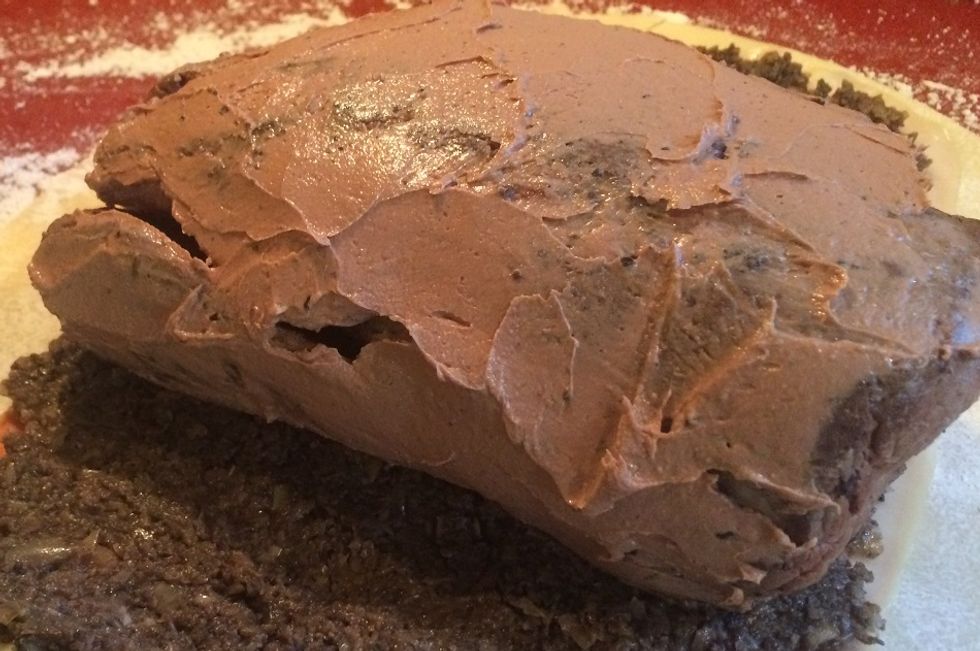 The process isn't always pretty.
Roll the tube of beef up in the duxelle-covered prosciutto, using the plastic wrap to tie it up nice and tight. Tuck in the ends of the prosciutto as you roll to completely encompass the beef.
Wrap your meat tightly in plastic wrap and twist the ends to seal it completely and hold it in a nice log shape.
Set the log of meat in the refrigerator for 30 minutes to cool and ensure it maintains its shape.
Preheat oven to 425 degrees F.
Make/roll out the piecrust.
On a lightly floured surface, roll the puff pastry 1/4-inch thick. Depending on the size of your sheets you may have to overlap 2 sheets and press them together.
Remove beef from refrigerator and cut off plastic. Set the beef in the center of the puff pastry.
Lay the pie crust over the meat-log. You do NOT need to wrap your entire log with it - trim it so it goes an inch or so down the sides.
Fold over the longer sides of the puff pastry, brushing with egg wash to seal.
Trim ends if necessary then brush with egg wash and fold over to completely seal the beef. Save ends to use as a decoration on top if desired.
Place the beef seam side down on a baking sheet.
Top with coarse sea salt.
Brush the top of the pastry with egg wash.
Make a few vents in the top of the pastry using the tip of a paring knife
Bake for 40 to 45 minutes until pastry is golden brown and beef reaches 125 degrees F.
Remove from oven and let rest ~10 minutes. Make sure everyone gets a good look!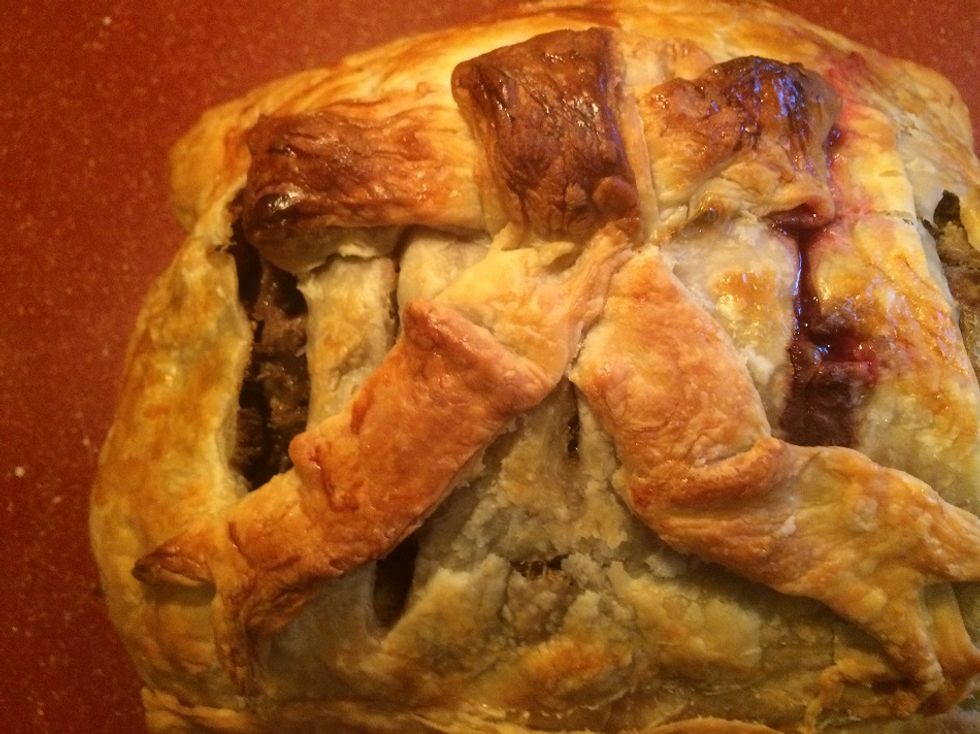 It . Was . Worth . It.
Cut into thick slices. Plate.
NOW you can drink. Accept the adulation of the table with a jauntily raised glass of Cabernet - the good stuff - a slight smile, and utterly transparent protestations that it's no big deal, and even if it was, they're worth the trouble.
So, where did things go wrong? Only in a few minor details in process, really. I neglected to wrap my meat before chilling it after searing - I made the duxelles while it was in the fridge. I also too didn't use eggwash to "glue" the puff pastry seams: you totally don't need to. My actual assembly process was clumsy. Oh, and I forgot to sprinkle the assembled Wellington with salt. And, for reasons unknown, the puff pastry fell off when I sliced it, so I used it as a bed under my steaming hot, glistening, slab of juicy beef.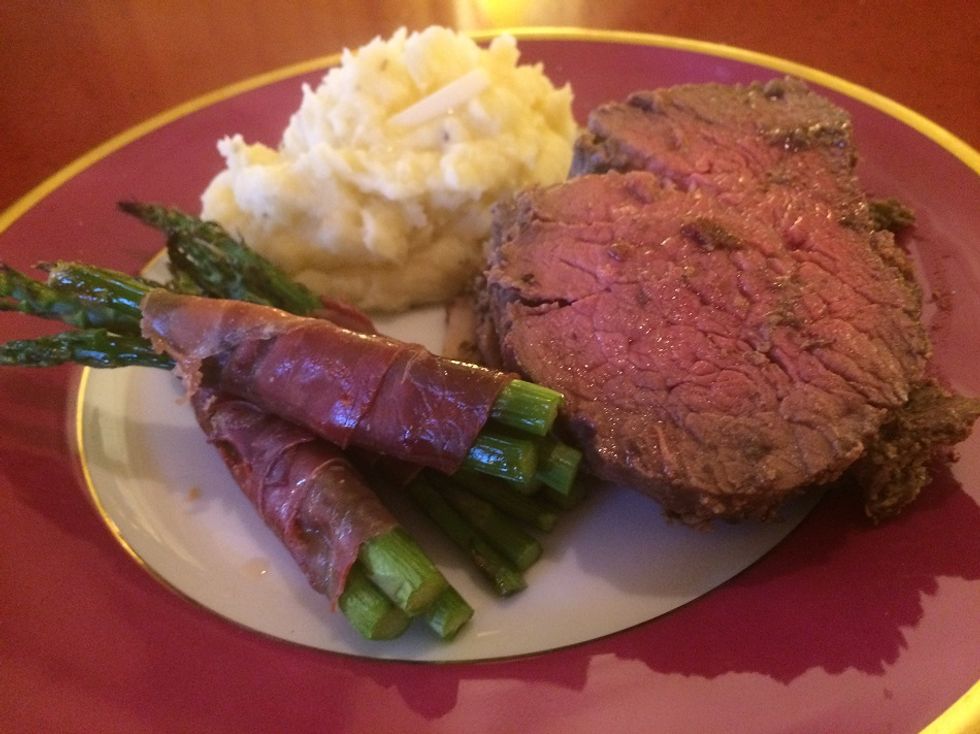 Tell the truth. You want my meat in your mouth RIGHT NOW, don't you?
The biggest problem, however, wasn't anything I did wrong. It was the pate.
While it didn't dominate the flavor of the meat, it did utterly overwhelm the duxelles, which were nearly unnoticeable. They also lingered for an exasperating length of time, leaving an aftertaste that refused to go away, even after a very thorough toothbrushing.
I do not have a "go-to" recipe for pate, so I researched many before settling on this one, which is a pretty generic one. A very large percentage include steeping the livers in milk or cream first, but I also saw numerous claims that this wasn't necessary for chicken livers, as they have a much milder flavor than goose or duck liver. Milder it may be, but "mild" it was not - at least for our palates. For those who love pate, well, use your own judgment. For my part, I will dispense with it the next time I make this dish.
*In reality, once you get past being intimidated by the multi-page list of ingredients and the seemingly endless number of steps, there isn't anything particularly difficult here. I'd say 3, maybe 4/10 difficulty level. YOU CAN DO THIS!!! Intimidation factor of 14/10, though.