Biden Promotes Eugene Vindman After Trump Sh*tbirds Tried To Bury Him
Military
March 16, 2021 02:54 PM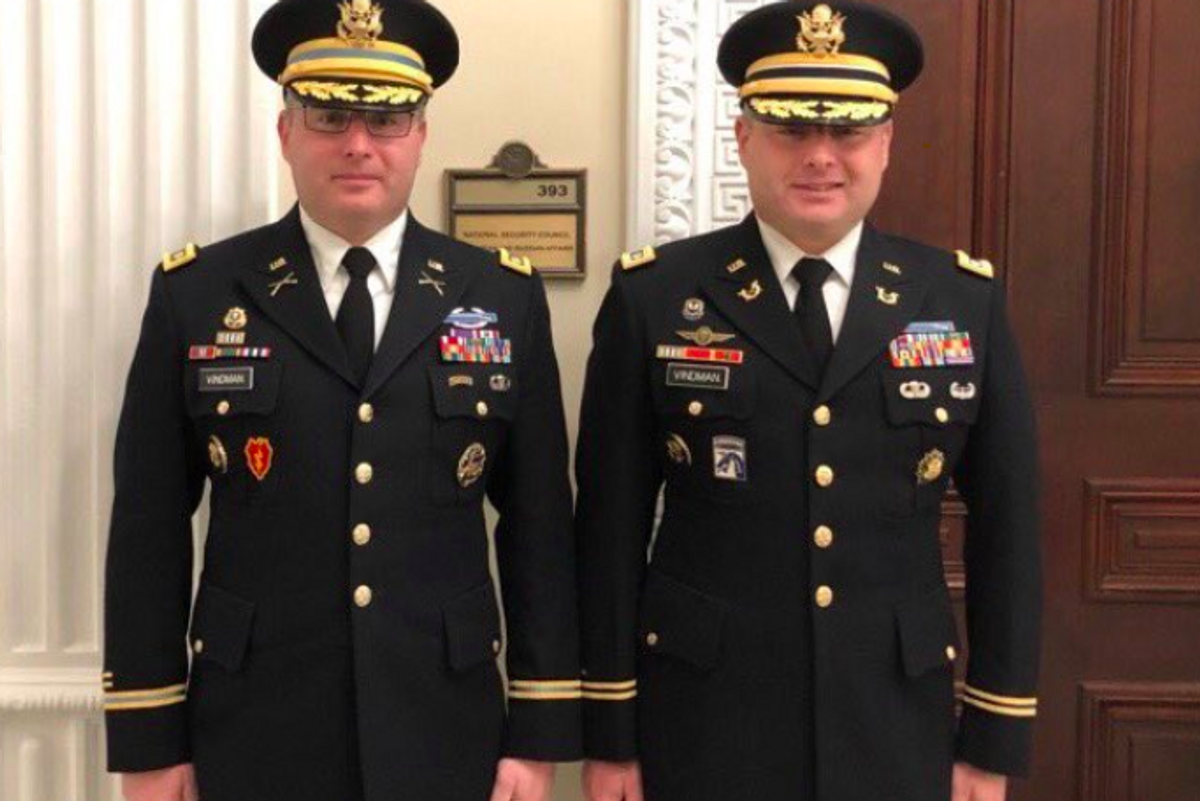 Picture via Yevgeny Vindman Twitter Profile
The Great Unfucking continues apace! Yesterday the White House approved the promotion of Lt. Col. Yevgeny "Eugene" Vindman to colonel after Trump and his lackeys tried to torpedo his career in apparent retaliation for his role in the Ukraine impeachment scandal. Which makes TWO nicetimes posts in one day! See, the earth really is healing.
On February 7, 2020, two days after Trump was acquitted in his first impeachment, Eugene and his twin brother Alexander were unceremoniously fired and escorted off the White House grounds when they showed up for work. Subtle! The brothers were among the first to raise the alarm about the former president's "perfect, perfect phone call" in which he threatened to withhold congressionally allocated defense funds if Ukraine wouldn't gin up a fake investigation into Joe Biden and his son. At the time, Eugene was a legal advisor to the National Security Council on which Alexander was the Director of European Affairs.
---
Both brothers reported their concerns to John Eisenberg, the NSC's legal advisor, only to watch their careers go up in smoke because Eisenberg was up to his ass in the Ukraine fuckery. He was the one who made sure the transcript of the call got buried on the bin Laden server; he helped Barr hide the Ukraine whistleblower complaint from Congress; and then he signed off on routing the investigation of the whistleblower's concerns through the DOJ's Criminal Division, where Barr's stooge Brian Benczkowski was only too happy to bury it again.
Clearly he wasn't going to help the Vindman brothers. But he went one step further and tried to fuck them, according to a whistleblower complaint filed by Eugene in August. Lt. Col. Vindman says that in his capacity as the chief ethics advisor to the NSC, he went to Eisenberg with multiple allegations of impropriety by then National Security Advisor Robert O'Brien. O'Brien is alleged to have "engaged in demeaning and demoralizing sexist behavior against … female NSC professionals," forced staff to complete personal errands for him, and granted preferential access to business interests by mislabeling the meetings as "social calls."
After which Eisenberg allegedly told Vindman to back off and mind his own business. Vindman responded that it was unethical for O'Brien to take a taxpayer-funded trip with his wife to address his daughter's ROTC group at Brigham Young University, and that of course it was Vindman's business because he was the bloody ethics lawyer for the NSC.
Here's Eisenberg's performance evaluation of Vindman in 2019.
Yev is a top 1% military attorney and officer and the best LTC with whom I have ever worked. Functioning at the executive level, he advises White House senior staff with skill, tact, and judgment on matters of geostrategic importance. Sought by White House staff regularly, he can do any job in the legal field under unusual and constant pressure and scrutiny. Select now for SSC [Senior Service College] and promote immediately to COL [Colonel]. Absolutely unlimited potential!
And here's what he wrote in 2020, with the help of Michael Ellis, the former Devin Nunes aide who was all the way up the ass of every bit of Russia-Ukraine filth for the entire four years of the Trump administration.
Over time, LTC [Y.] Vindman displayed increasingly poor judgment and failed to learn from his mistakes. On multiple occasions, his unprofessional demeanor made NSC staff feel uncomfortable. Despite express guidance from his supervisor, he continued to add himself to meetings with senior NSC staff where he did not add value. LTC [Y.] Vindman's substandard performance—his lack of judgment, failure to communicate well with his superiors, and inability to differentiate between legal and policy decisions—caused him to lose the trust of NSC senior leadership. … With additional counseling and experience, LTC [Y.] Vindman's performance may improve. He would benefit from additional experience in a slower paced work environment subject to less pressure and scrutiny. In time, he may become a better attorney.
Oh, did poor Robert O'Brien feel "uncomfortable" when someone pointed out that misuse of government resources is both unethical and illegal? How sad!
Politico, which broke the story of Vindman's promotion, reports that the Army "conducted an investigation and found the evaluations to not be objective ... leading to the evaluations being deleted and never making it into the official records for the promotions board to consider" according to two sources. (Lordy, it's like Purim and Passover rolled into one.)
So Vindman's name was on a list of promotions headed to the Senate for approval. Unfortunately, the honor comes too late for his brother, who retired from the military last summer after Sen. Tammy Duckworth threatened to hold up all promotions above lieutenant colonel if Secretary of Defense Mark Esper wouldn't assure her in writing that the White House hadn't intervened to keep Alex Vindman, a Purple Heart recipient with shrapnel in his body from an IED attack in Iraq, off the list — an assurance she never got.
@AVindman's turn to get his Eagles. Perhaps someone can sponsor a bill?

— Yevgeny (Eugene) Vindman (@Yevgeny (Eugene) Vindman) 1615895686.0
"I am deeply grateful for the trust and confidence the U.S. Army and Judge Advocate Generals Corps have placed in me with selection to promotion to Colonel," Vindman said in a statement released through his lawyer Mark Zaid. "They stood their ground despite intense pressure during the last Administration. I look forward to continuing my service to the U.S. Army and the Nation in positions of increasing responsibility."
Because here right matters. Eventually.
[Politico]

Follow Liz Dye on Twitter RIGHT HERE!
Liz Dye
Liz Dye lives in Baltimore with her wonderful husband and a houseful of teenagers. When she isn't being mad about a thing on the internet, she's hiding in plain sight in the carpool line. She's the one wearing yoga pants glaring at her phone.