Biden DOJ Shielding Trump From Rape-Defamation Suit, So That's A F*cking Bummer!
justice department
June 08, 2021 11:44 AM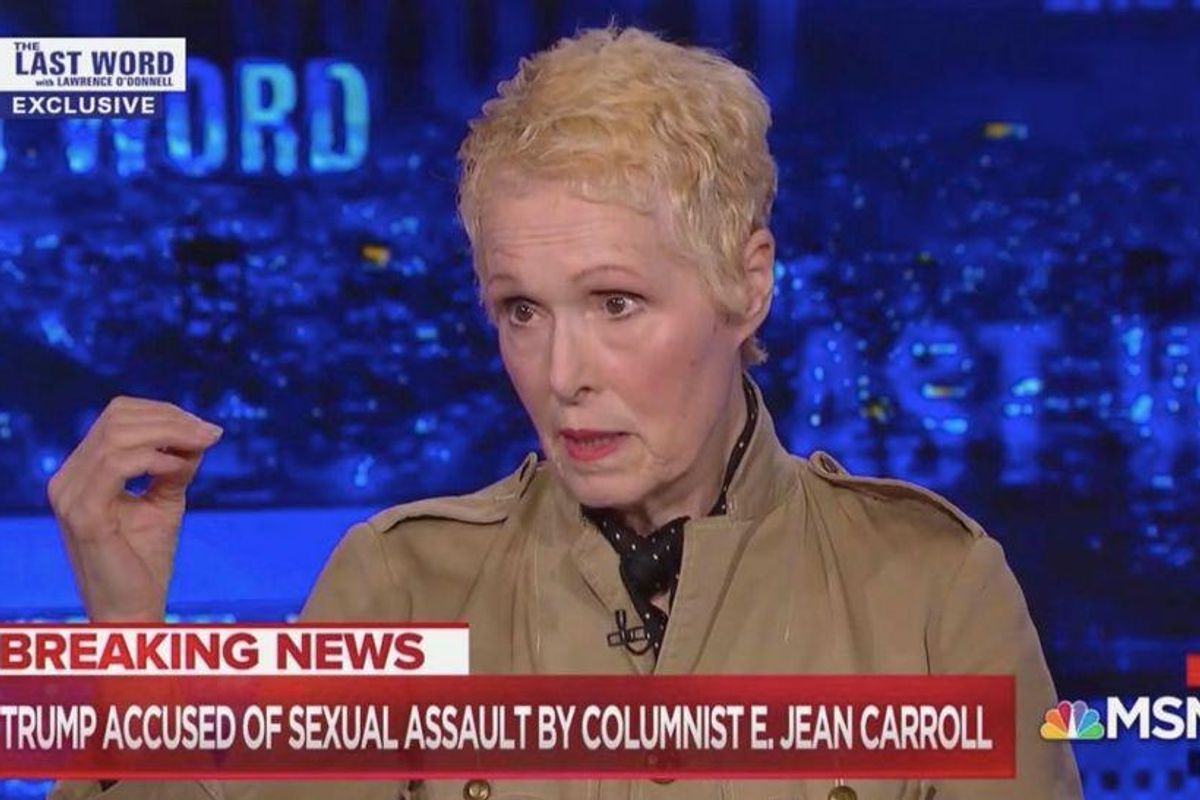 Hard cases make bad law, and the case of E. Jean Carroll v. Donald J. Trump is a really hard one.
Because it's clear that Trump was not acting in his presidential capacity when he denied sexually assaulting Carroll in a Bergdorf Goodman's dressing room in the mid-'90s. Whose job description includes saying a woman is too ugly to rape, right? And the disputed evidence here isn't housed in the National Archives — it's literally in Donald Trump's body, since Carroll has been seeking a DNA sample to compare to male genetic material found on the dress she wore the day of the assault.
And it's clear that the Justice Department abetted Trump's abuse of legal process to evade Carroll's defamation suit against Trump for calling her a liar. Then-Attorney General Bill Barr watched Trump bob and weave in New York state court, ducking service and making spurious arguments about executive immunity, only swooping in to substitute the federal government as defendant when the president finally ran out of legal road and was going to have to submit to a cheek swab.
---
But if Uncle Sam is the "real" defendant here, then this case disappears. Because the government only waives its sovereign immunity for a specific set of claims, and defamation isn't one of them.
US District Judge Lewis Kaplan ruled in October that Trump wasn't an employee for purposes of the Federal Tort Claims Act, and even if he were such an employee, that his conduct would have been outside the scope of his employment. Which meant that the DOJ was out and Trump was back on the docket as the named defendant.
But then Barr and that treasonweasel Jeffrey Bossert Clark did Trump another solid by appealing Judge Kaplan's ruling to the Second Circuit, committing the DOJ to carry on with the assertion that the sitting president has the right to defame his constituents at will. Which seems like a whole lot of work to make sure no one ever gets to compare Trump's DNA to whatever's on that dress, so make of that one what you will.
All of which brings us to yesterday, when the Biden Justice Department filed its own brief in support of the assertion that Trump was acting in his official capacity as a government employee when he called Carroll a liar.
"The government does not dispute that many of the statements alleged in the complaint were unwarranted and disrespectful. But that is not the relevant inquiry," it reads. As it did at the trial court, the DOJ argues that Trump was a government employee and that "[s]peaking to the public and the press on matters of public concern is undoubtedly part of an elected official's job."
And as he did at the trial court, Trump's personal lawyer Marc Kasowitz argues much the same, albeit in his signature snarling, ad hominem style.
But Carroll's lawyer Roberta Kaplan isn't pulling any punches either.
"It is horrific that Donald Trump raped E. Jean Carroll in a New York City department store many years ago," she said. "But it is truly shocking that the current Department of Justice would allow Donald Trump to get away with lying about it, thereby depriving our client of her day in court. The DOJ's position is not only legally wrong, it is morally wrong since it would give federal officials free license to cover up private sexual misconduct by publicly brutalizing any woman who has the courage to come forward."
And she's right. And also ... two things can both be true.
Because we all screamed bloody murder when the Trump Justice Department switched its position on the legality of the Affordable Care Act in 2018, insisting that the entire law must fall if one provision was ruled illegal.
"How many times this term already have you flipped positions from prior administrations?" Justice Sonia Sotomayor demanded during oral argument that February on a different case regarding public employee unions. Because the Justice Department and judges themselves are supposed to be in the business of making apolitical interpretations of law which shouldn't change every time there's a new administration. (We can argue about the merits of this quasi-fictional standard another time, I'm just splaining you how we got here.)
But the Trump administration did it all the time — it's just another norm they shredded. So if you were a person charged with restoring norms to the Department — if you were, say, Merrick Garland, brought in to get the house in order after four years of chaos — you'd probably say that it's more important for the DOJ to quit see-sawing back and forth than for Jean Carroll to get her DNA sample.
But even more than that, the Justice Department is part of the executive branch, and it will always take the side of the executive and his officers. It's the same reason they fought the McGahn subpoena, because AG Garland would rather protect a partisan hack like Don McGahn than concede that future White House officials are subject to congressional subpoena. And if you're waiting for any president of any party to voluntarily cede powers and privileges of his or her office, you will wait forever.
So here we are, with the Justice Department making a "principled argument" which will necessarily result in a gross miscarriage of justice. Someone is going to have to lose, and considering that this case is likely headed for the Supreme Court, we can probably all guess who that someone is.
Let's give E. Jean Carroll, a true hero who has taken more than her fair share of slings and arrows over the past three years, the last word here.
"As women across the country are standing up and holding men accountable for assault — the DOJ is trying to stop me from having that same right. I am angry! I am offended!" she said yesterday.
Honey, same.
[Politico]
Follow Liz Dye on Twitter!

Click the widget to keep your Wonkette ad-free and feisty. And if you're ordering from Amazon, use this link, because reasons.
Liz Dye
Liz Dye lives in Baltimore with her wonderful husband and a houseful of teenagers. When she isn't being mad about a thing on the internet, she's hiding in plain sight in the carpool line. She's the one wearing yoga pants glaring at her phone.