Bill Cosby Got Quaaludes For His Sore Vagina, To Sex Ladies In Their 'Rejection' Holes
Featured
July 24, 2015 01:00 PM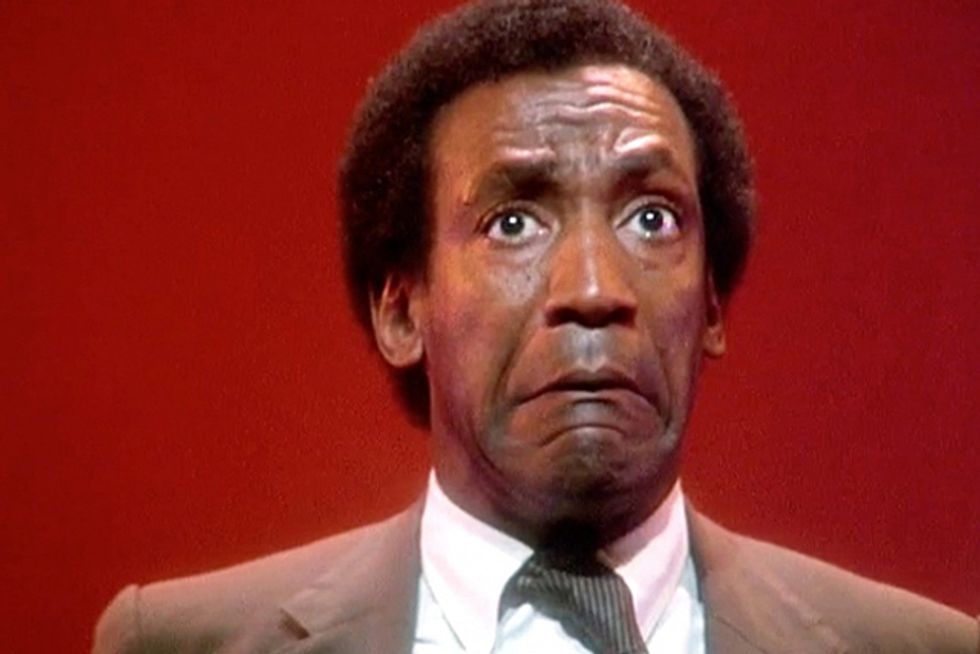 We already know that Bill Cosby put the rape drugs in the women, to do sex to them, because he told us. Here is a new gross factoid, though: He got those prescriptions for Quaaludes from a gynecologist. For those of you who are not a scientist, that's a ladyparts doctor. For ladyparts. WEIRD.
---
Hollywood gyno Dr. Leroy Amar apparently had quite the reputation for "providing pills under questionable circumstances," and was disciplined in several states, several times, and even had his license revoked. So of course he had no problem diagnosing Cosby with a sore vagina back, and giving him all the drugs, for his "pain":
"Did he know when he gave you those prescriptions that you had no intention of taking them?" a lawyer asked Cosby in the 2005 deposition.

"Yes," the entertainer replied.
What did Cosby want those drugs for again? Not to take them himself, because they would make him sleepy. No, he wanted to put them in the ladies, so they would get sleepy, and then he could touch them in their "question zones" and "permission and rejection" holes:
At one point, he seems to map a woman's body, as if he were a sexual cartographer, speaking of the "question zone" (her stomach, just above the top of her pants) and a place "somewhere between permission and rejection" (between her legs).
But it's not like he was always putting his penis inside of them, because that would be wrong! No, wait, that's not why. It's because they would fall in love with him too much:
The act of the penile entrance is something that I feel the woman will succumb to more of a romance and more of a feeling, not love, but it's deeper than a playful situation.
But where does it say you can't offer your prescription drugs to a lady, so you can sex her, huh? That's what one of Cosby's attorneys, Monique Pressley, claimed this week on CNN:
And what you're discussing is not a crime for a person to offer a substance in a consensual relationship to a person with knowledge and for them to choose to accept it is not criminal. It isn't even news, actually.
Well, ACTUALLY, Ms. Monique Pressley Esquire Attorney At Law, it sort of is a crime because selling or distributing prescription medication is illegal, unless you are a doctor -- and no, being a pretend doctor on the TV does not count. But Bill Cosby knew that, even if his lawyer doesn't:
"Did you believe at that time that it was illegal for you to dispense those drugs?"

"Yes," Cosby answered.
So, to recap: Bill Cosby went to a known shady twat doc, for the purpose of obtaining disco biscuits to give to the ladies, which he knew at the time was illegal, so he could make them sleepy and then do sex things to their "zones." Cosby and his attorneys are saying those ladies totally wanted it, oh yeah, and he knew that for a fact because he is "a pretty decent reader of people and their emotions in these romantic sexual things, whatever you want to call them" -- even though when asked if one of the women accusing him of rape was even in a position to give consent, he said, "I DON'T KNOW."
FYI and pro tip: If you don't know if a lady is in a position to consent, that means she's not, and if you fuck her anyway, you are a rapist.
[contextly_sidebar id="zEARBNwg3OsIhrQQVidJixDNvBfxcd8h"]
We have all these admissions out of Bill Cosby's own facehole, and the faceholes of his attorneys who say that they "are speaking for him" and when they say he did not do all the raping, "then that is the statement of Bill Cosby." And yet somehow, Team Cosby is still insisting he did nothing wrong or illegal, and allllllllll those dozens of ladies who say he raped them are just a bunch of lying liar attention whores who just want to ruin his good name. Yeah, sure.