Bite This Man And This Woman: Croque Monsieur and Croque Madame For Lunch
Recipe Hub
September 22, 2014 11:35 AM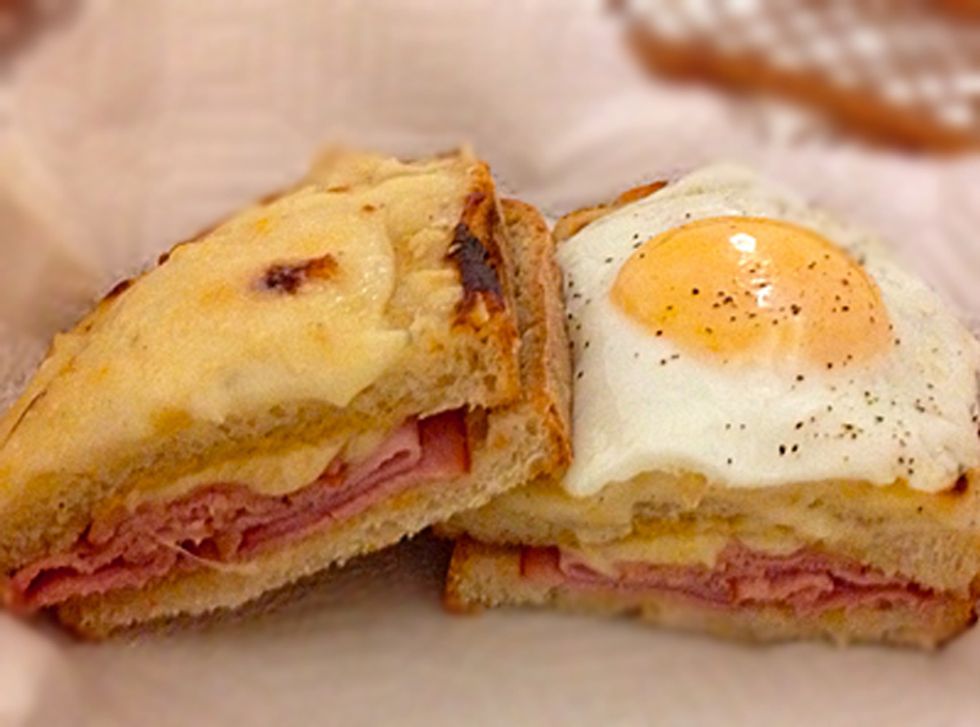 Do you ever feel like biting somebody? That is so funny, because I do too, and I am starving! Let's bite people in French and eat fancy ham and cheese sandwiches smothered in cheese sauce together!
---
Croque Monsieur and Croque Madame literally translates as "bite a man and bite a woman." Croque Monsieur is a toasty ham and cheese sandwich with cheese sauce broiled over the top. Croque Madame is all of that, PLUS a fried egg spilling warm yolk all over everything. Each beast is saucy; one is saucier than the rest. You should make and prepare these recipes with a fake French accent ("oui"), or Québécois at a minimum ("whai"). Eat them after a night of drinking, the next morning, or whenever you feel like you need some ham and cheese.
Do not allow the directions to make you feel like, "OMG, I am never." They're just sandwiches, and they're delicious! Once you get going, it ain't nothing but a thing! French people eat these sandwiches frequently and never get fat. All that drinking, biting, and walking home is good for you, I promise. There is even a song for these sandwiches.
Ingredients
Let's make the sauce first. Grate the cheese and set some aside (to sprinkle inside the sandwich and on top of the sauce). Put a lid on the sauce when you're done, and remove it from the heat.
2 tbs. of flour
2 tbs. unsalted butter
1 1/2 c. milk, warmed in the nuker
8 oz. Gruyere cheese, grated, 3 oz. set aside
1/4 c. Parmesan cheese, grated
1 bay leaf
Nutmeg, a sprinkling
Melt the butter in a sauce pan, add the flour, whisk until you have a sturdy roux, then pour in the hot milk. Add the bay leaf and nutmeg, and season. Stir continuously until the mixture thickens -- about three minutes.
Add 5 ounces of Gruyere and the Parmesan, lower the heat, and keep stirring until the cheese is melted and the sauce is smooth. Remove from heat, cover, and set aside.
Heat the broiler to about 425º and let's get this Cirque du Sammich under a tent.
8 slices of crusty bread
2 tbs. melted butter, unsalted
Dijon mustard
1/2 lb. Virginia ham (or Black Forest)
3 oz. Gruyere Cheese, grated
Fried eggs, sunny side up (optional)
Brush the bread ever so gently with melted butter, both sides, and toast lightly under the broiler for two minutes per side. Remove the bread from the oven and assemble the sandwiches by spreading Dijon, rolled ham, and a sprinkling of cheese, and top with the other slice of bread. Every sandwich in this operation wears a hat.
Spread generous amounts of sauce over the tops of each sandwich. Don't be stingy - keep spreading the thick stuff until your mouth waters, and then have a bite of sauce from the spoon. Sprinkle the sandwiches with a little more cheese and place under the broiler until it's bubbly and brown, about 5-7 minutes. Remove from the oven.
While the sandwiches are broiling on top, you need to decide if you are going for the delicious Monsieur or the decadent fried egg Madame. Have both! Cut the sandwich in half: one half for mister, and one half for the lady. Mister loves to be dipped in soup, but the lady doesn't need anything but what we gave her. Best of both worlds. Do consider. Enjoy!