Ooh, A Fancy Tropical Umbrella Drink! Try This Blue Aloha!
Recipe Hub
June 25, 2021 04:15 PM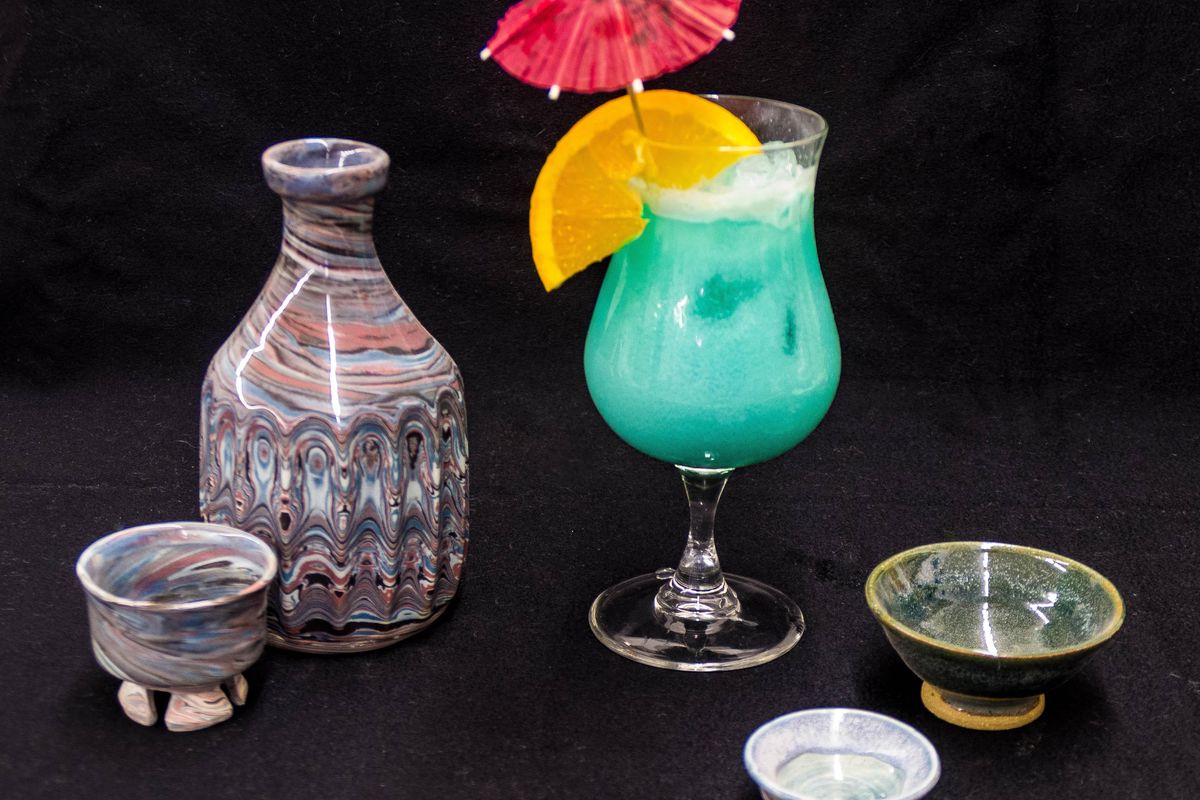 Photo: Richard Mandel
Greetings, Wonketteers! I'm Hooper, your bartender. This week, I assembled a tasting committee to try out multiple versions of a cute, innocent poolside sipper. After a lot of drinks, we tossed out all the existing recipes for a cocktail called the "Blue Aloha" and wrote a brand new one that's even better! Also, I can't feel my toes! Let's go to the recipe!
---
Blue Aloha
4 oz pineapple juice
2 oz light rum
1 oz house crème de coconut
½ oz fresh lime juice
½ oz simple syrup
¼ oz orange blossom water
2 drops blue food coloring
Shake all ingredients and pour over ice into a hurricane glass. Garnish with a half orange wheel and a paper umbrella.
So this one started life as a drink called the Blue Hawaii. Harry Yee, the king of tropical cocktails, poured the first one in 1957. He created it to help sell Bols Blue Curaçao, a shockingly blue, citrus-flavored liqueur. (He owed the sales rep a favor.) After Harry's balanced masterpiece came out, the drink was tinkered with repeatedly. The best versions put coconut flavors front and center; the worst were just blue piña coladas.
I poured multiple versions of this drink for some friends -- the 1957 classic, some later versions, even the current version I serve at the bar. By the end of the drink-o-rama, we all had blue lips, fuzzy tongues, and a profound love of our fellow man. We also had a consensus: my own non-alcoholic version of Harry's cocktail was the best. "Just add some rum and it'll be great", was the general opinion. So, with a respectful bow to Mr. Yee, I present this all-new version of the classic. Hope you like it. On to the ingredients!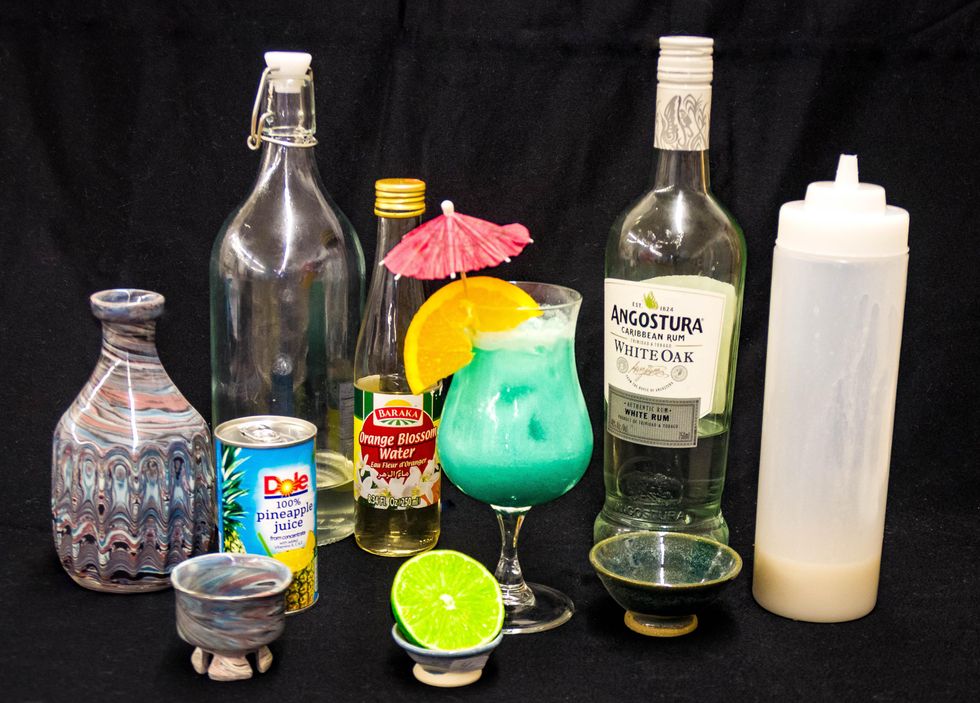 Ingredient shot. You can tell by the bottles that we did a LOT of testing. Photo: Richard Mandel
Pineapple Juice: The backbone of all tasty poolside drinks. I'm not picky; I use Dole.
Light Rum: There's a lot of smooth, charcoal-filtered rum out there that's only one step away from vodka. I'm using Angostura White Oak for this version, but Bacardi White would do just fine. Avoid Malibu at all costs – it's corn syrup and artificial coconut flavor, and only has a passing acquaintance with actual rum.
House Crème de Coconut: To make crème de coconut from scratch, mix one can of coconut milk and 1¾ cups sugar over low heat on the stove top. Stir until the sugar melts and it turns an off-white color.
Fresh Lime Juice: Fresh limes are getting pricey, but the bottled stuff just isn't the same. I know it's tempting to squeeze those limes for every drop of juice, but try to be gentle – squeeze too hard and the bitterness of the pith will carry over into the cocktail.
Simple Syrup: 1 cup sugar, 1 cup water, heat until the sugar melts and it's clear. Equal parts fresh lime and simple syrup are a great replacement for "sour mix" in a lot of recipes.
Orange Blossom Water: This stuff is amazing. Use a very gentle hand on this -- too much and the drink tastes bitter and soapy. But a tiny bit is pure magic. Orange blossom water adds complex floral and citrus notes to the cocktail. Blue curaçao tastes bland and sugary in comparison. It feels weird to make a Blue Hawaii without the ingredient that spawned the drink, but in the end it's worth the heresy. Buy it at your local Mediterranean market. It's cheap on Amazon too.

Blue Food Coloring: You don't need to put this in the drink. It doesn't alter the flavor at all. But it is, quite honestly, a ton of fun, and the blue color is what makes the drink special. It is possible to make an all-natural dark blue food coloring, but I went with the artificial stuff this time around – boiling red cabbage was a bridge to far in the name of creating a tasty cocktail, and let's be honest, artificial blue coloring has been a part of this drink since its inception.
Paper Umbrella Garnish: Harry Yee was the first man to put a tiny paper umbrella into a cocktail, and for that stroke of brilliance I am declaring the umbrella garnish mandatory. Do not make this drink without the paper umbrella. It just wouldn't be the same.

You can easily make a non-alcoholic version of this; in fact, I ended up writing the "clean" version of this drink first. Just skip the rum and it'll be great – my tasting panel confirmed it.
In summary and conclusion, please tip your bartender and donate to Wonkette! Yr Editrix will thank you!
Also, if you feel inspired by this post to restock your home bar, use this link to shop at Amazon for cocktail shakers or orange blossom water or little paper umbrellas!
Drink well, drink often, drink with a friend!
OPEN THREAD, TO THE WEEKEND AND BEYOND!
Matthew Hooper
Matthew Hooper, aka Samurai Grog, turned 50 in 2021 and decided to have a midlife crisis by leaving a boring sales and marketing job to tend bar at the local country club. He's never been happier. He's also a fencer, a dad, a husband, and a punk music fan. Overall, he's way cooler than he ever thought he could be when he was 16.