Blue Wave Of Handsomeness Might Wipe Out Texas Republicans
News
July 27, 2018 12:08 PM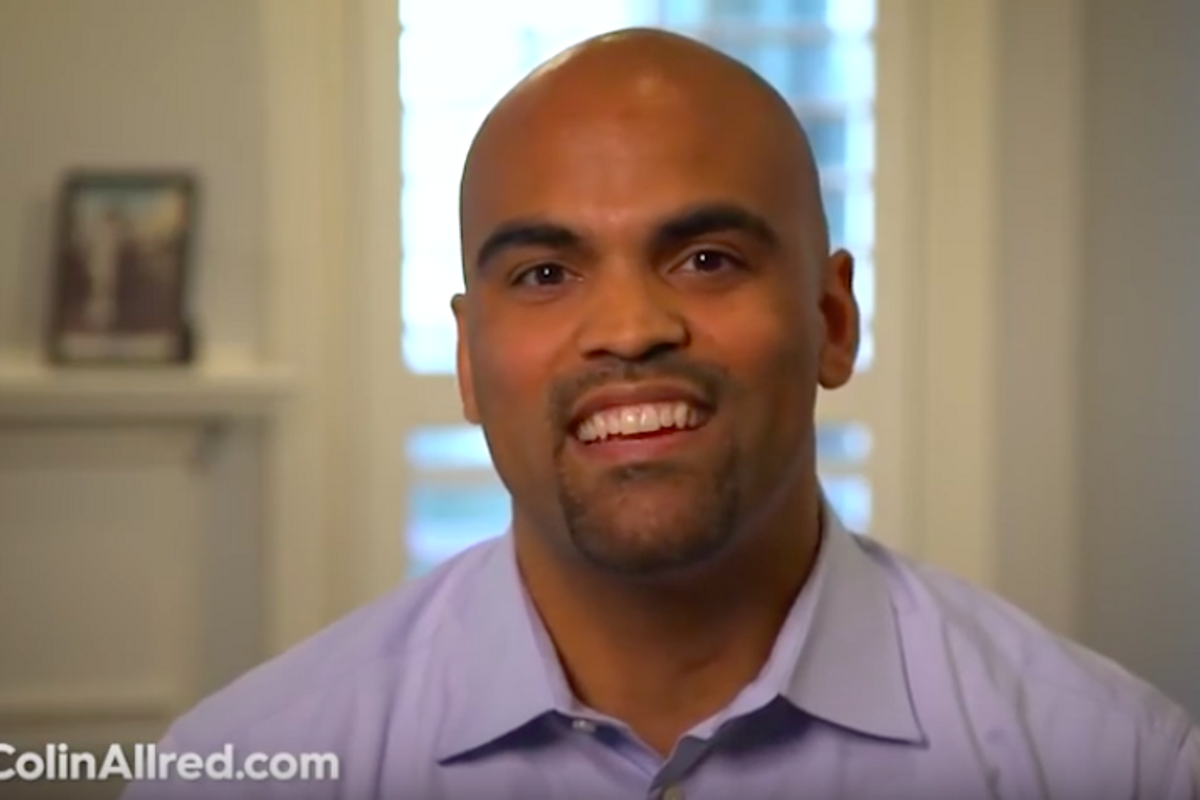 Donald Trump's approval rankings are tanking at perhaps the worst time for Republicans who want to keep their jobs protecting the president from accountability for his extracurricular treason activities. Even Republicans in deep-red Texas are feeling pressure.
The man who engineered the 2010 Republican takeover of the House is racing to save himself in his own election this year — and he admits, in so many words, that President Donald Trump isn't helping.

Texas Rep. Pete Sessions, a longtime party leader and former House GOP campaign chief, is confronting a treacherous political landscape back at home — a well-funded Democratic opponent with a boffo résumé, a rapidly diversifying and more liberal district, and, perhaps most critically, a constituency of well-educated and upper-income suburban voters who increasingly are turning on the president.
Sessions represents a North Dallas district that narrowly broke for Hillary Clinton in 2016, and Democrats are going in for the kill. A super PAC aligned with Minority Leader Nancy Pelosi, who as you'll recall is "very good" at what she does, plans to spend $2 million in TV ads to help crush Sessions at the polls in November. Cue the revenge theme music from Kill Bill.
---
I'm sure if someone carefully explained to Trump that Pete Sessions isn't Jeff Sessions, whom he loathes, Trump would happily fly down to Dallas to help out the congressman with one of his rallies that, if nothing else, makes Trump feel better about himself. However, Sessions is uncertain how successful his reelection campaign might be if he reminds people in his suburban district that he knows Trump.
"I don't think there's any question that from time to time the president's numbers are not where I'd like them to be," Sessions said, before adding that voters would distinguish him and other Texas Republicans on the 2018 ballot from Trump.
This is probably why Trump should hold a rally for Sessions. He'd explain how his numbers are the best ever. Are you going to believe what you "see or read" or what "your favorite president" tells you? Voters trusting their eyes might prove fatal to Sessions because his Democratic challenger Colin Allred is, bluntly put, a stunning specimen of manhood. The former NFL linebacker is now an accomplished civil rights attorney but really, just look at the guy. I'm already researching voodoo rituals that will allow me to swap bodies with him. I'd probably need to acquire a personal item, though, like his tie or something. I haven't really thought it through. I just want his youth and strength.
The Cook Political declares the race a tossup. Straight ticket voting could save Sessions, but even some Republicans are starting to believe that a true congressional "check" on Trump is necessary.
I'm also interested in the upcoming Texas Senate race because it offers a wonderful opportunity to rid ourselves of Ted Cruz. Democrat Beto O'Rourke seemed a long shot to remove Cruz in November, and Real Clear Politics still lists the seat as "leans Republican." However, something on the ground must have shaken the Cruz campaign, which has gone from mostly ignoring O'Rourke's request for six debates to now suggesting five on major topics in which Cruz smugly believes himself an expert.
Cruz strategist Jeff Roe sent a letter Wednesday to O'Rourke, an El Paso congressman, proposing the following debate schedule:

Aug. 31 in Dallas on "Jobs/Taxes/Federal Regulations/National Economy"
Sept. 14 in McAllen on "Immigration/Border Security/Criminal Justice/Supreme Court"
Sept. 21 in San Antonio on "Foreign Policy/National Security"
Oct. 5 in Houston on "Energy/Trade/Texas Economy"
Oct. 12 in Lubbock on "Healthcare/Obamacare"

Roe said the debates would all take place on Friday evenings "because the Senate is expected to be in session during that time." The debates would each be an hour long and vary in format — some would be town hall-style, while others would feature the two candidates seated or standing at podiums.
The strategy here, I guess, is for the Nixonian Cruz to share a stage with the JFK-esque O'Rourke for televised debates. Cruz thinks his very own "Friday Night Lights" should keep him ahead in this tightening race. That seems as well considered as my Freaky Friday plans for Allred.
O'Rourke raised $10.6 million in just three months, erasing Cruz's financial edge. Cruz, who managed just $4.6 million in the same period, dismissed O'Rourke's haul as just "Hollywood, northeast liberal" money, which unfortunately for Cruz is still legal tender that can pay for impressive ads like the one O'Rourke released this week. Called "Showing Up," it features O'Rourke traveling to every county in Texas and talking to people with the ease that comes from not being an alien lizard person in an ill-fitting human suit. Cruz still has more name recognition in Texas but that just means more Texans realize he's Ted Cruz.
I confess that during the GOP primary, I greatly enjoyed watching Trump humiliate Cruz repeatedly. Witnessing another Cruz concession speech while I'm test driving my stolen Colin Allred body would be a dream come true. But I shouldn't get my hopes up. Cruz might yet slither to victory. We won't know it's really over until he names Carly Fiorina his Vice Senator.
You love Wonkette very much, yes? Please DONATE some of your Hollywood, northeast liberal money to us.
Stephen Robinson
Stephen Robinson is a writer and social kibbitzer based in Portland, Oregon. He writes make believe for Cafe Nordo, an immersive theatre space in Seattle. Once, he wrote a novel called "Mahogany Slade," which you should read or at least buy. He's also on the board of the Portland Playhouse theatre. His son describes him as a "play typer guy."