Bob Schieffer Hosts Insane Karaoke Night For Boozed-Up Media Shills
News
October 07, 2010 08:40 AM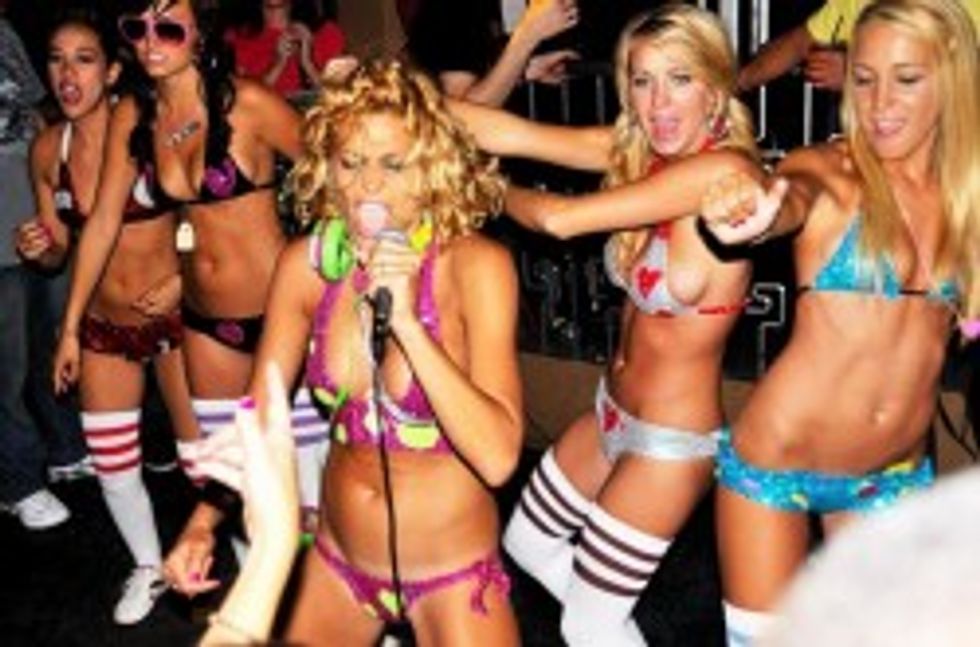 Washington's most depraved Media Elitists gathered together last night for Karaoke in the Capital, which was hosted by Bob Schieffer and also raised money for a Good Cause. Wonkabout Princess Arielle Fleisher and Videographer/Sweaty Yoga Studio Owner Liz Glover dressed up like Delaware Sex Witches and your Riley Waggaman was coerced into donning the attire of a meatball eatin' Hare Krishna -- together we sang Christine's favorite masturbation ballad, "I Touch Myself." Anyway, what happened? Your Wonkette received a strange microphone/reindeer-dildo-shaped trophy for "Best Worst Performance," but it's Karaoke so doesn't this mean we WON (in Afghanistan)? But is there insane video of Riley Waggaman dancing feverishly with random but attractive middle-aged ladies, who just started grinding up on him for no reason whatsoever?
---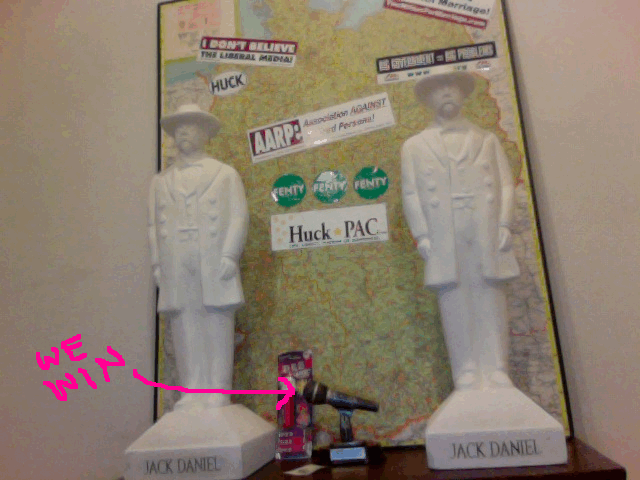 But first: Here is our Christine O'Donnell Dildo Shrine, which now includes our awesome Bob Schieffer Karaoke Medallion. Shrine Key: That's a map of Germany, and the Jack Daniel statutes were borrowed (forever) from a Make Jack Daniel's Birthday a National Holiday/Alcohol Lobby party, which was catered by genuine Tennessee ladies with large boobs. It's a long and odd story.
Anyway, where is this incriminating video footage of Team Wonkette dressed up like Christine O'Donnell Dabbling-Fads and singing songs about touching yourself? Uh, we don't have it! Not yet. Apparently someone stole Liz Glover's expensive camera (we are not even joking). But hopefully it will turn up? Because otherwise this would be a tragic way to end what was truly an insane night. But everything we have said so far is true -- even the part about the middle-aged women dry humping your young, virginal Correspondent.
Oh and also: As we exited, Luke Russert said something dumb and vaguely flirtatious to Liz Glover, which probably means he wants to tell Liz "the news," naked. (What we are trying to say is: Luke Russert wants to make sweet, sweet sex with Liz Glover.)
If you were "there" could you maybe send us your hawt pics? Thank you so much in advance! Stay tuned.