Bobby Jindal Will Talk Gun Violence, Soon As He's Done Giving The NRA This Rimjob
Featured
July 27, 2015 10:00 AM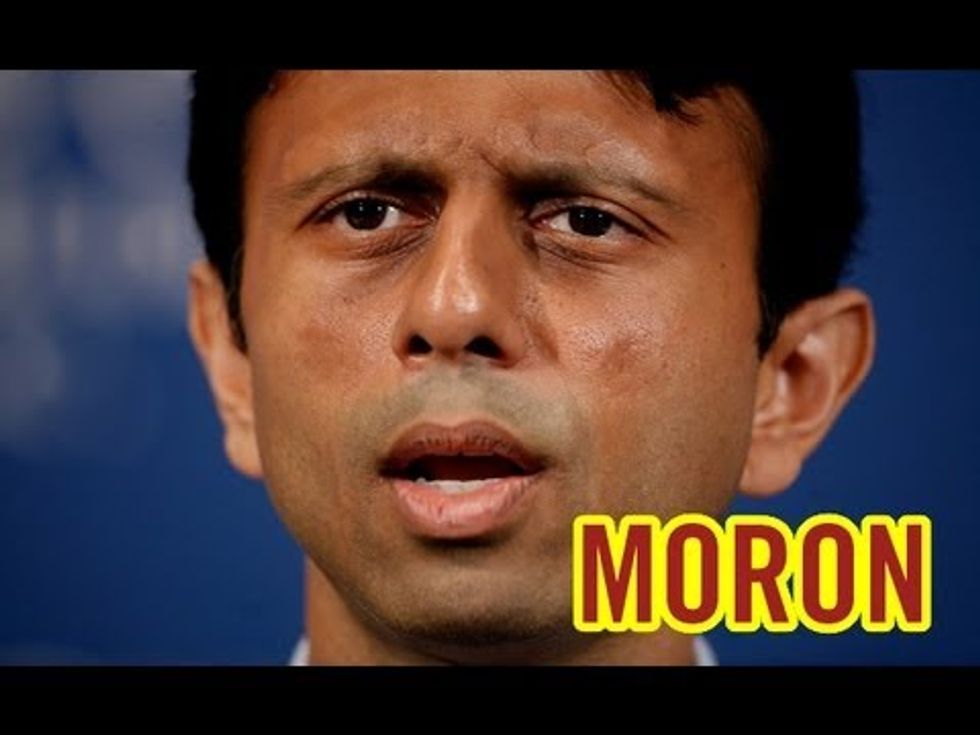 Bobby Jindal, craven asshole:
---
Despite the fact that John Russell Houser had a long history of mental illness and arrests but was able to legally purchase a .40 caliber semi-automatic handgun at a pawn shop, Governor Bobby Jindal repeatedly told reporters he would not talk about gun control.

Asked what, "as a leader" he would support to make it tougher for people with mental illness to gain access to guns, Gov. Jindal said, "there's a right time and place to have that conversation," but lambasted reporters at the late Friday afternoon press conference outside the crime scene, saying, "we're less than 24 hours out."

He pointed to the families of the dead "that need to bury their loved ones," and other families "praying for" the full recoveries of loved ones in the hospital.

Jindal insisted that "now is the time to focus on those victims."
The timing! Now of course, it's possible that those victims' families might want to talk about these issues too, as the profiles we've read of the victims lead us to believe that we've lost two of Louisiana's finest, who were murdered at an Amy Schumer movie film, with a gun, by an insane right wing Hitler-lover, whose online comments are indistinguishable from pretty much any other comment left by a wingnut on Wonkette or any other intertubes blog site.
[contextly_sidebar id="j9s054R6T1ZN3Wu3CeOEowmyE2mcflt2"]
And yes, Houser was able to easily buy a gun from a pawn shop, just like we could go get a gun from a pawn shop, or wherever else right now, if we were so inclined. Of course, we don't have that inclination because:
1. We are not a hunter. Not that there's anything wrong with being a hunter! (Seriously.)
2. We are not a pussy who imagines at any time there are six million hooligans trying to break into our house and murder us.
3. We're not an old, resentful, hateful white man who feels the need to murder people at the Amy Schumer movie film.
But John Russell Houser had that inclination! And getting a gun in this country is THE EASIEST. Just show your ID to prove that you exist, and you'll be Yosemite Samming faster than you can say "Sandy Hook."
Say more shit, Louisiana governor who thinks he can be president LOL:
"There will be an absolute appropriate time for us to talk about policies and politics, and I'm sure folks will want to score political points off this tragedy as they've tried to do off previous tragedies," Jindal chastised. "Let's focus on these families."
Uh huh. Say another stupid:
"I'm happy to talk about this but not here, not now. Now is the time to grieve, mourn, come together and show Lafayette's resilient and we can get through this," the two-term Louisiana governor insisted. "I'm not shy of providing my opinions on any topic, but right now let's actually focus."
Lafayette is the best at getting through mass shootings. Lafayette is Louisiana Jindal Strong, and will rise above all those other mass shooting cities, like Aurora and Newtown and Chattanooga and Charleston and Suffolk and Columbus and Cincinnati and Cleveland and Fort Wayne and Memphis and ... no, seriously, there is an online tracker for this shit, and if you live in an American city that has humans in it, your hometown is probably featured!
Anyway, fuck you Bobby Jindal, fuck you hard, is the point.
Evan Hurst
Evan Hurst is the managing editor of Wonkette, which means he is the boss of you, unless you are Rebecca, who is boss of him. His dog Lula is judging you right now.
Follow him on Twitter RIGHT HERE.