Hot Take: People Don't Deserve To Die For Enforcing Mask Mandates
Guns
June 16, 2021 10:22 AM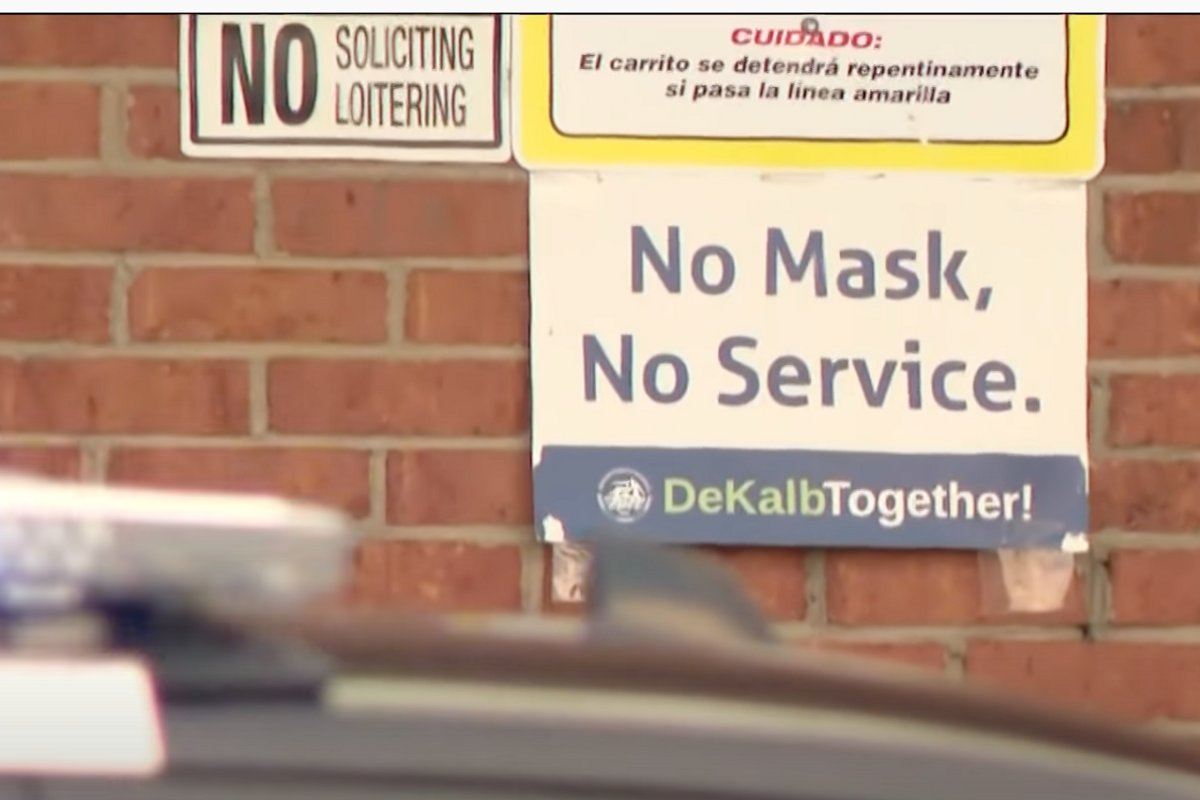 Monday, Laquitta Willis, a cashier at the Big Bear Supermarket in Decatur, Georgia, asked a customer to pull up his mask. He refused, leaving the store without making a purchase, but he immediately returned with a handgun and fatally shot Willis. After killing a woman who was just doing her job, he opened fire on the off-duty sheriff's deputy working security.
The gunman, identified as Victor Lee Tucker Jr., struck the deputy twice, as well as another cashier, but neither injury was considered life-threatening. The deputy returned fire, and according to the Georgia Bureau of Investigation, Tucker was arrested while "attempting to crawl out the front door of the supermarket."
Tucker was charged with murder and two counts of aggravated assault. He's currently hospitalized and expected to survive. Laquitta Willis is dead for no good reason.
---
Willis was an essential worker whose job had gotten increasingly more dangerous over the past year. Marc Perrone, president of the United Food and Commercial Workers union, released this statement:
For too long, many of our leaders have failed to consider how the changing COVID guidelines affect America's essential workers who face daily exposure to individuals who are not vaccinated and refuse to wear masks. When workers are forced to play mask and vaccination police, they put their lives at risk.
This wasn't an isolated incident. There's an ongoing resistance to the most basic COVID-19 safety measures and regulations, and it's arguably gotten worse the closer America comes to normality. So far this year, the Federal Aviation Administration has recorded 2,300 incidents of passengers who refused to comply with the federal requirement to wear face masks on airplanes. That's significantly more assholes than airlines deal with in a normal year. Sure, people were pissed when airlines banned smoking on domestic flights in 1995, but it was nothing like this shit.
Sara Nelson, the international president of the Association of Flight Attendants, described the situation to CNN as "out of control."
NELSON: We are hearing from flight attendants who are saying I'm concerned about going to work now. This is so pervasive in our workplace that I'm concerned about going to work — I'm actually afraid to go to work.
Last month, a customer at the Brightside Boutique in Baltimore flipped out on a store manager who tried to enforce the mask mandate. She slammed her fist on the checkout counter and even lunged toward the manager while screaming in her face. Christy Vasquez, owner of the boutique, suggested that shifting rules about masks have caused confusion, but I think the rules aren't what's jeopardizing worker safety across the country. It's the rightwing demonization of mask wearing. Professional terrible person Laura Ingraham ranted a few weeks ago about the so-called "Bully Bunch," the "control freaks on the Left" who "want to hold onto their power" with their insidious mask mandates.
When Laquitta Willis was murdered in broad daylight, customers huddled on the floor, terrified that they were the next victims in another mass shooting that America would quickly forget. Gun violence is a domestic terrorist that Republicans openly enable.
"My life flashed before my eyes," customer Ashley Cheek told 11 Alive News. "And I said, 'I'm in a grocery store buying groceries and I might never see my kids again.' "
We're halfway into 2021 and fatal shootings are already on pace to exceed the tally from 2020, the deadliest year for gun violence in two decades.
Ray Kim, who owns the Big Bear Supermarket, described Willis as a "kind and loving woman." She was a "cautious person," which is certainly reasonable during a pandemic that has killed more than 600,000 Americans. She wasn't a "bully" or a "control freak." She was just doing her job, and she didn't deserve to die.
Follow Stephen Robinson on Twitter.
Keep Wonkette going forever, please, if you are able!
Stephen Robinson
Stephen Robinson is a writer and social kibbitzer based in Portland, Oregon. He writes make believe for Cafe Nordo, an immersive theatre space in Seattle. Once, he wrote a novel called "Mahogany Slade," which you should read or at least buy. He's also on the board of the Portland Playhouse theatre. His son describes him as a "play typer guy."