Bureaucrat's Revenge: Office Of Government Ethics Will BURY TRUMP (In Paperwork)
POTUS
May 24, 2017 10:06 AM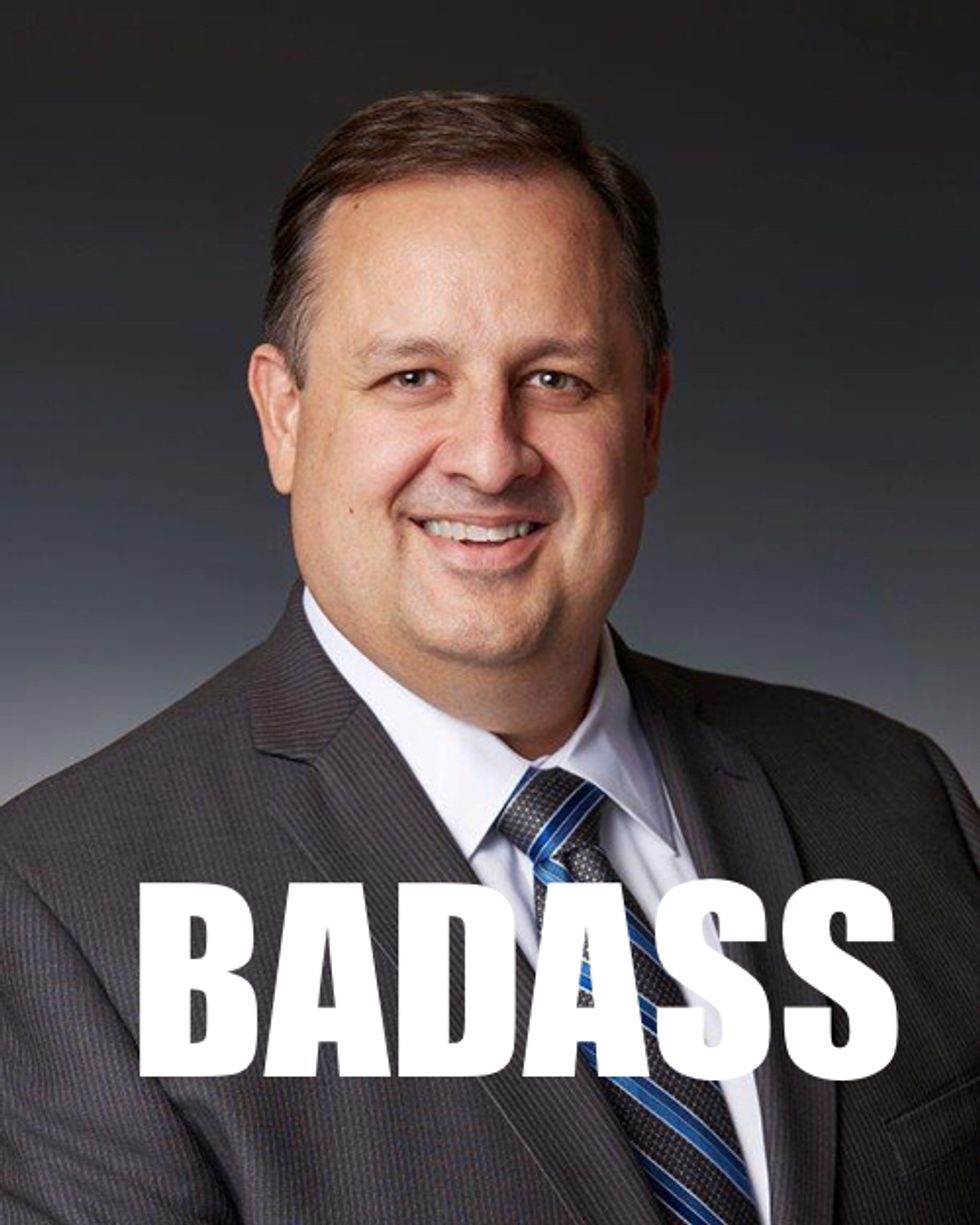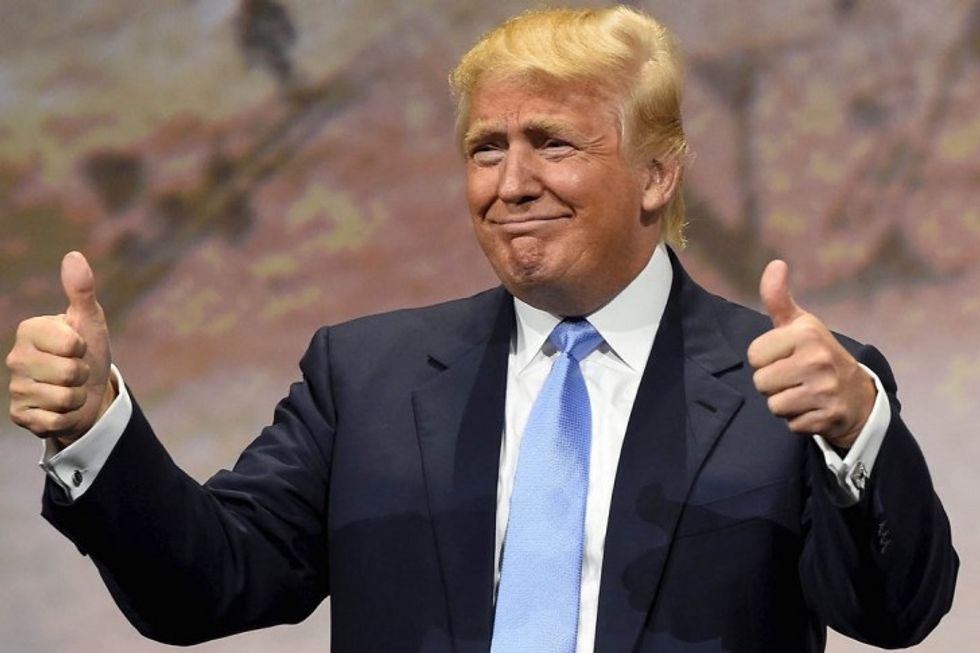 ---
Wonkers, you may want to sit down for this one. We hate to break it to you, but it's possible that your President, Donald J. Trump, may be slightly...
ETHICALLY CHALLENGED!!!
Yes, it's a blow. But we think you deserve to know the truth.
Also, this guy is a GODDAMN SUPERHERO.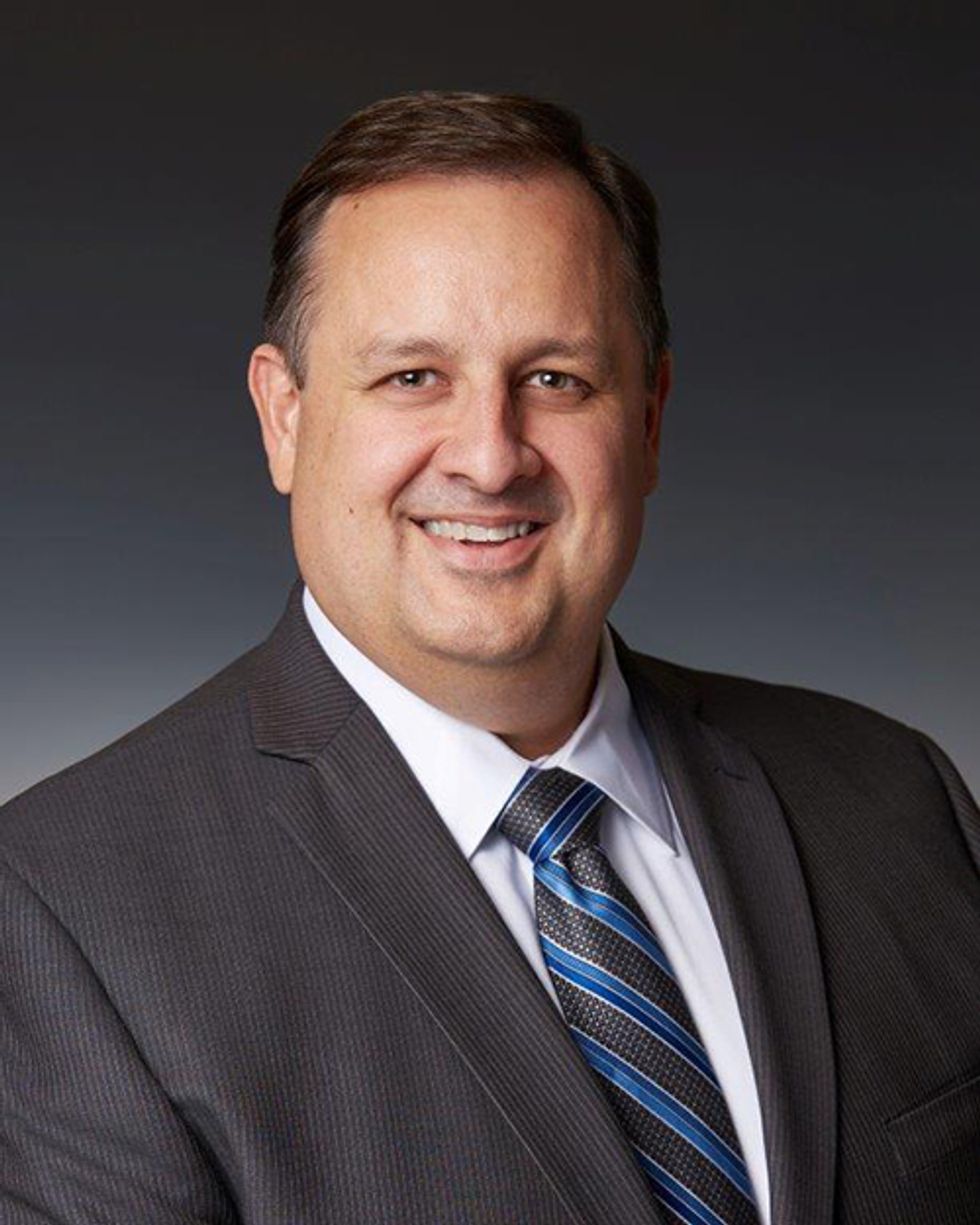 Meet Walter M. Shaub, Jr., Director of the Office of Government Ethics and all-around badass. He's in the last year of his term, and will undoubtedly be replaced by some Bannon flunky next year. But Goddess Bless the man for BRINGING IT to the Trump Administration in whatever time he has left.
During the campaign, Donald Trump screeched from every podium about Washington insiders, corruption, and lobbyists taking over government to screw Real Americans™. He was going to #draintheswamp and bring back ethics to DC.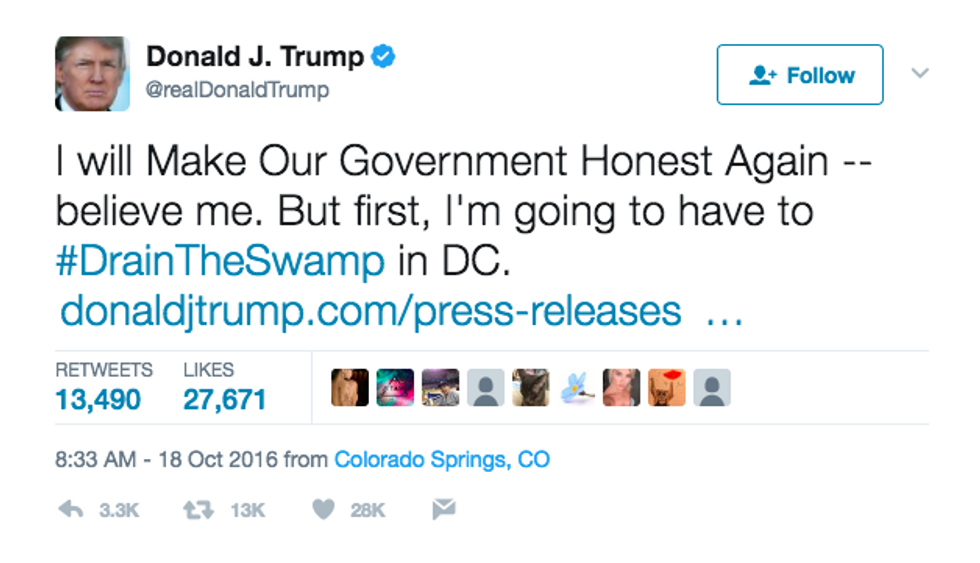 Trump even signed an Executive Order on January 28 barring lobbyists from working for the federal government for two years after leaving their employers.
But hold on to your hats, kids, because PLOT TWIST: Donald Trump has been furiously stocking his administration with lobbyists, insiders, and cronies at a pace unmatched by any previous administration. Because the Executive Order contains a special *UNLESS I, DONALD J. TRUMP SAY SO* provision, and the President has been taking full advantage of it.
Sec. 3. Waiver. (a) The President or his designee may grant to any person a waiver of any restrictions contained in the pledge signed by such person.

(b) A waiver shall take effect when the certification is signed by the President or his designee.

(c) A copy of the waiver certification shall be furnished to the person covered by the waiver and provided to the head of the agency in which that person is or was appointed to serve.
Previous presidents have routinely submitted these waivers to the Office of Government Ethics, whose actual job is to review them to make sure they meet ethical standards. But previous presidents were suckers who did things like make the White House visitor logs public and release their tax returns. Plus the Bush and Obama administrations cheated because they weren't up to their eyeballs in illegal lobbyists. So when Mick Mulvaney, Director of the Office of Management and Budget, got a letter from the OGE telling him to PONY UP with the waivers so OGE could see them, he put on his thinking cap and fired off a letter to Walter Shaub saying, "You're not the boss of us! Who even heard of ethics anyway?"
In particular, this data call appears to raise legal questions regarding the scope of the OGE's authorities.

Due to the uniqueness of OGE's request and potential legal questions that may exist, the Office of Legal Counsel at the Department of Justice may need to be consulted pursuant to 28 U.S.C. §512 on the scope of the authorities underlying OGE's data call.

I therefore request that you stay the data call until these questions are resolved.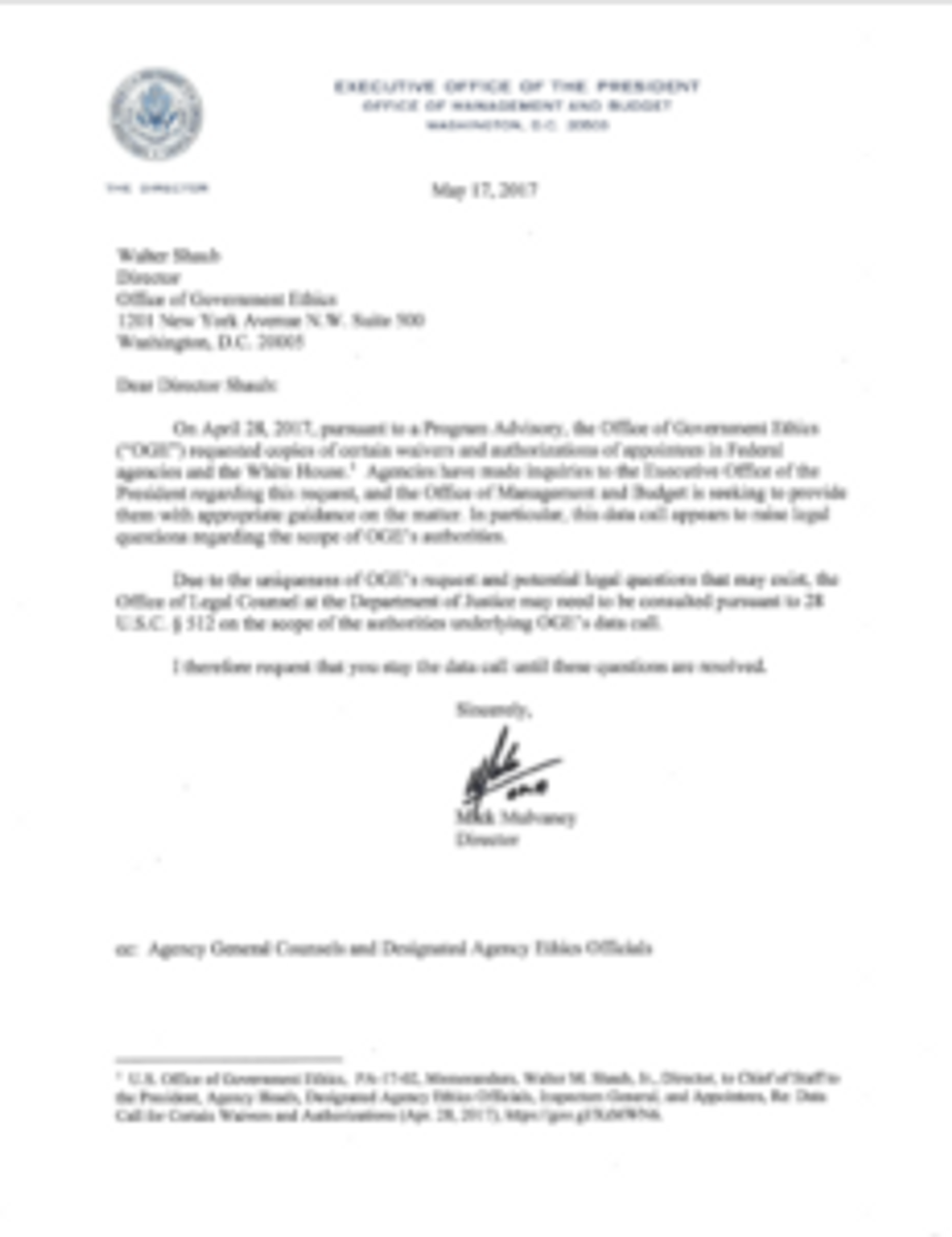 Now you've done it, Mick. You made Walter Shaub angry. You won't like Walter when he's angry.
Walter isn't some secretive spy type. He's not a national security guy dealing with classified data. Walter Shaub's job is to make all the data transparent. If you come at Walter, he will fuck you up WITH PAPERWORK. Ain't gonna be no behind-the-scenes arm-twisting like with Comey. And Rogers and Coates and Burr and Nunes. (Did we leave anyone out?) Walter Shaub will send you a 400 page memorandum in reply, and he'll CC every Committee Chair in the House and Senate. And then he'll post it online.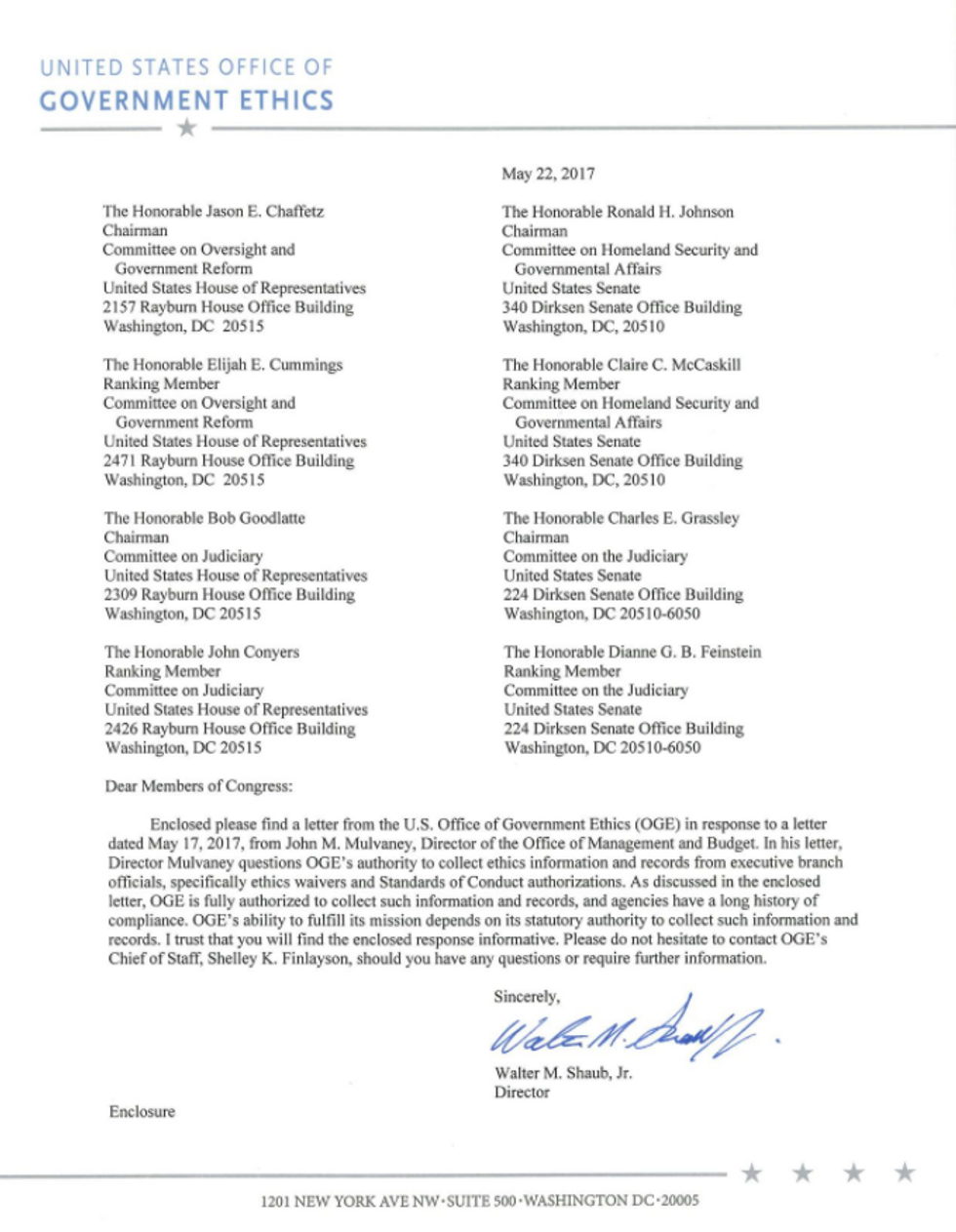 You thought Comey kept the receipts...
At 1:43 p.m. on May 17, 2017, I sent a courtesy email to, inter alia, Scott A. Delavega of the White House Counsel's Office containing the draft Annual Agency Ethics Program Questionnaire that will be circulated in January of 2018. At 2:27 p.m. the same day, Mr. Delavega left a 32 second voice mail for me in which he stated that he wanted "to touch base with [me] and get some further information" on the email that I "had just sent out." He left me his direct line. At approximately 2:53 p.m. on the same day, I returned his telephone call.
The guy knows that the duration of your voicemail was 32 seconds. Walter Shaub is not about to get rolled by a little pipsqueak like you, Mick Mulvaney!
In closing, I want to assure you that a request from the Director of the Office of Management and Budget is not something that I decline lightly. For the foregoing reasons, however, the OGE is not granting your request to stay the pending directive to produce information and records. Please take all necessary steps to ensure that OMB's response is submitted by the June 1, 2017 deadline.
The Trump administration's attempt to dodge ethics disclosures is already turning into a partisan showdown, with Congressional Democrats threatening to intercede.
Democrats in the House and Senate also jumped in. Eighteen House Democrats from the Oversight and Government Reform Committee made public a letter they sent last week, protesting the issuing of secret ethics waivers, and Senators Sheldon Whitehouse of Rhode Island, Tom Udall of New Mexico and Edward J. Markey of Massachusetts, all Democrats, added their protests Monday.

"If O.M.B. does not stand down from its attempt to prevent designated agency ethics officials from responding to the O.G.E. data call, we will seek the waivers directly ourselves," the letter from the senators said. "The administration certainly cannot dispute that Congress has the right to this information."
So why is Mick Mulvaney fighting so hard to keep those waivers private? Funny you should ask...
Last month, the New York Times wrote about Trumpworld's brazen disregard for ethics regulations. People who lobbied the Obama Administration are now openly crafting policy in the same area.
One such case involves Michael Catanzaro, who serves as the top White House energy adviser. Until late last year, he was working as a lobbyist for major industry clients such as Devon Energy of Oklahoma, an oil and gas company, and Talen Energy of Pennsylvania, a coal-burning electric utility, as they fought Obama-era environmental regulations, including the landmark Clean Power Plan. Now, he is handling some of the same matters on behalf of the federal government. [...]

Mr. Catanzaro's former clients, such as Talen and Devon Energy, have an enormous amount at stake in the regulations the White House is preparing to reverse — with his help. Talen, for example, helps operate the Colstrip power plant in Montana, the second-largest coal-burning plant west of the Mississippi. Federal officials have estimated that the plant could face a $1.2 billion bill as it makes updates to meet the new environmental standards, assuming it is not just closed.

Three industry lobbyists interviewed by The Times said that they recently had confidential conversations with Mr. Catanzaro about some of the same regulatory matters on which he was lobbying the federal government.
Sounds kosher!
And yesterday, Bloomberg Politics ran a story on Treasury Secretary Seth Mnuchin hiring his buddies from Wall Street as "counselors" to avoid the Senate confirmation process.
Mnuchin has so far hired four people as top aides with the title "counselor," including Craig Phillips, an ex-BlackRock Inc. executive and Hillary Clinton fundraiser. The Senate won't vote on any of them, even though Mnuchin's own party is in charge. [...]

Phillips oversees Treasury's domestic finance office, which supervises issues including debt management, tax policy and housing finance. The former member of Clinton's national finance committee is also leading a review of how the Trump administration can roll back Obama-era financial regulations.[...]

Other counselors Mnuchin has hired include: Shannon McGahn, the wife of White House counsel Don McGahn, who is advising Mnuchin on legislative and public affairs; Dan Kowalski, who is working on budget issues, the debt limit and infrastructure finance; and Justin Muzinich, a former Morgan Stanley banker working on major policy initiatives including a tax overhaul.
Impressive swamp draining!
Even better, it appears that Mnuchin was allowing one Goldman Sachs employee to moonlight at the Treasury without quitting his day job.
The Goldman Sachs Group Inc. banker Mnuchin wanted as his deputy, Jim Donovan, pulled out on Friday, shortly before his Senate confirmation hearing was to be scheduled. Donovan said his withdrawal stemmed from a family matter.[...]

Mnuchin was already leaning on Donovan to help manage the department, even though he had not officially left Goldman Sachs.
It's so weird that these guys don't want to fill out those ethics disclosures! It's almost like they're hiding a team of industry employees turning the federal government into an arm of big business. Whodathunkit!
[Executive Order on Lobbying / Mulvaney Letter to OGE / OGE Mulvaney Cover Letter / OGE Letter Index / OGE Letter to Congress / OGE Attachments Part 1 / OGE Attachments Part 2 / NYTimes / NYTimes, again / Bloomberg]
In Washington, the swamp drains you! Fund us, please!
Liz Dye
Liz Dye lives in Baltimore with her wonderful husband and a houseful of teenagers. When she isn't being mad about a thing on the internet, she's hiding in plain sight in the carpool line. She's the one wearing yoga pants glaring at her phone.